Shopping Guides
Which skin care oil is right for you?
To be added to our day or night cream (or even on their own), depending on their composition, the care oils will remedy all our little skin problems: whether we have dehydrated skin, which gets small pimples, which is bored or whether we want to treat wrinkles, everyone has his or her own precious bottle!
Why use my skin care oil?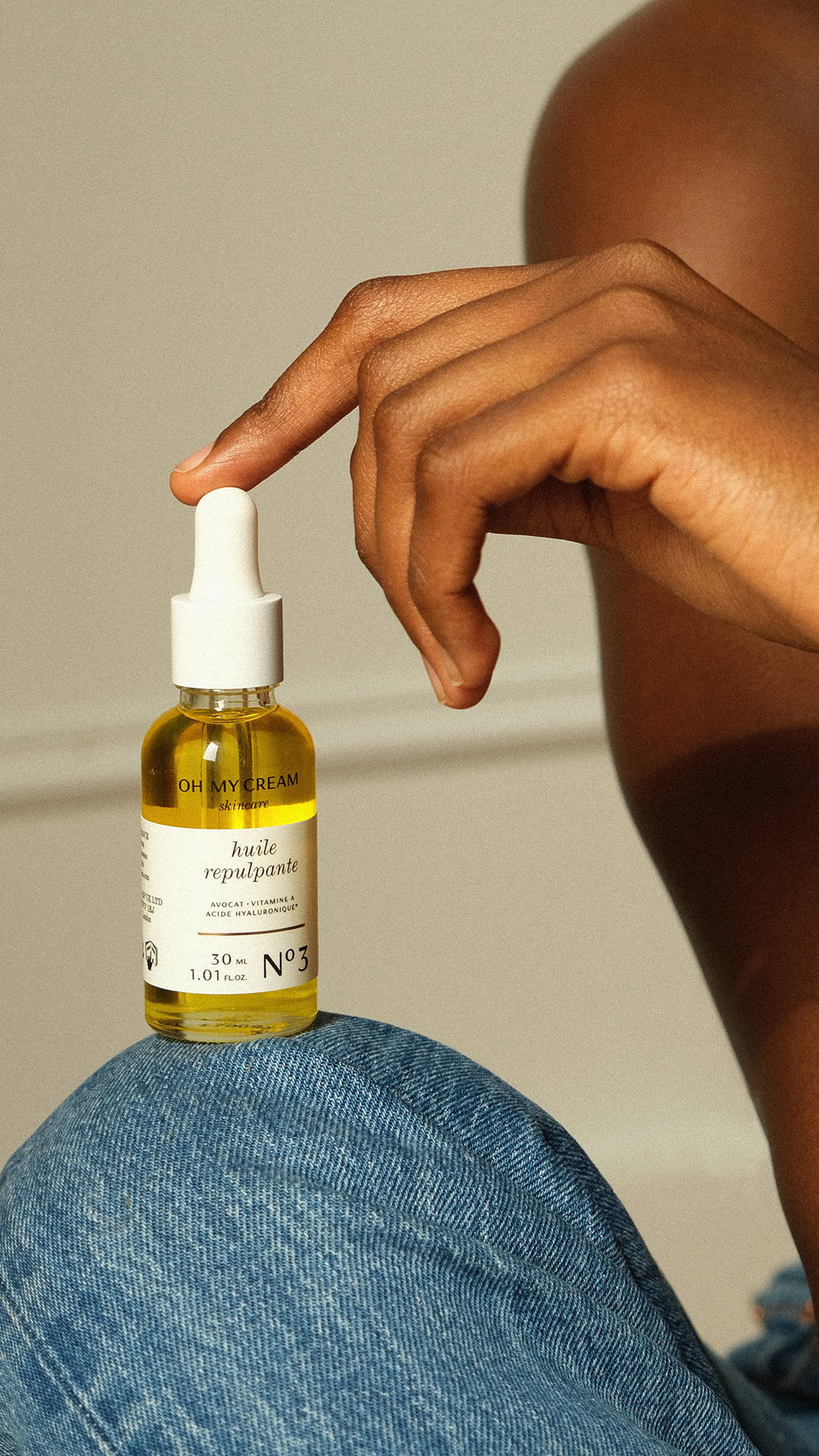 A care oil is based on one or more vegetable oils. Rich in fatty acids and antioxidants, skin care oils form a real shield against external aggressions (pollution, cold, heat...) that sensitize and accelerate skin aging. They also retain water at the heart of the skin to limit dehydration. Even if you have combination or oily skin, we recommend its use because, when well chosen, certain oils have the capacity to regulate the production of sebum and therefore, to limit shine!
Which skin care oil is right for you?
Radiance
FIRST WRINKLES
ANTI-AGING
Treatment oils
Vendor
rosehip-bioregenerate-oil
€ xx
Vendor
cell-repair-night-oil-repair-oil
€ xx
IMPERFECTIONS
DEHYDRATION
SENSIBILITIES
Treatment oils
Vendor
oil-correcting
€ xx
Vendor
emerald-deep-moisture-glow-oil
€ xx
Vendor
light-fantastic-ceramide-face-oil
€ xx
Not quite sure what your skin type is?
Looking for a complete customized routine?
Which face care oil to choose?
Benefits of treatment oils
Incorporate a face oil in your beauty routine has many virtues. Add it to your day or night cream (or even alone), facial care oils solve many problems according to their composition, thanks to their content of essential active ingredients. Thus, care oils will remedy all our little skin problems: whether we have dehydrated skinskin, which makes small buttonsthat tends to mark quickly or to tighten or that we want to to treat wrinkleseach one has its own precious bottle! Fatty acids, omegas or antioxidants penetrate directly into the deep layers of the epidermis to act in a targeted way and thus deliver all their benefits. Here is a brief overview of our cult oils for each skin problem.
Which face oil for dehydrated skin?
A dehydrated skin is a skin lacking water This skin condition is aggravated by external aggressions: an overheated or overly air-conditioned room, for example, and our epidermis is totally dried out! To remedy this, we rely on cocktail oils that will protect the skin, limit its water loss, boost its radiance and even prevent aging.
Regenerating and nourishing, themacadamia oil is a face oil ideal to find a comfortable and plumped up skin. Thanks to its antioxidant composition, it protects against free radicals and helps fight against skin aging. By protecting the skin from external aggressions like pollution, this facial oil is perfect for urban skins.
Nourishing, anti-ageing and protective, avocado oil has many benefits! Rich in antioxidants, this facial oil boosts collagen production and brings comfort and suppleness. It thus helps to fight the first signs of ageing, to firm up mature skin and to relieve dry skin. By protecting against external aggressions such as wind, cold or pollution, this face oil protects weakened skin as well as urban skin.
Which skin care oil for dry & sensitive skin
Dry skin does not produce enough sebum, which is essential to be properly protected against aggressions and, above all, comfortable... The care oils will therefore constitute a
real SOS care
by minimizing this famous sebum, signing the end of discomfort and scabs! One will thus opt for
rich oils that will penetrate deeply
(borage, avocado, argan...).
Rich in essential fatty acids to retain water, strengthen the hydro-lipidic barrier, soothe the skin but also to reduce redness, borage oil helps to recover a moisturized, comfortable skin as well as a more unified complexion. With its anti-aging virtues, this oil for the face also contributes to limit the signs of ageing by facilitating the renewal of the cutaneous cells. Finally, borage oil soothes sensitive skin prone to irritation thanks to its calming properties.
It is thefacial oil regenerating face oil par excellence! Thanks to its high concentration in pro vitamin A, carotenoids, omegas 3, 6, 7, 8 and 9 as well as gamma linolenic acid, theface oil with wild rose is excellent for boosting cell regeneration. It thus reduces all the cutaneous deteriorations: marks, imperfections, inflammations or pigmentary spots. Ideal to relieve damaged and weakened skin, this vegetable oil brings softness and suppleness, restores a more uniform complexion and helps maintain skin elasticity. Finally, wild rose oil is a universal multi-use oil rich in trans-retinoic acid (the power of retinol, without the irritation to firm and beautify all skin types).
Which anti-aging face oil for mature skin?
To counter the effects of time on the skin and regain density and elasticity, and why not limit the appearance of wrinkles and spots, we rely on care oils with specific active ingredients (peptides or retinol for example), full of antioxidants for a more luminous and protected skin. The driest skins will opt for formulas with rich plant oils for more comfort.
Derived from olive oil, squalane oil has many smoothing and moisturizing properties. With its rich texture and by participating in the maintenance of water in tissues as well as the comfort and the flexibility of the skin, this face oil also has an anti-aging action appreciated by mature and dry skin. It is also perfectly compatible with mixed to oily skin because it does not leave any greasy finish, it is non-comedogenic and has a rebalancing action.
Which face oil for oily and/or blemish-prone skin
Who said that oils were not suitable for problem skin? Mimicking the skin's sebum to perfection, they are ideal for treat imperfections without stripping and thus break the vicious circle of the skin which shines... One will choose dry and balancing oils that will penetrate immediately to clarify the complexion and soothe inflammation! To be adopted as a matter of urgency for a much faster healing.
Jojoba oil is a perfect face oil sebum-regulating facial oil, ideal for helping combination to oily skin to regulate its sebum production. Helping to keep the skin soft and moisturized, it rebalances the skin to better control shine and enlarged pores. This facial oil finally supports the regeneration of the skin while protecting it and by giving him more comfort, as well as a more homogeneous complexion.