Your skincare routine in 3 essential steps
The 3 essential gestures are the basics, the pillars of a perfect beauty ritual. They are the first elements to adopt before going further with specific treatments. Our goal? To introduce you to these essential steps, often neglected, even though they can change your skin and make all the difference: the Double Cleanse, the Gentle Exfoliation and the Skin Care Oil.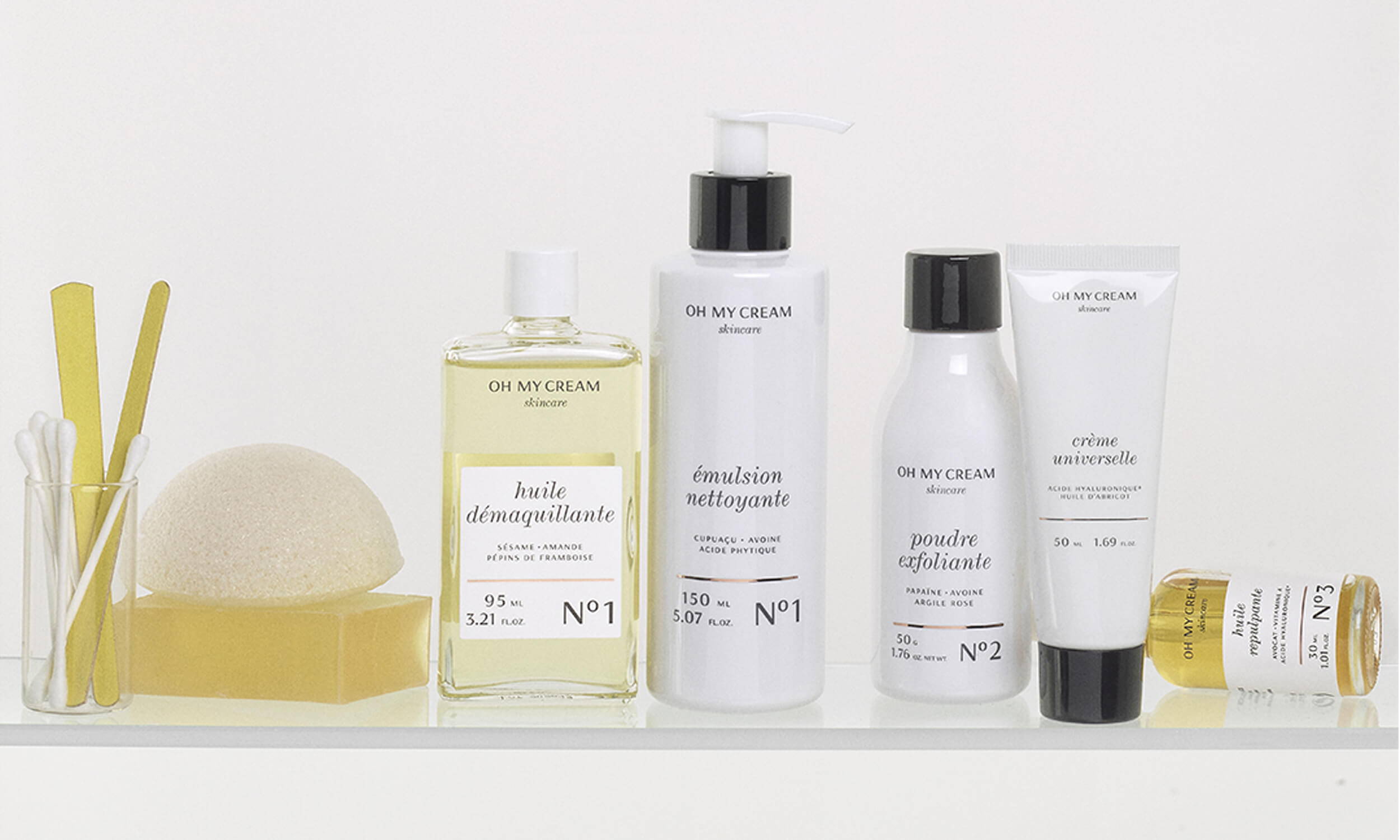 Our 3 steps beauty routine
The right steps to a beautiful & healthy skin
1
Double cleanse
First my Cleansing Oil or Balm, then my Cleansing Milk or Gel
What exactly is a soft exfoliation?
A sweep on dead cells... Because it is essential to eliminate the layer of dead cells that accumulates on the surface, making the complexion dull and preventing sebum from flowing (potentially causing imperfections!)
... that doesn't irritate if you do it right. Because it is now possible to renew skin without the action of grains, thanks to "pacman" molecules (such as acids or fruit enzymes) that nibble at the links between dead cells, to gently remove them without causing irritation or redness!
Why should I add this step to my routine?
Exfoliating is the "beautiful skin" gesture par excellence! By eliminating excess dead cells, scrubs and exfoliants scrubs and exfoliants (this word refers to the same family of products) optimize the penetration of active ingredients, making the skin soft and smooth, while fighting against small imperfections (brown spots, pimples, dilated pores). It is also a great way to have an action on skin aging and firmness by boosting the production of young and fresh cells.
How are these exfoliants different to grain-based scrubs?
A granular exfoliator works with small particles that rub off dead skin cells. These facial scrubs can be suitable for dry skin, normal skin or mature skin. But beware, in most cases, they are too strong. Often used too abruptly, mechanical exfoliation is not recommended for sensitive or blemished skin. Why not? Because these famous grains risk "opening" the pimple and causing bacterial proliferation. That's why, at Oh My Cream, we prefer a gentler method of action, so as not to cause any tightness.
If my normal or combination skin is sometimes a little sensitive, I choose Oh My Cream Skincare Exfoliating Powder, formulated with an oatmeal base.
If I also have a few small spots or scars, I opt for Dermalogica's Daily Microfoliant, a gentle exfoliating powder that smoothes the skin and helps restore a flawless complexion.
If I prefer an exfoliator to leave on as a mask for a "wow" effect, I prefer Ren Skincare's Glycolactic Radiance Mask for New Skin.
Do you want to treat another skin problem as well? Our guide to choose your scrub according to your skin type will help you.
Why would I use a vegetable oil to protect my skin?
A new generation of serum... Because oil is a galenic that is much better assimilated by the skin, it is particularly effective in conveying all kinds of good active ingredients.
... that I can use to boost my cream. Because if your skin needs more comfort and your moisturizer is no longer enough, just mix a few drops of oil into it to transform it into a smoother, more nourishing treatment, and show off baby-soft, glowing, plump skin.
What is the difference between a vegetable and a mineral oil?
Vegetable oils are derived from plants: seeds, fruits, vegetables... Natural ingredients, they can be certified organic. Having a great affinity with the skin (they look like it!), they penetrate and each one, according to its origin, will have a specific action. Moreover, by forming a shield on the skin, they boost its natural hydration by avoiding water loss. L'vegetable oil is also very naturally rich in good active ingredients, such as essential fatty acids (also known as Omega 3, 6, 9) and vitamins.
Mineral oils, on the other hand, are derived from petrochemicals and are therefore not natural ingredients. They remain on the surface of the skin and, unable to penetrate, form a protective film on the epidermis. Acting as an insulator, they can relieve dry or sensitive skin thanks to their "bandage" function. However, oily skin or skin prone to dilated pores and small pimples will prefer not to use them, as the film-forming effect can clog the skin. In short, they are a real treat for the skin!
If I have dehydrated skin, I apply Oh My Cream SkincarePlumping Oil to smooth fine lines and bring comfort to the skin.
If I need to gently purify my skin, I rely on the gentle cleansing power of Oh My Cream SkincareCorrective Oil.
To regulate my skin and boost the natural healing mechanisms, I opt for Pai Skincare BioRegenerate Wild Rose Oil.
Do you have another skin condition you want to treat? Our guide to oils and serums for the face will help you.
Need to take stock and receive more tips or personalized beauty advice? Make your skin diagnosis online or in one of our our boutiques. Our beauty consultants will help you learn more about your skin and will direct you to the skin care products that are best suited to your skin: eye contour, lotion, moisturizers, face mask... The perfect skin is yours!