My sensitivities and dryness routine
My skin right now:
Under the influence of certain triggers, sensitivities and/or redness may appear, caused by a dilation of the capillary blood vessels. Normally, these small vessels should return to their initial size once the event has passed, but over time, the phenomenon can worsen, leading to couperose patches or the famous rosacea. To fight against this phenomenon, it is therefore essential to adopt an adapted, gentle and soothing routine.
Finally, this routine can help you if your skin is chronically dry and uncomfortable. Rich in comforting lipids, it will restore suppleness and "glow" to your skin.
To get started: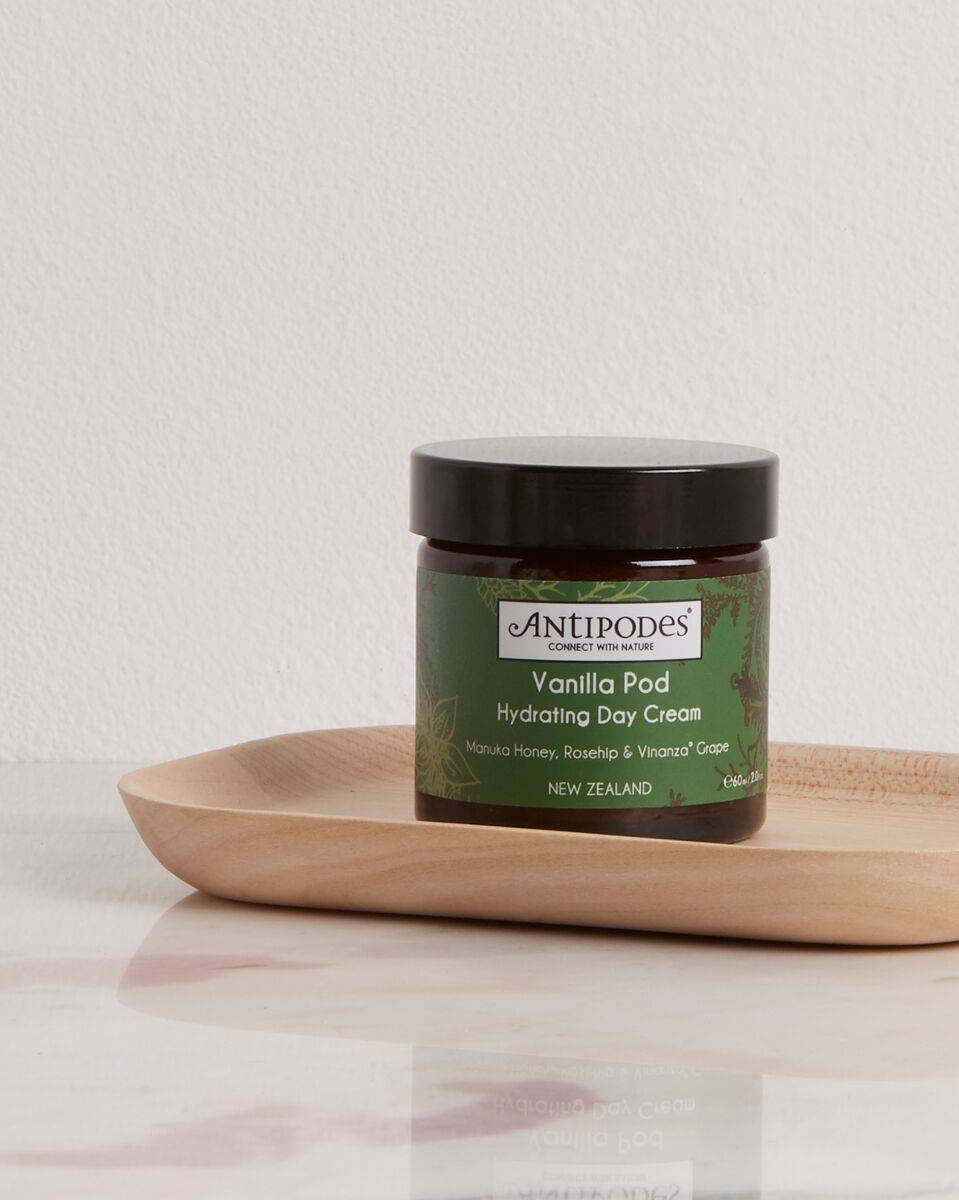 In the morning, start your routine by cleansing your skin with theCleansing Emulsion Oh My Cream Skincarea rich, creamy cleansing milk that soothes while restoring the skin's comfort and suppleness.
Then apply Nourishing Eye Cream Baume Contour des Yeux Susanne Kaufmann, an eye contour balm with a "bandage" effect to deeply nourish and smooth fine lines and wrinkles.
Continue your routine with the Instant Kalmer serum Pai SkincareThis de-stressing serum calms, refreshes and soothes uncomfortable skin weakened by stress, while improving resistance and hydration.
We finish with the cream Anthemis Cream Pai Skincarea moisturizing cream with a light texture that neutralizes redness and irritation while boosting cellular repair. If you're looking for a smoother texture, opt for the intensely nourishing cream Vanilla Pod Antipodeswhich protects the skin and activates its repair to regain comfort and suppleness.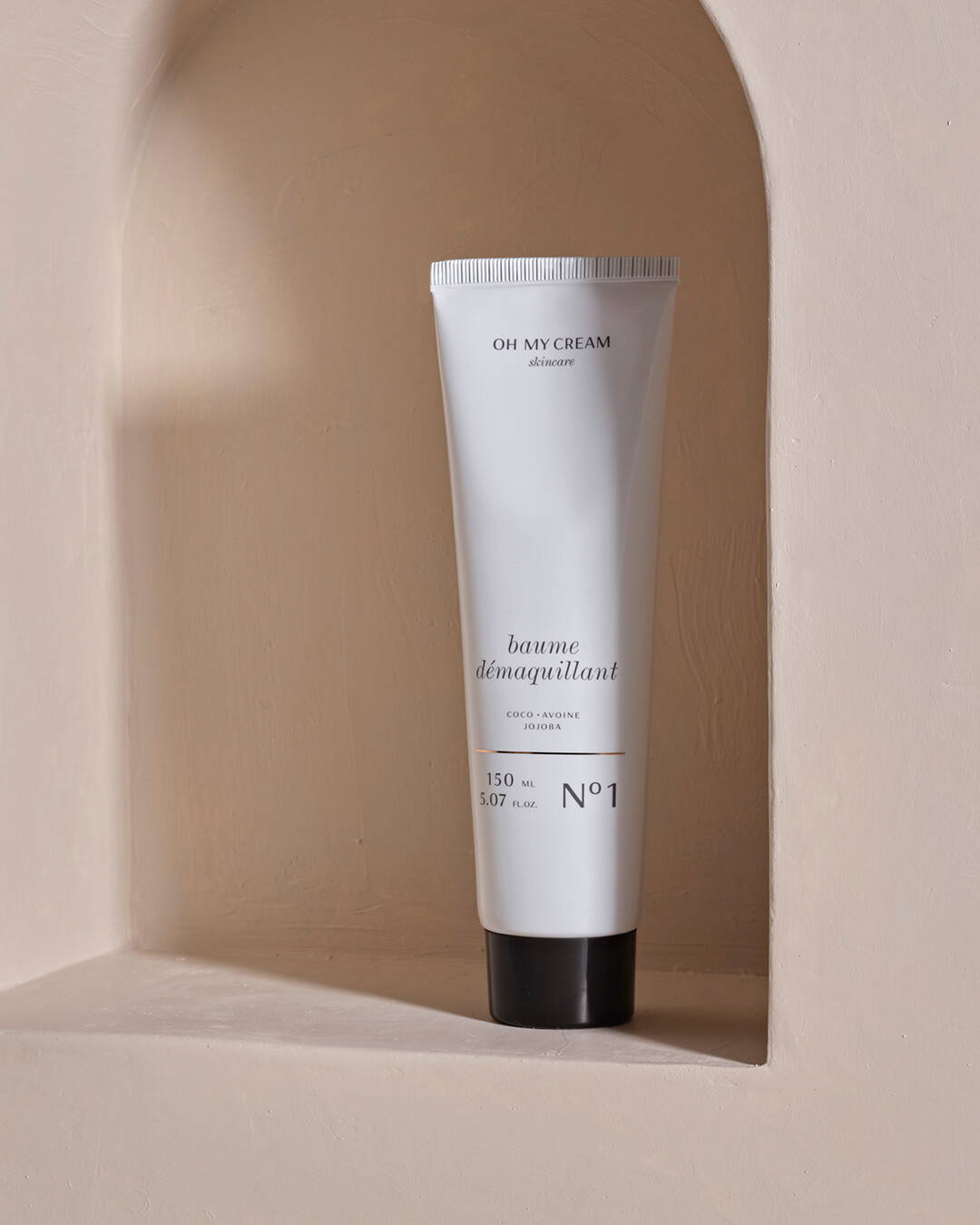 At night:
In the evening, we launch into a double cleansing by starting with the Cleansing Balm Oh My Cream Skincare. This creamy balm transforms into oil to dissolve makeup while minimizing redness. Then, complete the cleansing of your skin with theCleansing Emulsion Oh My Cream Skincare.
To follow, we apply the de-stressing and calming serum Instant Kalmer Pai Skincare.
To finish, massage a few drops of theHemp Oil Rowse which fights against skin inflammations. If your skin is really about, opt for the Blue Balm Chamomile + Shea Butter Repair Balm Odacitya balm with a melting texture that regenerates, moisturizes, soothes and nourishes the driest and most fragile skin.
To go further :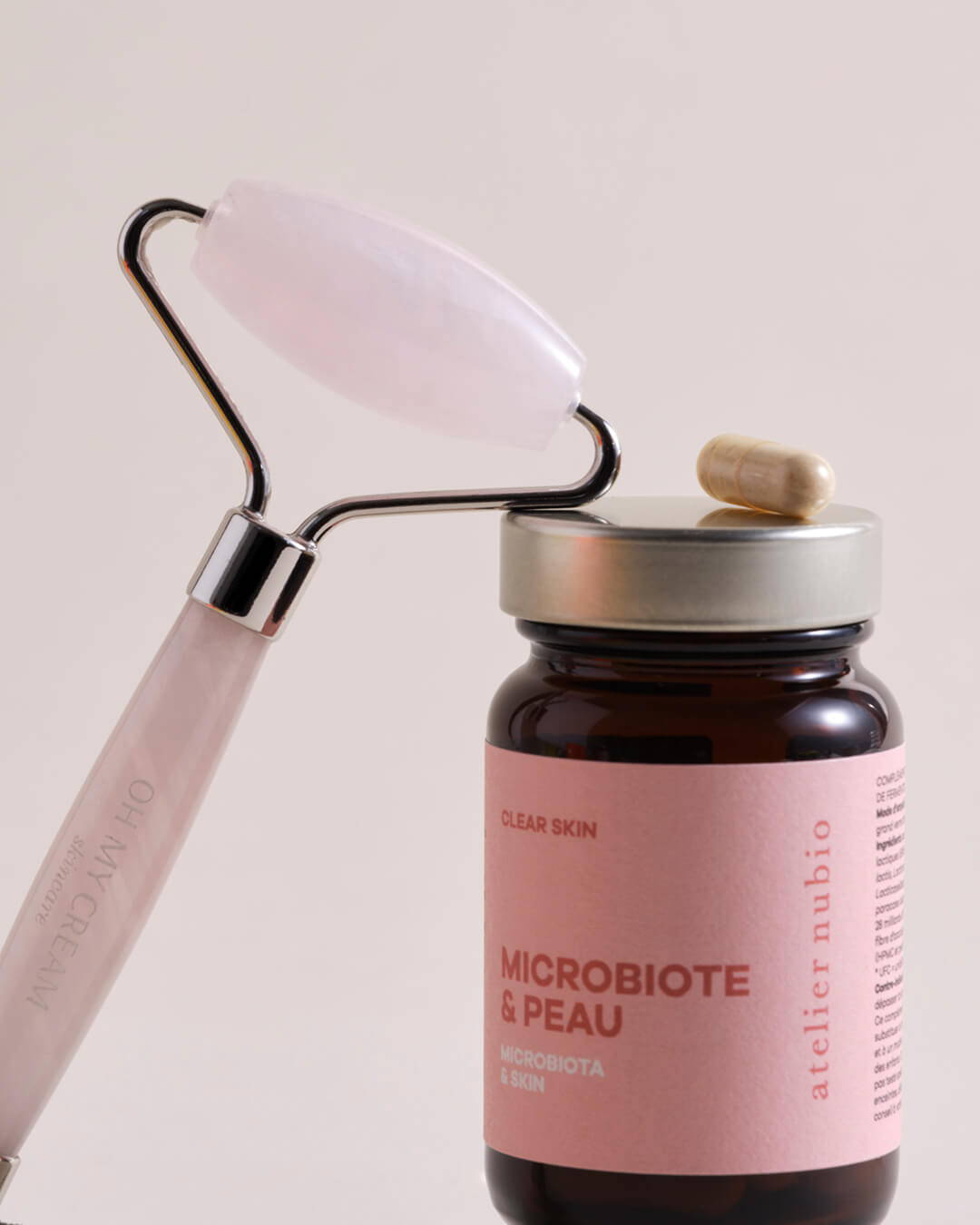 To go further and increase the effects of the products tenfold, you can also use the food supplement and beauty tool duo:
Microbiota and Skin Atelier Nubio : capsules composed of 4 strains of probiotics to rebalance the intestinal microbiota responsible for redness and thus regulate inflammation. 

Roll-On Oh My Cream Skincare: a rose quartz roll-on that smoothes the skin, decongests the eye contour area, while reducing puffiness and dark circles and relaxing facial muscles. 
1 to 2 times a week:
Once or twice a week, for a deeper cleansing to remove dead cells and get rid of the grey complexion, you can opt for a gentle exfoliation with Daily Milkfoliant Dermalogica. This calming oat-based powder smoothes the skin while soothing it and restoring the skin barrier.

You can also follow the exfoliation with the SOS Mask Oh My Cream Skincare. This soothing mask with its ultra-comforting cream texture reduces redness and feelings of discomfort for soothed and soft skin.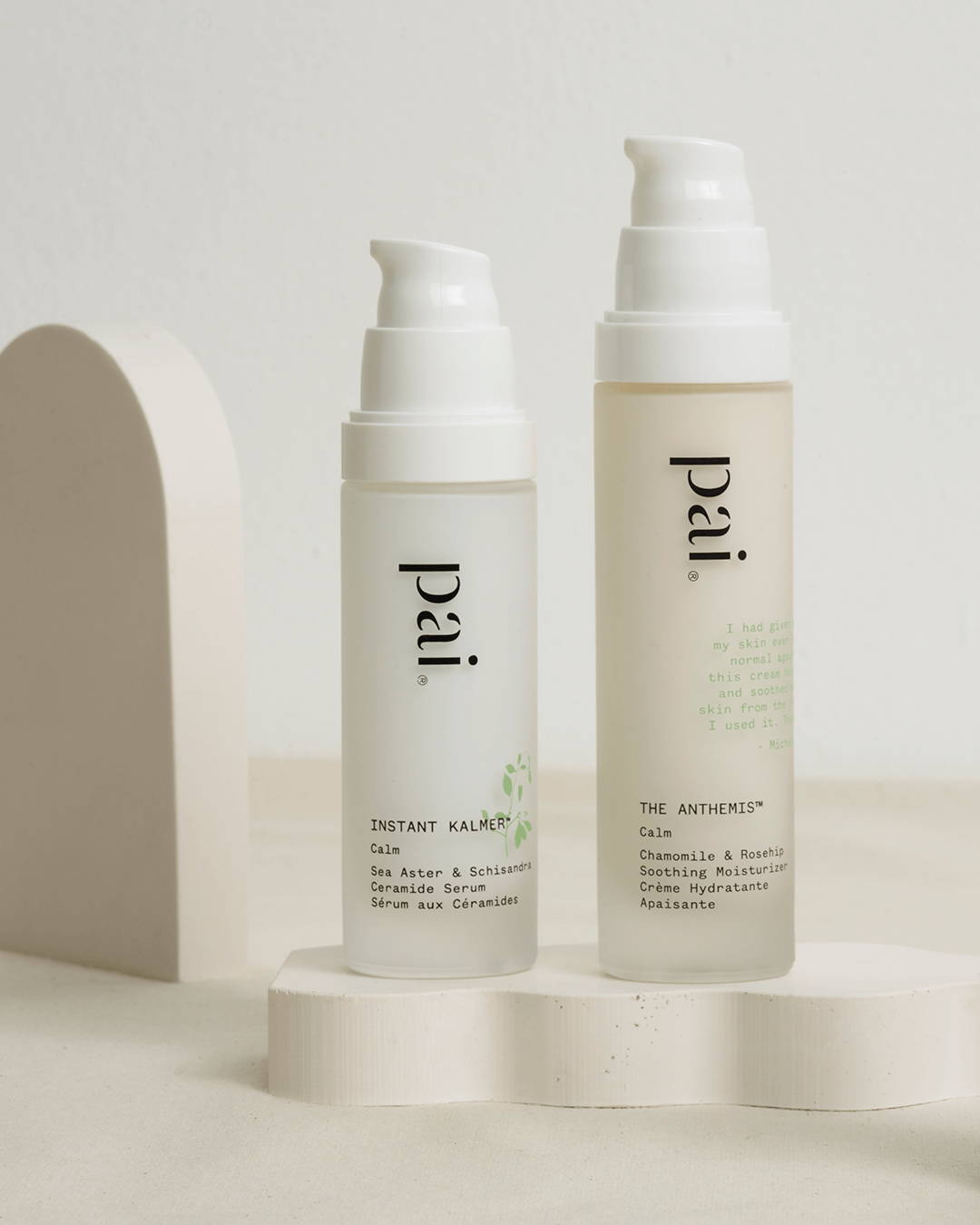 "Finally, a serum that durably meets the needs of ultra-sensitive skin: soothing, protective, moisturizing and above all... active ingredients that strengthen the epidermis day after day for optimal resistance!"
about Kalmer Instant Serum
Do you still have questions about a product or would you like to go further in your beauty routine? Our experts are here to help you, by email at consultation@ohmycream.com. You can also visit our store to benefit from the expert advice of our beauty coaches. 
Sensitivities & Redness: the ideal soothing routine 
Some skin types are more fragile than others. Under the effect of external aggressions, tingling, discomfort and redness appear. These sensitivities can be linked to the type of skin, that is to say that the skin will always be sensitive, it is written in its genes. But it is not only heredity: sometimes, these reactions are linked to external factors, such as unsuitable care, medication or other. In this case, the skin is said to be sensitized. Whatever your case, this guide will give you all the right gestures to have a beautiful skin, perfectly soothed and without redness if you suffer from sensitivities.
Why does redness appear on the face?
We can notice the appearance of redness on our face under the influence of certain triggers. Cold weather, sun exposure, stress or strong emotions can cause capillary blood vessels to dilate and trigger redness. Normally, these small vessels should return to their original size once the event has passed. However, over time, the phenomenon gets worse: the vessels become increasingly dilated and visible to the naked eye, and the redness becomes permanent. The redness can become localized in red patches, especially on the cheekbones and nose. In the long run, the phenomenon can develop into couperose or rosacea (giving the skin a permanent red color). If this symptom speaks to you, do not hesitate to consult a specialist: dermatological laser has made enormous progress in recent years...
What to do about facial redness? 
A thorough cleanse to reduce facial redness 
Double cleansing is ideal for all skin types: it's the most effective and gentle way to cleanse. As a bonus, it is also a great ally for sensitive skin. In fact, gently cleansed in this way, without detergents or cotton pads, the skin will be durably soothed and will never be red again after make-up removal. First step, I start with a balm or a make-up remover oil: this first product will start to soften and nourish the skin by providing it with the fatty acids necessary for its comfort. In addition, the oily texture will also begin to moisturize the skin and provide comfort. A good point if you have dry skin or dehydrated dehydrated skin. But rest assured, the use of a makeup remover oil also allows to gently regulate oily skin and combination skin by eliminating shine in a delicate way. (Indeed, very often, combination to oily skin can also be sensitive).
In the second step, to refine the result and clean deeply, we follow the oil or balm with a milk or a soft cleansing gel. Moisturizing and comfortable, the milks clean perfectly without attacking the sensitive skin prone to tightness. But if you're looking for freshness, gentle gel cleansers are also a good option for cleansing without accentuating redness or irritation. 
A soft exfoliation for sensitive skins
It is often the gesture that frightens sensitive skin. However, not all exfoliants are irritating. On the contrary, a gentle scrub will remove all the dead cells that have accumulated on the surface and prevent the skin from benefiting 100% from the soothing active ingredients that are applied afterwards. Exfoliating will also allow to chase away the dullness by making room for fresh cells... 
A skincare oil to protect against external aggressors
Finally, we finish our routine by protecting our skin with a care oil for sensitive skin. L'care oilas a serum or on its own, is the gesture that will allow to maintain the good level of hydration of the skin, while regulating it if it presents shine. Rich in essential fatty acids and nutrients, it is the gesture which brings comfort and fights against dehydration. It also restores the hydrolipidic film and helps the skin to rebuild its protective shield to be more solid against aggressions.
The best creams and face care products to prevent redness
To maximize results, I add a few well-chosen specific gestures to my routine.Gentlelotion, calming mask, moisturizing cream... I choose from among these adapted and targeted treatments to offer myself the most complete routine to reduce sensitivity as much as possible.
DOs when you have sensitive skin
- We track down the soothing active ingredients on the labels: chamomile, azulene, oatmeal or calendula are plants with great anti-inflammatory properties.
- A foundation that flakes because of irritated skin? The day before, perform a gentle exfoliation. No more small skins and hello the glowy complexion!
- Use soothing lotions after cleansing: this immediately neutralises the hard water which dehydrates the skin and makes it sensitive.
DON'Ts for sensitive skin
- Choosing makeup removers too quickly. Micellar water, for example, is an irritating cleanser for the skin. Rich in detergents, it sensitizes and often leaves the face red. It is rarely rinsed off and leaves most of the impurities on the skin's surface. Changing this step is already enough to transform the skin...
- Use makeup that contains alcohol, synthetic perfumes... A disaster for sensitive skin.
- Excessive use of exfoliating products: over-exfoliation can sensitize the epidermis and aggravate existing skin problems (by defending itself, the skin can react with imperfections on the face). One opts rather for softness and a lighter frequency of use.
Need to take stock of your skin? Make your skin diagnosis now. And don't forget that a visit to one of our boutiques or an e-mail to consultation@ohmycream.com will allow you to answer all your questions about your skin and to discover other beauty tips.