My anti-imperfection routine
My skin right now:
Sebaceous glands that work a little too hard, an epidermis that thickens, bacteria that gets in the way: all of this creates an inflammatory terrain conducive to the appearance of pimples. And when this vicious circle gets out of control under the influence of stress, pollution or an ill-adapted routine, it's an escalation! We opt for a gentle but effective routine, which will treat without stripping.
To get started:
In the morning, start by cleansing your face with the Cleansing Gel Oh My Cream Skincare Cleansing Gel, a soap-free gel with a generous foam that gently cleanses and regulates shine while minimizing the appearance of imperfections. 
We continue by applying the anti-imperfection serum All Becomes Clear Pai Skincare, a gentle balancing serum that fades persistent blemishes and scars.
To finish, moisturize your skin with the Matte Perfecting Fluid Patyka, a fluid with a matte finish that controls shine and prevents imperfections without sacrificing hydration.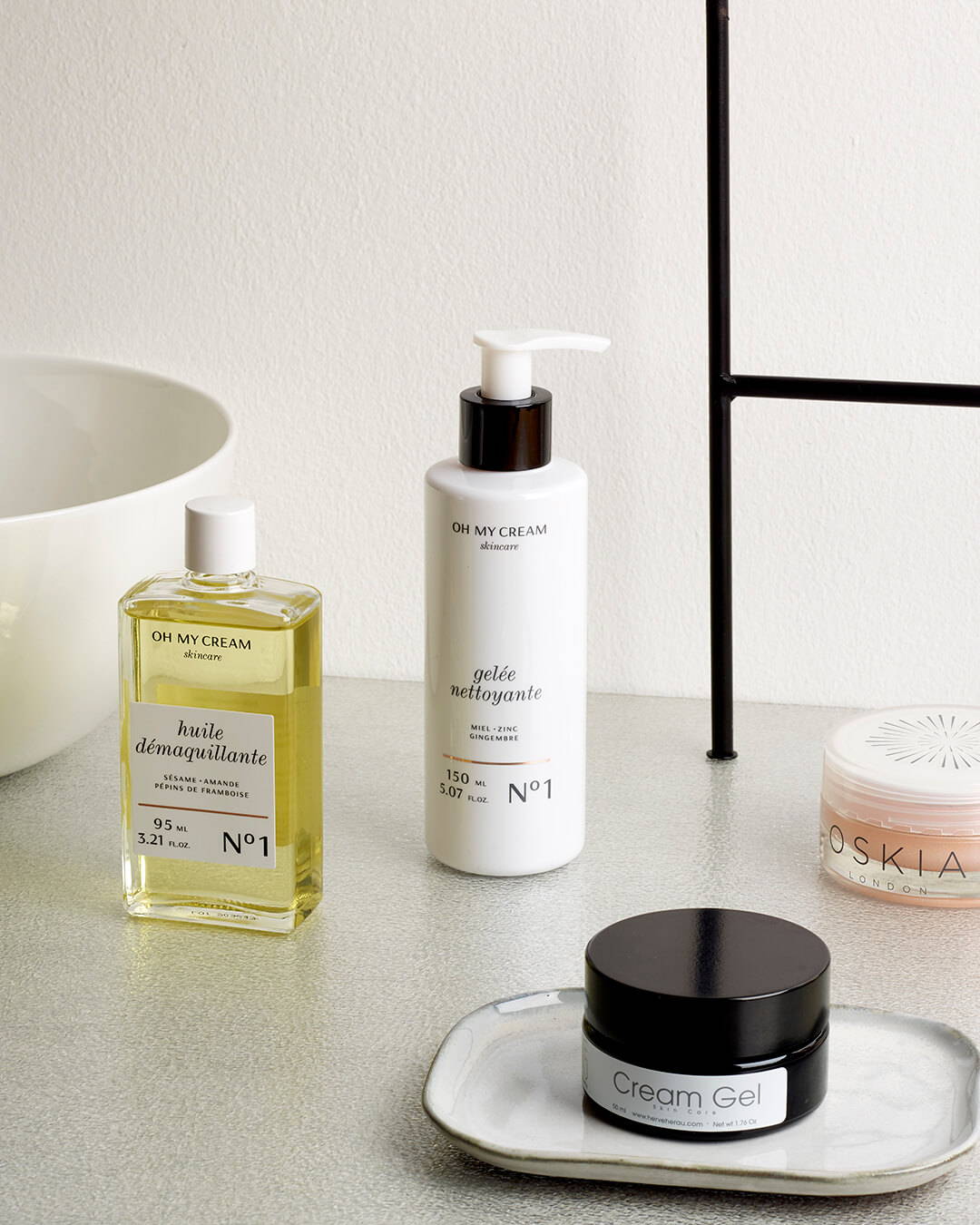 At night:
In the evening, we opt for a double cleansing by starting with theCleansing Oil Oh My Cream Skincare Cleansing Oil to dissolve eye and face makeup, pollution and excess sebum, before completing the cleansing of your skin with the Cleansing Gel Oh My Cream Skincare Cleansing Gel. 
Then, we apply the anti-imperfection and balancing serum All Becomes Clear Pai Skincare. 
To finish, massage a few drops of theCorrective Oil Oh My Cream Skincare, a detoxifying oil without an oily finish, which brightens and evens out the complexion while reducing the appearance of imperfections.
1 to 2 times a week:
Once or twice a week, for a deeper cleansing of the skin and to eliminate dead cells, we opt for an exfoliation with the Oh My Cream Skincare Exfoliating Powder. Ideal for skin prone to imperfections, this soft powder transforms into a foam on contact with water to smooth the skin texture, unify and boost the complexion's radiance and prevent imperfections.  
On clean skin and ideally after exfoliation with the Exfoliating Powder, leave the Oh My Cream Skincare Cleansing Mask on for 10 minutes. With its duo of green and white clays, it absorbs excess sebum and impurities to better prevent and treat imperfections. And to urgently purify and accelerate the elimination of imperfections, you can also apply and leave on the affected areas the Saturn Sulfur Spoit Treatment Mask Sunday Riley, before rinsing.
To go further: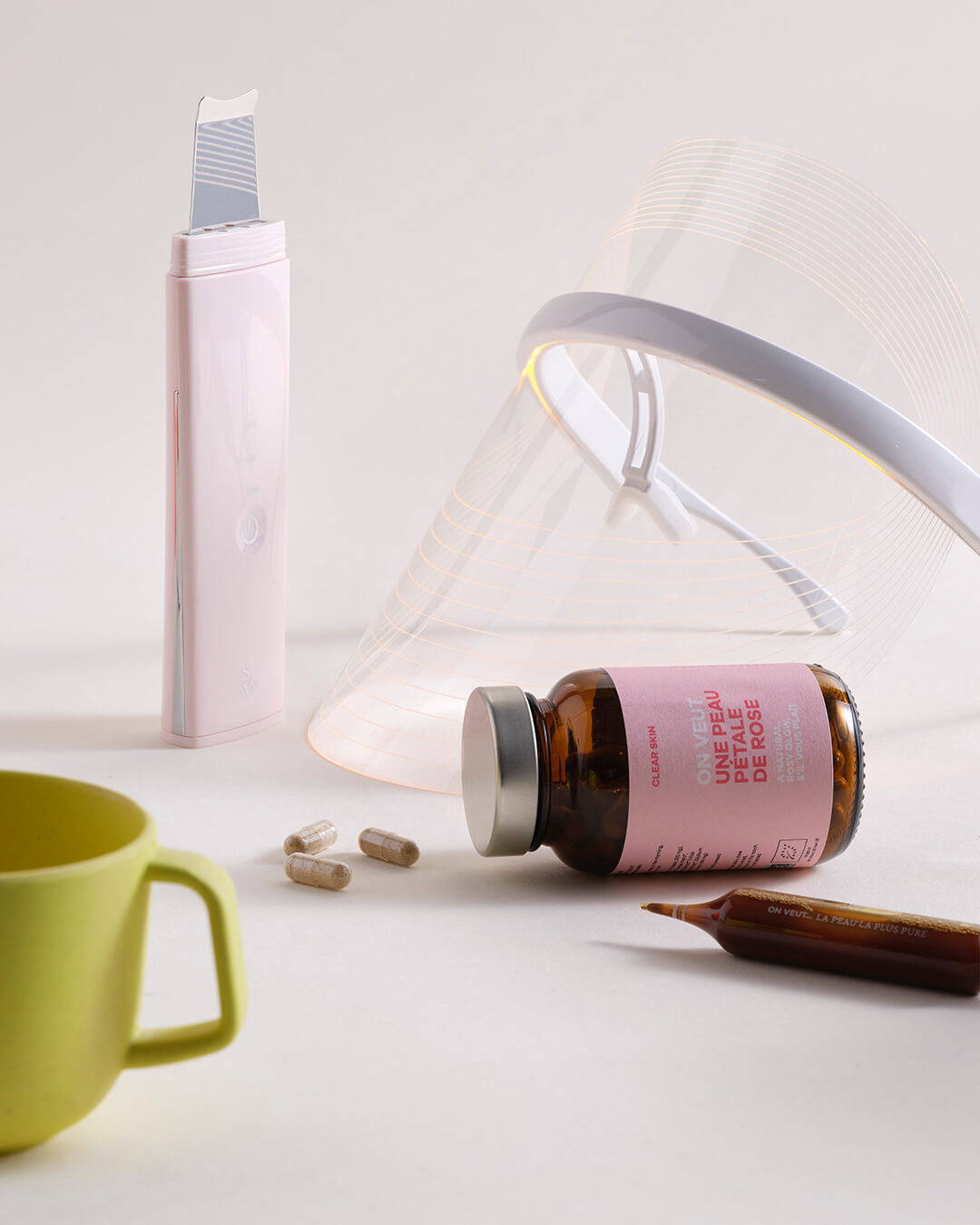 To go further and increase the effects of the products tenfold, you can also use the food supplement and beauty tool duo:
We want... a rose petal skin Atelier Nubio: these rebalancing capsules gently regulate sebum production, without drying effect, to fight against imperfections, balance, purify and soften the skin. 
The UltraSonic Exfoliator Spatula Sentara: This next-generation spatula visibly improves skin quality with its exfoliating action that deep cleanses the skin, activates regeneration and reduces marks and oil production. 
Saturn Sulfur Spot Sunday Riley: an SOS treatment to be applied locally and rinsed off to purify and accelerate the elimination of imperfections.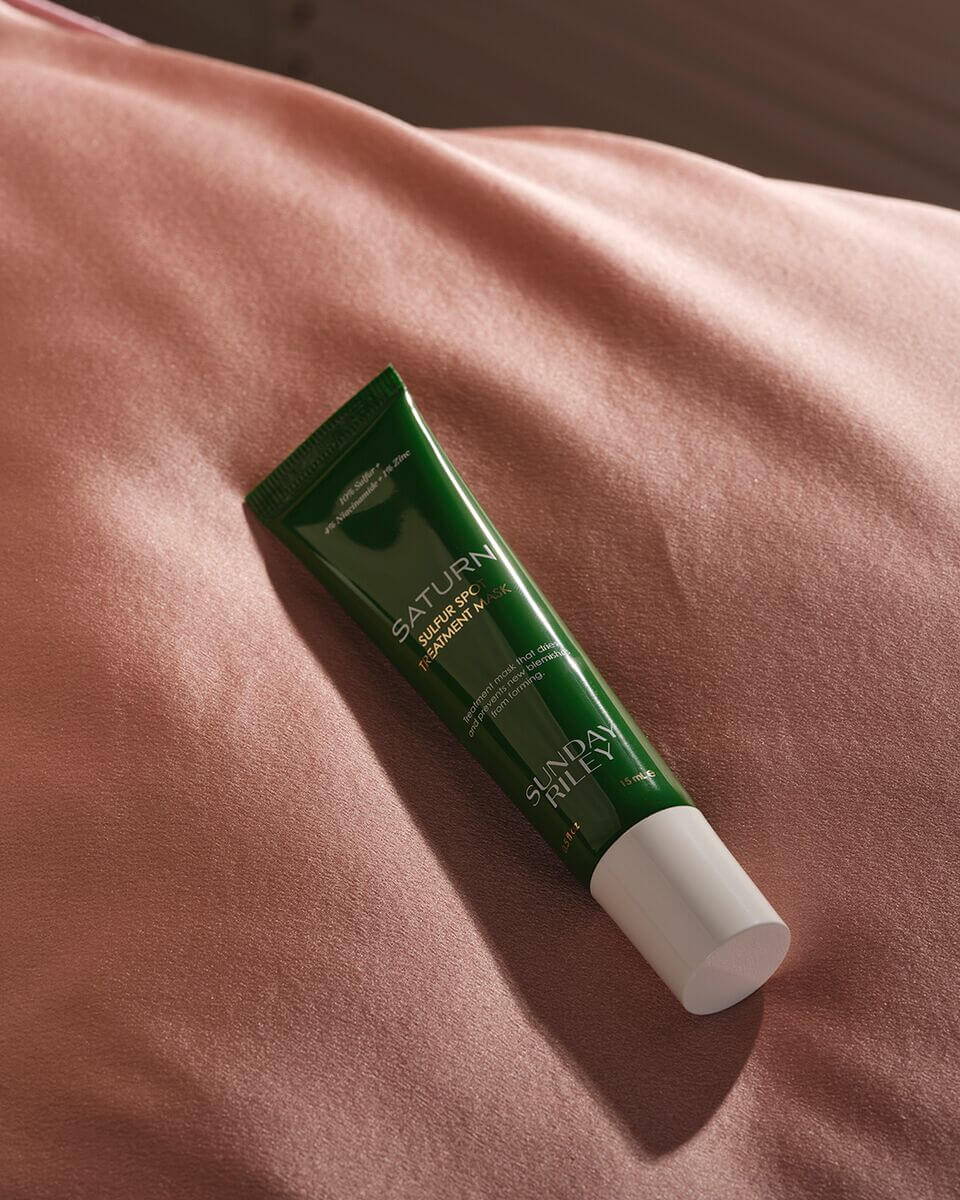 "Marion from the team told me that this little tube was literally miraculous... So when I have small imperfections, I apply it locally in the evening at the very end of my skin care routine. The next day, the inflammation is less visible, the redness is reduced... Everything has disappeared or almost, it's amazing!"
about the Saturn Sulfur Spot
Do you still have questions about a product or would you like to go further in your beauty routine? Our experts are here to help you, by email at consultation@ohmycream.com. You can also visit our store to benefit from the expert advice of our beauty coaches. 
Blemishes & blackheads: the routine to purify your skin 
Pimples and blackheads are related to our skin condition: this skin condition fluctuates throughout the year, as it is influenced by external factors but also by internal factors. Discover the right gestures to control imperfections! 
Why do I have blemishes? 
It all comes down to the sebaceous gland, the "little skin bag" that produces sebum. With hormonal variations, stress, lifestyle, polluted environment or certain medications and many other factors, the sebaceous gland will tend to get carried away and produce too much sebum. Add to this a thickening epidermis, a bacterium (cutibacterium acnes) that interferes, and an inflammatory ground is established, and it is the free field for the imperfections ! Under the excess of sebum, the pores dilate while trying to "breathe". Except that the dilated pores are also a formidable ground for the impurities to lodge there... And thus to cause new imperfections, of which blackheads. A real vicious circle! 
The ideal routine for blemishes and blackheads
A double cleansing to purify the skin and fight against imperfections
On dry skin, massage a makeup remover oil (or balm). Contrary to popular belief, makeup removal oil is the best option for removing makeup from skin prone to imperfections by attracting greasy substances like a magnet. Not attacked, the epidermis will then produce less sebum. One continues with a foaming cleansing gel, but without soap. This one will refine the cleaning and will begin to treat the buttons and the black spots. You can also use it in the morning to refresh your skin.  
Gentle exfoliation to eliminate imperfections and pimples
Rather than a grainy scrub that could spread the bacteria responsible for acne, opt for an enzymatic or fruit acid-based exfoliation to remove impurities and blackheads. The skin will also be smoother andblemish marks less visible. 
Skin care oil to regulate sebum production 
Once again, we need to dispel the misconception that skin care oils promote pimples. It all depends on the type of oil used. Choose dry, regulating skin care oils. To be applied every evening and possibly in the morning, skin care oil regulates sebum production and fights inflammation. It also accelerates regeneration, thus reducing scars. 
Targeted anti-imperfection care 
To go further and maximize the results of your your anti-blemish routineTo maximize the results of your anti-blemish routine, opt for a targeted anti-blemish treatment, a light cream or even food supplements and other beauty accessories to make all the difference!
Find all our tips for understand and treat imperfections here. Against summer imperfections, or the small and brown spots of the new school yeardiscover our advices. Here, you will find the anti-imperfections routine adapted for sensitive skin and here for mature skin that suffers from pimples. And if you need to take stock of your skin and its needs, make your skin diagnosis now. And don't forget that a visit to one of our boutiques or an e-mail to consultation@ohmycream.com will allow us to answer all your questions about skin.