Beauty posts
Imperfections and redness: how to cope when your skin is having a crisis?
Attention, rash! It's hard to be on all fronts when skin problems accumulate: so when pimples appear at the same time as sensitivities, the skin sees red and the morale is also often affected... We reveal our beauty routine to pamper your abused skin, while treating imperfections.
Clean the skin without upsetting it
A made-to-measure double cleanse
If it is not already done, we drop micellar water and cotton pads and switch to an expert cleaning in two steps (the famous double cleansing) and this, whatever our skin type. We start by massaging the Cleansing Balm Oh My Cream Skincare, specifically thought for the sensitive skins prone to the blackheads: its coconut oil is going to encapsulate with it all the greasy bodies, without drying. Rinse quickly, then follow with the Clearcalm3 Clarifying Face Cleanser REN Skincare. Its clay base cleans impurities without irritating and absorbs the excess of sebum responsible for the appearance of buttons.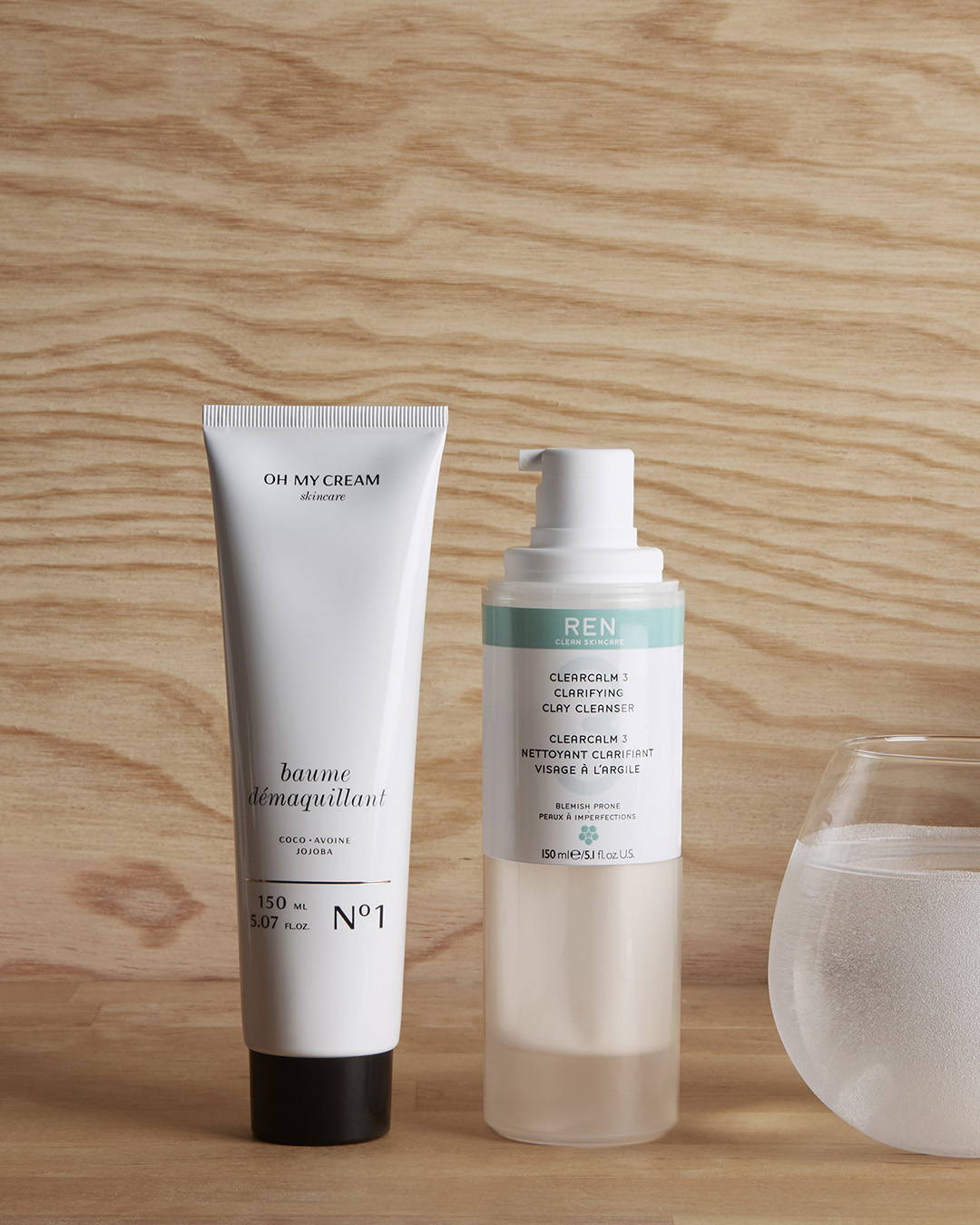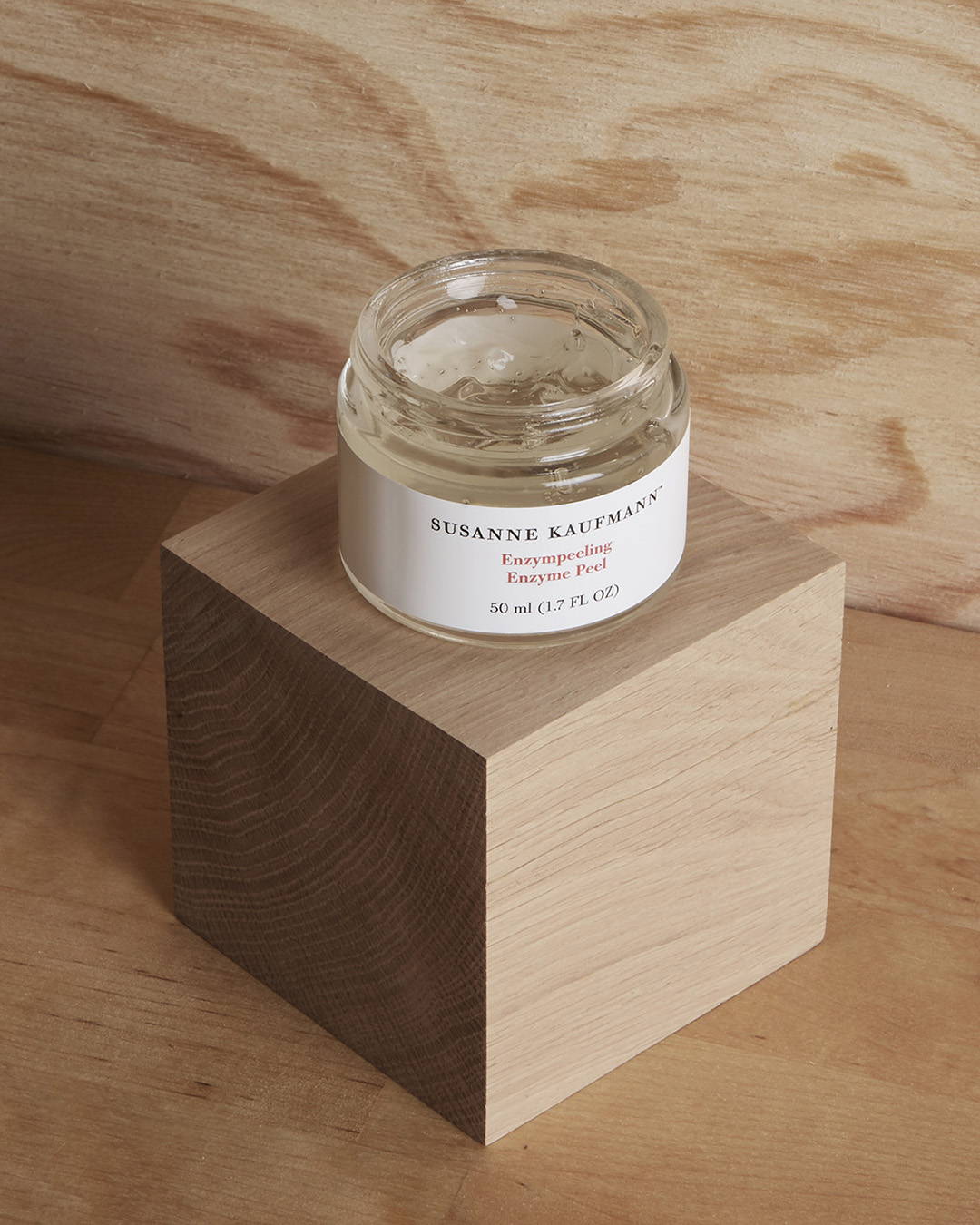 Gently exfoliate
Banish grainy exfoliants, which are too aggressive for a sensitive epidermis: they could also open up the heads of pimples, spreading the bacteria responsible for imperfections. On the other hand, you have everything to gain when you opt for exfoliants without grains and with well chosen active ingredients. Once a week to start (you can then increase to twice a week), use our Exfoliating Powder Oh My Cream Skincare Exfoliating Powder after cleansing your skin: its salicylic acid removes dead surface cells for smoother skin and unclogs pores deep down. Want to take a little more time for yourself? Try theEnzyme Peel Susanne Kaufmann: used in the Austrian brand's spa, its kiwi and apple enzymes purify in minutes, while its fenugreek extracts reduce inflammation.
Treat spots with a targeted product
Morning and night, to prevent and fight against a pimple outbreak, we use a purifying serum... and ultra-gentle! Our Anti-Blemish Serum Oh My Cream Skincare has been designed to calm the sebaceous glands to better regulate the production of sebum, while reducing the inflammatory state. If you have very localized pimples on your face (for example, only on your chin, an area mainly affected by hormonal imbalances), you can do without using it on the rest of your face, and even use it as a preventive measure, just before your period for example.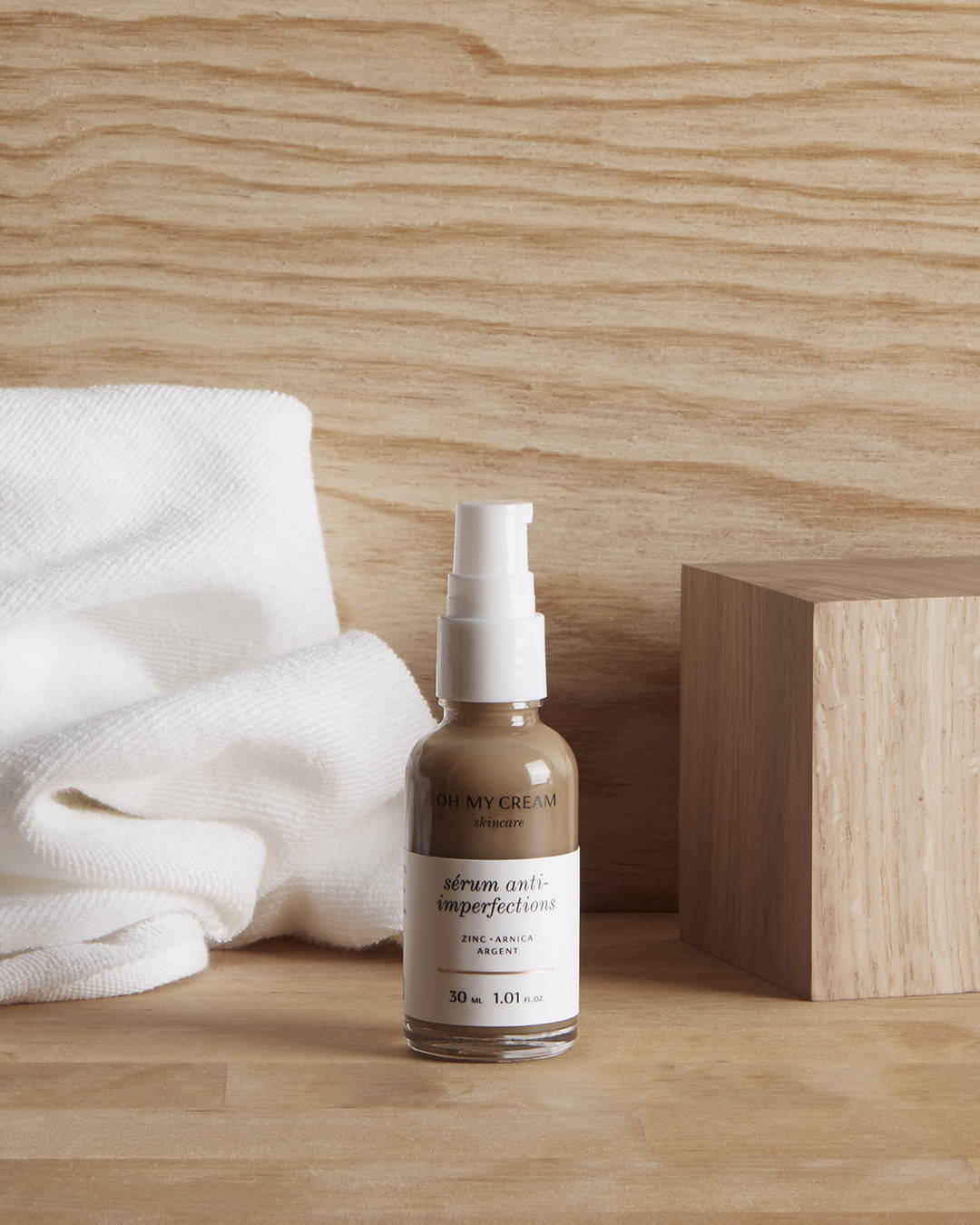 Hydrate and protect sensitive skin
Nothing beats simplicity: opt for short, simple formulas for maximum tolerance and no risk of breakouts. The perfect combo? The Universal Cream Oh My Cream Skincare is a basic moisturizing cream for all skin types to moisturize and protect, to be used with a few drops of a skincare oil to better reduce the scars left by pimples. We no longer present theWild Rose Oil Pai Skincare, which works very well in duo, or if you want to treat yourself, the Neroli Infused Marula Oil African Botanics. This high quality care oil is the perfect compromise for sensitive skin prone to imperfectionsIt is the perfect compromise for sensitive skin prone to blemishes, but also to prevent the first signs of aging in your 30s.

Use a super-mask to diminish redness and purify the skin 
The Aura Manuka Honey Mask Do you know about Antipodes? This cult mask is unparalleled in its ability to both relieve inflammatory conditions and diminish the appearance of small red blemishes. Moisturizing and purifying, it improves healing capacity thanks to its manuka honey, the brand's signature ingredient. A must-have that can be used twice a week without any problem when nothing goes wrong!
I camouflage my small imperfections and my redness
In addition to the permanent feeling of raw skin, the way you look at yourself (and the fear of others!) can quickly undermine your morale. No need to panic! You can cover up your imperfections without fear of clogging your pores and ruining all your efforts. Opt for the Purepressed Base Jane Iredale 's Purepressed Base, a mineral foundation that can also be used as a concealer where pimples and redness are more prominent.
Still flush with skin? If, despite our advice, your imperfections are not going to go away, we recommend that you consult a dermatologist who can suggest an additional treatment. Finally, for tailor-made advice, don't hesitate to book your skin diagnosis in one of our boutiques or to write to us at consultation@ohmycream.com.