Beauty posts
Tout savoir sur les bienfaits (miraculeux) du collagène
Ingrédient star de ces dernières années, le collagène est reconnu pour ses multiples bienfaits sur la peau. Mais savez-vous de quoi il s'agit réellement ? Lumière sur la cure de collagène marin et les soins qui vont changer votre routine…
Qu'est-ce que le collagène ?
Le collagène est une protéine, naturellement présente dans l'ensemble de notre corps qui assure l'élasticité et la régénération des tissus de notre peau. À partir de 25 ans, sa concentration diminue, entraînant ainsi l'apparition des premiers signes de vieillissement cutané : un teint terne, des traits plus marqués, des rides ou ridules localisées et une peau qui récupère moins vite. 
Longtemps réservé à la médecine esthétique, le collagène est depuis plusieurs années l'actif star reconnu pour ses propriétés anti-âge, capable de ralentir le vieillissement de la peau. On le trouve régulièrement dans des crèmes ou encore sous forme de cure de collagène marin, qui permettent de stimuler sa production interne. Et les bienfaits de cette protéine sont multiples aussi bien sur la peau que sur le corps et les cheveux.
What are the benefits of collagen?
Sur la peau :
Il améliore l'élasticité de la peau pour un effet repulpant

Il atténue les signes de l'âge comme les rides

Il diminue les imperfections de notre peau
On the body 
Il réduit les douleurs articulaires

Il fortifie les ongles, qui ne se dédoublent plus

Il booste les cheveux pour une chevelure en bonne santé et brillante 
Collagen for the skin at Oh My Cream
At Oh My Cream, we do not advocate anti-aging or anti-wrinkle at all costs. Our idea is rather to accompany the skin with specific care toage beautifully. Thus, we are committed to offering you collagen-based products products that we are certain are effective. It is important to specify that it is recommended to consume collagen in association with with vitamin Cwhich favors its assimilation by the body.
La cure de collagène marin sans goût ni odeur
Dernière nouveauté à rejoindre nos étagères, Le Collagène Combeau est le complément alimentaire à base de collagène marin, hautement assimilable, justement dosé et écoresponsable ! Avec sa formulation à 100% de collagène pur à l'efficacité cliniquement prouvée, ce complément sous forme de stick, sans goût ni odeur, s'adapte à votre routine quotidienne pour cibler l'éclat de votre peau et son élasticité. En cure d'un à 3 mois, c'est le complément au collagène qu'on a plaisir à prendre à tout moment de la journée et qui s'adapte à notre routine. 
Le tips en plus ? On le prend en complément de L'Essentiel Peau Combeau pour protéger la dégradation des réserves internes de collagène et booster sa formation, mais aussi réduire les dommages causés par les radicaux libres. Une action anti-âge 360 pour combattre les causes du vieillissement cutané ! 

Les soins booster de collagène pour la peau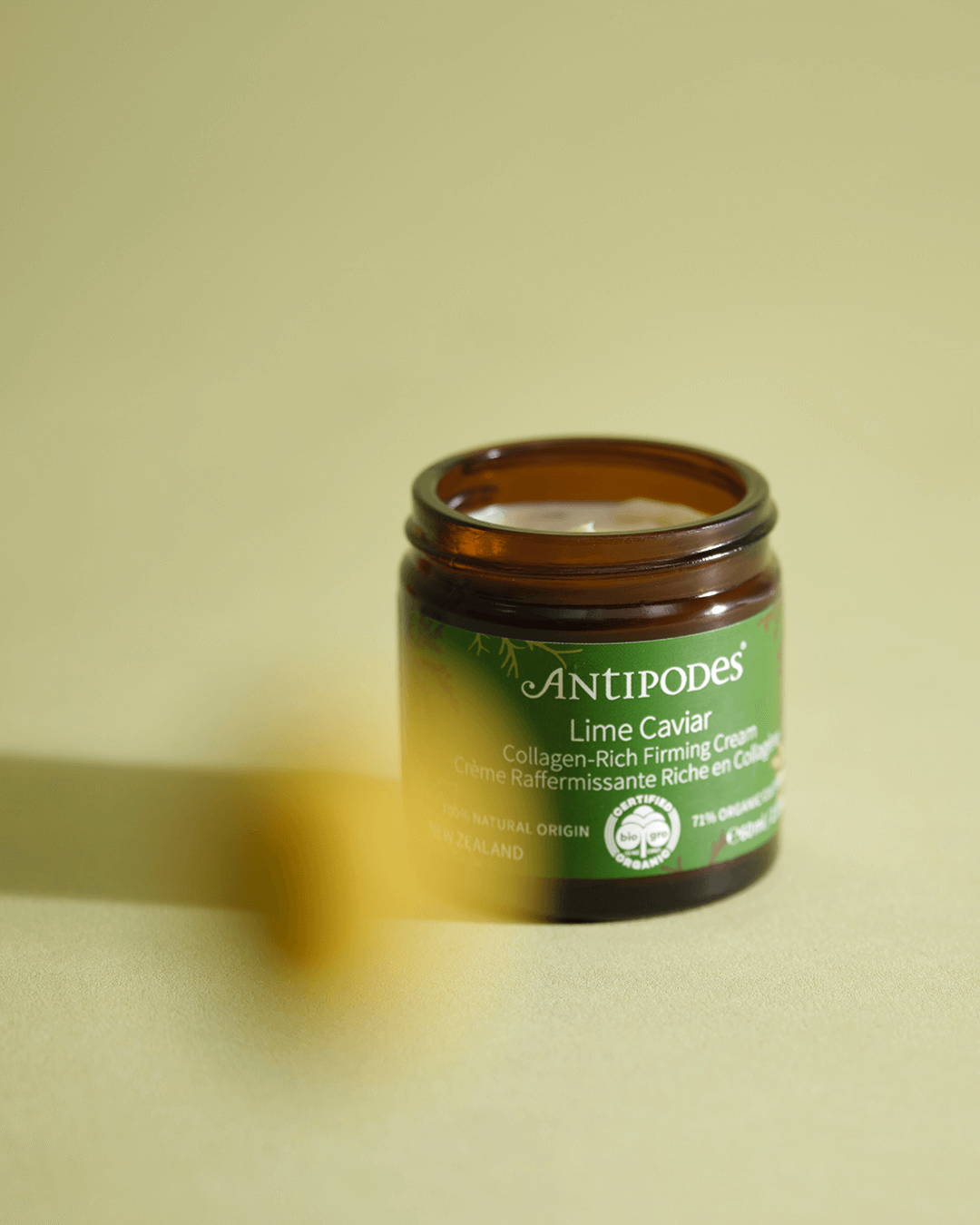 La crème de nuit riche en collagène
Formulée à partir de Citron Caviar, un superfruit riche en acide de fruits (AHAs), la Lime Caviar Crème Raffermissante Antipodes renforce la barrière cutanée et stimule la production de collagène dans les fibroblastes de la peau jusqu'à 65%*. De plus, avec son huile d'avocat ultra-nourrissante, elle aide à diminuer l'apparence des rides et ridules tout en permettant à la peau de gagner en fermeté et élasticité.
Pour aller plus loin : avant votre crème de nuit, appliquez le sérum Eve Bio-Retinol Line Reduction Sérum Anti-Rides Antipodes. Ce soin concentré en bio-rétinols aide à atténuer et prévenir les rides et ridules, tout en raffermissant et en lissant les traits.
Le sérum repulpant riche en collagène vegan
Grâce à son collagène végétal associé à l'action antioxydante des extraits de fraise de sa formule, le Cloud Jelly Serum Sérum Hydratant Repulpant Herbivore repulpe intensément la peau tout en prévenant les premiers signes de l'âge. Un booster de fraîcheur et d'hydratation qui apporte cet effet "plump" à la peau. 
Le masque de nuit pro-collagène
Avec son effet "retinol-like", l'Age specific Masque lift pro-collagène Patyka relance la production de collagène pour raffermir, restaurer l'élasticité de la peau et combler les rides. Un masque de nuit qui à l'action coup d'éclat pour une peau lumineuse au réveil. 
Le booster protecteur enrichi en collagène végétal
Utilisant les vertus protectrices du collagène, le Booster Collagène Vegan Réparateur Pai Skincare agit en surface de la peau comme un vrai voile protecteur pour retenir l'eau dans les tissus et maintenir une peau hydratée et lumineuse et un teint uniforme. 
Les soins repulpants boosters de collagène
*Trinity Bioactives : étude scientifique indépendante in vitro en aveugle visant à évaluer les effets des produits Antipodes® sur la production de collagène de Type I de fibroblastes de peau humaine en culture, à une concentration de 2 mg/ml - 2022.