LIFESTYLE
We tested for you... The collagen cure
We hear about it everywhere... Collagen has the wind in its sails! We know it in our creams and serums, but not so much as a food supplement. However, taking it as a dietary supplement promises to reverse the signs of aging but also to counteract dehydration. So we tested it for you, with 3 different cures and over several months! 
Collagen, the key protein for plump skin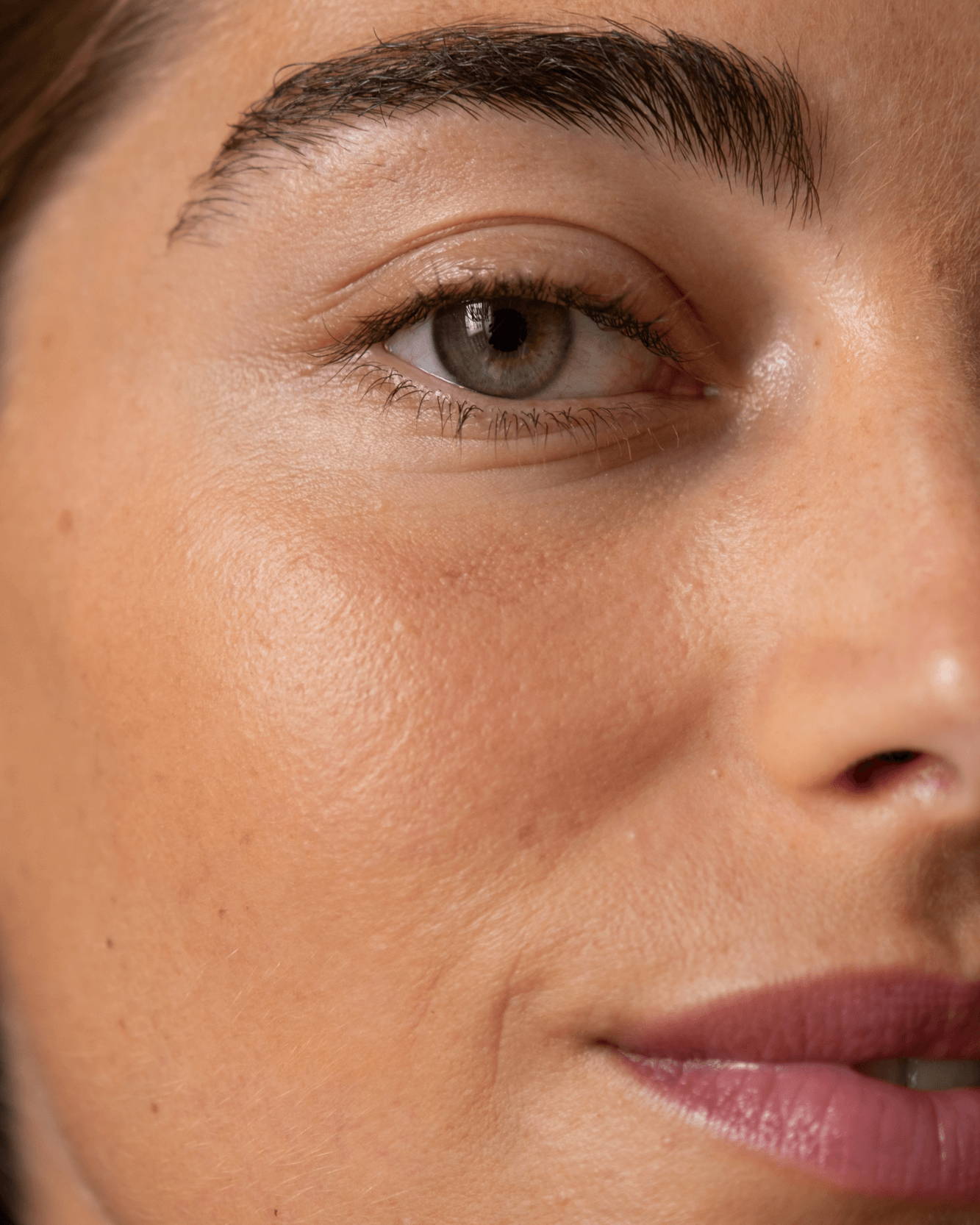 Why take a collagen cure?
Synthétisé naturellement par le corps humain, le collagène est LA protéine responsable de la fermeté de la peau et de la cohésion des tissus. Alors, pour garder une peau rebondie, il faut du collagène en quantité suffisante dans le corps. Seulement, à partir de 25 ans, le fibroblaste (cette cellule qui sécrète les fibres de « soutien » dont le collagène), s'endort un peu et fournit un travail de moins bonne qualité. Et, les fibres de collagène, moins nombreuses dans l'organisme, entraînent une perte de fermeté. 
C'est pour compenser cette perte naturelle de collagène que l'on peut trouver dans nos soins du collagène marin ou d'autres actifs stars, qui vont venir booster la production naturelle du collagène. Parmi eux, le rétinol, la vitamine C, les peptides, mais aussi les acides, comme l'acide glycolique ou l'acide lactique. Ces derniers vont créer une stimulation forte des fibroblastes et donc augmenter la synthèse et la production de collagène.
How long should a collagen cure last?
A collagen cure is recommended once or twice a year, for 1 to 3 months. But it all depends on your age and needs. If you're older, you'll need to take a longer course of treatment to replenish the collagen stocks already present in your tissues. You can also take collagen on a daily basis throughout the year, provided you have first identified your needs with a health professional.
First of all...
Before we begin this article, we'd like to make it clear that at Oh My Cream, we don't advocate anti-aging or anti-wrinkle at all costs, quite the contrary. Rather, our idea is to accompany the skin with specific treatments that will reveal all its beauty. And it's for this reason (and because we strongly believe in the power of "in & out" routines) that we decided to test the collagen cure for you.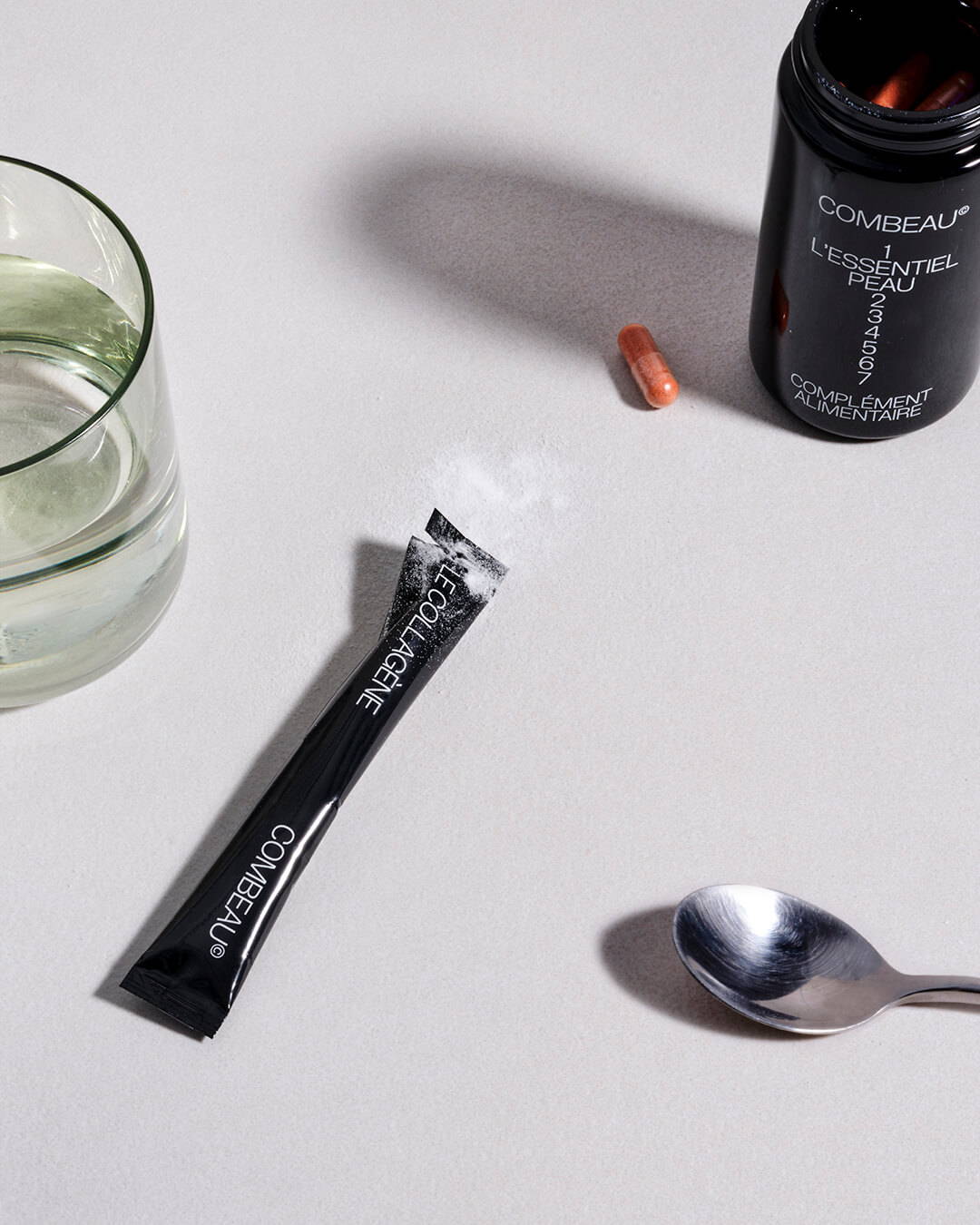 L'avis d'Elsa sur la cure de collagène marin en poudre Combeau
Association parfaite entre science, nature et innovation, Combeau est la marque de compléments alimentaires justement dosés et à l'efficacité cliniquement prouvée. Après L'Essentiel Peau, sa première formule culte aux 7 actifs d'exception pour cibler l'éclat, les signes de l'âge et les imperfections, la marque a dévoilé Le Collagène. Un complément sous la forme de poudre de collagène marin 100% pur, sans goût, ni odeur, et qui s'intègre facilement à votre quotidien.
Qu'est-ce qu'il y a dedans ? 
100% de collagène marin pur, hautement soluble et assimilable. 
What did I like about this collagen cure?
Son format en stick hyper pratique et surtout sa formule sans goût ni odeur n'a pas eu de mal à se fondre à ma routine du matin : un stick mélangé directement à mon café ! J'avais l'habitude des collagènes au goût à l'odeur et à l'odeur très fortes et parfois écœurantes mais la poudre de collagène marin Combeau est totalement imperceptible et s'adapte ainsi facilement à notre quotidien. On peut très facilement glisser ses sticks dans son sac pour le midi au bureau ou bien un thé en cours de journée. Pratique et bon et rudement efficace sur l'aspect de la peau, mais aussi les ongles et les cheveux ! 
Quels sont les résultats de la poudre de collagène sans goût ni odeur Combeau ?
J'ai commencé ma cure de collagène surtout en prévention anti-âge à l'aube de mes 30 ans, mais ayant un teint uniforme et qui manque parfois d'éclat, j'ai pu voir une nette amélioration au bout de 15 jours. Ma peau est plus lumineuse, moins grasse et mes taches et cicatrices estompées. De plus, cette petite ridule qui marque mon front depuis quelques temps maintenant est beaucoup moins visible. Ma peau est plus confortable, éclatante et mes ongles et cheveux semblent aussi avoir profité des bienfaits de cette poudre de collagène marin. En effet, après 1 mois de cure, mes ongles sont plus forts et mes cheveux plus brillants. J'avoue, je suis bluffée et je compte bien continuer cette cure de collagène sans goût ni odeur. 
The price?
49€ les 30 sticks. 
Where can I find them?
Sur nos étagères ! Le Collagène Combeau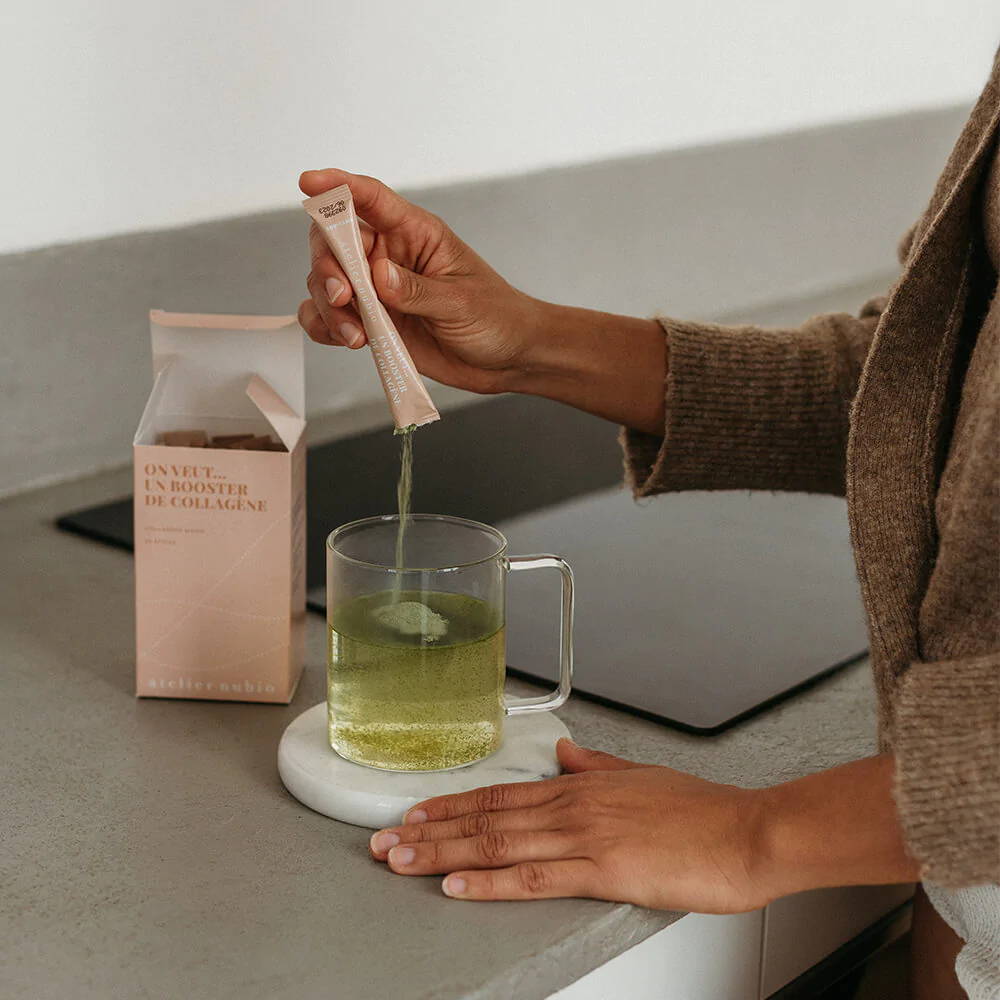 L'avis de Pauline sur la cure de collagène marin en sticks Atelier Nubio
Atelier Nubio, c'est la marque de compléments alimentaires made in France et aux formulations 100% naturelles (sans excipients, conservateurs ni arômes artificiels). Simples et accessibles, ils sont en plus certifiés bio !
What's inside? 
Marine collagen: for skin elasticity, hydration and anti-aging. 
Kale, parsley and celery:

plumping, rich in vitamin C and minerals, to boost collagen action
What did I like about this collagen cure?
I quickly made it a habit I quickly made it a habit: just after my little sport session in the evening, a cup of boiling water and the stick that mixes very easily and it's done! Its broth side, rich in collagen and a mixture of green vegetables, is super comforting for the evening. You can also easily slip these sticks into your bag for lunch at the office. Convenient and good and really effective on hydration!
What are the results of the Atelier Nubio collagen cure?
As with all cures, you have to be patient because results don't come in a single stick. I began to see a particular difference in hydration after 15 days / 3 weeks It's as if I'd added a brand new moisturizing serum to my routine! Clearly, my skin is plumper and more comfortable, and the fine lines of dehydration are less pronounced.
The price?
45€ for 20 sticks. 
Where can I find them?
At home! We want a collagen booster Nubio workshop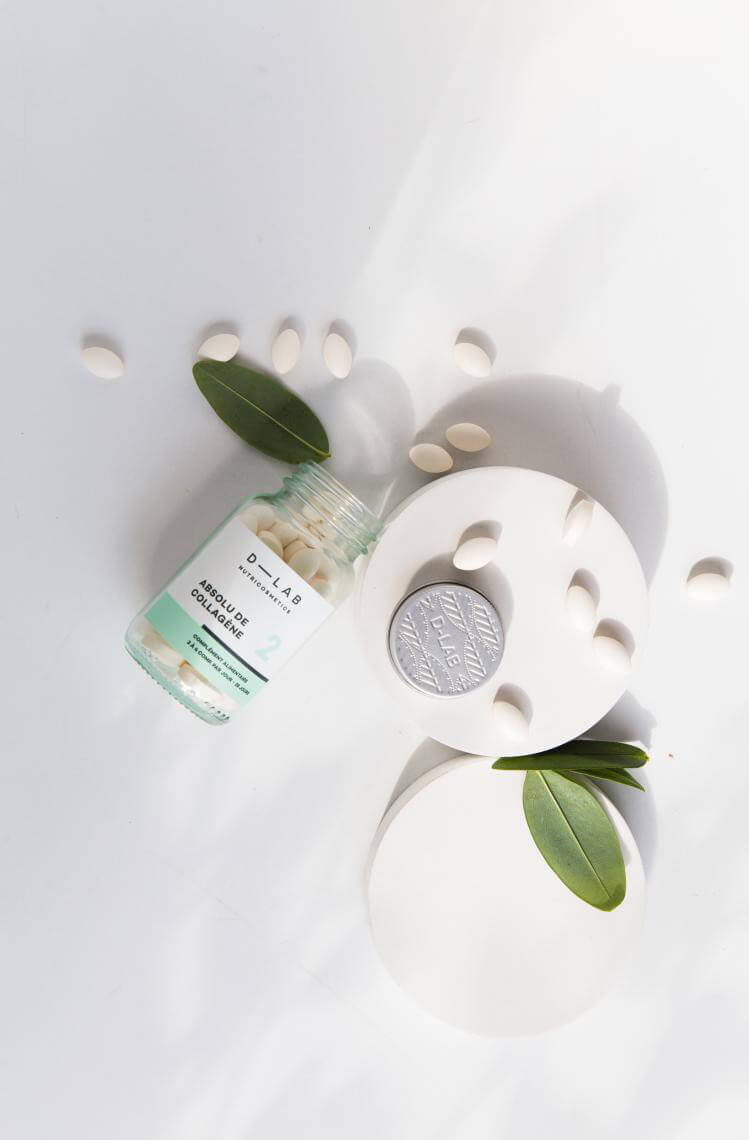 L'avis de Sylvie sur la cure de collagène marin D-LAB 
At D-LAB, theproduction is French, the active ingredients are specifically selected for their naturalness and bioavailabilityThe formulas are GMO-free, gluten-free, preservative-free, nano-particulate-free and in vegetable envelopes.
What's in it?
L'acide hyaluronique : pour hydrater 
Le zinc : anti-imperfections et booster de collagène
Le collagène marin : pour l'élasticité, la protection et l'hydratation
La spiruline bio : cette algue composée de 75% de protéines végétales pour protéger la peau de l'intérieur et maintenir la production de collagène.
What does it do? 
By combining the two main constituents of our dermis, this formula has a synergistic "anti-wrinkle" action proven by clinical study The elastin fibers bring suppleness to the skin while the marine collagen stimulates the production of new collagen in the body to protect and moisturize the epidermis as a whole.
What did you like about this treatment?
"First, the ease of taking the supplements These two little capsules immediately became part of my morning ritual, just like my breakfast and my beauty routine! I've been taking a new look at what I consume since Ellie's arrival at Oh My Cream 2 years ago: I pay more attention to myself, to my daily diet, to those intimate moments, for me and in full awareness of my body. A course of dietary supplements is completely in line with this new approach to beauty. Finally, I am also sensitive to clean, natural products, produced in France.
Quels sont les résultats de la cure D-LAB ?
I noticed results very quickly (in the first month too). It had become such an integral part of my beauty ritual that I'd almost forgotten why I was taking it! But a month later, I really noticed that the quality of my skin had changed. I even sent a photo to Ellie, without immediately thinking that the collagen cure was the reason for this improvement in my skin! So yes, the wrinkles haven't disappeared completely, but they're definitely less pronouncedespecially at the corners of my eyes. And I feel that the small wrinkles have been filled in and my skin is tighter and plumper than it was.
Le prix ?
28€ pour 1 mois,  75,4€ pour 2,5 mois.
Where to find it?
On the official website dlabparis.com or Instagram : @dlabnutricosmetics
La sélection au collagène