Beauty posts
Why does my skin need a daily dose of Vitamin C ?
It's THE star among vitamins, and for good reason: while we're all fans of its anti-fatigue (and, in this season, anti-winter-bobo) properties on a daily basis, Vitamin C has more than one trick up its sleeve when it comes to the skin. Looking for that famous "glow" or perfect skin? As a treatment, serum or cream, add a pinch of Vitamin C to your beauty routine to say goodbye to a dull complexion or brown spots, and even fight skin aging!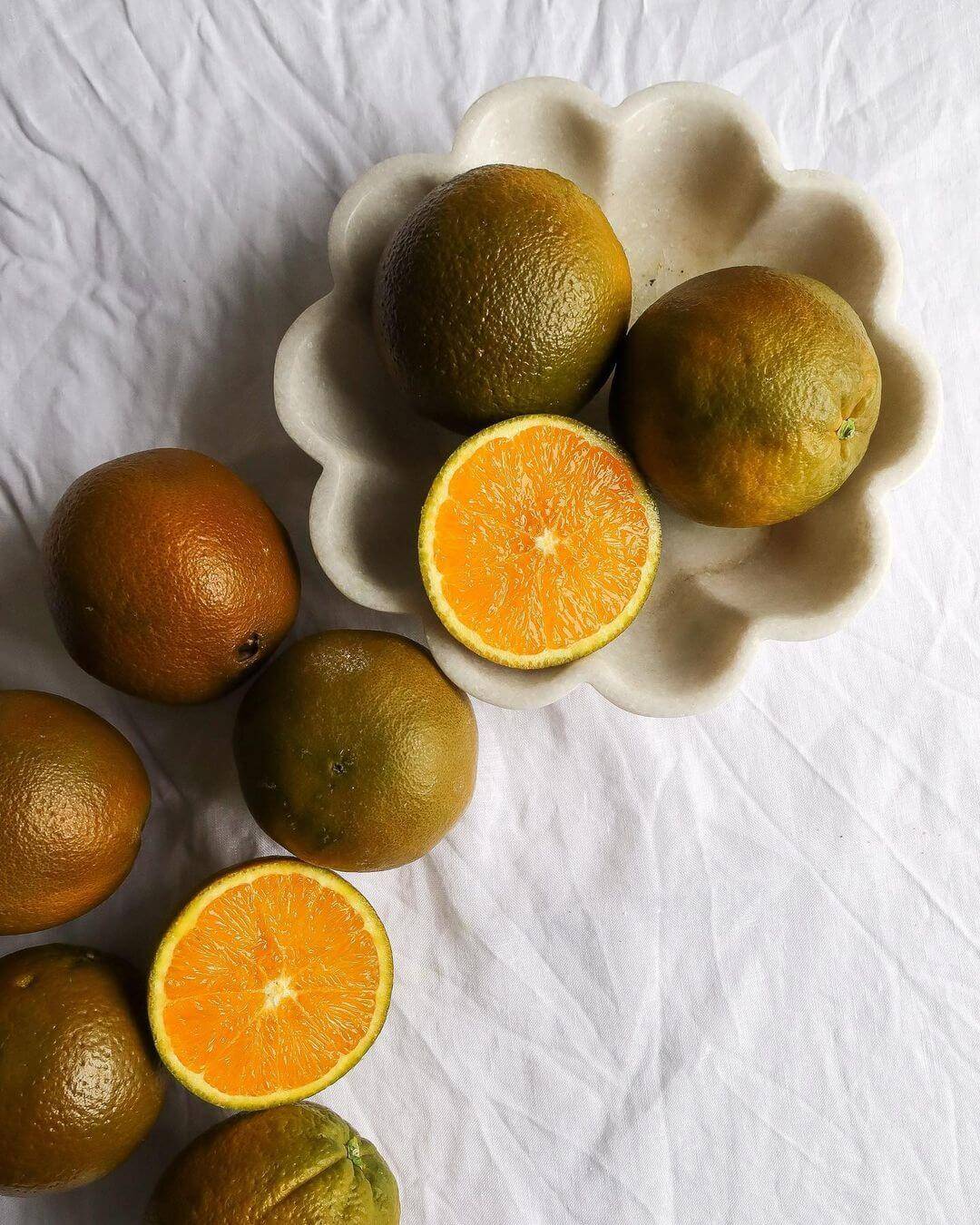 What is vitamin C?
A "beautiful skin" active ingredient par excellence,ascorbic acid is loved by all skin types, both as a preventive and as a basic treatment. The reason? Its antioxidant virtues make vitamin C a real ally against external aggressions that dull the skin's radiance and accelerate ageing.
In fact, our bodies are unable to synthesize or store vitamin C, which is essential to our skin's mechanisms. So we shouldn't neglect a diet rich in vitamin C, consuming fruits and vegetables that contain it(kiwis, oranges, papaya, strawberries, pineapple...) to protect our cells from the inside and prolong their lifespan. Because beauty is as much about the inside as the outside!
photo credit: @jaifaim
How does Vitamin C affect the skin? 
Highly concentrated in antioxidants, Vitamin C helps protect our cells from free radicals (pollution, UV rays, tobacco...), those unstable molecules that dull the complexion and accelerate skin ageing, as well as giving mature skin a helping hand against wrinkles, loss of firmness and even pigmentation spots. A true ally that not only helps skin defend itself on a daily basis by stimulating its natural defense system, but also has numerous benefits for the skin's appearance. 
These vitamin C-rich foods
Fruits and vegetables are rich in vitamin C, but some stand out for their particularly high concentration, such as : 
Acerola, one of the world's richest fruits in vitamin C. It contains up to 30 times more vitamin C than oranges! 

Goji berries, a real source of minerals and natural antioxidants. 

Sea buckthorn berry, a fruit rich in minerals, essential fatty acids and vitamin C.  
Why add Vitamin C to your routine?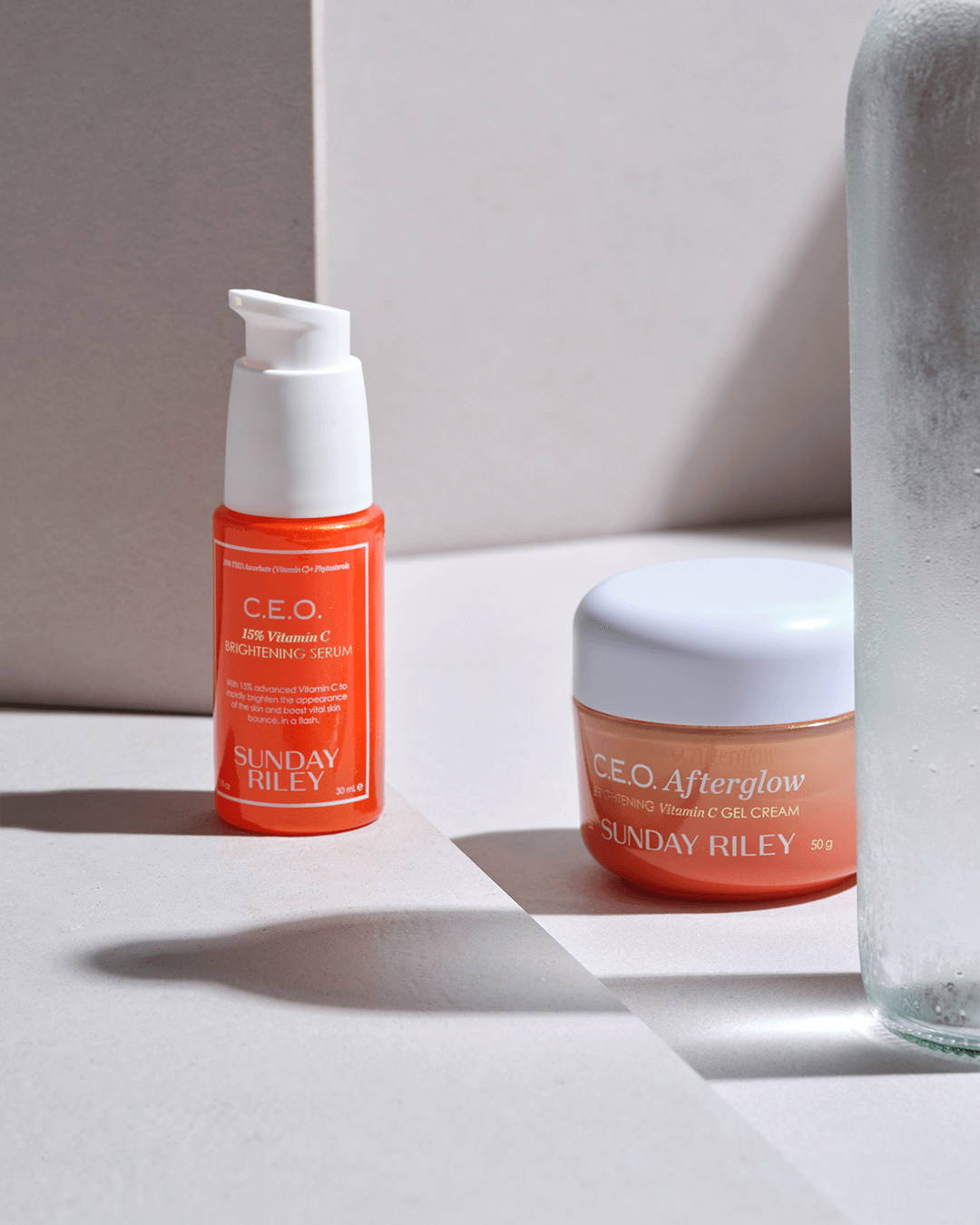 For a burst of radiance
This is the bane of urban skins, which are even more exposed to external aggressors, and suffer from a dull complexion. Smokers are also more prone to a dull complexion, as each puff of a cigarette causes an overproduction of free radicals in their bodies. That's where Vitamin C comes in, like a juice cure that awakens the complexion for a guaranteed "healthy glow" effect!
The vitamin juice to adopt: the C.E.O. 15% Vitamin C Brightening Serum Sunday Riley. Thanks to its high concentration of THD ascorbate, a stable form of vitamin C, this already cult serum offers powerful antioxidant actionto hydrate skin and reveal an even, radiant complexion and visibly plumped skin. 
And to even out the complexion, we love C.E.O. Afterglow Vitamin C Revitalizing Cream Sunday Riley, this moisturizing cream enriched with vitamin C reduces pore size and stimulates skin's natural radiance, while offering a satiny, non-greasy finish, ideal for combination to oily skin! 
To reduce pigmentation spots 
Excessive sun exposure, hormonal upheaval, stress... Pigmentation irregularities can quickly appear! Vitamin C is one of the key active ingredients to help regulate melanin production deep within the skin. In this way, it limits the appearance of dark spots while preventing new ones from appearing, and is the perfect complement to a sun cream to protect the skin from UV aggression(the sun being 80% responsible for skin ageing). 
The ideal anti-spot serum : to prevent and reduce pigmentation spots, use the Anti-Spot Corrector Serum Patyka. Formulated with goji berries, an antioxidant source of vitamin C, and sea fern, it helps reduce the size and intensity of dark spots, while stimulating cell renewal for brighter, more even-toned skin. 
For high-impact anti-aging action
While combating inflammation of skin cells - which accelerates aging - Vitamin C boosts production of collagen and elastin fibers. Indispensable for skin maintenance and density, we produce fewer of these two fibers over the years... And in the case of a diet rich in sugars, they can even break down, causing wrinkles and fine lines to appear prematurely and sketching a sagging oval! 
The night cream to fight back: the Night Cream Vitamin C + Ashwagandha Odacité combines the power of vitamin C and hyaluronic acid with the botanical active ingredients of ashwagandha, pomegranate and algae to reveal plump, radiant skin. A truly revitalizing and nourishing cocktail that helps prevent cutaneous aging, maintain firmer skin and restore suppleness.
And for a first anti-ageing action, try our Plumping Cream Oh My Cream Skincare, enriched with vitamin C and bakuchiol, it helps reveal skin's radiance while smoothing out fine lines and wrinkles. 
And to go further...
Start a course of L'Essentiel Peau Combeau. This cult dietary supplement offers comprehensive action to target skin radiance and hydration, aging and sagging skin, imperfections and stress. Enriched with acerola, a powerful antioxidant and source of vitamin C, it boosts collagen production and reduces skin ageing, while acting on fatigue and immunity.
Need help finding the right vitamin C skin care product for your skin type? Write to us at consultation@ohmycream.comour beauty coaches will be delighted to help you. And don't forget that you can carry out an in-store or online skin diagnosis to adapt your healthy-glow routine whatever your skin type: sensitive skin, dry skin, combination skin, skin prone to imperfections or mature skin, our beauty tips will help you find the solution!
Our favorite vitamin C treatments