Beauty cabinet
Mathilde, founder of Mathilde Cabanas
I am an illustrator and decided to create my own brand. It was initially a stationery brand and I started with birthday invitations, cards and posters. Then, the 'bisou' (kiss in French) idea came along and now we have a brand that makes t-shirts, sweatshirts and trainers, all with our 'bisou' motif embroidered on them. Today, I am developing the story towards accessories: badges, bags, umbrellas…
Mathilde's morning routine
In the morning I clean my face with
Ren Skincare
Evercalm Gentle Cleansing Milk
which is incredible, it's a real "fresh cream" that you apply on your face, it's very soft, it's great to start your day like that. Once I am all clean I apply a serum. I don't have any more at the moment, I like to change it. While I'm drinking my tea and eating my breakfast, I put on a lot of eye cream! I use
Kiehl'
s
Creamy Eye Treatment
with avocado and leave it on so. Then I put on a day cream, right now it's
Codage
Day Cream
. I'm pretty open-minded, I like to change it up too! And finally I put on an SPF, right now it's
Glossier
Invisible Shield
, but in the summer I use SPF50: I like the one from
La Roche Posay
which is quite fluid and doesn't show too much.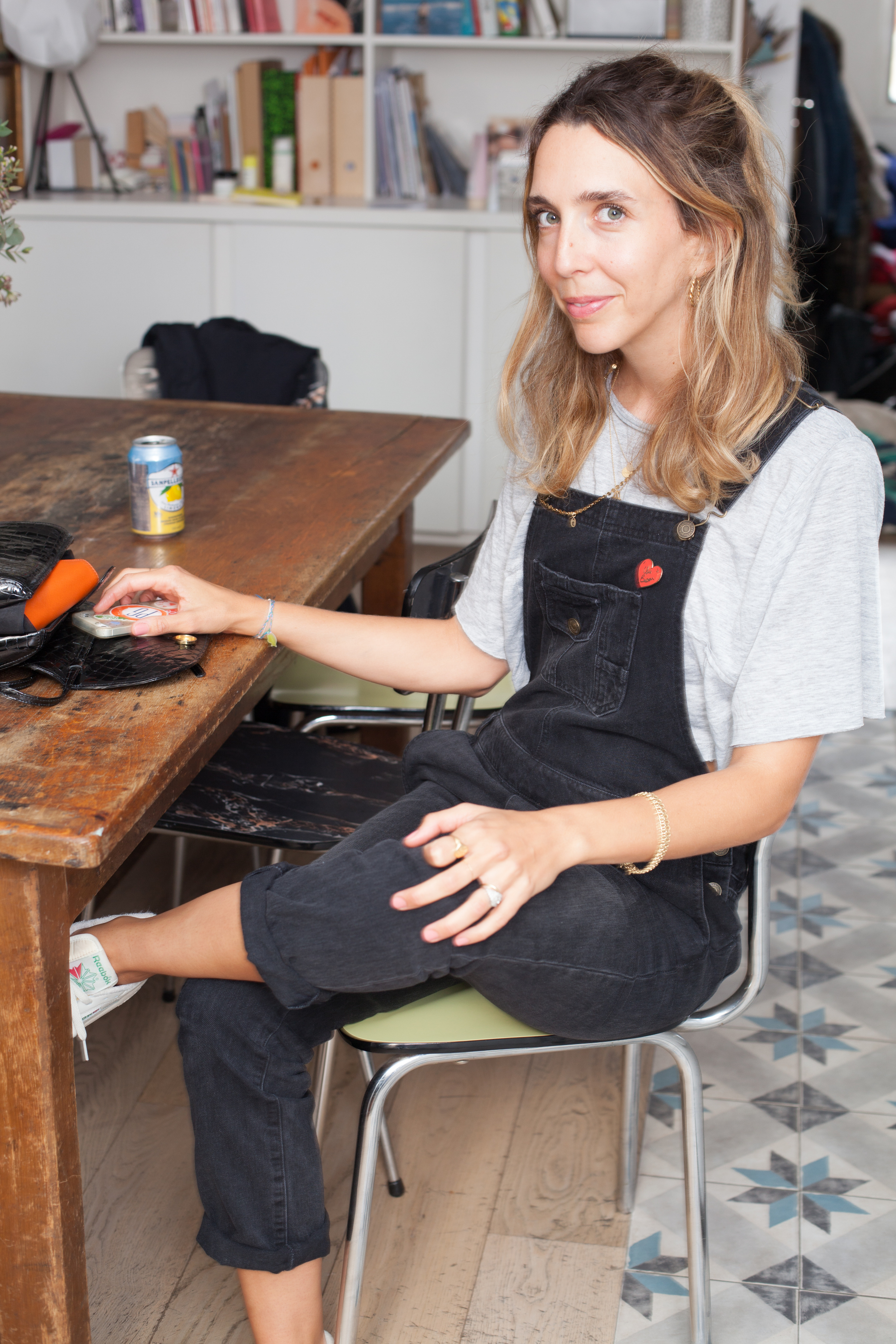 Her makeup routine
In the morning I use concealer. Right now I'm using Glossier's Stretch Concealer that my cousin brought back from the States. I also use their Boy Brow to discipline my eyebrows. Then I put on some bronzer, it's well worn, it's from Benefit. I put a little on my cheeks and forehead, just to look good! Finally, I love the little RMS Beauty boxes, I have one for everything: one for the blush (the Lip2cheek RMS Beauty), one for the illuminator (the Living Luminizer RMS Beauty)... these products are really nice. I also have one for the eyeshadow (the Cream Eyeshadows RMS Beauty) but I don't use it everyday, just for the evening.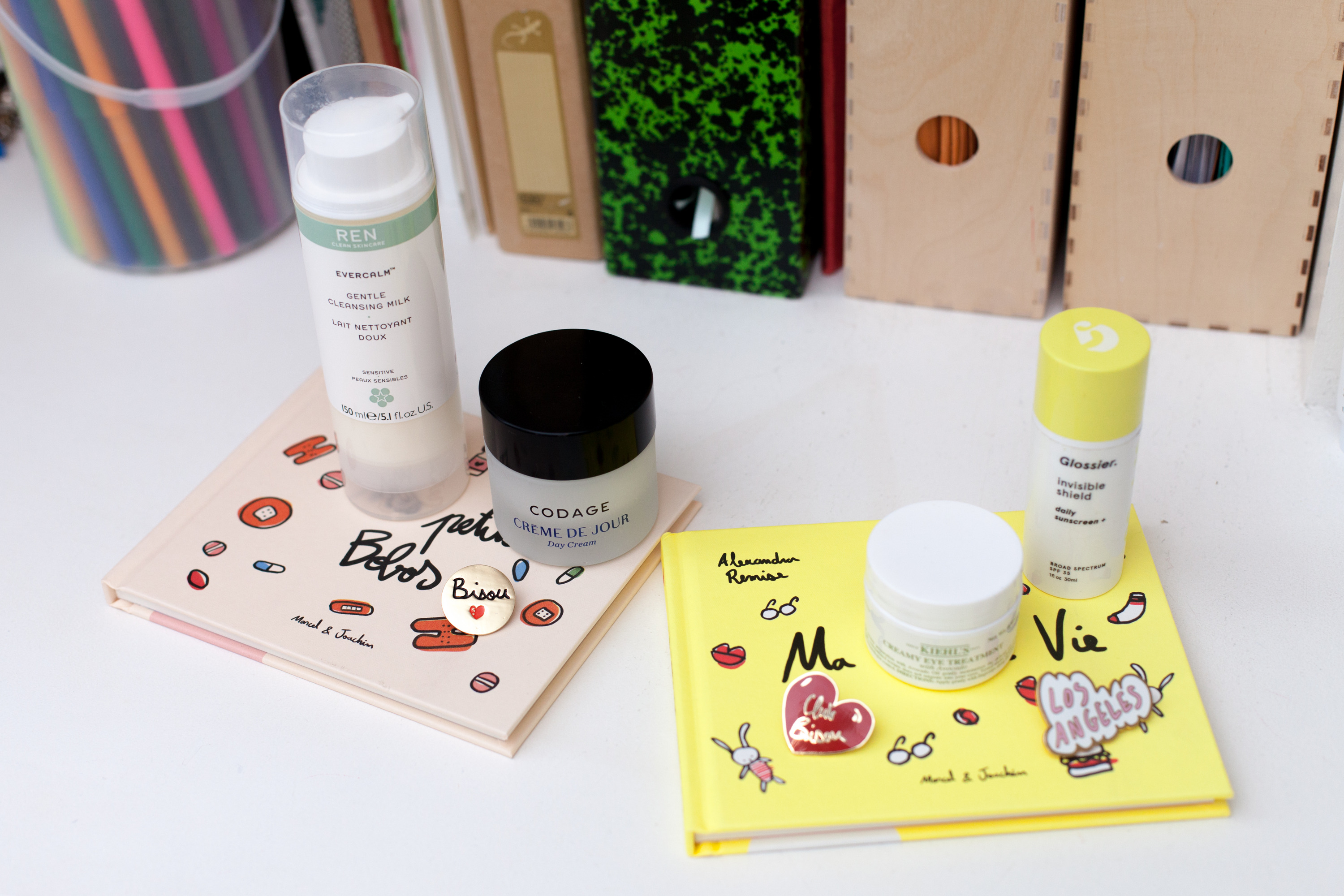 Mathilde's Evening Routine
First the makeup removal, I use Collosol cleansing milk, apparently it's a grandma's product, but neither my grandma nor my mom used it. But indeed it smells a bit like grandma... a super comforting smell, I love it! I find the milk much better than the micellar water that washes away. Then I continue with an exfoliation, with the Dermalogica Daily Microfoliant, it's great, very soft, it helps to remove all traces of SPF, I'm all clean afterwards, all ready to do my evening routine! When I have time I do a mask, I love the Aesop Blue Chamomile Moisturizing Mask: I leave it on for 30 minutes, remove the excess and go to bed. Otherwise I apply Codage Night Cream, which is as rich as I like. Sometimes I use oil when my skin is really dehydrated. I like the Divine Face Oil Antipodes, I like to change oils but this one is really good! It smells like nature.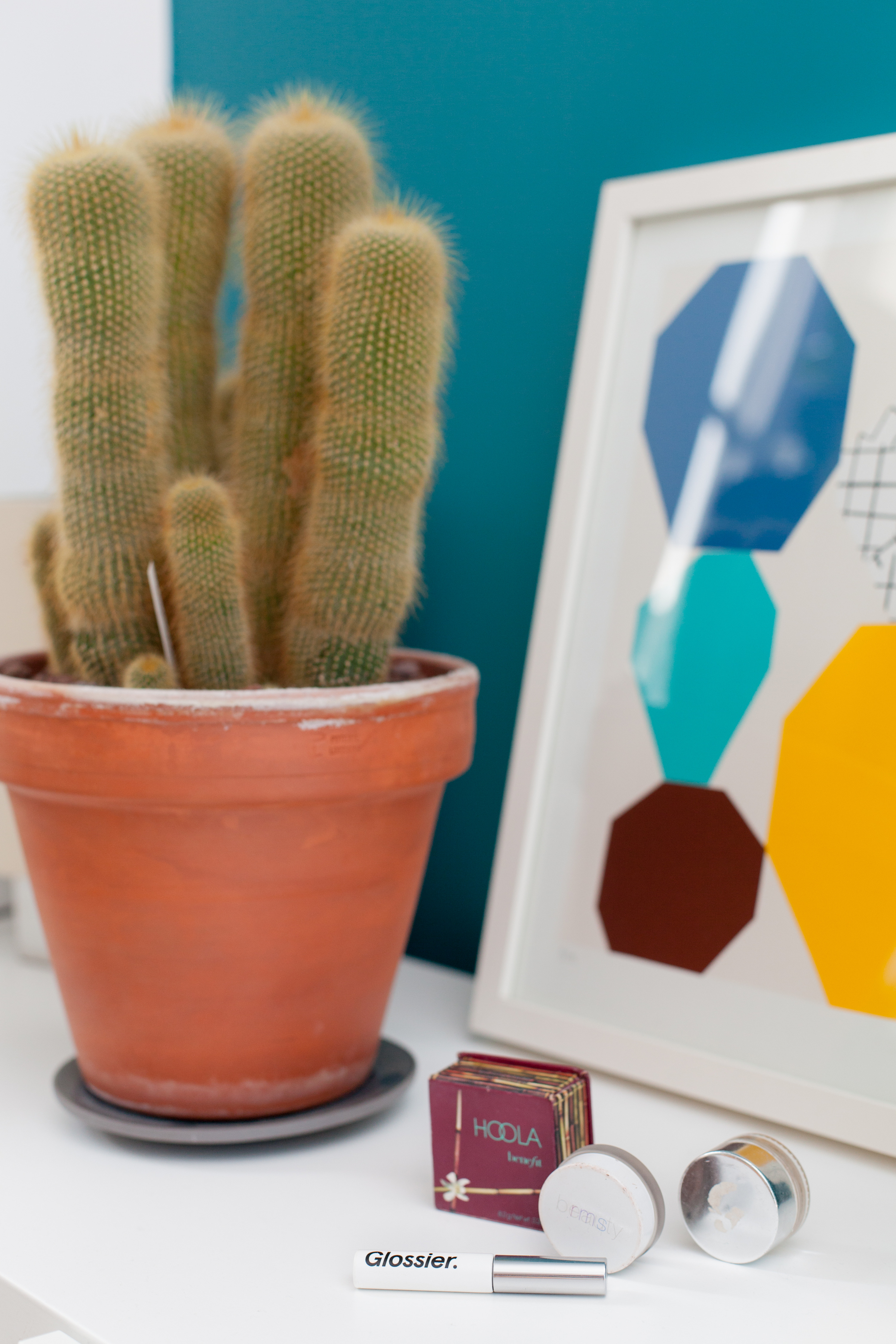 Mathilde's 3 beauty must-haves
The Balm Dotcom Glossier, I put it everywhere! On my lips, on my cheeks to have a glowy complexion... I use it all the time and even my boyfriend borrows it from me, which really pisses me off!

The Evercalm Gentle Cleansing Milk from Ren Skincare, I'm getting hooked!

Kiehl's Creamy Eye Treatment.
Her latest favourite
The Living L uminizer RMS Beauty that doesn't take up any space in your bag: put it on your cheeks and eyes and you'll look fresh right away!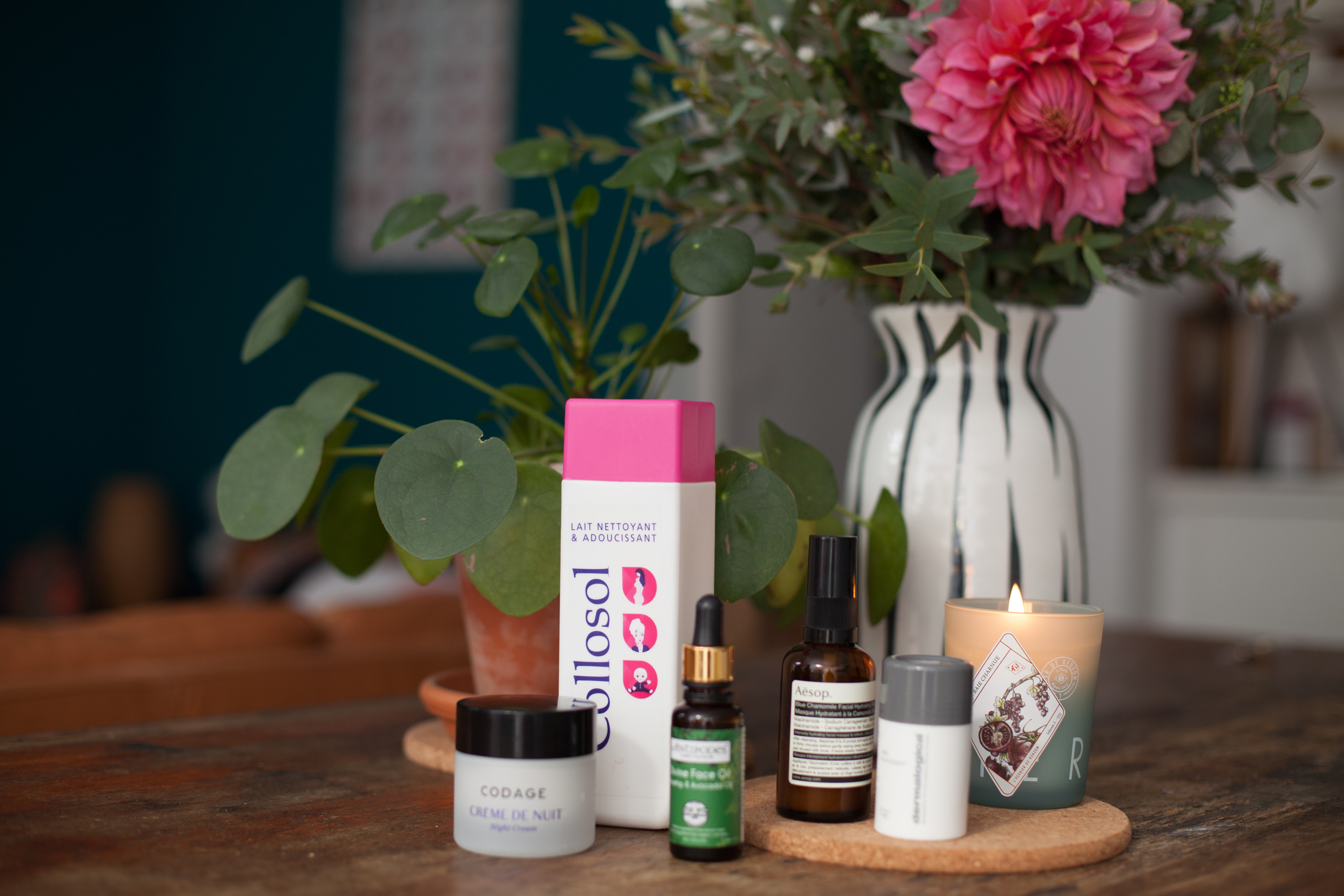 Her beauty secret
I have a secret, but it's pretty well known, the day I discovered it I really wondered why I hadn't done it sooner! Since I've been drinking a liter to a liter and a half a day, I see a real difference on my skin. All the stars say it in the magazines, but I didn't believe it and I didn't like drinking so much because you go to the bathroom all the time, so boring... but it really works! And when you get used to it, you can't do without it.
Laure's latest find in Paris
With my partner, we are super "corporate", we love kisses, so we discovered the cocktail bar Bisou which is boulevard du Temple in Paris. They make super chic cocktails, we love it!