Beauty Files
Our tips to be tanned when you have light skin
There are those who tan in a flash and... the fair-skinned, those who have made sunburn an inevitability and beautiful tanned skin an unattainable dream. Yes, all phototypes are unequal when it comes to the sun, and some skins have difficulty synthesizing the precious melanin that gives them their famous tan. So what if this summer, at last, you could get a tan? Before, during and after, discover our special light-skin program!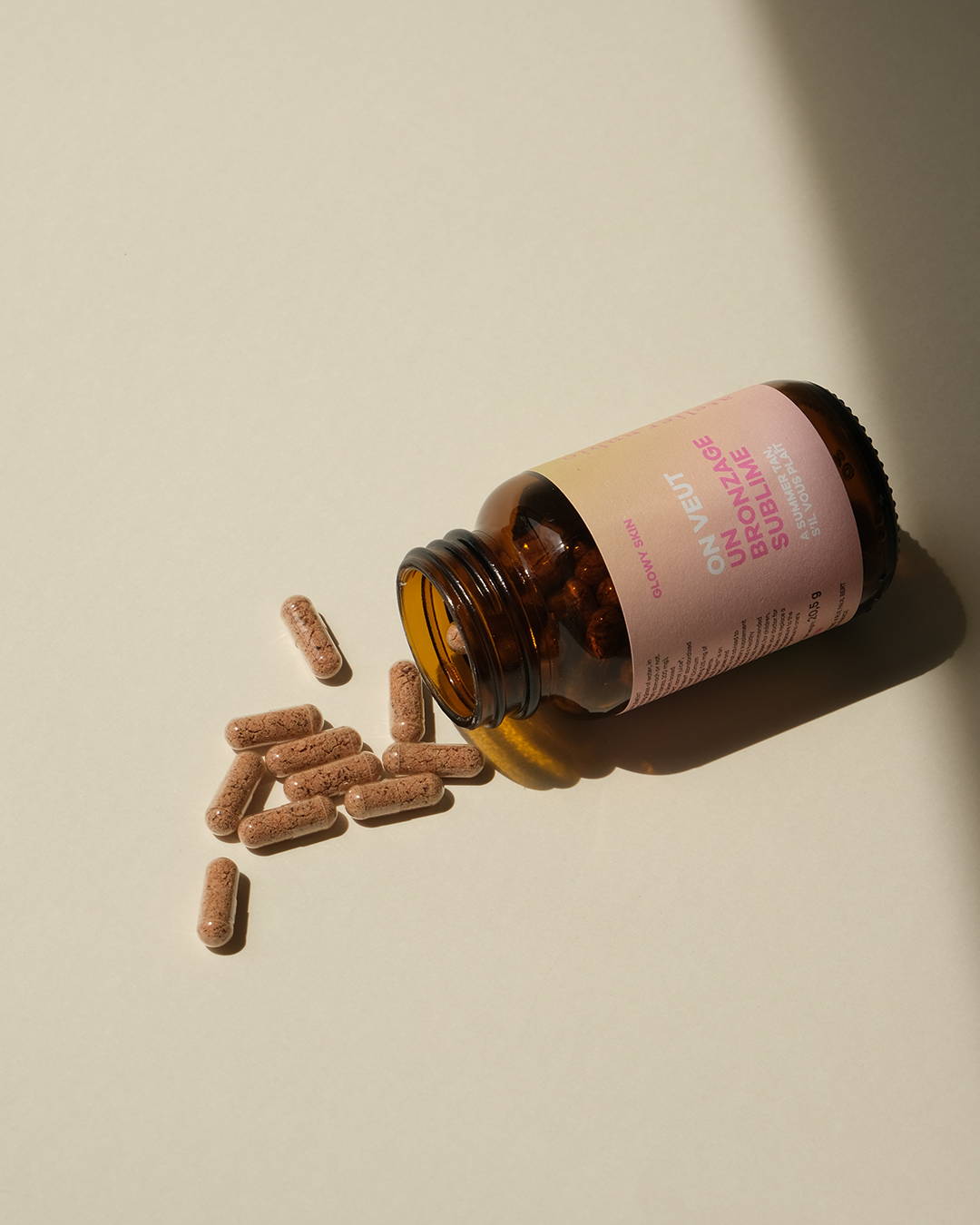 Before you go on vacation
A few weeks before and as soon as the first rays appear, we start by exfoliating: in addition to smoothing the skin by exfoliating dead cells, it gives the skin more radiance. This applies to the body as well as the face. Sensitive skin on the face? We're thinking of exfoliating it with our Exfoliating Powder Oh My Cream Skincare, once or twice a week. For the body, where the epidermis is thicker, you can use grains like with our Revitalizing Body Scrub Patyka. Two weeks before exposure to the sun, prepare your skin with a dietary supplement: We want... a sublime tan Atelier Nubio prepares the skin for the sun, stimulating tanning while protecting the skin from free radicals. The result: a harmonious, long-lasting tan and boosted defenses against the sun's rays. Ideal for sensitive skin with a tendency to burn, or if you're prone to the notorious sun allergy...
During the exhibition
Once you're in the sun, you need a high level of protection! For maximum tolerance, apply a mineral filter-based sunscreen evenly over the body. A mineral filter is a sunscreen that acts under the effect of reverberation: a bit like a barrier, it reflects UV rays, perfect for enjoying the sun without blushing! To avoid marks and achieve an even tan, use a protective mist, Sun Oil SPF 50 Huile Solaire Corps
Rudolph Care , for example, is ideal for the summer months. For the face, opt for a sun cream with a high protection factor, such as Sun Face Cream SPF50+ Oh My Cream Skincare : thanks to its complex of plant oils and hyaluronic acid, it nourishes and soothes the skin while protecting it from UVA and UVB rays. Of course, sun protection doesn't protect against UV damage all day long: avoid exposure between 12pm and 3pm, and reapply your lotion every two hours!
Keeping your tan
Now that you've got a lovely tanned complexion, the final task is to keep it that way! Reapply Esthederm Bronz Impulse to prolong and enhance your tan. On the face, you can cheat with illuminators and bronzers: the Multi Stick Palette Ilia' s Multi Stick Palette works wonders with its warm, iridescent, sparkling and opalescent tones! A touch of Bronzing Powder Oh My Cream Skincare bronzing powder applied to the areas that have been most exposed to the sun - cheekbones, chin and forehead - and you have a photoshopped tan! Finally, apply a light self-tanner to body and face with The Classic Hint of Summer Self-Tanning Radiance Rudolph Care, once every three days, to maintain a natural-looking result. In addition to sunless, gradual tanning with the self-tanner, we offer our skin extra hydration. And don't forget to continue exfoliating for an even, luminous tan. As for the face, exfoliation helps prevent imperfections and small subcutaneous pimples, while reducing the appearance of brown spots.
The selection for a good tan