Beauty posts
How to choose the right care oil?
The most well-known protective products are moisturisers. But, there is more than that! Oils are a great way to spread ingredients through the skin.
At Oh My Cream, this has become our trademark for protecting and repairing weakened skin. In fact, it's our N°3 Essential Gesture for beautiful, healthy skin, the one that comes after the Double Cleanse and the Gentle Exfoliation. Follow the guide to finally choose the skin care oil that will best satisfy your skin.
The benefits of treatment oils
Firstly, they supplement the skin with fatty substances (when the skin is dry). They also prevent dehydration by rebuilding the surface film. This prevents water from evaporating for protection that lasts. We must also not forget their benefits for oily skin, where they can help to regulate the production of sebum. And yes: if you give your skin the oil which it needs, it will stop producing excess oil to protect itself!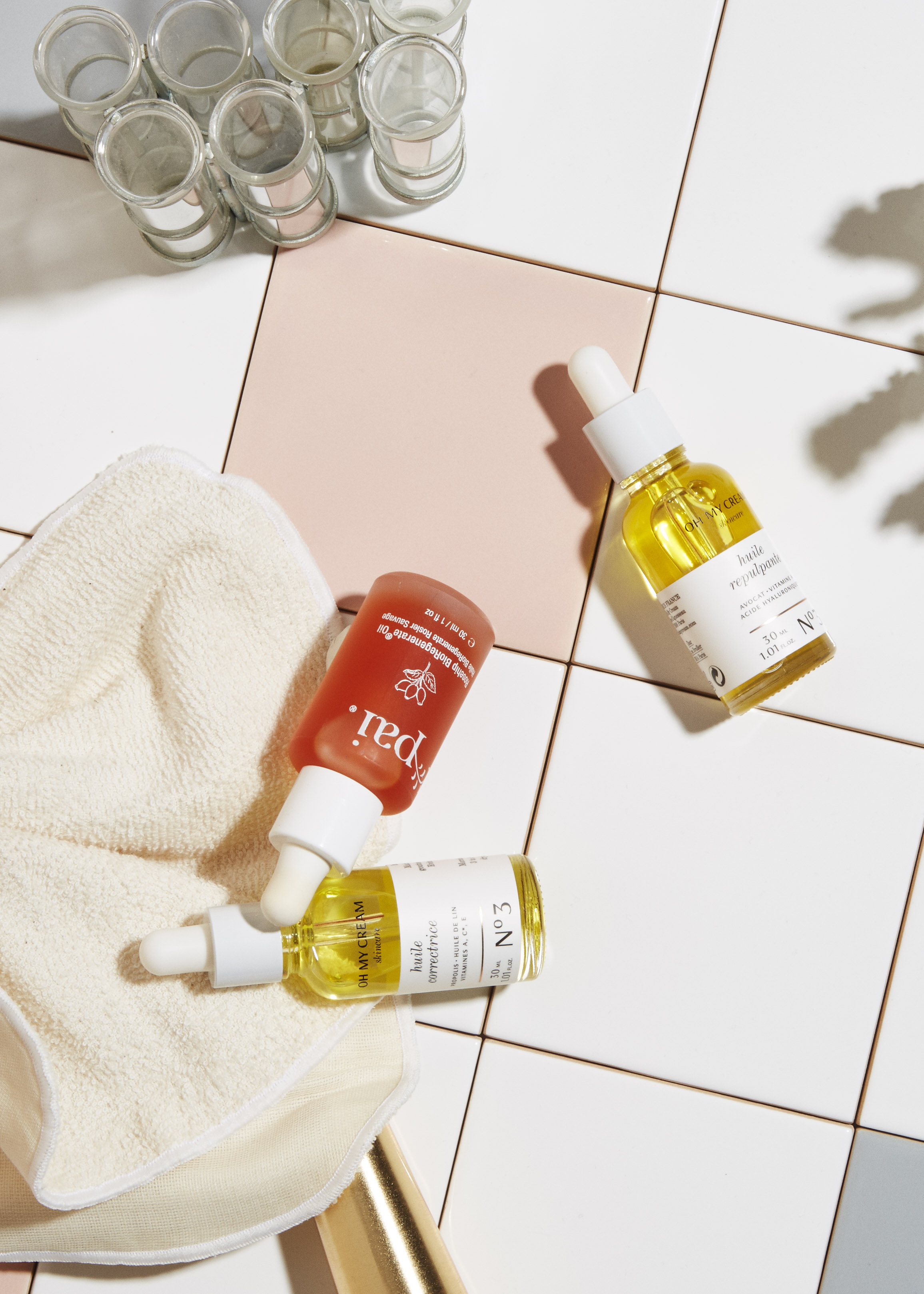 Mineral oils versus plant oils
However, you must distinguish between plant and mineral oils.
Plant oils come from plants: kernels, seeds, fruits, vegetables… natural ingredients which can be certified as organic. Working in perfect unison with the skin (they resemble it!), they are easily absorbed and each one has a specific purpose, depending on its origin.
the skin and, because they are unable to penetrate it, they form a protective layer on top. They act as insulators, so can soothe dry skin thanks to their "bandage-like" function. However, oily skin or skin prone to blemishes should avoid them as the film effect can block pores and lead to spots.
Plant oils, on the contrary, are naturally rich in good ingredients, such as essential fats (also known as Omegas 3, 6 and 9) and vitamins.
In short, they're a real treat for the skin!
A different treatment oil for each skin type
There are a lot of different plant oils, and each one has its own virtues. Here is a little list of the main plant oils and their benefits according to skin types. In all cases, you should choose virgin plant oils, ideally cold-pressed and certified as organic.
Damask Rose Oil:
It contains trans-retinoic acid (a mild form of pro-vitamin A that is suitable even for sensitive skin), which is ultra-regenerative and healing. This pure oil is found in Pai Skincare Rosehip Bioregenerate. Skin elasticity is improved, cell regeneration is stimulated and tissue hydration is boosted. Spots, scars and blemishes are also reduced.
Jojoba Oil:
Very fine, it has almost the feel of a dry oil. As its composition is very close to sebum, it regulates the epidermis and is particularly suitable for combination and/or dehydrated skin. Joelle Ciocco has integrated it into her Nutritive Elixir to facilitate the affinity of the product with the skin and allow better absorption of more nourishing oils such as Evening Primrose Oil and Borage Oil.
Sesame Oil:
Moisturizing and light, this oil regulates shine and reduces the size of pores. Combined with Argan oil and Palm oil, this capacity is increased tenfold. It is in this form that it is used in Oh My Cream SkincareCorrective Oil, a skincare oil dedicated to skin in search of purity and clarity.
Avocado Oil:
Rich in fatty acids (especially oleic acid), carotenoids and nutrients, this thick oil prevents skin ageing, nourishes and repairs very dry skin. It is the perfect revitalising oil for mature skin. Oh My Cream Skincare has included it in its Plumping Oil to smooth wrinkles and fine lines and restore skin comfort.
Borage Oil:
Extracted from the seeds of the flower, this oil contains polyunsaturated fatty acids of the omega-6 family, notably gamma-linolenic acid and linolenic acid. It is even, with evening primrose oil, one of the richest vegetable oils in gamma-linolenic acid. This fatty acid plays a protective role on the skin cells. Present in large quantities inEchium & Amaranth Age Confidence Face Oil Pai Skincare, it comforts mature skin, restoring comfort and suppleness while soothing inflammation.
Coconut Oil:
Balancing and antibacterial thanks to the high concentration of lauric acid it contains, it is the care oil for problem skin. Even if the skin is irritated by a treatment, it soothes and regulates gently. The best thing? Use it pure on your face as a care oil or as a make-up remover, as with Raw Coconut Cream RMS Beauty.
How to apply them?
Treatment oils can be applied on their own or as a serum (under a day cream), morning and evening, according to your skin type. A few drops are enough. Then, all you need to do is gently massage it into your skin. We prefer avoiding the eye area to prevent any reaction.
To go further, discover all our other facial care oils here and find the formula that will boost your skin now! And don't forget to check out our Shopping Guide dedicated to skin care oils.