Beauty posts
Anti-aging: where to start?
Yikes, your skin is starting to repair itself less quickly than it used to. And the cause is, of course, natural, but since the components that hydrate and give skin its density are not available in an inexhaustible supply, a helping hand is needed. Over time, elastin and collagen fibres get damaged and the store of hyaluronic acid decreases: so how can you give your skin a boost?
How to recognise the first signs of aging?
From the age of 30, your skin will be more likely to show the signs of too little sleep or a stressful week. The eye contour is often the first area to sound the alarm with bags and wrinkles appearing gradually. You should quickly attack this problem with a more targeted routine.
When should you use an anti-aging product?
Do not confuse anti-aging with anti-wrinkle.
It is recommended to start using anti-aging products as a preventative measure from the age of 30, when the skin synthesis activities start to slow down. But this can be earlier if you have thin, pale skin, if you had too much sun as a child, or if you feel like your skin is more fragile and less toned.
As for anti-wrinkle products, they are only necessary from the age of 40, when skin disruption is more common.
What is an anti-aging product?
They are treatments which combine regeneration and repair. Their aim? To maintain the elasticity of the skin by encouraging production of collagen and elastin for a defined face shape. When we are asked "what difference is there between an anti-aging cream and a serum?", we respond that the two go hand in hand for a complete effect. By deeply penetrating the skin, the serum will work its way to the heart of the cells for an intense regenerative action, whilst the anti-aging cream will provide daily protection.
What products should you use to effectively fight against skin aging?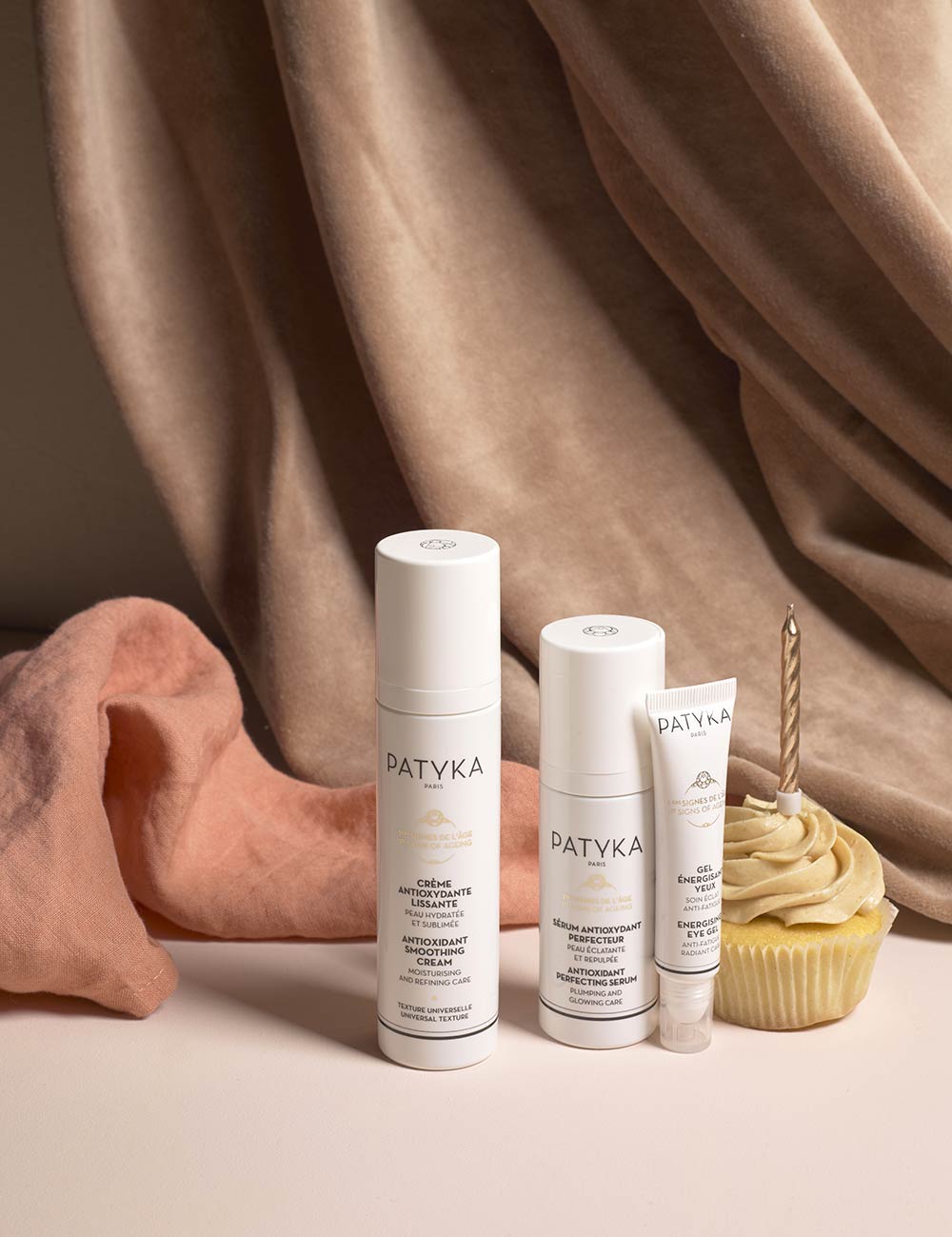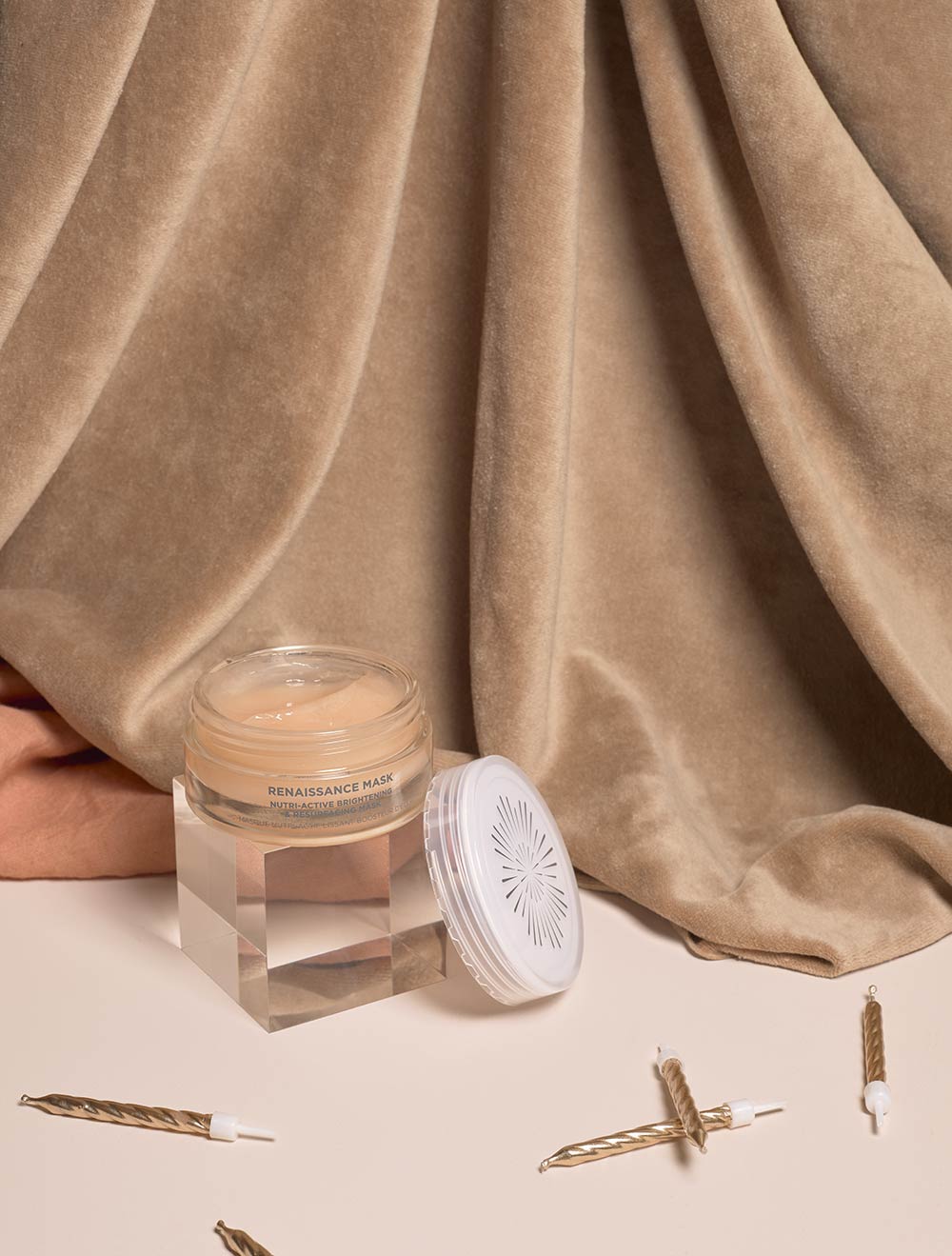 We offer ourselves a complete routine, day and night, with a protective and repairing action. We put under good guard the fragile zone of the glance with the Energizing Gel Eyes Patyka: anti-fatigue, this care contour of the eyes is applied thanks to its metallic smoothing ball which défatigue illico. Anti-dark circle, it also includes caffeine to boost tired eyes.
We continue with the Antioxidant Perfecteur Serum Patyka, a serum beautiful skin, in the form of gel-cream apricot, with the revitalizing action and blow of brightness, rich in natural credits. Perfect for sensitive and/or dehydrated skin. Would you like to go further with a slightly punchier treatment (to be adopted for 3 months, for example, when your skin is feeling very tired)? Don't hesitate to consult our beauty tips on the best anti-aging serums.
The morning, one protects well with the Antioxidant Cream Smoothing Universal Texture Patyka, a cream of day, way hydrating emulsion, with the preventive action anti-age. Protective and revitalizing, it acts as a barrier against free radicals. Good point, it also exists in a light texture version, the ideal compromise for those who want to moisturize, smooth and keep their anti-imperfections routine.
For the night, we bet on a multi-active night care armored in vitamins, ideal to revitalize intensely the skin, to fight against the first signs of the age and to slacken the features with the V-Cense Revitalizing Night Cream Ren Skincare. Rich in boswellic acid (contained in the frankincense in the formula), this nourishing cream is known for its smoothing action that smoothes and fights against expression lines: it is therefore an excellent anti-aging preventive care, particularly suitable for normal to dry skin. For those who want a lighter texture, our selection of anti-aging skin care products includes our most popular formulas.
Once or twice a week, we clean up our act with a gentle peel, a.k.a the Oskia Renaissance Mask Resurfacing Mask. This exfoliating mask combines several actions: lightening, anti-aging, purifying and also moisturizing. Watercress Liposomes balance the complexion, even out and lighten by reducing the production of melanin (responsible for brown spots). It's easy to see why it has won all the Beauty Awards for several years now...
And to further understand why boosting skin regeneration is paramount in an anti-aging routine, we invite you to check out our best daily exfoliating treatments.
Must I change my whole routine to make it anti-aging?
Absolutely not: quite simply because your current routine is probably already anti-aging! Double cleansing is an anti-aging step, because a good makeup removing routine allows you to get rid of polluting and irritating ingredients from the skin. Exfoliation, by stimulating cellular renewal, also keeps your skin looking young. Moisturising is also key! And don't forget sun protection which should be considered as a real anti-aging treatment (and a great weapon in the battle against sagging skin). And yes, 80% of skin aging is linked to external aggressors (notably UV rays).
Isn't there a risk of your skin becoming too used to these products?
You should not adopt an entirely anti-aging routine from a very young age. Used too soon, these products actually risk accelerating skin aging, provoking reactions or allergies, or even causing spots.
Will it work for all skin types (sensitive, prone to blemishes)?
Of course, but you must firstly make sure that your base routine is well suited to your skin type. The priority is making sure that your skin doesn't have a more pressing concern (dehydration, sensitivity, imperfections) before chasing after the signs of aging here, there and everywhere!
If your skin is sensitive, start by treating sensitivity. Soothed in this way, your skin will be more receptive to other treatments.
For skin prone to small pimples, some products play both sides. This is the case with Patyka's Arbre à Thé Face Cream.
A little lost? Don't hesitate to ask Pauline for a skin diagnosis or a consultation by email or phone.
The Dos and Don'ts that you must not forget
The Dos:
- Adopt a healthy lifestyle. Far be it from us to be a killjoy, but it's true that excess has never been synonymous with beauty. Junk food, cocktails and shortened nights must remain (quite) exceptional.
- Rely heavily on anti-free-radical "shielding" ingredients which protect the skin from oxidative stress (pollution, cold, sun) responsible for premature skin aging and loss of firmness.
The Don'ts:
Be obsessed with how your face changes. Don't scrutinise yourself, but remember that nobody looks at us the way we look at ourselves, 15cm away from the mirror.
-Do not rely on the star molecule of an anti-aging care product (such as retinol). Skin aging is a complex chain of reactions and the results will be multiplied by combining the synergy of several active ingredients: hyaluronic acid, vitamins, antioxidants...
The Selection