My skin right now:
My complexion lacks evenness and a few pigment spots have appeared. The reason? Melanin production (the skin pigment) goes into overdrive due to stress, hormonal variations or UV rays. The solution: exfoliate your skin more regularly, give it a high dose of anti-spot active ingredients and above all protect it from the sun, so as not to accentuate the phenomenon.
To get started: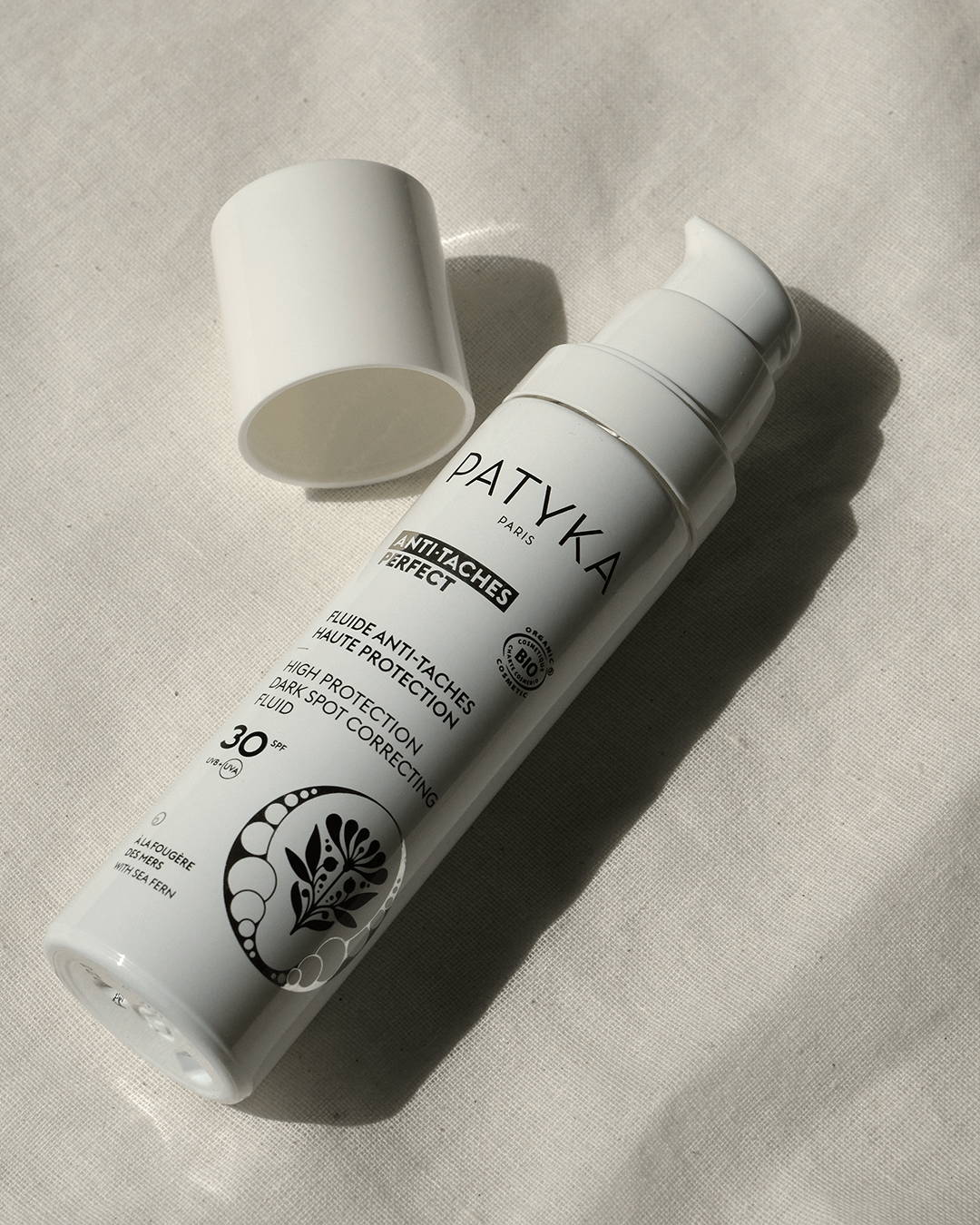 In the morning, start by cleansing your skin with the Vital Foaming Cleanser Nuoria cleansing foam with an exfoliating action that removes all impurities and brightens the complexion.
Then, we apply to the eye contour the serum Biolumin C Eye Serum Dermalogicaa light-textured eye serum formulated with vitamin C, to illuminate, moisturize and relax the eyes.
We continue our routine by applying the Anti-Spot Corrector Serum PatykaA serum that blurs and prevents the appearance of pigmentation spots, for a radiant complexion and a smoothed skin texture.
We finish with the High Protection Anti-Spot Fluid SPF30 Patykaa daily care with UV protection, to prevent and correct pigmentation spots.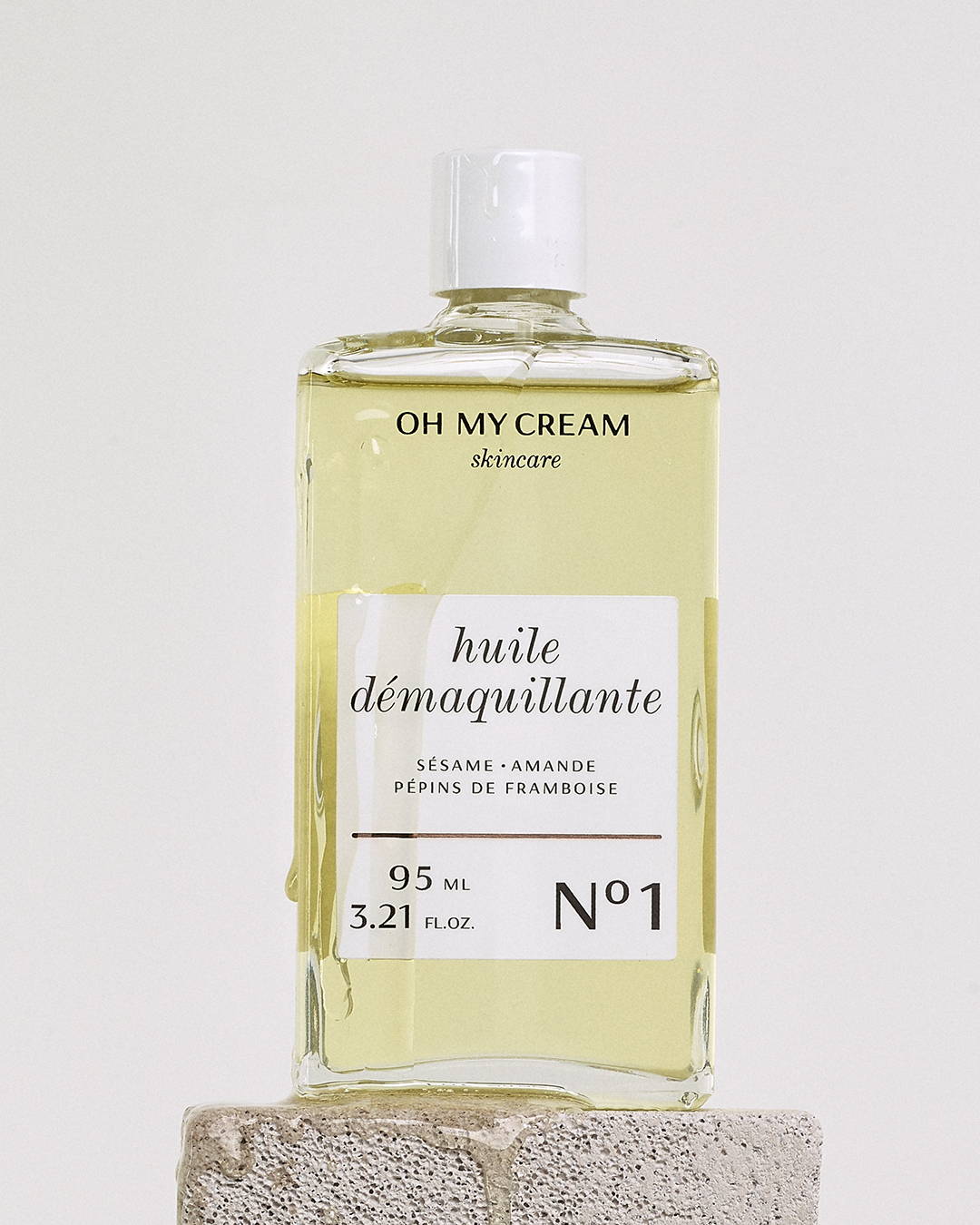 In the evening, opt for a double cleansing with theCleansing Oil Oh My Cream Skincarea fluid oil that dissolves face and eye make-up, pollution and excess sebum. Then finish off with the Vital Foaming Cleanser Nuori.
To moisturize the eye contour area, we apply the serum Biolumin C Eye Serum Dermalogica.
To finish your routine, apply the serum Good Genes Sunday Rileya multi-functional serum with a powerful formulation to reduce residual marks, plump, smooth and boost radiance.
And on evenings when Good Genes is not applied, we rely on the CEO Glow Facial Oil Sunday Rileya skin care oil formulated to restore radiance, fight blemishes and intensely moisturize the skin.
1 to 2 times a week:
Once or twice a week, you can opt for a deeper cleansing with exfoliation. For this, on evenings when Good Genes is not applied, we opt for the Daily Microfoliant Exfoliating Powder Dermalogica. This cult exfoliating powder transforms into a fine foam on contact with water to reveal a more luminous complexion. 
And for those evenings when you don't apply Daily Microfoliant or Good Genes, you can turn to the new-generation mask Renaissance Mask Oskia. With its melting oil gel texture, it combines cleansing and gentle exfoliation for luminous skin.
To go further:
To go further and increase the effects of the products tenfold, you can also use the food supplement and beauty tool duo:
We want... a radiance booster

Atelier Nubio

Atelier Nubio : these 100% natural capsules deeply moisturize and activate the skin's radiance, to effectively fight against daily aggressions that dull the complexion.

How To Glow LED Mask

Solaris

Solaris LED Mask: This clinically proven light therapy mask works on signs of aging, redness, blemishes and imperfections with its red, blue, green and amber LEDs.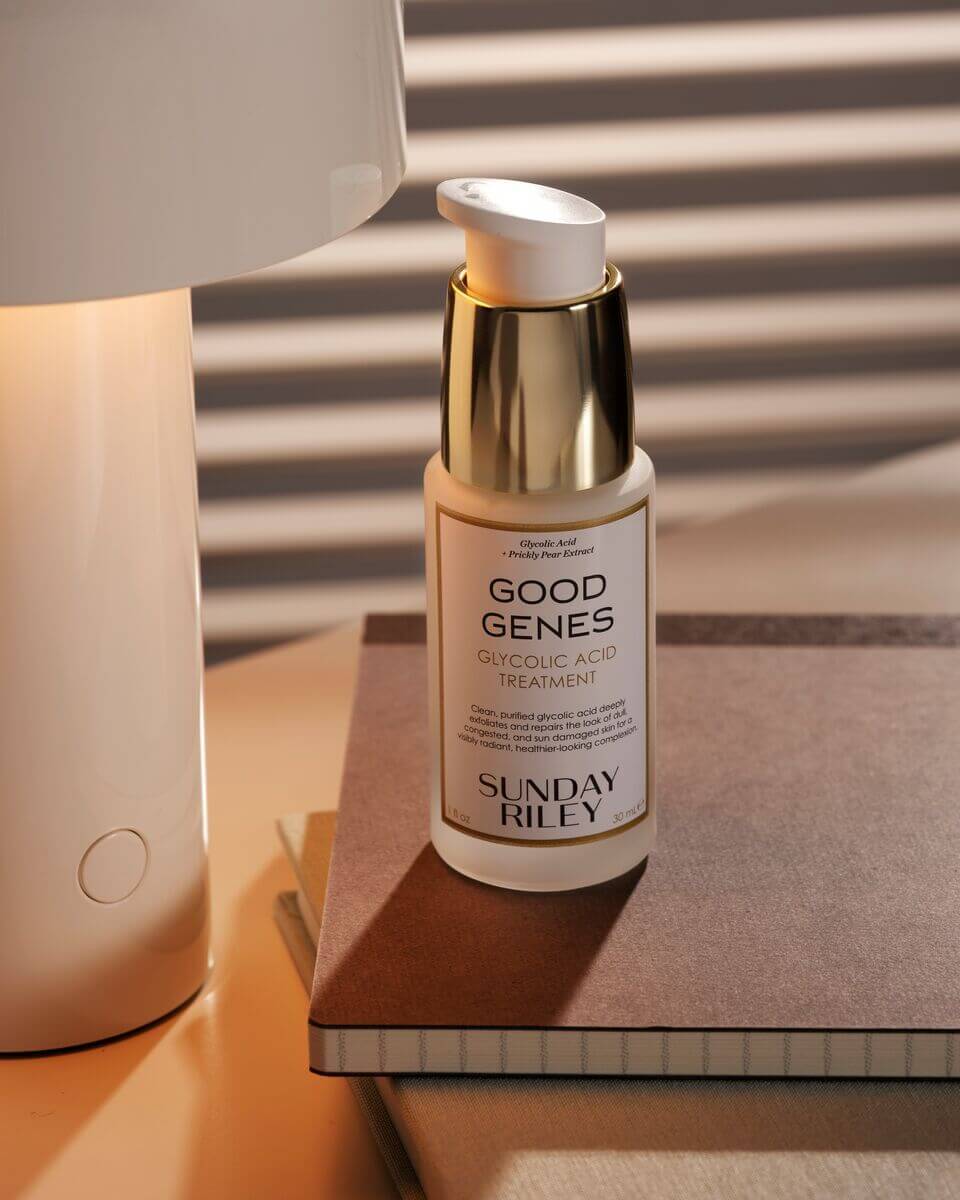 "This serum really helps smooth skin texture and tighten pores thanks to the glycolic acid in it. Upon application, skin feels soft and luminous, and the results build over the weeks."
Do you still have questions about a product or would you like to go further in your beauty routine? Our experts are here to help you, by email at consultation@ohmycream.com. You can also visit our store to benefit from the expert advice of our beauty coaches.
What are brown spots? 
The brown spots or pigment spots are also called age spots (although they are not directly related to age), sun spots or lentigo. They are small spots on the skin of varying sizes that appear on sun-exposed areas such as the face, hands, shoulders or arms. Brown spots are mainly caused by exposure to the sun's ultraviolet rays and are related to an excess production of melanin. It should also be remembered that brown spots can also be caused by stress or even appear when you live in a highly polluted environment. 
After years of exposure, melanin can concentrate in certain areas of the skin and further pigment it. Brown spots then appear in a definitive way. Although benign, one must remain vigilant because a melanoma can be mistaken for a lentigo and only a dermatologist can distinguish the two. These do not require any treatment but, for aesthetic reasons, it is possible to make them less visible.
Why are dark spots always more visible after the summer? 
It is above all a question of difference between tanning and brown spots If melanin is responsible for both and has been activated this summer to protect us (and obviously) make us tan, it has unfortunately been overwhelmed by UV rays. Yes, melanocytes are cells that tend to overreact and when sun exposure is too intense, melanocyte production goes into overdrive trying to protect us, marking the skin with brown spots. 
Is it possible to completely eliminate brown spots on the face?
Removing a pigment stain 100% with cosmetics is not possible, for the simple reason that it would require an extremely large quantity of exfoliating agents to eliminate the surface layer of the skin, and therefore the brown spots (which would be dangerous to use alone). To strongly reduce or even eliminate a pigmentation spot in certain cases, we can book, in addition to an adapted routine a professional peelinglaser or cryotherapy sessions (performed by a dermatologist). As you can see, cosmetics cannot eliminate spots, but they can really reduce the "Dalmatian effect", as long as the chosen treatments are adapted and used regularly... And they are excellent for prevention!  
What beauty care against dark spots?
Adopt a daily sun protection. There's no point in embarking on a proper anti-spot routine without applying a cream with SPF to prevent them from appearing and even prevent those already present from darkening.
Focus on the synergy of active lightening ingredients. Combine products rich in lactic acid, rice bran, liquorice, vitamin C, glycolic acid, etc. in the same routine.
Make sure that the morning routine does not contain any photo-sensitising products: fruit acids, retinol and glycolic acid are reserved for the evening, otherwise the opposite effect may occur.
Resume an anti-spot routine

Every fall is the right time to calm the melanocyte and get it back on track.

The ideal? Opt for a moisturizing day cream

including a sun protection factor, the sun being the primary cause of the appearance of pigmentation spots. In the evening, you can opt for a corrective night cream. Often exfoliating (based on retinol or acids), this type of care can be presented as a serum or cream and helps to reduce the appearance of spots. So, in the morning we prevent, in the evening we treat!
What to avoid when you have brown spots
- Over-exfoliating the skin can lead to skin inflammation and reactive pigmentation.
- Putting on perfume before exposure: melanocytes are the most fragile cells and certain substances do not mix well with the sun.
- Stop your routine after 15 days of treatment: stains are a complicated problem to solve and it takes at least 6 to 8 weeks of consecutive treatments to see results. 
- Thinking that a pigmentation spot can disappear completely: if it is very recent, it is possible. But in most cases, a cosmetic routine can lighten it but not make it disappear completely.
The most effective creams against brown spots
To avoid the Dalmatian effect, the first good thing to do is to use a day cream with sun protection on a daily basis and over time. This is also an excellent habit as it is also the number one way to prevent skin ageing. 
- The High Protection Anti-Spot Fluid SPF30 Patyka. This anti-spot cream for the face is equipped with a sun protection to prevent and correct pigmentation spots in a single step.  
- For skin in search of glow, bet on Diem Vitamin C Anti-Spot Gel Cream Antipodes. This high-performance gel cream beautifies the skin while correcting spots, preventing hyperpigmentation and revitalizing dullness. 
- Morning and night, you can also opt for a brightening and anti-aging serum. The PowerBright Dark Spot Serum Dermalogica quickly reduces the appearance of dark spots and prevents hyperpigmentation for an even skin tone. 
- For those in a hurry or if you only want to correct a few localized spots, theAge Bright Clearing Serum Dermalogica is the ideal product for this purpose.
- Finally, a course of vitamin C is ideal for preventing and treating pigmentation spots, while at the same time rejuvenating skin damaged by the sun. We recommend CEO 15% Vitaminc C Brightening Serum Sunday Riley. 
Need to take stock? Make your skin diagnosis. And don't forget that a visit to one of our stores or send an e-mail to consultation@ohmycream.com will allow us to answer all your questions about the skin and to discover other beauty tips.