Beauty posts
How to lighten post-summer dark spots?
If the tanning leaves us gradually, the pigmentary spots seem more visible than ever... We explain why and, above all, how to reduce them with the help of well-chosen products !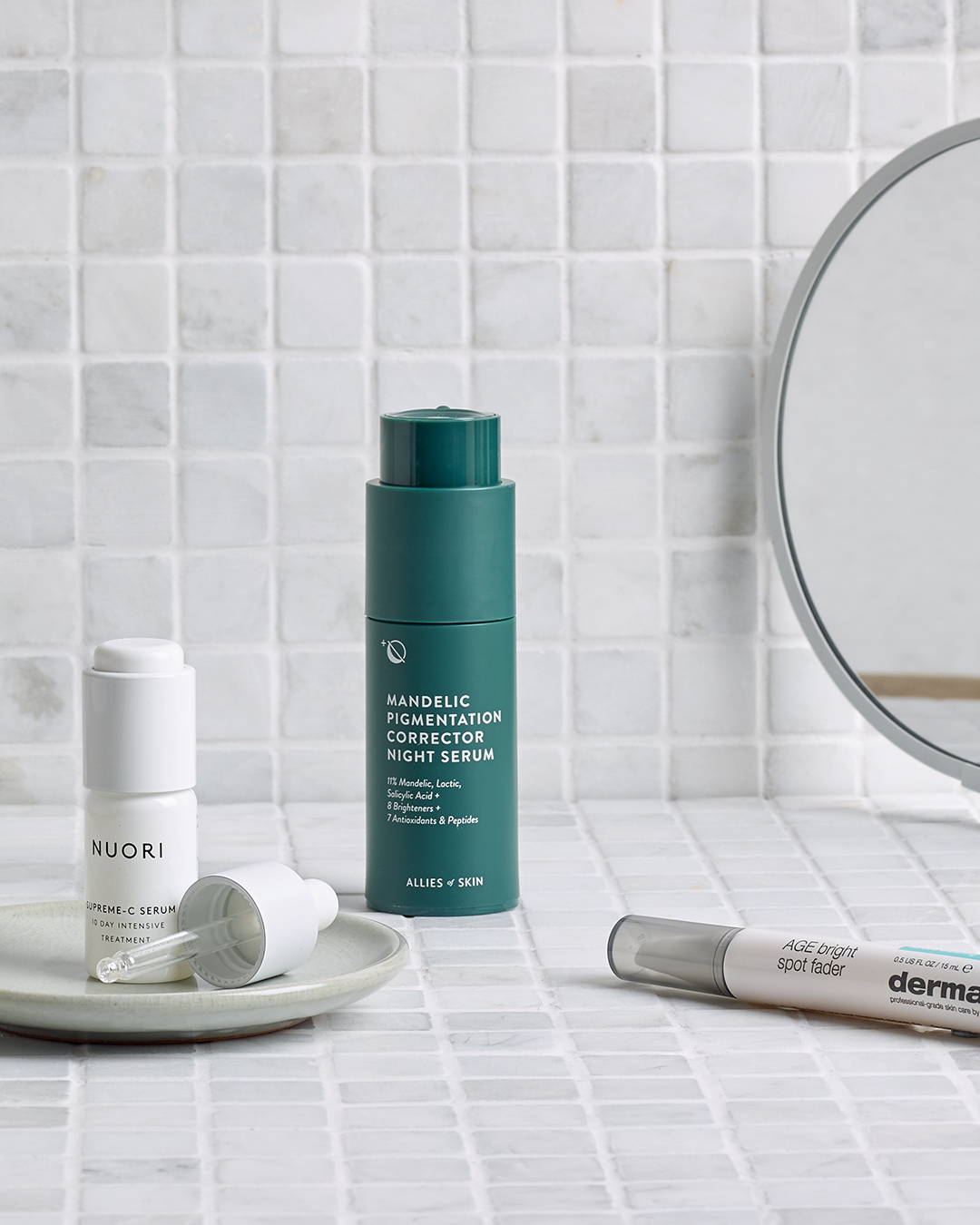 Why are dark spots always more visible after the summer? 
This is really all about the difference between a sun tan and sun spots. Melanin is the reason for both. It is activated to protect our skin and to help us tan but sometimes over-exposure to UV rays sends the melanocytes (the melanin producing cells) into overdrive and they produce more and more cells that leave dark spots on the surface of the skin. 
Can you get rid of dark spots completely? 
Removing a pigment stain 100% with cosmetics is not possible, for the simple reason that it would require an extremely large quantity of exfoliating agents to eliminate the superficial layer of the skin, and therefore the brown spots (which would be dangerous to use alone). To strongly reduce or even eliminate a pigmentation spot in certain cases, you can book a professional peeling (which we do in a cabin), laser sessions or cryotherapy (performed by a dermatologist). As you can see, cosmetics cannot eliminate spots, but they can really reduce the "Dalmatian effect", as long as the chosen treatments are adapted and used regularly... and they are excellent for prevention!
Your dark spot beauty prescription 
The double cleanse for super bright skin
You can start with a double cleanse using products that contain ingredients with exfoliating properties. By removing dead skin cells we encourage the skin to produce new cells for a complexion that looks as good as new.  
Nourishing Oil Cleanser Huile Nettoyante Nourrissante Tata Harper + Regenerating Cleanser Tata Harper
A day cream with sun protection 
Because it's not always practical to combine moisturizer and sunscreen every morning, you might as well simplify your life with the SPF30 Vitamin Face Cream Oskia ! Not only does it prevent pigmentation spotsbut it is also a super complete anti-aging cream!
A correcting serum 
There is nothing quite as effective as the combination of fruit acids and salycylic acid to treat dark spots or the marks left by spots. Remember to only use this super strong serum at night. 
Mandelic Pigmentation Corrector Night Serum Allies of Skin
A targeted, occasional treatment 
For those in a hurry or if you only want to correct a few localized spots, theAge Bright Spot Fader Dermalogica is just the thing!
The night cream to make your skin look as good as new 
Discover the latest innovation from the pioneering clean brand: Radiance Overnight Glow Anti-Spot Night Cream REN Clean Skincare targets only dark spots and is accessible to the most sensitive skin since it is not exfoliating!
The annual super-treatment 
Vitamin C inhibits melanin production and is therefore ideal for treating and diminishing dark spots whilst simultaneously boosting sun-damaged skins. 
Lastly, if there is one thing to remember to help in the fight against dark spots, it's the use of sun protection all year round. Beyond preventing dark spots, did you know that using an SPF helps to prevent premature skin ageing? So look for a high SPF in your moisturiser and your foundation or BB cream.