Beauty posts
Back to school beauty : the must-have products to prolong your summer glow
Get your back to school skincare right with our selection of new beauty rituals and products.
Back to double cleaning
The beauty alpha and omega? A well oiled cleansing routine routine ;-) Lose the micellar water in favour of  the Oh My Cream Skincare'sHuile Démaquillante.Without wishing to blow our own trumpet, both skincare neophytes and experts adore how easily it glides on and comes off bringing your make-up with it. Follow with theCleansing Foam for impeccably cleansed skin that will absorb subsequent products much more effectively.
Exfoliate to prolong radiance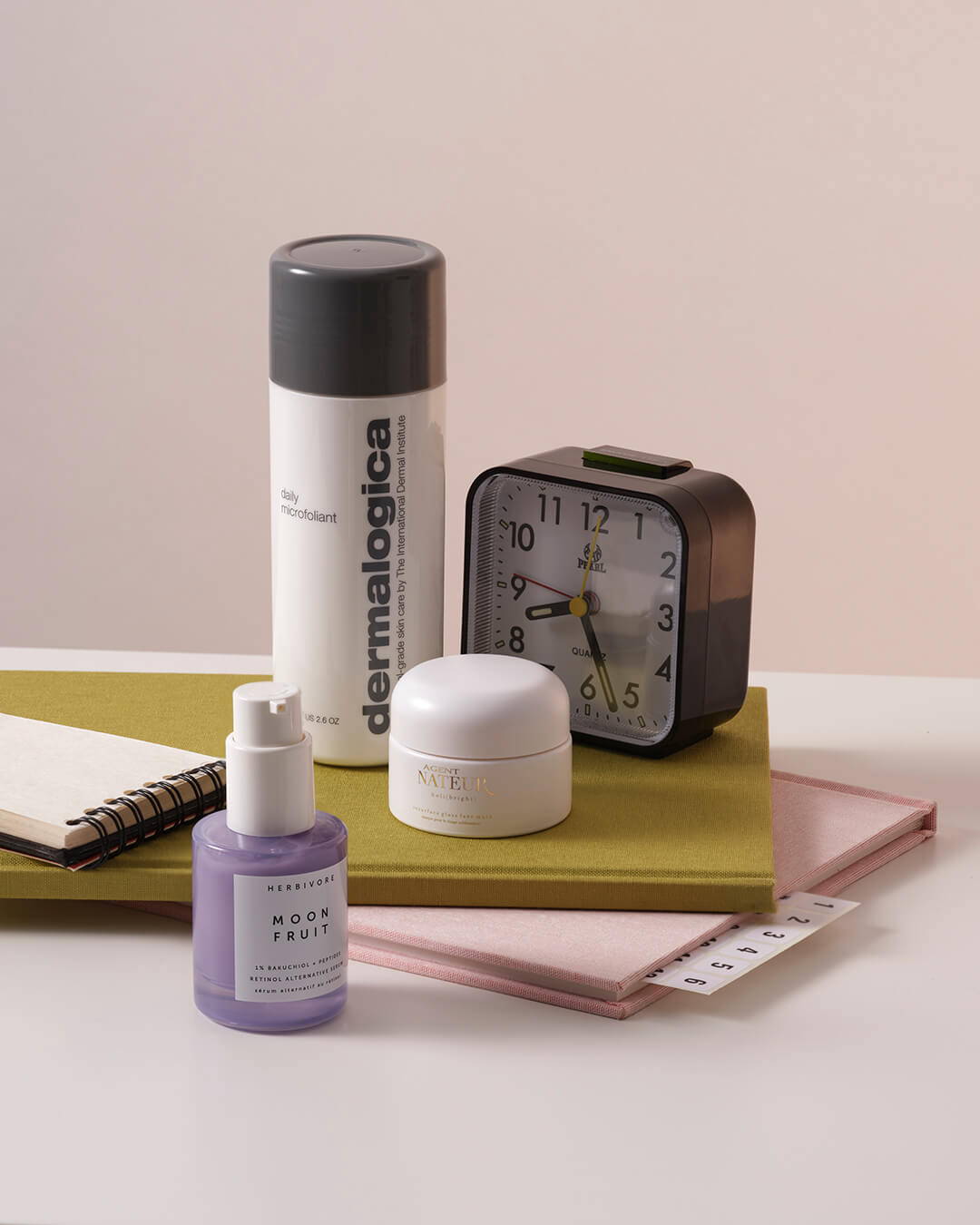 ... and more! One of the best ways to avoid post-holidays blemishes is to get ahead of the vicious cycle by exfoliating with purifying actives such as the salicylic acid in the Daily Microfoliant Dermalogica. For dull skins suffering from dark spots or signs of age, we recommend the Holi(Bright) Resurface Glass Mask Agent Nateur, which leaves the complexion glowing and the skin plumped.
We bet on the right complement
To prevent back-to-school imperfections, target radiance and protect skin from aging, start your treatment with l'Essentiel Peau Combeau, the universal supplement with clinically proven benefits. 
Find the right serum for your skin
Finding the right serum is the best way to solve your skincare problems. 
Add Vitamin C to your routine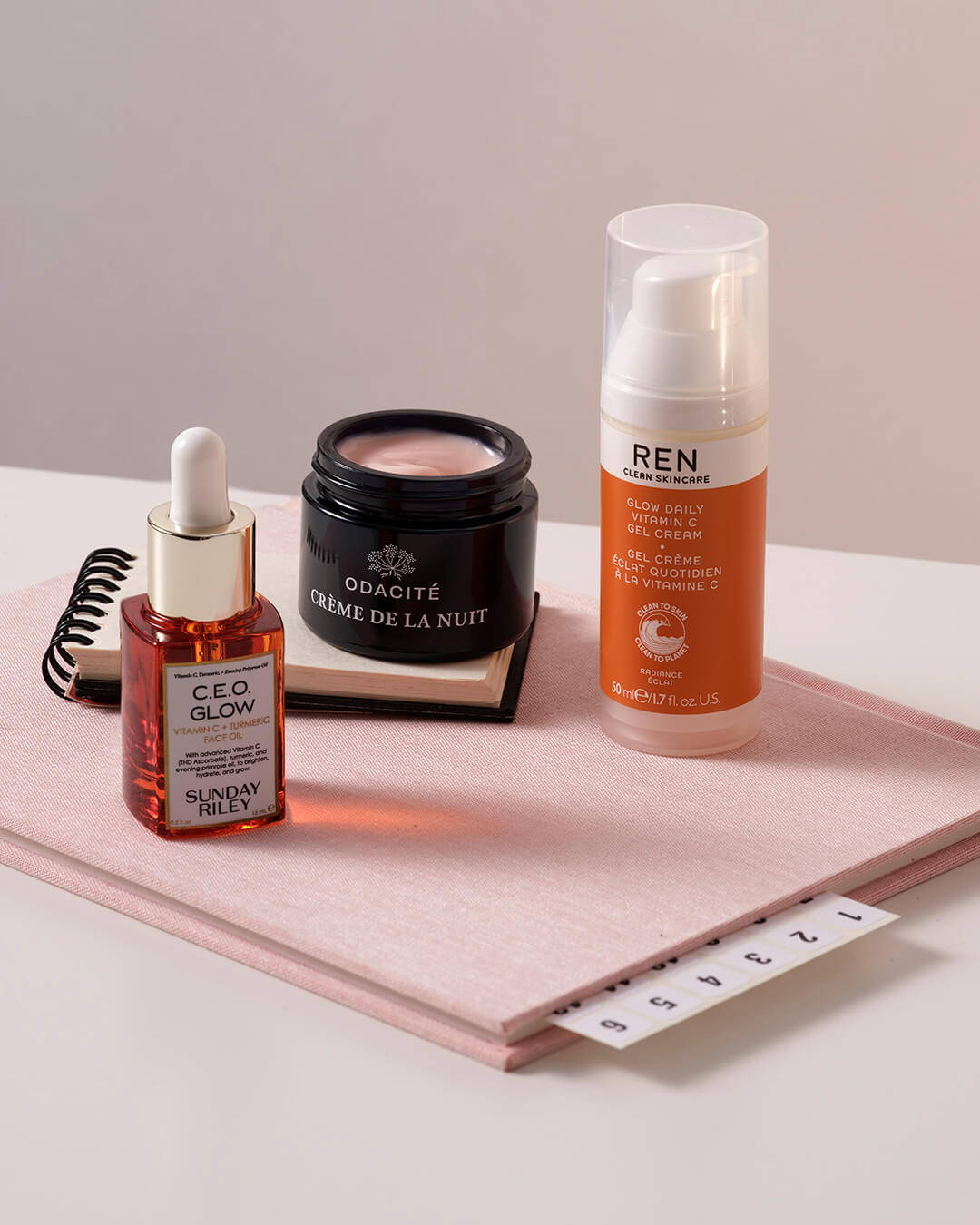 A star of radiance, vitamin C is so loaded with antioxidants that it is ideal for reducing the impact of pollution on the skin, such as wrinkles and spots. A wise choice for urban skin back on the pavement!   
CEO Glow Oil Face Oil

Sunday Riley

 if you like a skincare oil, try this one  morning and evening to preven a dull complexion. 

Night Cream Vitamin C + Ashwagandha

Odacité

 spoil yourself with this luxurious night cream to treat wrinkles and sagging and plump up the skin.

Daily Radiance Gel Cream Ren Skincare: the easy-to-use moisturizer for normal skin to treat spots and lack of radiance, from morning to night. 
If in doubt, cheat ;-)
Our winning tips? A hit of Bronzing powder to warm the complexion (ours is a mat version for a natural finish), or a stroke of our Powder Blusho on the cheekbones. If you prefer a creamy texture, try the Magic Luminizer RMS Beauty The natural champagne shade will make it a firm favourite in no time. 
And to camouflage redness and imperfections, our Poudre Minerale SPF20 will be your ally. A real nugget for evening out the complexion, while protecting it from the effects of UV rays. 
And for the body...
Our favorite way to care for your tan? Exfoliate regularly with a delicious body scrub like Coco Rose Body Scrub Herbivore, ideal for homogenizing the skin and eliminating dead cells that dull its radiance.
And to extend your glow beyond the vacation season, play around with self-tanner! La The Lotion A Hint of Summer Self-Tanning Lotion is ideal for nourishing the skin while revealing and illuminating a light summer glow. For skin in search of golden highlights, opt for A Hint of Summer Self-Tanning Mousse Rudolph Care, a airy mousse that gradually tones the skin. 
Our back-to-school routine selection