Beauty posts
Tips to apply your bronzing powder like a pro
The sun powderSun powder is a summer essential: perfect for enhancing your tan (or just pretending to be tan). But just like the risk of exposing yourself too much, sun powder applied incorrectly can harden your features and make you look older... We explain to you step by step how to use it, and we give you our pro tips.
Step-to-step: how to use bronzer 
What you need to know before you start... 
For a daytime look, we recommend a rather matte sun powderwith little shimmer. For the evening, you can opt for a sun powder a little more iridescent. For our part, we're a big fan of the Nightlite Bronzing Powder Iliabecause it is almost matte with a hint of pearly pigments. It is therefore suitable for both day and evening. And if you don't have one yet, we recommend investing in a quality brush, like the Finishing Powder Brush Ilia. Also, feel free to browse through our selection of sun powders and bronzers !
Step 1
:
Sculpt. Start by applying a very small amount of bronzer to your brush, tap to remove the excess and place your brush on the cheekbone (so as far outwards as possible). Use circular motions, brushing over the skin and gradually working your way up towards the inner cheekbones. Take the mark in the middle of the underside of your eye, which you shouldn't go beyond: the cheek area near the nose should not be worked on (as with a blush, for example). 
Step 2 :
Take a bit of product and move your brush up towards the temples, in order to give even more definition and a real continuity with the cheekbones. You can also add a little bronzer to the centre of the neck. 
Step 3 :

Quickly sweep a tiny bit of powder over the eyebrow bones and upper arch.
Step 4:

Want an even more sun kissed effect? Add a tiny bit of powder to the nose, sweeping very lightly across the bridge and tip.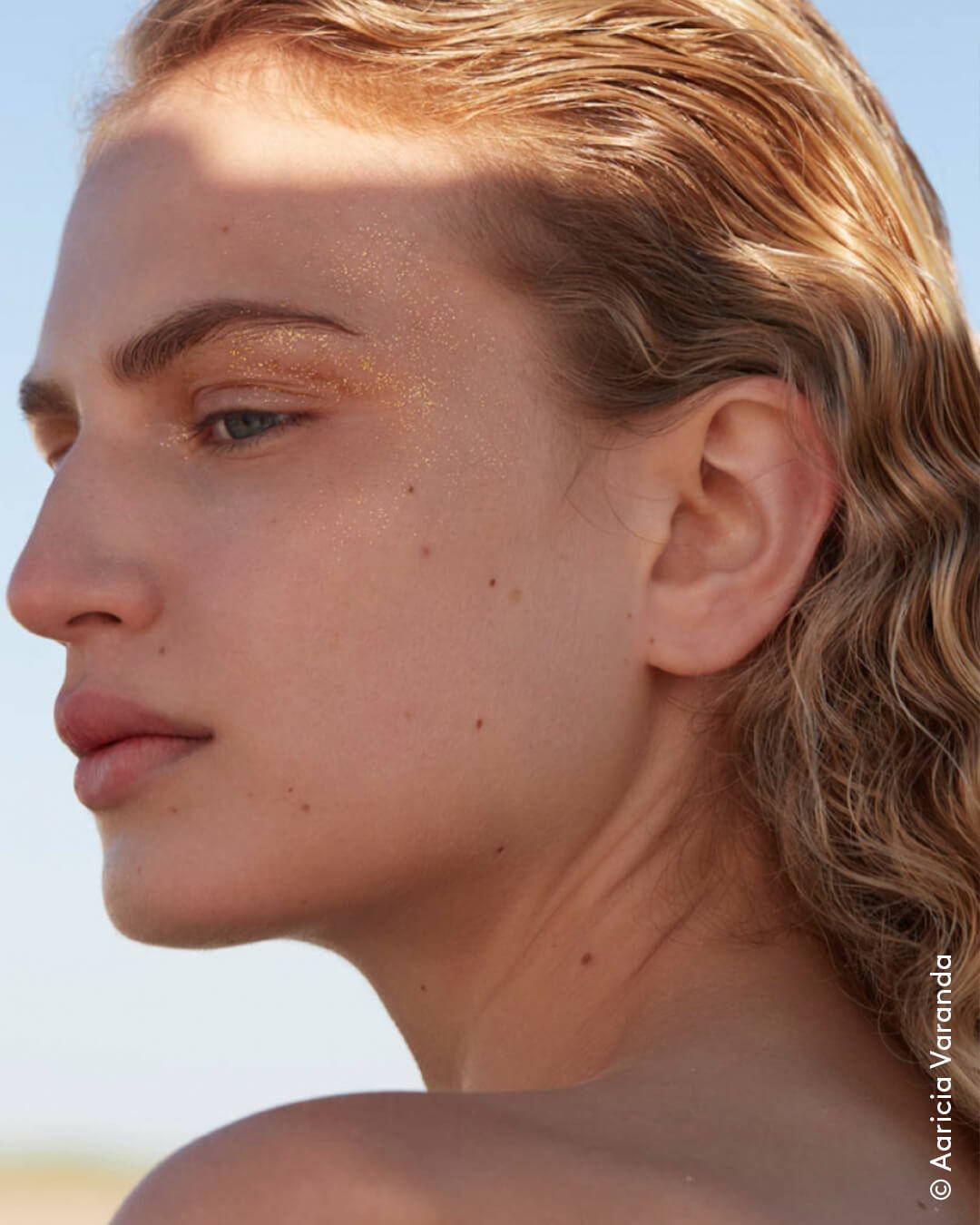 Tips we should all know about applying bronzer 
Tip n°1
A sun powder on its own is pretty. But with a little bit of preparation beforehand, it's truly sublime. Apply a thin layer of foundation or BB cream. This will even out and soften the effect of the sun powder. In fact, you can even opt for 1 to 2 shades (maximum) warmer. So you can take out the foundation you bought by mistake ;-)
Tip 2
Don't forget the concealer especially if you have chosen a foundation that is a little darker than usual, which could have a tendency to mark more your shadow areas (dark circles, nose wings...). So camouflage before applying your sun powder.
Tip n°3 
Go for it PRO-GRE-SI-VE-MENTAlways add your powder in small quantities. Why? To avoid the "earthy" side at all costs. Because the risk with bronzer when you go a little too hard, is to darken too much. And in the end, you'll end up with a very dull look... which will make you look at least 5 years older ;-).
Tip n°4 
If the foundation or concealer used before is very creamy (and especially quite oily), powder a little bit with a transparent loose powder before your sun powder. Indeed, powder textures and greasy eyeshadows do not always mix well and the pigments of your sun powder will be more complicated to work with. They will cling to the skin and may not give very happy blends.
Tip 5 
Add a little highlighter on the top of the cheekbones to bring luminosity to the complexion.
You are now crowned Brush Prodigy :) You can also find alternatives to sun powders with cream bronzers, like with the Buriti Bronzer RMS Beauty, one of our cult products.