Beauty posts
The baby wait
So that motherhood rhymes with beauty, Oh My Cream offers you a file specially concocted for future and young mothers and their newborns. Ingredients to choose, active ingredients to blacklist, anti-fatigue tips and beautiful skin must-haves to adopt... This file will allow you to be patient during the next 9 months and to adopt all the right reflexes once baby arrives!
During the pregnancy:
Use gentle cleansers without soap
With hormonal variations, the epidermis can become more sensitive. This is a good reason to adopt an ad hoc cleansing routine that uses cleansing oils and gels without sulfates or detergents. For a double gentle cleansing adapted to dehydrated, dry and/or sensitive skin, I combine the N°1 Purity Balm Face Wash Ren Skincare with Grace Antipodes Gentle Cleansing Cream. For a more cleansing duo, perfect for normal to combination skin (with or without imperfections), I combine the Raw Coconut Cream RMS Beauty and the Cleansing Gel Gel Nettoyant Susanne Kaufmann.
Hydrate from head to toe
During pregnancy, the blood circulation is often slightly disturbed. As a result, the skin can redden more easily and become a little dry. The ideal is then to opt for a formula a little more nutritive and alleviating like the Comfrey & Calendula Calming Body Cream Pai Skincare.
Make use of anti-stretch mark creams for areas at risk
Weight gain and an increased secretion of cortisol, a hormone that weakens and destroys collagen fibers, accelerates the formation of stretch marks (especially after the fifth month). To prevent the appearance of these undesirable streaks, I apply daily to all target areas the Pomegranate & Pumpkin Seed Anti-Stretch Mark System Pai Skincare (with the cream in the morning and the oil in the evening). If I feel like changing my skincare regimen during the 9 months, the Stretch Mark Oil Susanne Kaufmann Anti-Stretch Mark Oil also restores elasticity to the skin. I also remember to finish the opened bottles even after the arrival of the baby.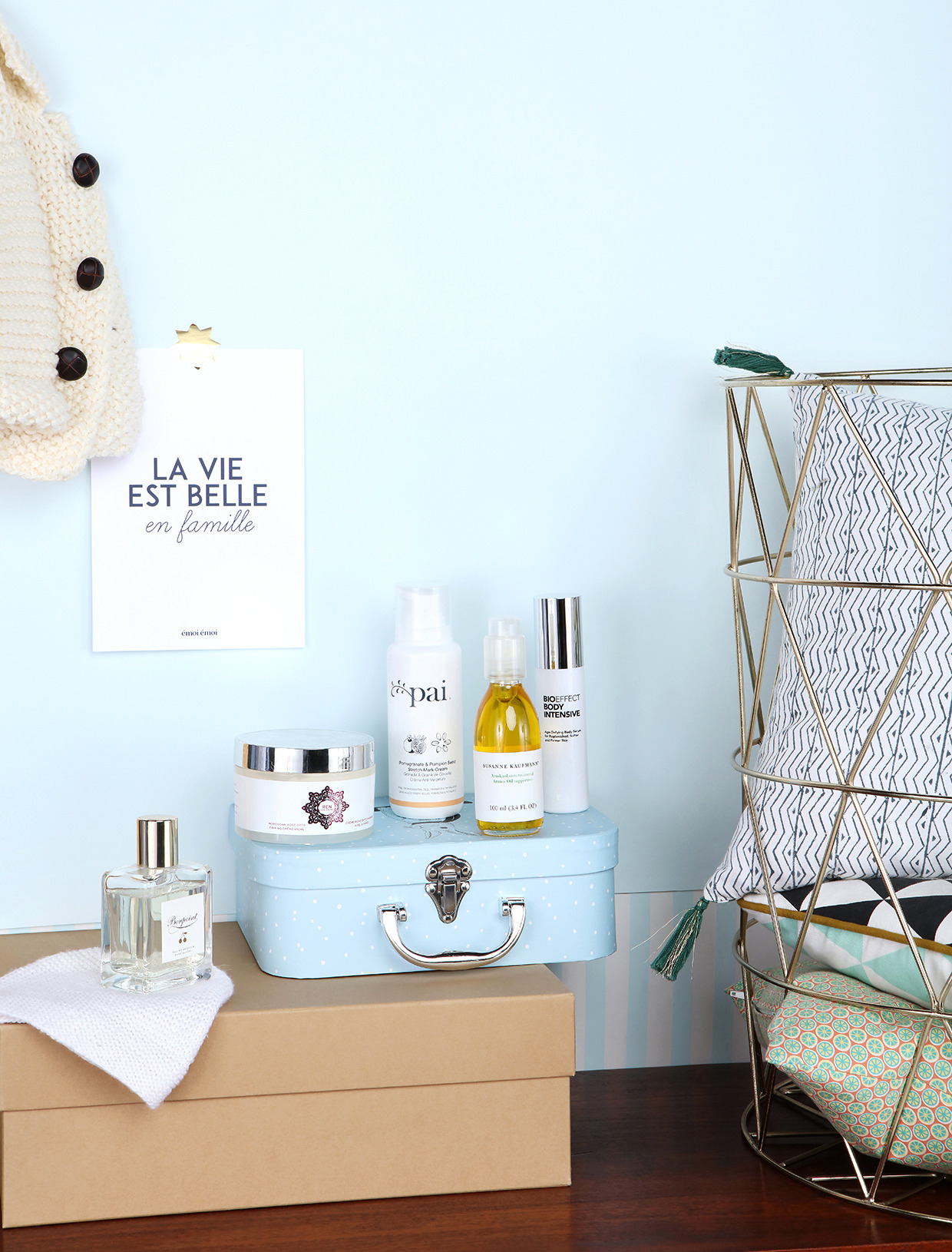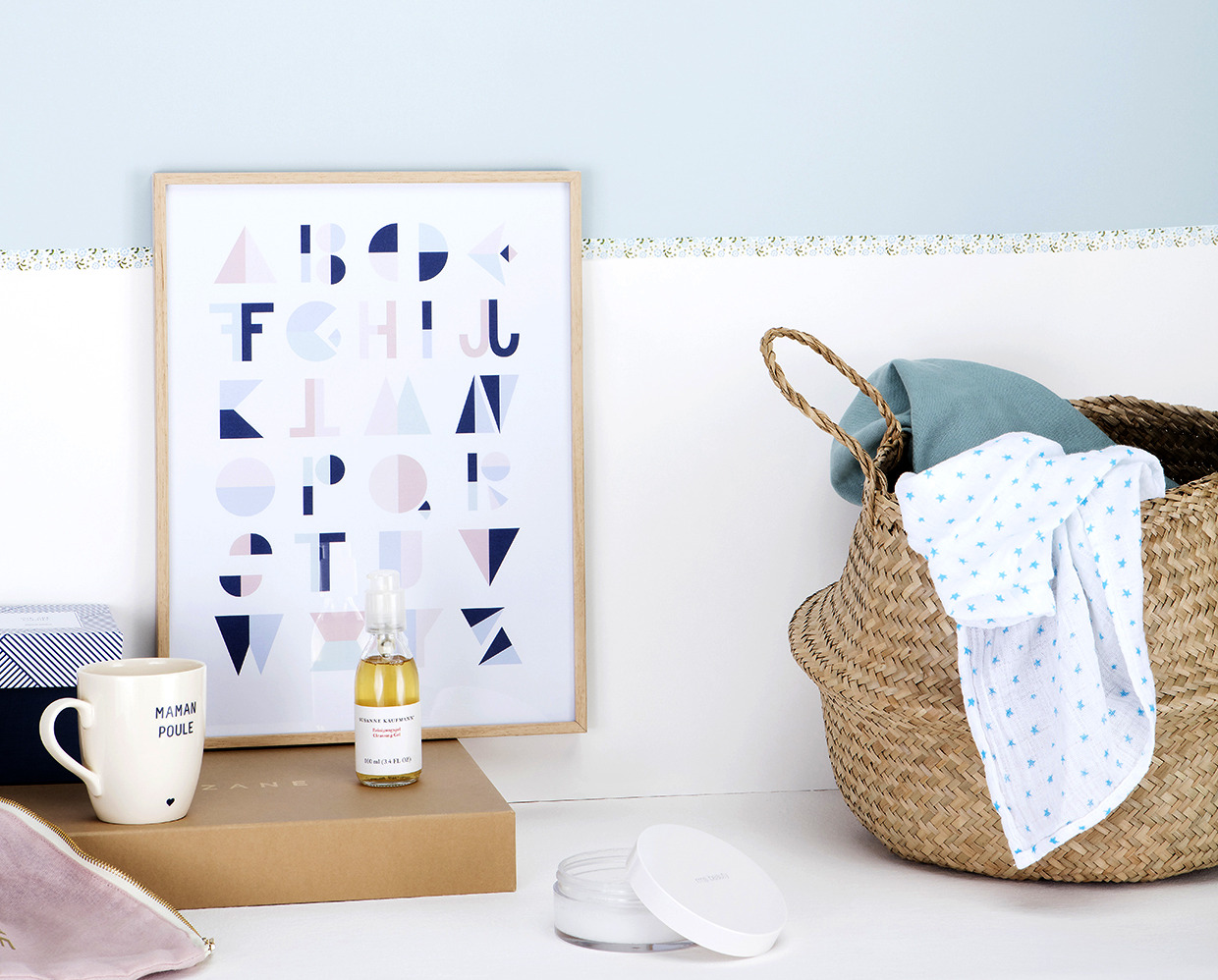 Take care of your chest
Pregnancy also changes the structure of the mammary gland, which becomes heavier and more sensitive. To preserve the elasticity of the skin that supports it, I adopt these simple gestures: I wear a comfortable bra that holds well without compressing. I don't forget to extend my facial care to my décolleté and to generously cream my breasts, with the Rich Firming Cream Moroccan Rose Ren Skincare or with the Body Intensive Bioeffect Body Serum if I only like ultra-light formulas.
Cleanse away impurities
Hormonal surges take their toll on the skin. To avoid post-bout scars, I make it a habit to gently cleanse my skin. The ClearCalm 3 Clarifying Clay Facial Cleanser Ren Skincare is one of the few creamy cleansers with a purifying action. Once or twice a week, I apply theAura Manuka Honey Mask Antipodes, a gentle cleansing mask that moisturizes and cleanses without stripping.
Prevent the pregnancy mask
Hormones and UV rays don't mix well. To avoid the pregnancy mask, prevention is better than cure. Your best ally? Daily sun protection. For skin prone to small pimples: we like the light, treating formula ofOil Free Matte SPF30 Dermalogica. And for all the skins, including the particularly sensitive one: we bet on the natural formula of the Clean Screen Mineral SPF30 Ren Skincare.
Relieve your legs
From the 4th month of pregnancy, the legs are heavy, swollen and painful. To feel lighter, I opt for cool showers and refreshing galenic products. And if the situation becomes really uncomfortable, I can also opt for anti-fatigue tights or leggings.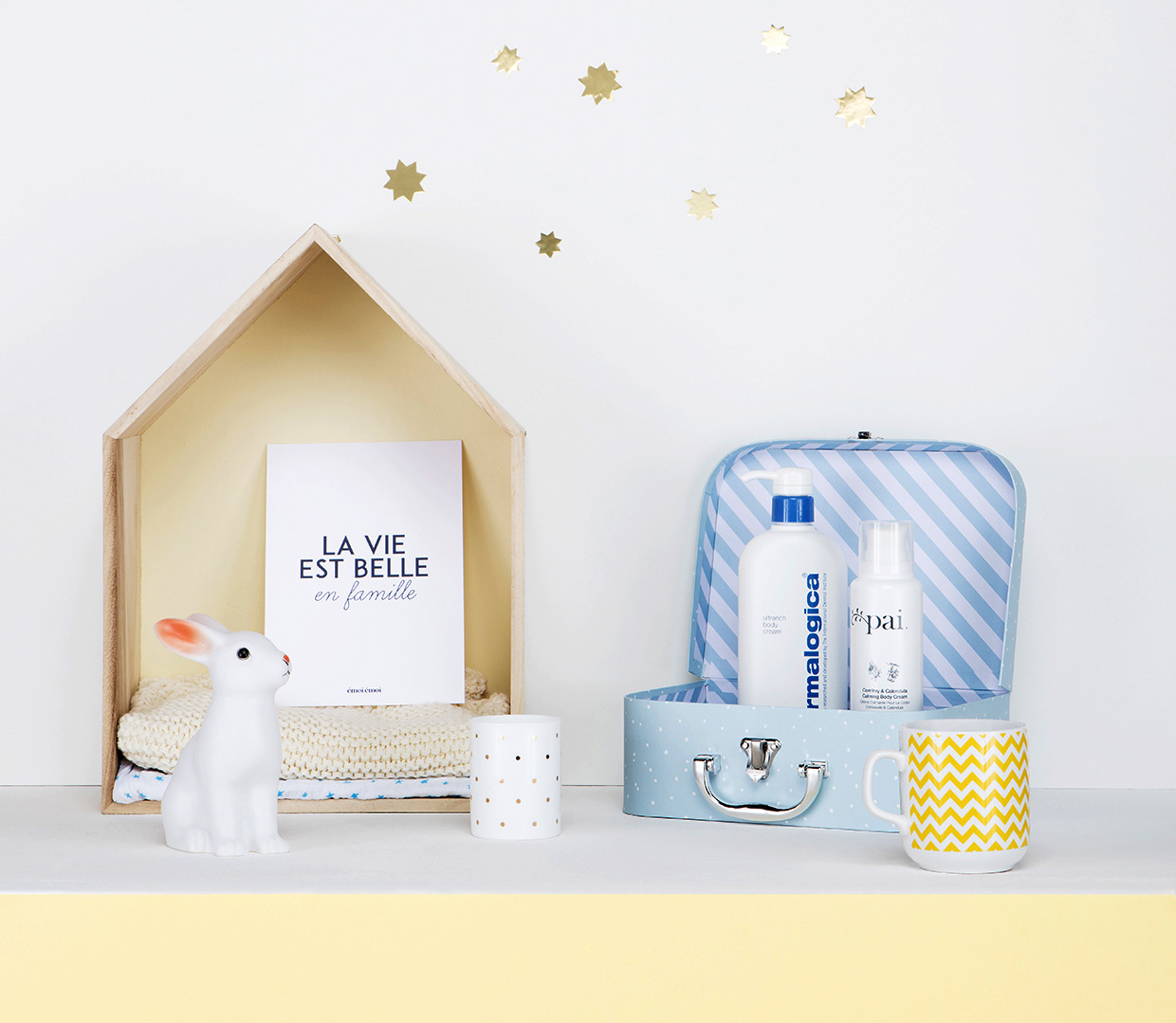 Keep an eye out for ingredients to avoid
- Essential Oils
I avoid using products rich in essential oils. These substances are very active and easily penetrate the skin barrier, and some of them can have an impact on the baby's development (especially peppermint, sage or dill). If I really want to use them, I take advice from my general practitioner or an aromatherapist.
- Fruit Acids
Champions of exfoliation and complexion radiance, these active ingredients are also very powerful.
I therefore avoid using them during this period when my skin can be more reactive.
- Benzoyl Peroxide
Included in some acne medication formulas, this ingredient is contraindicated during pregnancy.
- Vitamin A
A powerful cell regenerator, vitamin A is also incorporated in certain anti-acne and anti-aging products. Here again, I stop its use during pregnancy.
One zaps the sauna and the hammam. The heat causes a strong and brutal dilation of the blood vessels, which accelerates the cardiac rhythm. The cautionary card invites us to put this little pleasure on hold. We also forget the UV in cabin. Even if I am not pregnant, I avoid UV cabins. Bombarding the skin with UVA rays, they accelerate skin aging. Not to mention their vasodilating action, which is not really recommended during this period. Finally, we are cautious about hair coloring. If I'm used to coloring my hair, there's nothing to stop me from going to the hairdresser to refresh my colour. On the other hand, it's best to avoid going for it during pregnancy. Again, skin sensitivity may vary and your skin may be more sensitive to chemical reactions.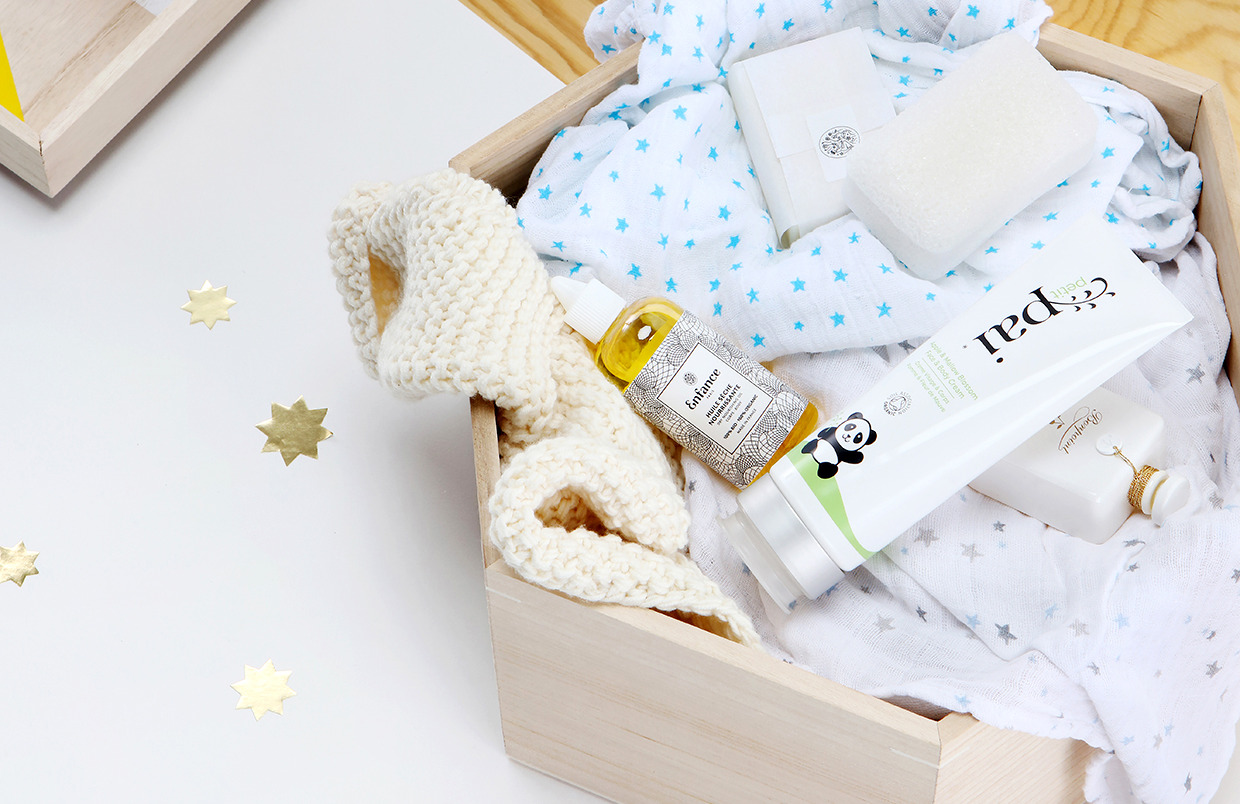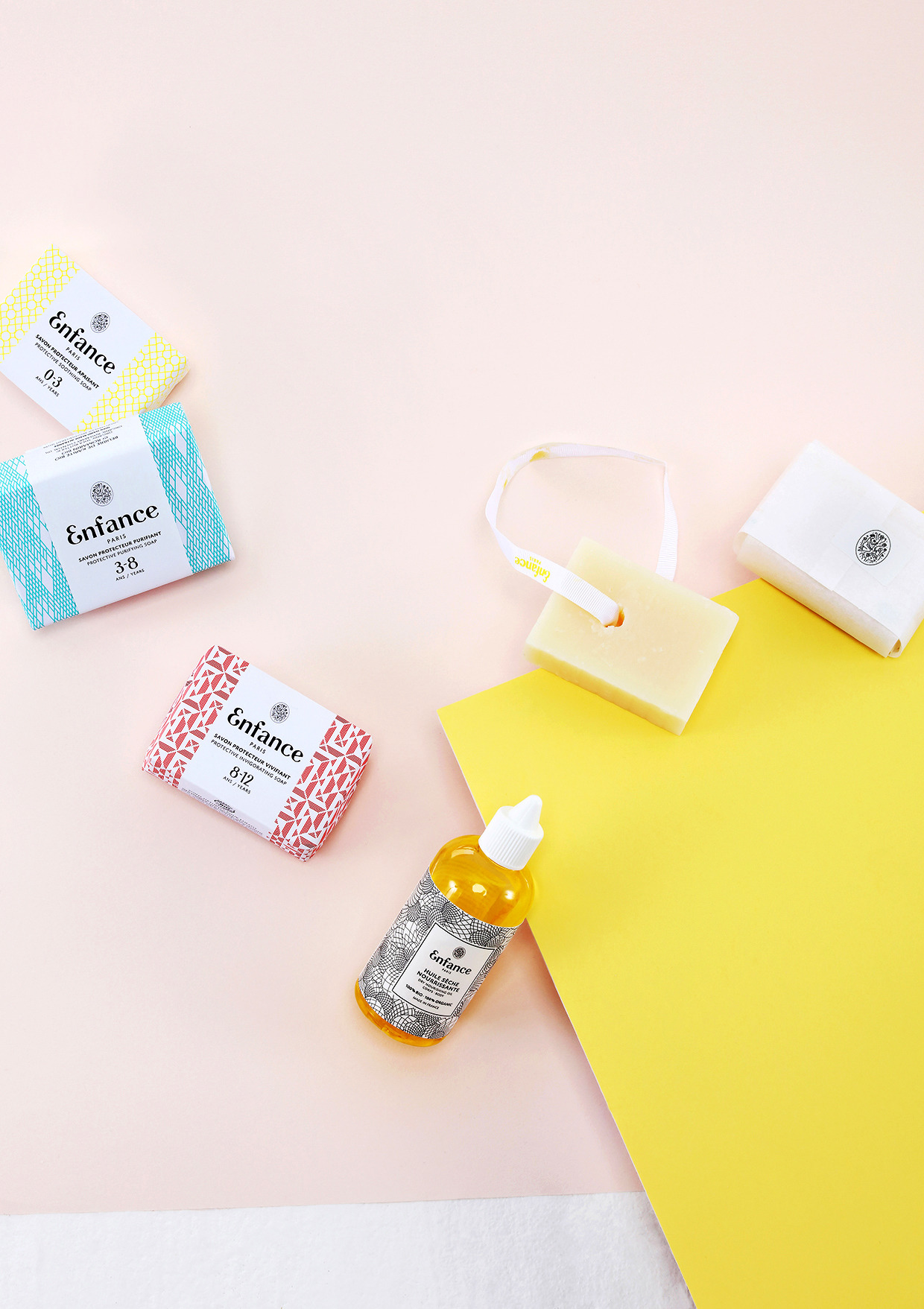 Once the baby has arrived:
- A gentle soap for the face, body and hair
I prefer gentle washing bases that are free of detergents and sulfates, such as Pai Skincare 's Petit Pai Hair & Body Wash Gel or the Soothing Soap 0-3 years Enfance Paris. And to quickly wash baby's face, I can also opt for theKonjac Sponge Babywith its soft touch.
- A liniment oléo-calcaire
Must-have for the change of the baby, I bet on this formula ultra-simple in the alkaline pH, perfect to fight against the bacterial proliferation and to protect the sensitive skin of baby.
- A barrier cream for diaper change
I put my baby's skin on guard with Egyptian Magic Balm, a real multi-functional and 100% natural SOS care. I also use it to protect the fragile areas during walks in the open air.
- Cotton and warm water
Baby's bath should be simple. To quickly clean up, I use absorbent cotton slightly soaked in warm water.
- A neutral oil for massage
Nothing is more soothing than mom's (and dad's!) hands giving a relaxing massage before bedtime. A few drops ofNourishing Dry Oil d'Enfance Paris are enough to give the necessary "glide".