Beauty posts
Beauty shopping: the essential products for summer
The plane tickets have already been booked for a few months and the route has been drawn up... This summer, we are setting sail. And preparing your expedition is already starting the journey. What we love? Taking advantage of the adventure to treat yourself to some well-chosen beauty treatments. The Oh My Cream team shares with you their favourite cosmetics that make the trip!
My beauty shopping for the face
Oh My Cream Team beauty tips:
Pack a cleansing oil to remove makeup and dissolve harsh chemical or mineral filters. Oh My Cream Skincare Travel Size Cleansing Oil is perfect for this.

Pause exfoliation or go with a gentle formula like Gentle Daily Exfoliator Alpha H, 100% enzymatic.

Choose a well-moisturizing night cream that will also act as an after-sun, such as La Pommade Hervé Hérau.
The post-sunburn mask: Evercalm Ultra-Comforting Soothing Mask from Ren Skincare, Pauline's essential
Even under good care, my thin and very fair skin can be overheated after a day spent outdoors. So, in the evening, it's a mandatory mask session. I fell in love with this formula that both moisturizes and soothes intensely. It brings a real comfort whatever your skin type!
Patyka Repairing Night Elixir, Marion's essential oil
I'm swapping my usual skin care oil ( Pai Skincare's indestructible Bioregenerate Wild Rose Oil ) for a slightly more concentrated and anti-wrinkle version. This one acts a bit like a complexion corrector by targeting radiance and spots. I also really like its tangy citrus scent... very subtle.
My beauty shopping for the body
Oh My Cream Team beauty tips:
Change your shower gel for a gentle, sulfate-free formula that is more respectful of the skin.

Moisturize your skin thoroughly before leaving to ensure a more beautiful tan or to facilitate the application of your self-tanner, if you are among those who hardly tan! Susanne Kaufmann' s Body Butter is ideal for this step.

If you have invested in a slimming treatment in the spring, finish it during the summer as an evening body treatment.
Exfoliation for dry skin: Ren Skincare Moroccan Rose Body Scrub, Linda's essential
As summer approaches, I always prepare my skin for the sun. It starts with a body scrub to remove all the dead skin. I pack Ren Skincare Moroccan Rose Body Scrub which refurbishes my skin while leaving a moisturizing film. An important point because a well hydrated skin is the key to a luminous and harmonious tan. I don't forget to apply an SPF at each exposure and I have satiny and tanned legs!
Self Tan Classic Bronzing Mousse St Tropez, Johanna's essential
Vacations require a real preparation: choice of the suitcase, of its contents and optimization of my skin! And for me, it goes through this unavoidable moment: the application of a self-tanner. After testing different perfumery formulas (whose smell had not been validated by my companion), I finally found the perfect formula with St Tropez. The day before my departure, I exfoliate and put on my St Tropez Applicator Glove to apply my self-tanning mousse. No one knows what I'm doing and I have sun-kissed legs on the beach on my first day of vacation!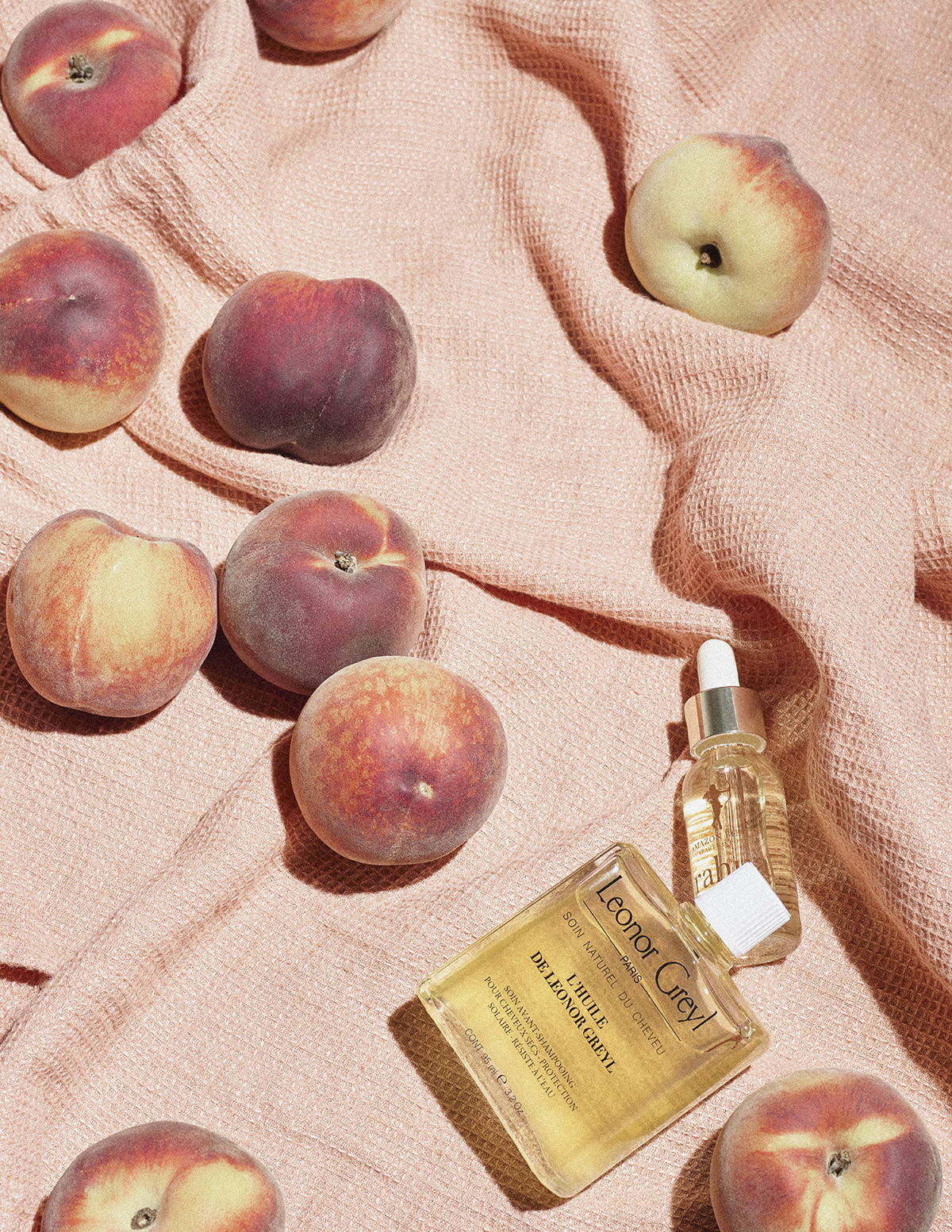 My beauty shopping for hair
Oh My Cream Team beauty tips:
Choose a hair routine that is a little more nourishing than usual. If you don't want to change your favorite shampoo, add a serum or a protective oil in your suitcase.

Don't go for a new colour or a straightening before leaving, it's better to take care of your hair during the summer and offer yourself a hairdressing session in the fall.

Have at least one product that includes a protective filter for the hair.
Precious oil for dry hair: Elixir Rahua, Jessica's essential
I have naturally curly hair, so it's very dry by nature. All year round, I maintain it with nourishing hair care products such as Rahua Control Cream or Christophe Robin Prickly Pear Shampoo, but in summer in the sun it's not enough. My mermaid hair ally is Rahua's Elixir, which never leaves my beach bag! I apply it to the ends to repair and protect during sun exposure. When I get back from the beach, I apply it generously to the lengths and ends after shampooing, leave on for a few minutes and rinse. It's time for beautiful waves!

Protective care for the beach: L'Huile de Leonor Greyl, the Flore essential
It is my must-have to protect my hair from the sun, sea baths or chlorinated water in swimming pools. Waterproof and nourishing, this product insulates the hair from salt and UV rays. Every year, its scent also acts as a real Proust's madeleine: I am immediately transported to the beach. I apply it either before shampooing (as a deep treatment that I leave on overnight), or in small quantities before the beach. Once rinsed, the hair detangles easily; it is soft, less dry thanks to the combination of copra oil and mongogo oil, both of which have moisturizing properties.
My beauty shopping dedicated to sun protection
Oh My Cream Team beauty tips:
Do not skimp on the amount of product applied: the index displayed cannot be guaranteed with a pea of material.

Opt for an "intelligent" sun product that protects while targeting another skin problem (such as an anti-blemish, anti-spot or firmness-boosting action).

Opt for double cleansing, in the evening, to eliminate the filters which are rather tenacious ingredients. This is the guarantee to avoid sensitization and small pimples.
A high protection against spots: Photo Regul Face Cream Esthederm, Cecile's essential
For the past 3 years, I have been developing pigment spots on my face, which is my pet peeve... This product has therefore become a must-have in my vacation kit. It allows me to come back with a slightly tanned skin but with an anti-spot action. It allows me to even out my complexion by preventing pigmented areas from darkening with the sun. I'm still careful and I still wear a hat and glasses!
Sun protection for sensitive skin: Super Sensitive Shield SPF 30 Dermalogica, Juliette's essential
In the sun, all the girls have a pretty skin... while mine is having a crisis! I often have blemishes and even allergies on my décolletage, and I recently realized that it might be the fault of chemical filters: so last year I tested Dermalogica's Super Sensitive Shield SPF 30, made of 100% mineral filters and without perfume. Bingo: my skin doesn't react to the sun anymore (and, with its composition, I can even apply it on the eye contour, which is practical when you take off your maxi sunglasses)!
Protective mattifying fluid: Oil Free Mat SPF 30 Dermalogica, the essential for Fleur
I've been using this cream as a face sunscreen for 5 summers now: I've become addicted to its lemony scent that reminds me so much of my vacations, to its non-greasy texture that doesn't clog my pores and to its tiny size that I can take everywhere. Its treatment aspect also allows me to come back in September with a perfect complexion, without any pimples. I love it!
Protective tanning oil: Esthederm Sun Oil Normal to Strong, Margaux's essential
I have very white, blushing skin and it takes me a long time to tan... so for me the vacation vanity rhymes with SPF! And the right SPF is a quest I started a long time ago. When Esthederm released its oil, I first thought it wasn't for me: oils are more for ultra-matte skin that can spread monoi on it! Wrong!Esthederm 's oil is crazy, it really protects even the lightest skin. And above all, it really boosts your tan. Last summer, I tested other sun products bought in a drugstore, and I was disappointed... I did not get the same subtle golden result at all. The formula clearly stimulates the production of melanin, all without paraben or silicone. This summer, I'm not giving them any more infidelity!

My beauty shopping for makeup
Oh My Cream Team beauty tips:
Have fun with makeup products and colors that you don't usually wear: pop lips, colorful eyeliner... Easier to assume on vacation than at the office!

Change your nail polish: forget about the total look of coordinated hands and feet!

Treat yourself to a bronzer to enhance your tan, like the RMS Beauty Master Mixer, which beautifies all skin tones.
Nomadic palette: RMS Beauty Pop Collection Palette, Marion's essential
This palette includes all the essentials to enhance your tan. In the summer, I prefer to forget my usual fluid foundation and I don't really like sun powder either. My ritual? Go for colored cream textures to melt on the skin, directly with the fingers and without makeup brushes for a super natural result. This palette contains all the essentials: blush (to divert into lipstick), illuminator and lip balm loaded with shea. All that's left is to slip on a pretty gold eyeshadow (like the Cream EyeShadows in Solar RMS Beauty which I'm also a fan of) and my summer makeup bag is ready!
The manicure that slams: Juicy Kure Bazaar polish, Pauline's must-have
For me, make-up is all about the nails! I'm a fan of nail polish and hand care products, which give me the ultimate touch of elegance... Before I leave, it's impossible for me to resist buying a new little bottle from colour. Last summer, I treated myself to colour Juicy, a pop of orangey coral, toned and luminous. I wore it so much... that I'm buying it again this year!

Wishing you a wonderful summer! Don't hesitate to come back for a back-to-school skin diagnosis!