shopping guides
Ma routine premières rides
Trouver la routine beauté parfaite pour sa peau peut s'avérer être un vrai casse-tête, en particulier lorsqu'on ne sait pas par où commencer... Si ces guides sont là pour vous éclairer pour trouver les bons produits selon vos problématiques, nos expertes beauté ne sont qu'à un clic pour vous aider à trouver la routine personnalisée adaptée aux besoins de votre peau.
My skin right now:
C'est souvent à l'aube de la trentaine que l'on remarque sa peau qui change : la production de collagène, d'élastine et d'acide hyaluronique (les 3 facteurs clé pour une peau tonique et rebondie) ralentit. La peau récupère donc moins vite et au moindre épisode de stress ou de fatigue, c'est elle qui trinque… On donne donc un coup de pouce à sa peau avec la routine in et out qui marche !
The ideal beauty routine for the first wrinkles
Pour démarrer :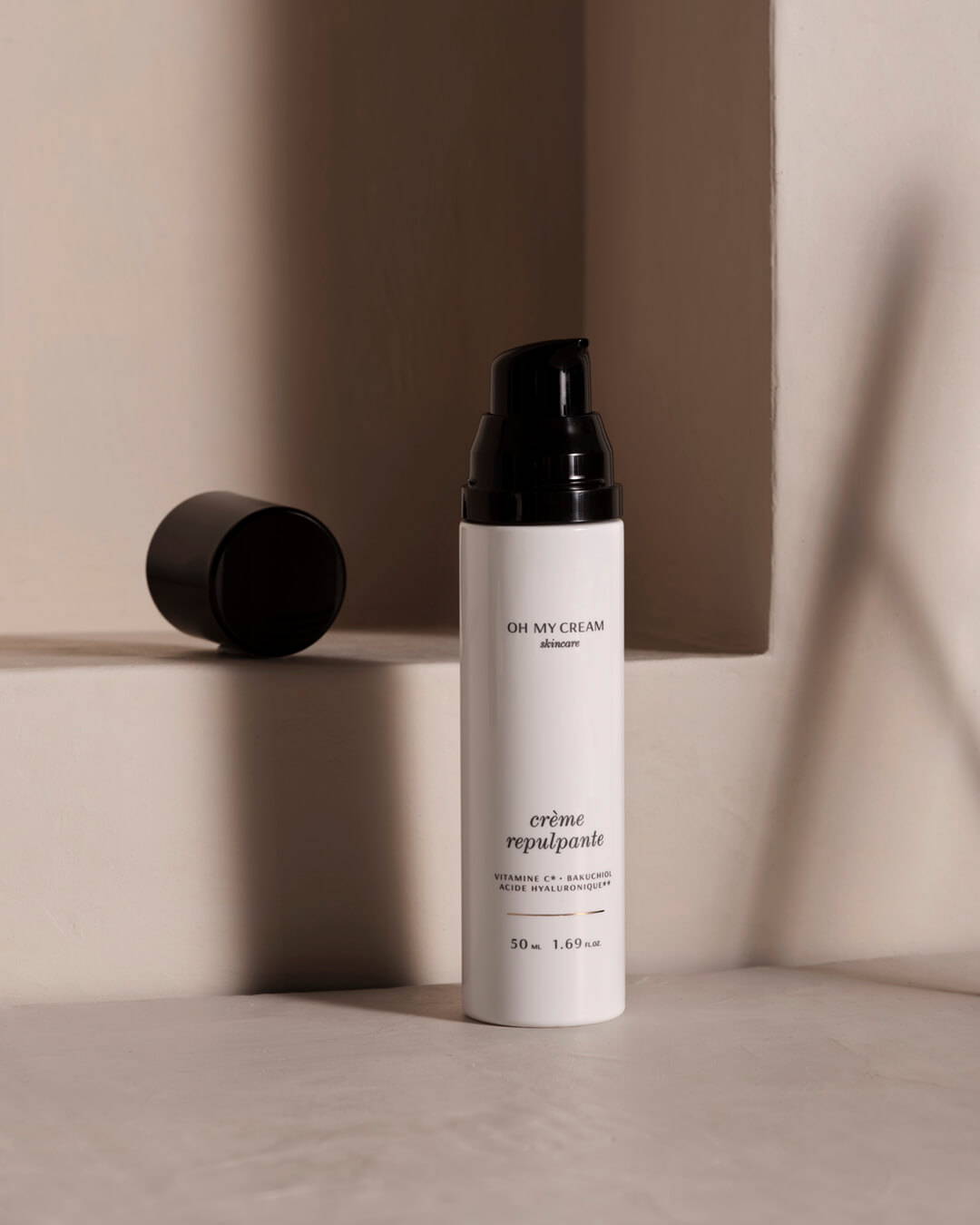 Morning:
Le matin, on commence par nettoyer sa peau avec le Purifying Cleansing Gel Susanne Kaufmann, un gel nettoyant doux qui préserve l'hydratation de la peau. 
Puis, on hydrate et protège son regard avec la crème contour de l'œil Kiwi Seed Oil Antipodes, un gel crème rafraîchissant qui lisse et répare la peau tout en luttant contre les premiers signes de l'âge.
On poursuit avec le Moon Fruit Retinol Alternative Serum Herbivore, un sérum alternatif au rétinol qui améliore visiblement l'apparence des rides et ridules tout en raffermissant la peau. 
On termine sa routine en appliquant la Crème Repulpante Oh My Cream Skincare, qui hydrate, raffermit et booste l'éclat de la peau tout en réduisant l'apparence des rides.
At night:
Le soir, on débute sa routine double nettoyage avec l'Huile Démaquillante Oh My Cream Skincare, une huile fluide qui dissout le maquillage du visage et des yeux, les traces de pollution et l'excès de sébum, avant de nettoyer sa peau avec le Purifying Cleansing Gel Susanne Kaufmann. 
Ensuite on tapote autour des yeux la crème regard Kiwi Seed Oil Antipodes, pour hydrater, lisser et réparer cette zone sensible.
Pour terminer, on applique quelques gouttes de l'Huile Repulpante Oh My Cream Skincare, pour nourrir, lisser et protéger sa peau durant son sommeil. Les peaux sèches pourront se tourner vers le Baume de Nuit Revitalisant Oh My Cream Skincare, un baume à la texture ultra-enveloppante, qui défroisse les traits pour une peau lumineuse et repulpée au réveil. 
1 à 2 fois dans la semaine :
On peut opter 1 à 2 fois par semaine par un nettoyage plus en profondeur qui réveillera l'éclat de la peau, avec une exfoliation. Pour cela, on opte pour le masque Glycolactic Masque Eclat Peau Neuve Ren Clean Skincare, un masque peeling aux acides de fruits qui réduit les ridules et améliore visiblement l'apparence de la peau, pour un teint éclatant. 
Pour lutter contre le teint terne le vieillissement cutané, on applique 1 à 2 fois par semaine le masque Multivitamin Power Recovery Mask Dermalogica. Ce masque hydratant et repulpant, lisse les rides et ridules, pour un teint uniforme et éclatant, et une barrière cutanée renforcée.
Pour aller plus loin :
To go further and increase the effects of the products tenfold, you can also use the food supplement and beauty tool duo:
L'Essentiel Peau Combeau : un complément alimentaire universel et efficace pour révéler la beauté naturelle de chaque peau. 
Gua Sha Visage Oh My Cream Skincare : un gua sha en quartz rose pour lisser, raffermir et redessiner les contours du visage, tout en offrant un massage facial relaxant.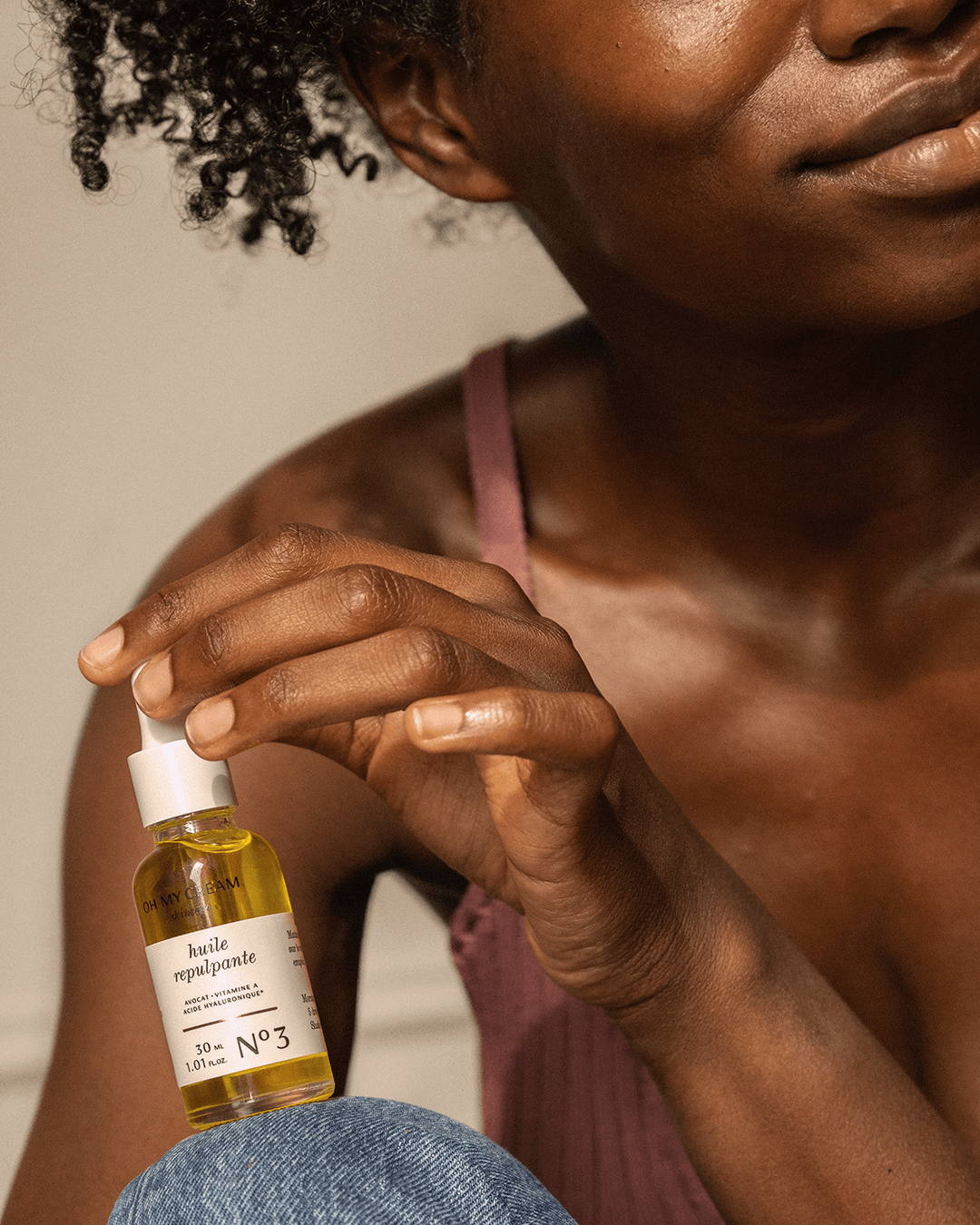 « Le soir, j'adore utiliser l'Huile Repulpante Oh My Cream Skincare. On y retrouve des huiles végétales évidemment - dont l'huile d'avocat - mais aussi de l'acide hyaluronique encapsulé. Cette petite innovation permet à la fois d'hydrater et de nourrir en même temps. »
à propos de l'Huile Repulpante
Vous avez encore des questions sur un produit ou souhaitez aller plus loin dans votre routine beauté ? Nos experts sont là pour vous aider, par mail à l'adresse consultation@ohmycream.com. Vous pouvez également vous rendre en boutique pour bénéficier des conseils experts de nos coachs beauté. 
First signs of aging: the ideal preventive routine against skin aging
Aïe, depuis peu, votre peau vous envoie les premiers signes d'une récupération moins rapide, des premiers signes de l'âge... Et pour cause, c'est naturel, mais les facteurs de densité cutanée et les agents naturellement hydratants ne sont pas inépuisables. À la longue, les fibres d'élastine et de collagène s'abîment, le stock d'acide hyaluronique commence à diminuer, et le processus de vieillissement cutané est bien activé. C'est donc le moment d'apporter un coup de pouce à sa peau. Ce guide vous donnera tous les conseils beauté pour avoir une belle peau et retarder au maximum les premiers signes de vieillissement cutané.
Skin aging: why does the skin age?
We aren't all created equal when it comes to skin ageing. A number of factors come into play, including: 
- Notre génétique. Mais, rassurez-vous, seulement 20 % des signes de l'âge sont liés à votre patrimoine génétique… D'où l'importance de bien prendre soin de sa peau pour ralentir au maximum l'apparition des rides et ridules, ainsi que le relâchement cutané.
- Des facteurs environnementaux auxquels la peau est soumise : les radicaux libres, des expositions au soleil en excès , le stress, la pollution sont autant d'éléments qui essoufflent les cellules cutanées.
- De mauvaises habitudes comme la cigarette ou l'abus de sucre jouent aussi sur la perte d'élasticité. Une alimentation équilibrée et une bonne hygiène de vie sont les meilleurs alliés pour entretenir la santé de la peau.
At what age should you start your anti-aging routine?
Confrontée à tous ces facteurs, la peau commence à montrer ses premiers signes de faiblesse souvent vers 30 ans, période où la production de collagène, d'élastine et d'acide hyaluronique (les 3 facteurs de la jolie peau jeune et rebondie) se ralentit. La peau récupère donc moins vite et au moindre épisode de stress ou de fatigue, c'est elle qui trinque ! Mieux vaut donc prévenir que guérir et débuter sa routine anti-âge vers 30 ans : en plus d'une routine irréprochable, l'idée est d'aussi offrir à sa peau quelques produits anti rides ciblés pour prévenir, tout en douceur et miser sur les bons actifs anti-âge…
What are the signs of cutaneous ageing?
Les premiers signes de l'âge apparaissent en premier lieu sur le regard : les cernes et les poches sous les yeux sont les marqueurs principaux de la fatigue. Ensuite, d'autres changements ont lieu au niveau du derme et de l'épiderme : de petites ridules de déshydratation et les premières rides d'expression pointent leur nez. Le teint peut aussi paraître moins frais et parfois terne.
How to slow the ageing process?
A proper cleanse: the principal weapon against premature ageing
Le double nettoyage est idéal quel que soit son type de peau et il est particulièrement recommandé pour éviter le vieillissement accéléré de la peau : en effet, une peau bien nettoyée n'aura plus à se défendre face aux agents polluants irritants qui peuvent rester à sa surface. Ainsi oxygénée, elle profitera au mieux de sa routine de soins. En nettoyant méticuleusement son visage chaque soir, on prépare au mieux la peau à recevoir des soins spécifiques. C'est le geste le plus important de toute routine de soins anti-âge ! 
Première étape, je débute donc avec une huile ou un baume démaquillant : ce premier produit va émulsionner tous les corps gras présents à la surface cutanée, comme le sébum, la pollution, le maquillage (y compris le mascara waterproof !). C'est donc la façon la plus délicate d'éliminer les impuretés accumulées durant la journée sans irriter la peau. Ainsi, petit à petit, cela permet de retrouver une peau nette et un teint éclatant. De plus, la texture huileuse va également commencer à hydrater la peau et à lui apporter du confort. Un bon point si vous avez la peau sèche. Mais rassurez-vous, l'utilisation d'une huile démaquillante permet aussi de réguler en douceur la peau grasse et la peau mixte en éliminant de façon délicate les brillances.
In the second step, to refine the result and cleanse deeply, we follow the cleansing oil with a milk or a soft cleansing gel. Moisturizing and comfortable, milks cleanse perfectly without aggressing skin prone to tightness, while soap-free gels will bring a sensation of purity to skin in search of freshness. The trick? Cleanse the skin with a formula that contains enzymes or fruit acids to lightly exfoliate and get an immediate result on the complexion. 
Exfoliation to reduce skin ageing
L'exfoliation, c'est le geste « belle peau » par excellence (sous réserve qu'elle soit douce et ne rime pas avec irritation) ! En éliminant les cellules mortes en excès, l'exfoliant visage va optimiser la pénétration des actifs, permettre à la peau de gagner en douceur et en éclat, tout en luttant contre les petites imperfections (taches, boutons, pores dilatés). C'est aussi une formidable étape pour la prévention anti-rides : en favorisant la régénération de la peau, l'exfoliation préserve l'élasticité et la fermeté des tissus.
Plant oils as a weapon against skin ageing
Enfin, on termine sa routine en protégeant sa peau avec une huile de soin adaptée aux besoins des peaux fatiguées. L'huile de soin, en sérum ou seule, est le geste qui va permettre de maintenir le bon niveau d'hydratation de la peau, tout en la régulant si elle présente des brillances. Riche en acides gras essentiels et en nutriments, c'est le geste qui apporte du confort et lutte contre la déshydratation en lissant les petites ridules. En bonus, c'est aussi une formidable façon d'apporter une action régénérante et nourrissante à sa peau
What make-up to use on skin that is showing the first signs of age?
On pense à appliquer quelques astuces maquillage pour gommer les marques de fatigue et raviver l'éclat : 
- On applique un enlumineur sur les zones clés comme le haut des pommettes, l'arcade sourcilière et l'arc de cupidon pour attraper la lumière. Le Living Luminizer RMS Beauty donne un aspect très naturel avec sa texture crème qui se fond parfaitement sur la peau. 
- On associe soin et maquillage avec un fond de teint incluant une protection solaire. En bonus, on prévient aussi le vieillissement cutané prématuré.
- On apporte de la couleur au visage par petites touches grâce aux produits intuitifs comme les Lip2Cheek RMS Beauty. Crémeux à souhait, ces jolis fards se fondent parfaitement sur les pommettes et les lèvres… en quelques secondes. 
Les DOs contre les premiers signes de l'âge
- Adopt a sun protection factor on a daily basis: from 20 to 50, it will help to counter UV rays, the first factors of premature skin aging.
- Traquer peptides et vitamines dans les crèmes de jours, les sérums… Pour revitaliser instantanément la peau.
- Use 'shock' treatments: for example, a serum filled with Vitamin C which will plump up the skin and brighten the complexion. Do this twice a year.
Les DON'Ts contre les premiers signes de l'âge
- Skipping the make-up removal: a badly removed skin is a badly oxygenated skin. It will not be able to regenerate itself fully.
- We know that the effects of tobacco on the skin greatly accelerate skin aging because of toxins... if you don't stop smoking, limiting smoking will delay its harmful effects as much as possible. 
Besoin de faire le point pour choisir son anti-âge ou mieux connaître sa peau? Réalisez dès maintenant votre diagnostic de peau. Et n'oubliez pas qu'une visite dans l'une de nos boutiques ou un e-mail à l'adresse consultation@ohmycream.com vous permettront de répondre à toutes vos questions sur la peau et de découvrir d'autres astuces beauté.