My first wrinkles routine
My skin right now:
It is often at the dawn of the thirties that we notice our skin changing: the production of collagen, elastin and hyaluronic acid (the 3 key factors for a toned and plump skin) slows down. The skin recovers less quickly and at the slightest episode of stress or fatigue, it is the skin that suffers... We therefore give our skin a boost with the in and out routine that works!
To get started: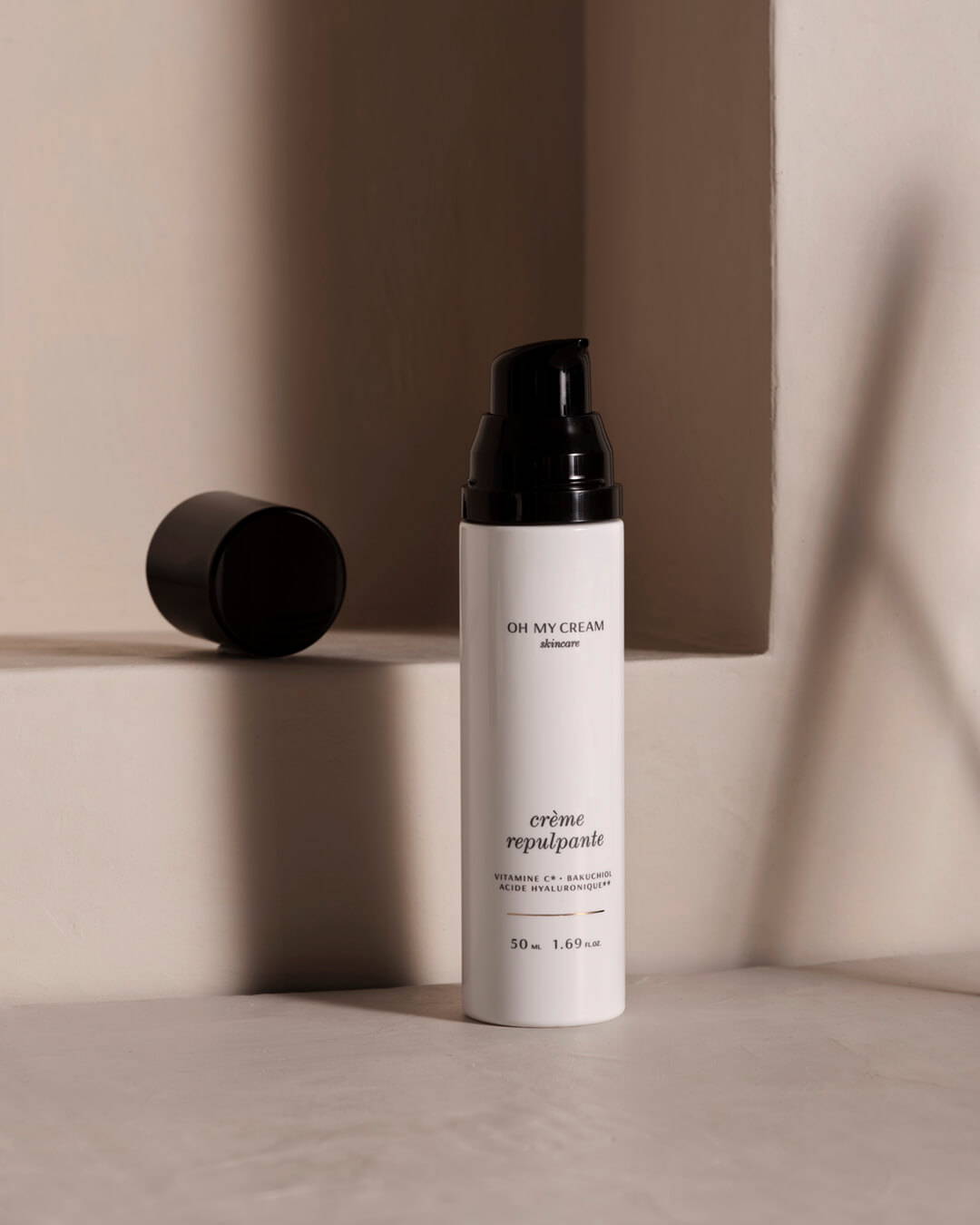 In the morning, start by cleansing your skin with the Purifying Cleansing Gel Susanne Kaufmann, a gentle cleansing gel that preserves the skin's moisture. 
Then, we moisturize and protect our eyes with the eye contour cream Kiwi Seed Oil Antipodes, a refreshing gel cream that smoothes and repairs the skin while fighting the first signs of aging.
We continue with the Moon Fruit Retinol Alternative Serum Herbivorea retinol alternative serum that visibly improves the appearance of fine lines and wrinkles while firming the skin.
We finish our routine by applying the Plumping Cream Oh My Cream Skincarewhich moisturizes, firms and boosts the skin's radiance while reducing the appearance of wrinkles.
In the evening, start your double cleansing routine with theCleansing OilOh My Cream Skincare Cleansing Oil, a fluid oil that dissolves face and eye makeup, traces of pollution and excess sebum, before cleansing your skin with the Purifying Cleansing Gel Susanne Kaufmann. 
Then we pat the eye cream around the eyes Kiwi Seed Oil Antipodes, to moisturize, smooth and repair this sensitive area.
To finish, apply a few drops of thePlumping Oil Oh My Cream Skincare, to nourish, smooth and protect your skin while you sleep. Dry skin can turn to the Revitalizing Night Balm Oh My Cream Skincare Revitalizing Night Balm, a balm with an ultra-enveloping texture that smoothes the features for luminous, plumped skin in the morning.
1 to 2 times a week:
Once or twice a week, we can opt for a deeper cleansing that will awaken the skin's radiance, with an exfoliation. For this, we opt for the Glycolactic Masque Eclat Peau Neuve Ren Clean Skincare, a peeling mask with fruit acids that reduces fine lines and visibly improves the appearance of the skin, for a radiant complexion. 
To fight against the dull complexion and skin aging, we apply once or twice a week the mask Multivitamin Power Recovery Mask Dermalogica. This hydrating and plumping mask, smoothes wrinkles and fine lines, for an even and radiant complexion, and a reinforced skin barrier.
To go further :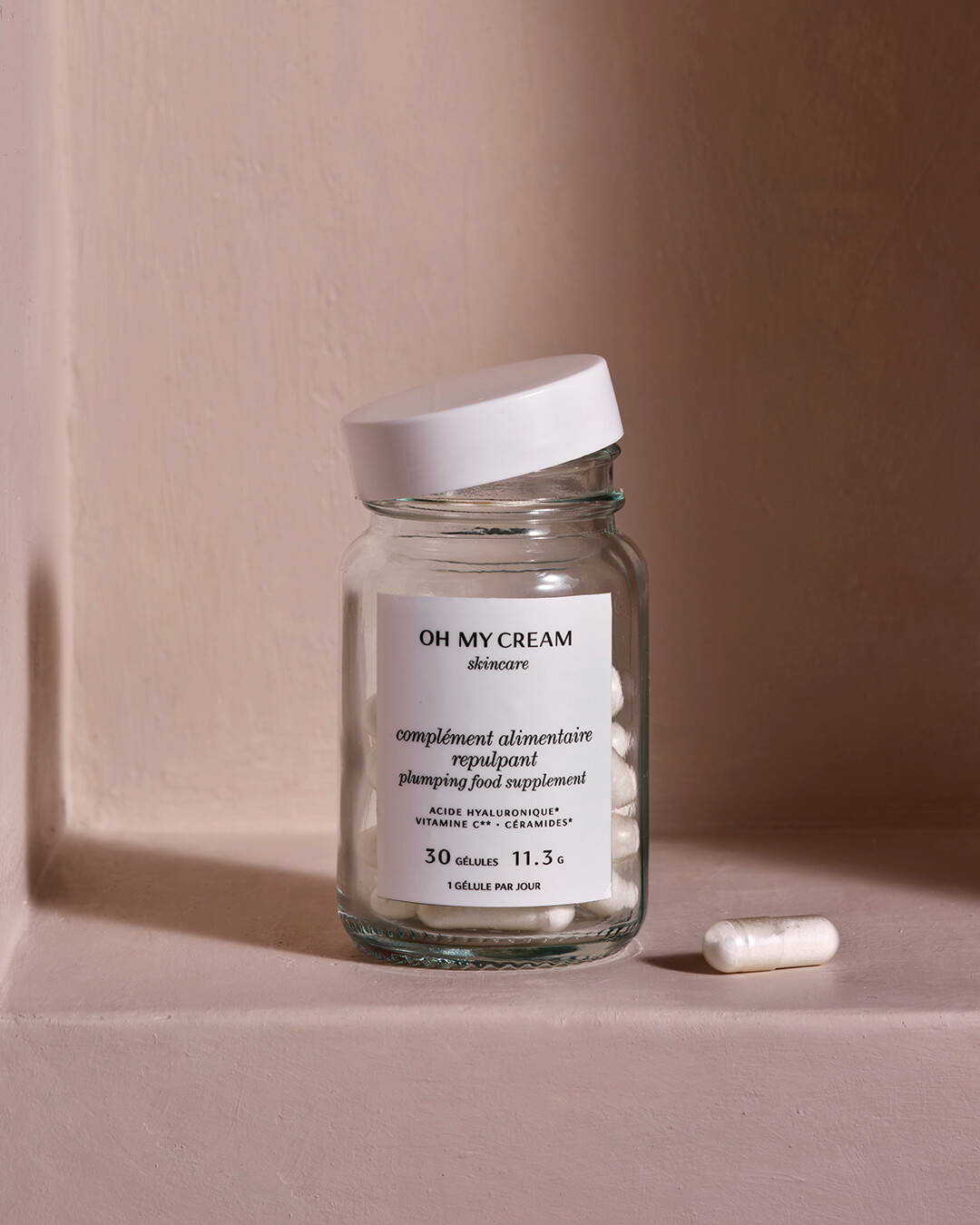 To go further and increase the effects of the products tenfold, you can also use the food supplement and beauty tool duo:
Oh My Cream Skincare: a food supplement enriched with ceramides and hyaluronic acid to reduce the appearance of wrinkles and plump skin, while providing comfort.
Gua Sha Face Oh My Cream Skincare: a rose quartz gua sha to smooth, firm and contour the face, while providing a relaxing facial massage.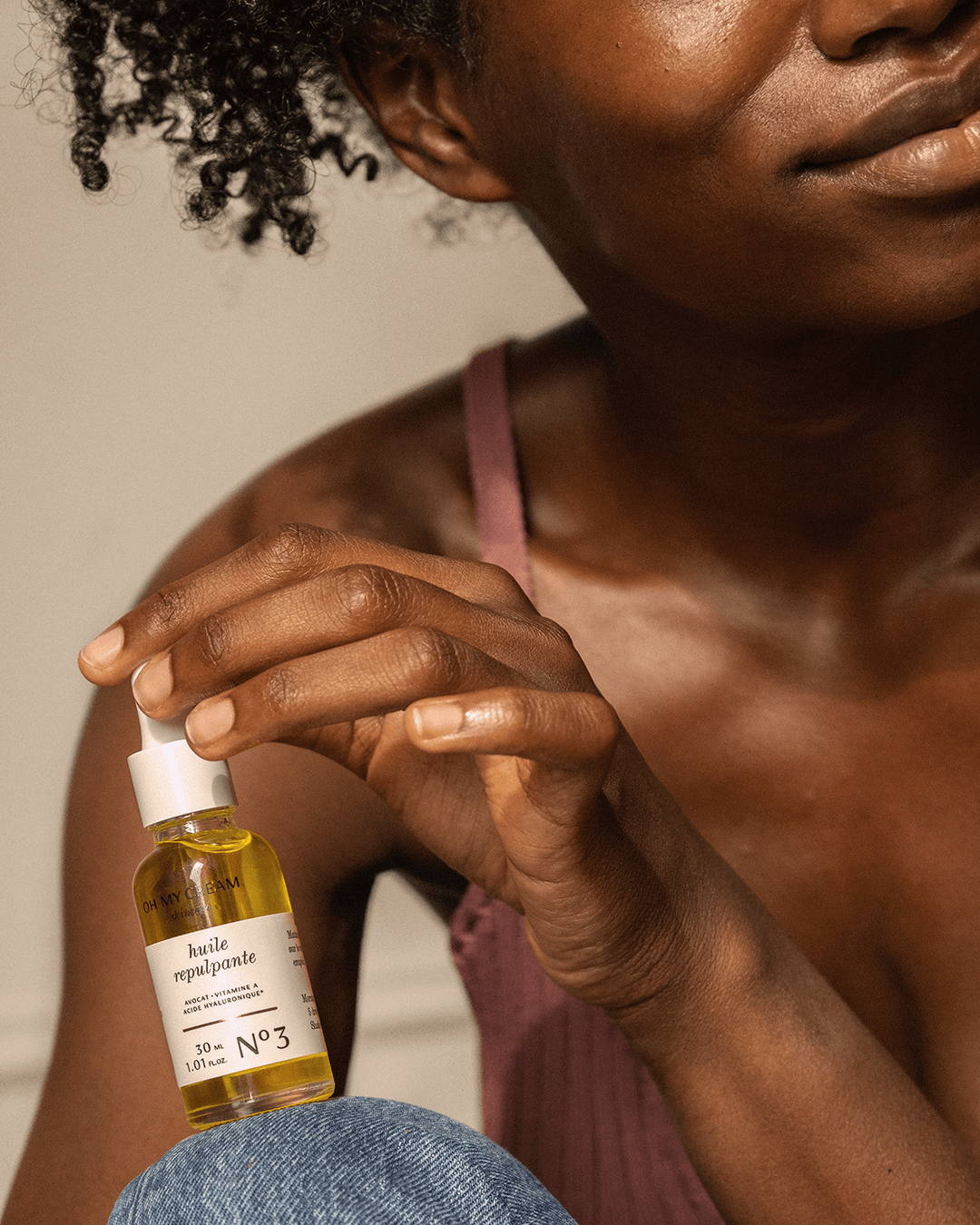 "I love using Oh My Cream Skincare Plumping Oil at night. It contains plant oils, of course - including avocado oil - but also encapsulated hyaluronic acid. This little innovation both moisturizes and nourishes at the same time."
Do you still have questions about a product or would you like to go further in your beauty routine? Our experts are here to help you, by email at consultation@ohmycream.com. You can also visit our store to get expert advice from our beauty coaches. 
First signs of aging: the ideal preventive routine against skin aging
Ouch, recently, your skin is sending you the first signs of a slower recovery, of the the first signs of ageing... And for good reason, it's natural, but the skin's density factors and natural moisturizing agents are not inexhaustible. Over time, elastin and collagen fibers become damaged, the hyaluronic acid stock begins to diminish, and the skin's aging process is well underway. It is therefore time to give your skin a boost. This guide will give you all the beauty tips you need to have a beautiful skin and delay the first signs of skin aging as much as possible.
Skin aging: why does the skin age?
We aren't all created equal when it comes to skin ageing. A number of factors come into play, including: 
- Our genetics. But, rest assured, only 20% of the signs of aging are linked to your genetic heritage... Hence the importance of taking good care of your skin to slow down the appearance of wrinkles and fine lines, as well as skin sagging.
- Environmental factors to which the skin is subjected: free radicals, excessive exposure to the sun, stress, pollution are all elements that strain the skin cells.
- Bad habits such as smoking or sugar abuse also play a role in the loss of elasticity. A balanced diet and a healthy lifestyle are the best allies for maintaining skin health.
At what age should you start your anti-aging routine?
Faced with all these factors, the skin begins to show its first signs of weakness often around the age of 30, a period when the production of collagen, elastin and hyaluronic acid (the 3 factors of beautiful, youthful, plump skin) slows down. The skin recovers less quickly and at the slightest episode of stress or fatigue, it is the skin that suffers! It is therefore better to prevent than to cure and to start your anti-aging routine around the age of 30: in addition to an impeccable routine, the idea is to also offer your skin a few targeted anti-wrinkle products to prevent, while gently focusing on lhe right anti-aging active ingredients...
What are the signs of cutaneous ageing?
The first signs of aging appear in the eyes: dark circles and bags under the eyes are the main signs of fatigue. Then, other changes take place in the dermis and epidermis: small dehydration lines and the first expression lines small dehydration lines and the first expression lines appear. show their face. The complexion can also appear less fresh and sometimes dull.
How to slow the ageing process?
A proper cleanse: the principal weapon against premature ageing
Double cleansing is ideal for all skin types and is particularly recommended to avoid accelerated skin aging: in fact, well-cleansed skin will no longer have to defend itself against irritating pollutants that may remain on its surface. Thus oxygenated, it will take full advantage of its care routine. By meticulously cleansing your face every evening, you can prepare your skin for specific treatments. This is the most important step in any anti-aging skin care routine ! 
First step, I start with an oil or a make-up remover balm: this first product will emulsify all the fatty substances present on the skin surface, such as sebum, pollution, make-up (including waterproof mascara!). It is therefore the most delicate way to eliminate the impurities accumulated during the day without irritating the skin. Thus, little by little, it allows to find a clear skin and a bright complexion. Moreover, the oily texture will also start to moisturize the skin and bring it comfort. A good point if you have dry skin. But don't worry, using a makeup remover oil can also gently regulate oily and combination skin by delicately eliminating shine.
In the second step, to refine the result and cleanse deeply, we follow the cleansing oil with a milk or a soft cleansing gel. Moisturizing and comfortable, milks cleanse perfectly without aggressing skin prone to tightness, while soap-free gels will bring a sensation of purity to skin in search of freshness. The trick? Cleanse the skin with a formula that contains enzymes or fruit acids to lightly exfoliate and get an immediate result on the complexion. 
Exfoliation to reduce skin ageing
Exfoliation is the "beautiful skin" gesture par excellence (provided that it is gentle and does not rhyme with irritation)! By eliminating excess dead cells, facial exfoliation optimizes the penetration of active ingredients, allowing the skin to become softer and more radiant, while fighting against small imperfections (spots, pimples, dilated pores). It is also a great step for anti-wrinkle prevention: by promoting skin regeneration, exfoliation preserves the elasticity and firmness of tissues.
Plant oils as a weapon against skin ageing
Finally, we finish our routine by protecting our skin with a care oil adapted to the needs of tired skin. Oil, as a serum or on its own, is the gesture that will help maintain the right level of hydration of the skin, while regulating it if it presents shine. Rich in essential fatty acids and nutrients, it provides comfort and fights against dehydration by smoothing fine lines. As a bonus, it is also a great way to bring a regenerating and nourishing action to your skin
What make-up to use on skin that is showing the first signs of age?
We think of applying somemake-up tricks to erase the marks of fatigue and revive the brightness: 
- We apply a highlighter on key areas such as the top of the cheekbones, the brow bone and the cupid's bow to catch the light. The Living Luminizer RMS Beauty gives a very natural look with its creamy texture that blends perfectly with the skin. 
- We combine skincare and makeup with a foundation that includes sun protection. As a bonus, we also prevent premature skin aging.
- We bring some colour to the face in small touches thanks to intuitive products like the Lip2Cheek RMS Beauty. Creamy to perfection, these pretty shadows blend perfectly on cheekbones and lips... in seconds. 
DOs against the first signs of aging
- Adopt a sun protection factor on a daily basis: from 20 to 50, it will help to counter UV rays, the first factors of premature skin aging.
- Track down peptides and vitamins in day creams, serums... To instantly revitalize the skin.
- Use 'shock' treatments: for example, a serum filled with Vitamin C which will plump up the skin and brighten the complexion. Do this twice a year.
The DON'Ts against the first signs of aging
- Skipping the make-up removal: a badly removed skin is a badly oxygenated skin. It will not be able to regenerate itself fully.
- We know that the effects of tobacco on the skin greatly accelerate skin aging because of toxins... if you don't stop smoking, limiting smoking will delay its harmful effects as much as possible. 
Need to take stock of the situation to choose an anti-aging product or to better understand your skin? Make your skin diagnosis now. And don't forget that a visit to one of our boutiques or an e-mail to consultation@ohmycream.com will allow you to answer all your questions about skin and to discover other beauty tips.