Beauty Files
Care for your intimacy at every stage of your cycle
Being a woman means seeing your body change with each cycle and hormonal upheaval. Before menstruation, after the arrival of a baby or during the perimenopause, discover clean skin care products to accompany you through each cycle and phase of your intimate life.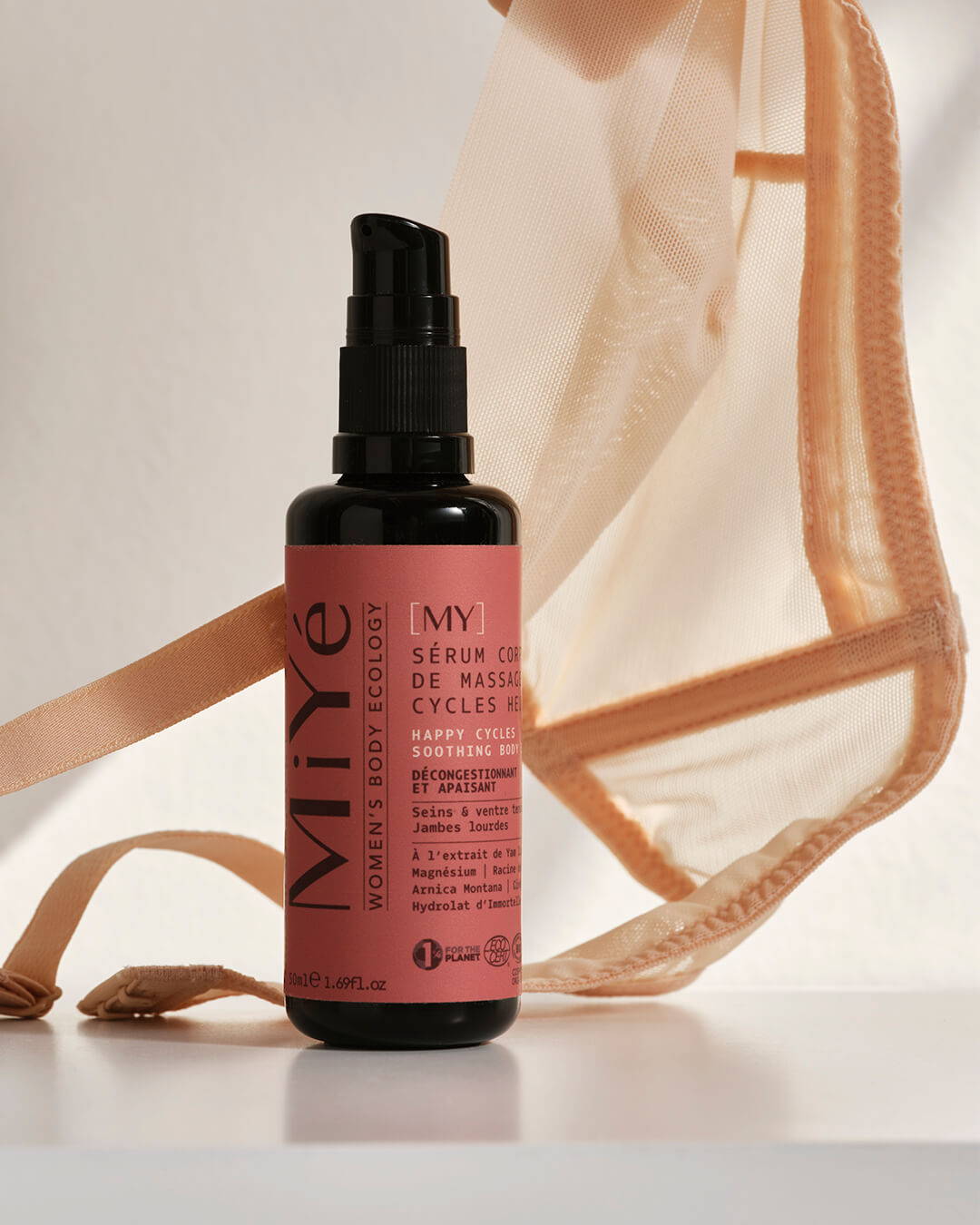 For more comfortable rules
A puffy chest, a tense stomach or heavy legs... Formulated with extracts of Yam, licorice and magnesium, the Happy Cycles Body Serum MiYé Body Serum is ideal for combating discomfort during menstruation or menopause. Massage it locally into tense and sensitive areas to decongest, drain, soothe and relieve sensitized zones, and finally regain true comfort.
And to knock out premenstrual symptoms, we start a cure We want... a harmonious cycle Atelier Nubio 10 days before your period (or just after ovulation). These herbal ampoules act directly on the nervous system to improve mood, soothe chest pains and cramps, and improve skin quality.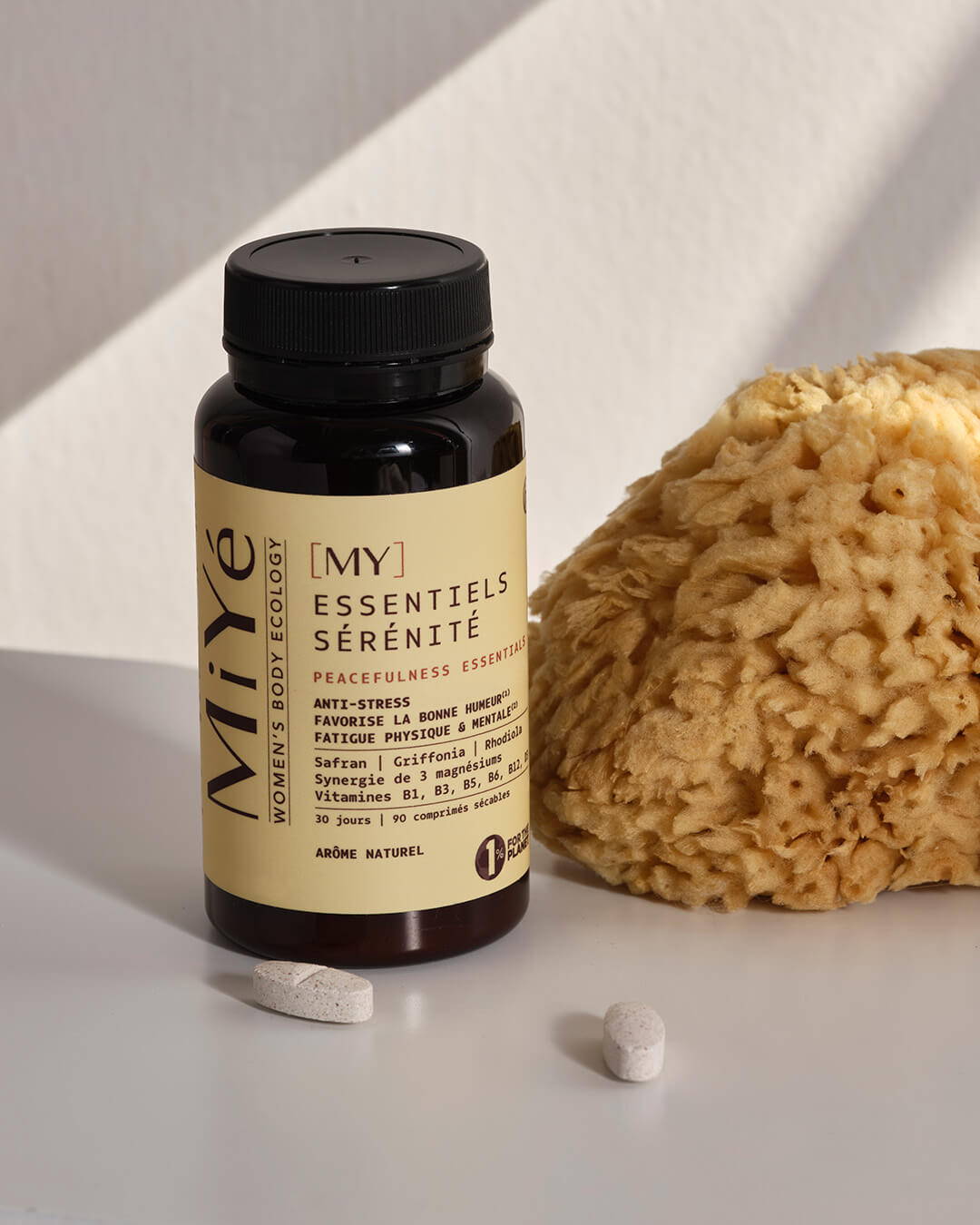 Against cycle fatigue
Fatigue, low energy or a bad mood ? With its perfect combination of synergistic adaptogenic plants, magnesium and vitamins, theEssentiels Sérénité Anti-Stress Complement MiYé contributes to the synthesis of our "happy" hormonesto reduce mental fatigue, promote relaxation and restore concentration and motivation!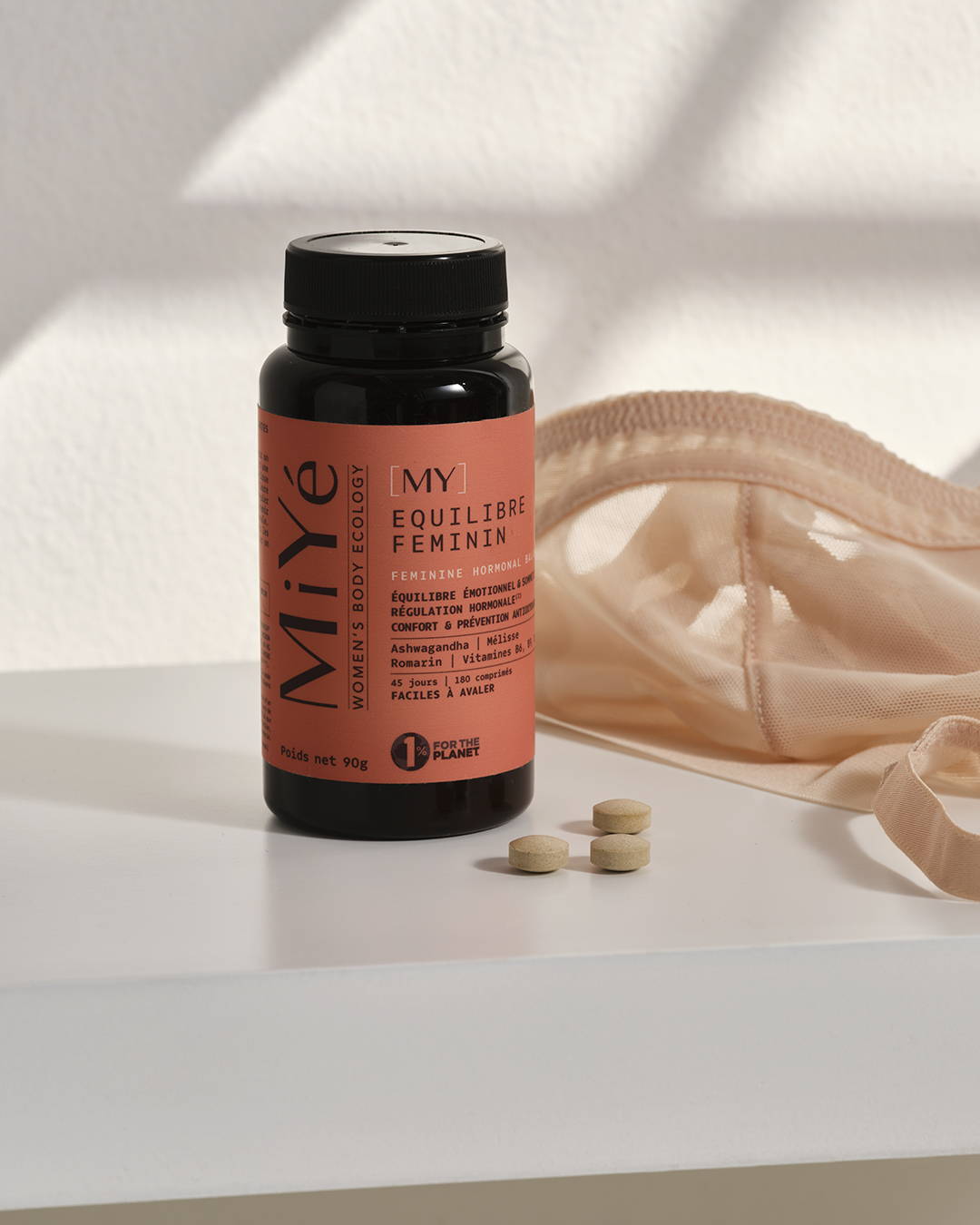 For emotional and physical balance
The supplement that's good for you! Specially designed to support women during periods of nervous tension(such as premenstrual syndrome or perimenopause), the dietary supplement Female Balance MiYé acts as a regulator to promote restful sleep, soothe menstrual pain and combat cycle-related discomfort, while strengthening the immune system. A real ally against the mental and physical fog associated with these sometimes complicated times of the month...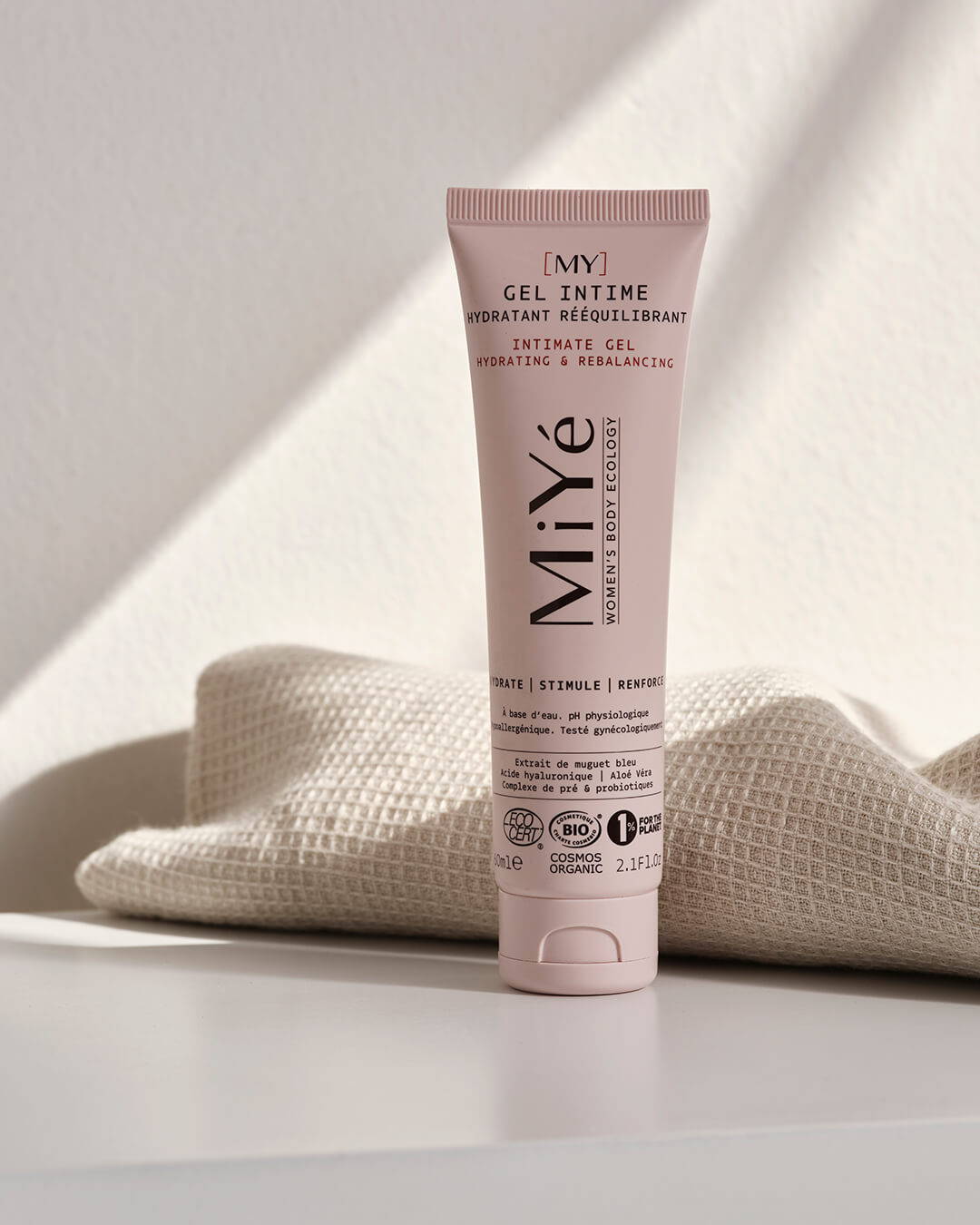 For intimate discomfort and dryness
Before menstruation, after the arrival of a baby or during the perimenopause, our hormone levels tend to drop. It's this hormonal variation that can lead to discomfort, tingling, tightness and dryness. To moisturize and protect the intimate area, we arm ourselves with Moisturizing and Balancing Intimate Gel MiYé. Formulated with aloe vera, hyaluronic acid and blue lily of the valley, it moisturizes and soothes dry, sensitive or uncomfortable intimate areas, while strengthening the cells in the intimate zone to help restore comfort and improve sensations.
To strengthen vaginal flora
Taking antibiotics? Repeated cystitis or mycosis? Your body is looking for a serious boost to restore its intimate flora. The Flore Intime Feminine Wellness Complement Dijo is the ideal probiotic treatment to strengthen the vaginal microbiota and limit the risk of infection and growth of pathogenic germs. An ally for optimal feminine well-being!
Our tips for better intimate hygiene
Change your underwear every day, and prefer panties to thongs, to avoid rubbing against the mucous membranes and the development of fungal infections. Cotton lingerie is also preferable, as synthetic materials can promote maceration.

Avoid tight-fitting pants , which can cause irritation.

In fact, the inside of the vagina is self-cleaning thanks to the vaginal flora, which plays a regulating role, and the use of cleansing products could unbalance it.

Choose your intimate area cleanser carefully: opt for a soap-free daily cleanser with a suitable pH that will respect your intimate area every time you wash, such as Wash Gel Intimate Cleanser Maude.
Our favorite intimate wellness treatments