Beauty posts
The ingredients to avoid in your make-up
Foundation, blush, lip balm... Did you know that the little wonders in your makeup bag can sometimes ruin your entire beauty routine? Because it would be a shame to pay attention to your skincare products but turn a blind eye to your makeup products, here's a focus on the active ingredients you're better off without. And a little overview of our clean alternatives to replace them!
The ingredients you must remove from your make-up bag at once
It's best to skip them when they are found in blushes or foundations since they are potentially irritating and comedogenic. For lipsticks and eyeshadows, it is less dramatic, especially if they are not used every day. To find them, it's very simple: the pigments used in an INCI list always start with "CI" and are followed by a combination of 5 numbers. You are dealing with a synthetic dye if "CI" is not followed by the number 7.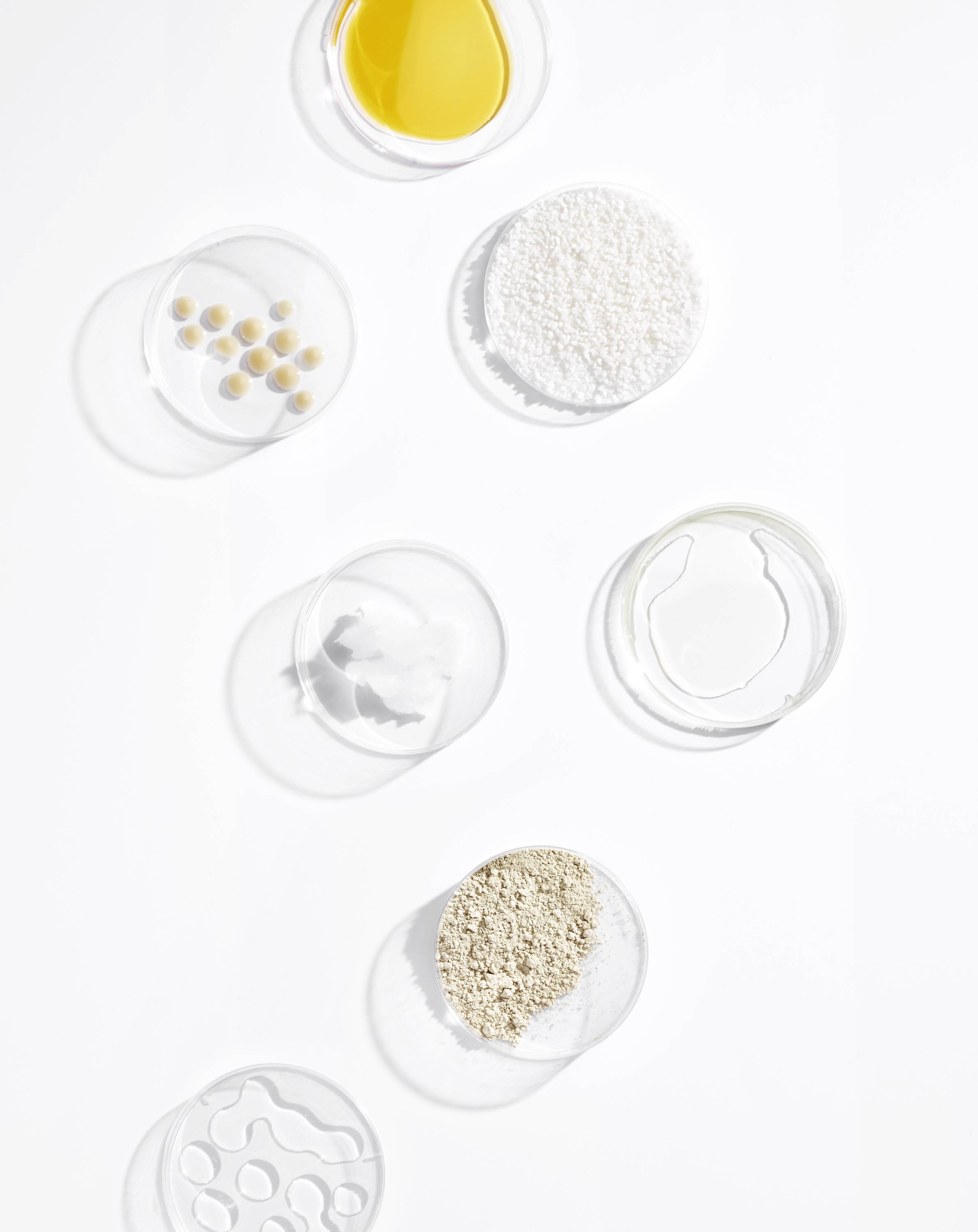 A illuminator that smells good and long of passion fruit? Beware... Brands are not required to tell you if their perfume is synthetic (sometimes derived from petrochemicals) or not. You can obviously rely on your nose to start with, but it is better to avoid any perfume (even natural) if you have sensitive skin, as they can be allergenic and/or irritating. Moreover, they have no beneficial effect on the skin, but it remains purely sensory.
In addition to being ecologically very average, since they come directly from petroleum, mineral oils bring strictly no benefit, serving only to maintain a feeling of hydrated skin, soft to the touch (in an INCI list you will find them under the mention "Mineral Oil"). It is therefore preferable to avoid them, especially if you have oily skin prone to imperfections. The dry skins on the other hand do not have anything to fear.
High doses of denatured alcohol
Do you see it at the very beginning of the ingredient list? In this case, it is better to pass your way if your skin is chronically dehydrated because it will worsen the situation. Visible thanks to the mention "Alcohol denat.", this active ingredient is not however to be systematically banished since in small quantity, it is it which will ensure the conservation of a product naturally. Alcohol in your cosmetic products is actually not systematically bad.
This delicate powder with a regressive scent may contain traces of iron, aluminum or even asbestos depending on where it was taken. The concern with this ingredient clearly lies in its traceability, as properly sourced it proves to be safe. At Kjaer Weis for example, as in most organic or natural brands that care about the purity of their formulas, you can be reassured about the origin of the talc and if in doubt, ask the brand directly.

Should I avoid silicone in make-up?
Should I be alarmed if I find silicones in my favorite makeup product? These raw materials are great for giving your products pleasant textures, which will melt directly on the skin and work very easily. And it is very complicated today to formulate an effective and pleasant to use makeup product while doing without it. You will find them in small quantities in some products of the brand Ilia, known for their high percentage of natural active ingredients but which do not put aside the make-up result. When they are derived from minerals and not very transformed, they are much better tolerated, and in some cases will even be useful to protect sensitive skin or chronically dehydrated skin! It's easy to spot silicones: they all end with "-icone" or "-iloxane" in your ingredient lists.
Ingredients to seek out
Plant oils and natural powders
Sunflower oil, jojoba oil, olive oil, coconut oil... In addition to ensuring that your lipsticks and blushes, they nourish, soften the skin and give a pretty glowy finish! In your pressed powders, blushes and eyeshadows, look for natural powders such as rice powder, tapioca powder, kaolin, clays: no risks for problem skin and optimal tolerance for sensitive skin!
It is the clean alternative to synthetic pigments: non-comedogenic, they are even recommended by some dermatologists as a complement to a treatment against pimples. However not very reassuring at first sight when we try to decipher the composition of our products, iron oxide, mica, titanium oxide or chromium oxide are completely clean!


Aloe vera and hyaluronic acid
If it is easy to identify in your INCI lists the aloe vera, thehyaluronic acid is found under the name "sodium hyaluronate". Two active ingredients to be favored because of their real effect on the skin in terms of hydration. Totally aqueous, mixed to oily skin can also benefit from their re-moisturizing benefits, without fear of shine.
These will offer your skin a real shield against free radicals such as pollution and exhaust fumes! The complexion will be less dull, the skin better protected against premature aging. They are mainly derived from vegetable oils and essential oils.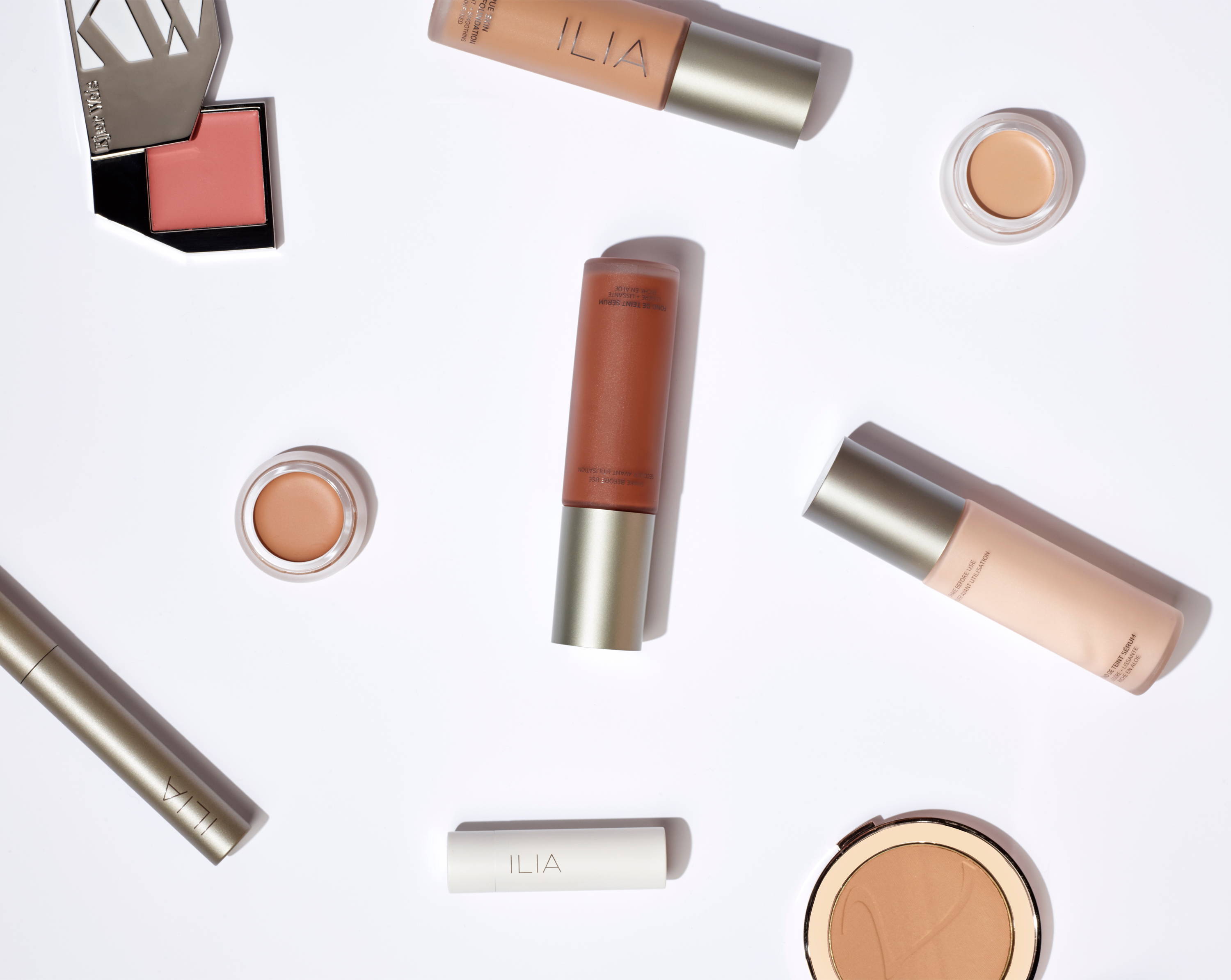 Our 5 best-selling natural make-up products
- A Cover-Up RMS Beauty It is THE concealer that does it all. Multi-purpose, it can be used to conceal small imperfections, as a concealer and even as a light foundation. It can be applied directly with the finger or with a precise brush to hide small spots for example. Finally, we sweep a little loose powder to fix everything.
- True Skin Foundation Serum Ilia Cult product of the brand, this fluid foundation could almost be compared to a BB cream as its finish is so natural when it comes to unifying to give that perfect complexion result. A satin finish and a beautiful luminosity that suits all skin types.
- IliaTinted Lip Balm SPF15 (Kamikaze shade) and Limitless Lash Mascara Ilia: Because lipstick is ingested without us even realizing it, it must absolutely be free of any toxic substance. The same goes for mascara, which is deposited as close as possible to our mucous membranes and can become the worst enemy of sensitive eyes. In a creamy texture and on a base of vegetable oils and beeswax, Ilia scores again with its lip balm that protects in addition to UV, and offers a shiny and highly pigmented finish! The mascara, 99% natural, ensures an impactful result and long-lasting hold that is unmatched by conventional mascaras.
- PurePressed Base SPF20 Jane Iredale: This compact powder foundation has become a must-have for combination to oily skin thanks to its excellent coverage and mattifying finish, as it conceals imperfections and blurs pores for a flawless complexionperfectly unified. We also love its infallible hold (it even resists water for several hours), a good point when you are prone to small imperfections and that we are worried about the retouching!
- Cream Blush Kjaer Weis (Sun Touched shade): Halfway between a blush and a bronzer for a healthy glow, it warms and illuminates all complexions. Its light, melting cream texture is effortless to apply: blend directly onto cheekbones with your finger, starting from the center of the cheek and gently stretching... And it's done!
Our 5 best-selling natural products