Beauty posts
How to care for dehydrated skin?
Tightness, sensitivity, loss of suppleness... A lack of moisture in the skin can quickly become a source of discomfort. But moisturizing your skin on a daily basis does not only allow you to preserve your comfort. Moisturizing is also the key to radiant skin and to preventing the appearance of wrinkles! Find out how to recognize dehydrated skin and how to protect it naturally, all year round.
What is dehydrated skin?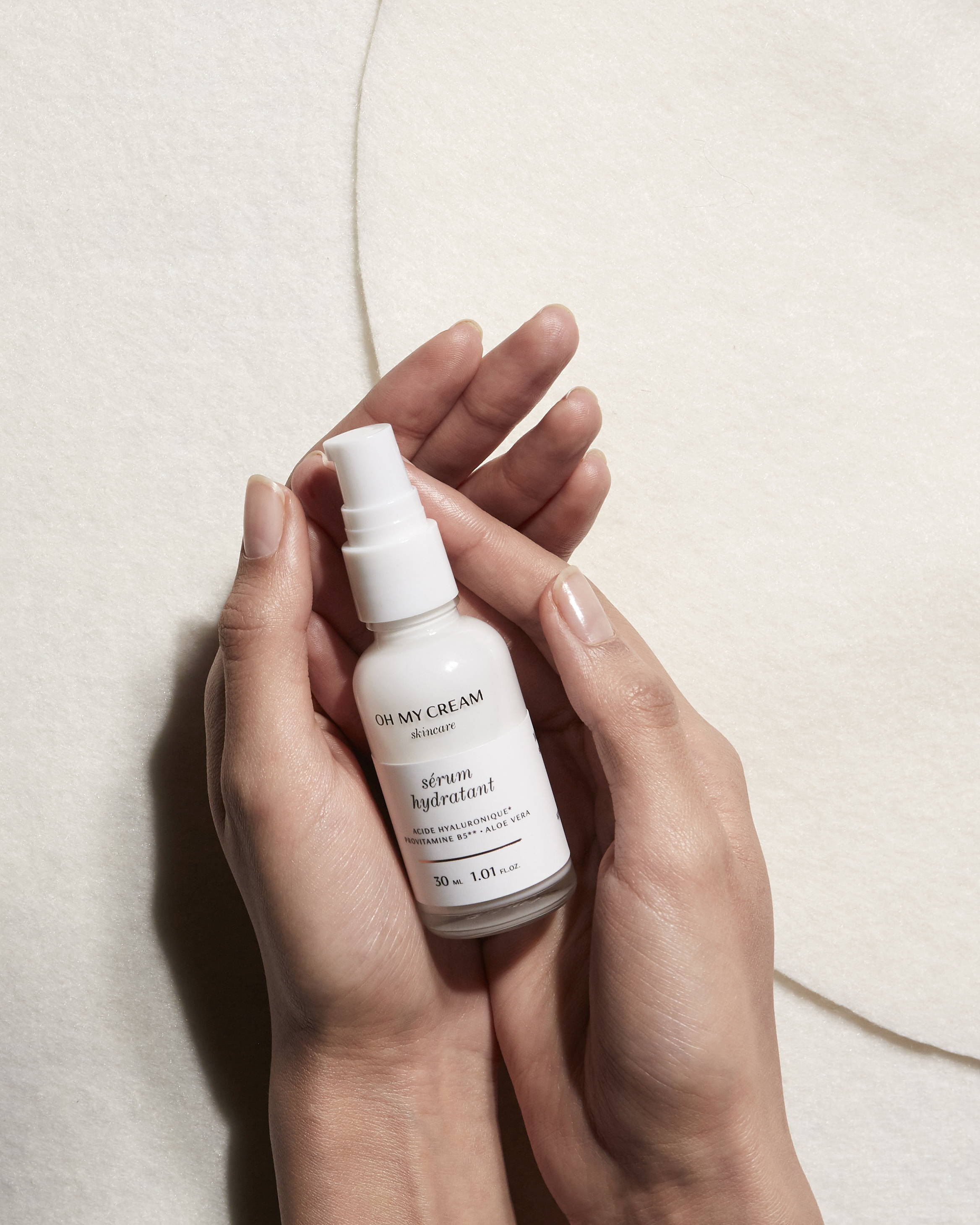 The dehydrated skin is a skin condition and not a type of skin. It is therefore a temporary phenomenon that can be acted upon and that affects all skin types.
One can have combination skin and be dehydrated or oily skin and suffer from dehydration... And this, summer and winter. As soon as the skin is subjected to temperature variations (heating and air-conditioning are the worst), to an unsuitable beauty routine or simply to an unbalanced lifestyle, dehydration shows its face.
The reason? The skin is the last organ to draw on your body's water reserves. As you can see, dehydrated skin is skin that lacks water. 
The dehydrated skin ? To be sure, here are the associated phenomena:
Skin that is tight in a localized manner

(cheeks, cheekbones) and punctually. Generally, a feeling of discomfort is felt after the skin has been cleansed and after getting out of the shower. Redness can appear on the cheeks.

Skin that is a little rough to the touch

A lack of suppleness and softness.

Fine lines around the eyes or mouth that are often mistaken for age-related wrinkles. Although

Although skin dehydration

is responsible for the first wrinkles (oxidative stress), these fine lines disappear after applying a moisturizing cream. If they persist, they are indeed wrinkles related to skin aging.
What to do when you have dehydrated skin?
To moisturize your dehydrated skinThe first essential step is not a revolutionary one: drink 1.5 to 2 liters of water a day. Water is your best ally! Moreover, you can consume fresh fruits and vegetables rich in water (like cucumbers, melon, watermelon...), a good way to consume water without even realizing it!
Dehydrated skin needs to be pampered daily with a gentle and adapted beauty routine. We tell you more about it in the following article.
Think also of food supplements such as the We want pretty cheekbones Atelier Nubio, capsules that deeply moisturize and boost the production of collagen in the skin. Note that the skin needs a balanced diet rich in nutrients and trace elements to maintain a good hydration.
Finally, visit our treatment rooms for a tailor-made treatment where we can use masks or serums full of moisturizing active ingredients. Among our ideal treatments for delicate skin, our SOS care is the soothing ritual for a comfortable, supple and moisturized skin. 
What types of skin care should I use when I have dehydrated skin?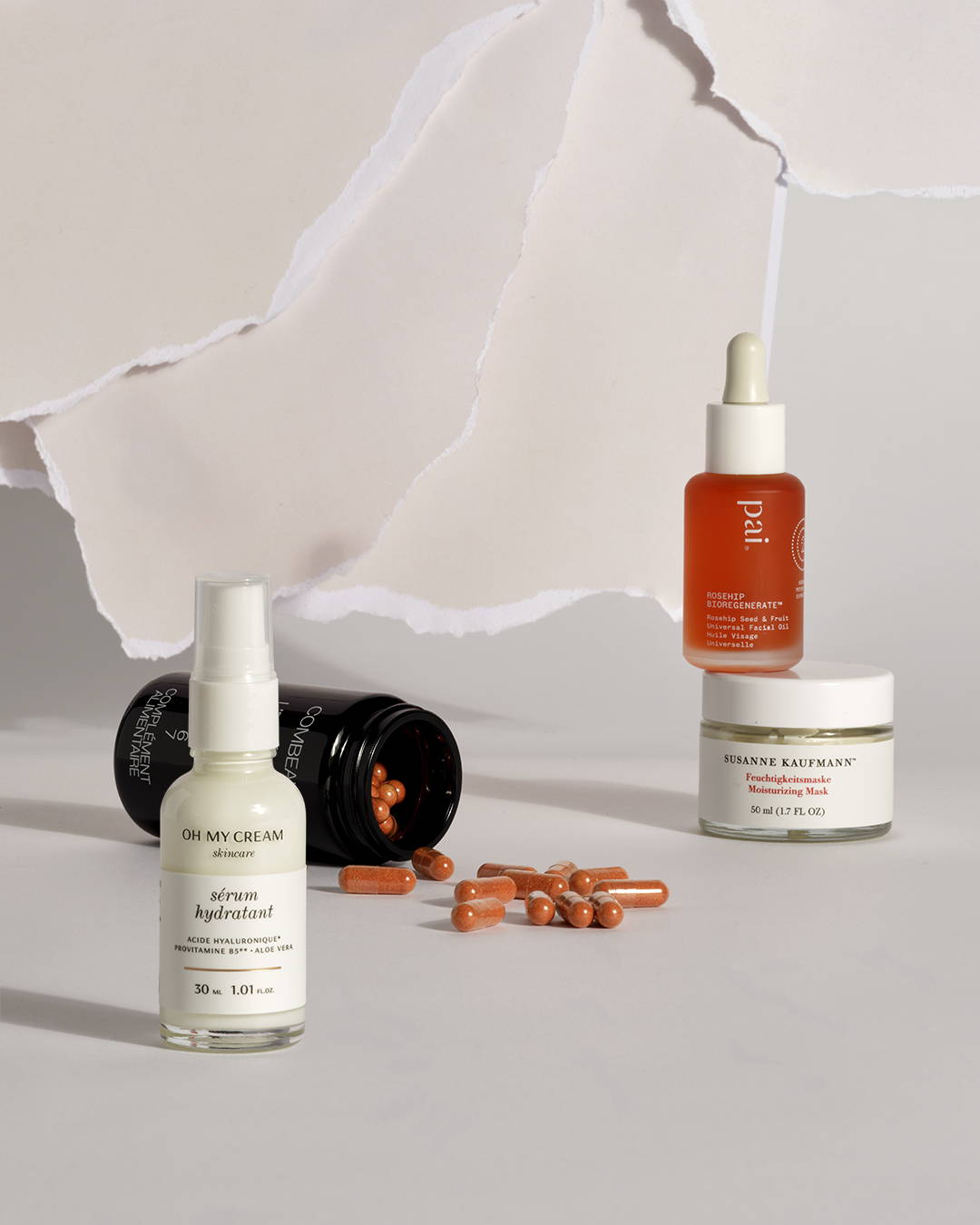 If you have dehydrated skin, here's what your beauty routine should consist of:
1- Every evening, we practice double cleansing with a cleansing oil based on vegetable oils and a sulfate-free cleanser, to remove makeup while preserving the hydrolipidic film.
2- Exfoliate, but only once or twice a week. You can trick yourself by using the Renaissance Mask Oskia, an exfoliating and moisturizing mask, perfect to compensate.
3- To moisturize, opt for a care oil that will help maintain the skin's moisture level, such as our Plumping Oil Oh My Cream Skincare.
4- To deeply moisturize your skin, there is nothing like the Moisturizing Mask Susanne Kaufmannideal for revitalizing dehydrated skin. It prevents the appearance of fine dehydration lines and restores suppleness and bounce to the skin.
Focus on care products rich in hyaluronic acid like the Hydrating & Plumping Serum Susanne Kaufmann with hyaluronic acid. It is a star moisturizing active ingredient that allows you to prevent or the signs of skin aging.. Forget about astringent care products such as alcohol-based lotions or silicone-based makeup products that dehydrate and suffocate the skin, mineral oils, etc. And lastly, keep a light hand on exfoliation.