Beauty Files
Our customers have tested for you Oh My Cream Skincare Plumping Food Supplement
Convinced that beauty is a whole and that the secret to beautiful skin lies in a holistic approach, Oh My Cream Skincare is launching its first dietary supplement: Complémentaire Alimentaire Repulpant. Plumping Food Supplement. Discover the opinions of 3 customers who tested this new anti-aging essential in preview.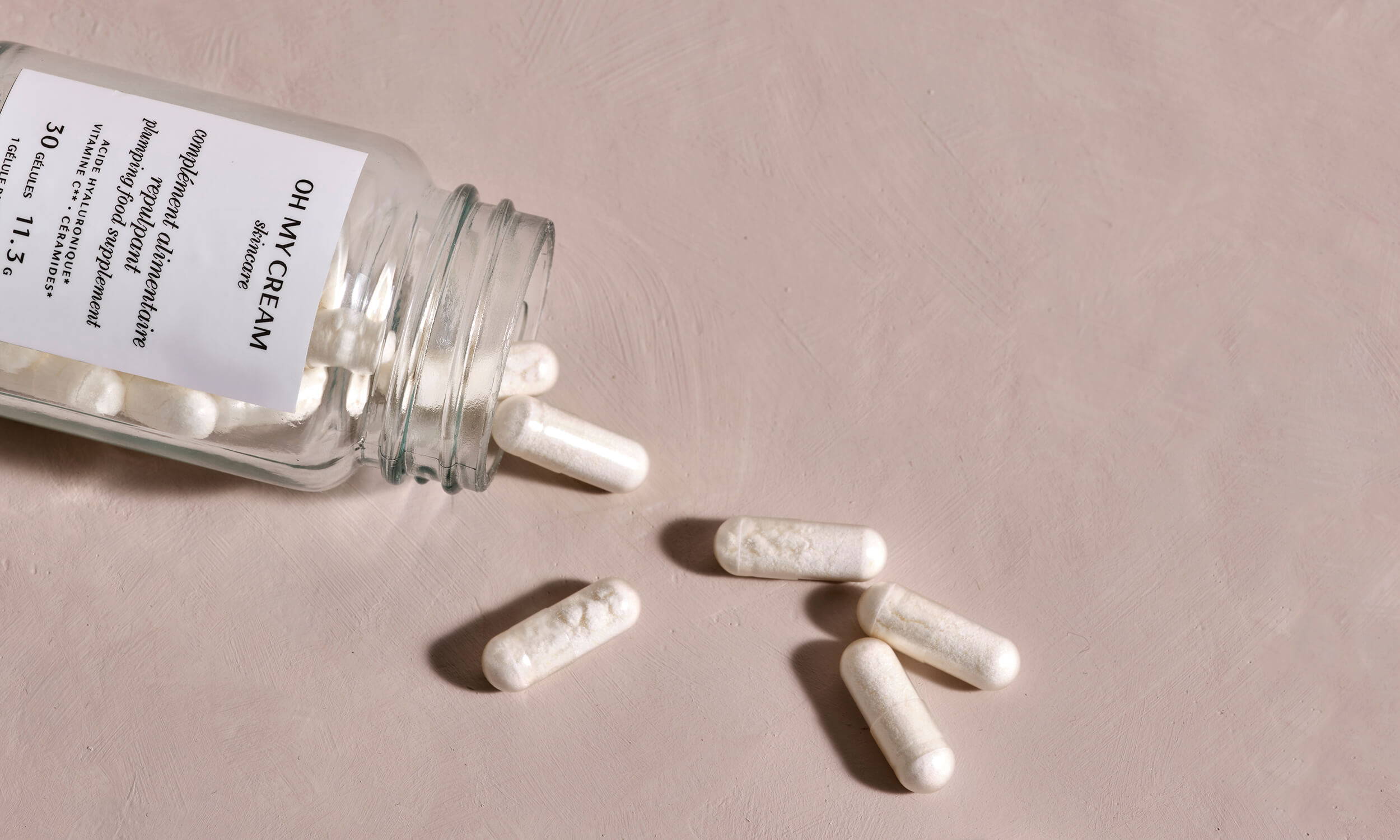 What is it?
Dull complexion, first wrinkles, dry or uncomfortable skin... If your skin is suffering from the onset of cutaneous aging, our very first Plumping Food Supplement Oh My Cream Skincare could be a real ally. Formulated with ingredients of proven efficacy, ithydrates, plumps and diminishes fine lines and wrinkles, restoring radiance and comfort. A new essential in the form of a single, tasteless, odorless capsule, to be taken every day to attenuate the first signs of aging and regain smoother, plumper skin!
Its benefits & active ingredients :
Thanks to ceramides, it improves skin comfort and reduces wrinkles 

Improves skin elasticity with ceramides and hyaluronic acid 

Thanks to its vitamin C, it protects cells from oxidative stress and promotes collagen formation.
Three of our customers were able to test our Plumping Food Supplement Oh My Cream Skincare. Find out what they think of this anti-aging treatment.
Opinion of Daphné, 38 years old
Skin concerns: fine lines, sagging skin and the need for hydration. 
Her verdict: "Everything's going well so far and I'm starting to see results: my skin is plumper! I've noticed a marked improvement in hydration and a reduction in fine lines around the eyes. My skin is plumper. I find it more beautiful and radiant. Please note that I'm not wearing any make-up in the photos."
The opinion of Vincent, 31
Her skin concerns: lack of tone and sagging skin. 

Her verdict: "The results are truly amazing. I have three friends, my wife and clients who have commented on the "plumping" effects and "a super luminous glow" on my skin since starting the treatment. I've seen a real rehydration of the skin and I feel less and less that sensation of having dry areas of the face in the evening. In terms of wrinkles and skin elasticity, the plumping and rehydrating effect on wrinkles is impressive, and I've noticed a real reduction in facial wrinkles. What's more, my skin feels more supple, without tightness, and my features are brighter and finer. I can't do without it, I'm on such a virtuous path to improving my skin."
Amélie's opinion, aged 30
Skin concerns: lack of radiance and first signs of aging.

Her verdict: "Over the one-month period during which the product was tested, I noticed a 'boosting' effect of this treatment in addition to my usual topical routine on my skin's plumpness and hydration. As for wrinkles, I suppose mine aren't sufficiently established to see a drastic difference, but I'd be interested to see its effect on more mature skin. I'm thinking of continuing the cure over 3 months once the product is available for sale, in order to perpetuate and reinforce the results. It would be interesting to see if the active ingredients prove to be more beneficial over the autumn period with the drop in outdoor temperatures and the dry heating air indoors."
Your complete plumping routine