Beauty Posts
Patyka's new product: the serum which attacks dark spots
Pigment spots... Nothing worse to spoil the uniformity of the complexion and reduce the radiance. Often located on the face, neckline or back of the hands, these small darker areas show a dysfunction in the epidermis, accentuated by sun exposure... and other phenomena. Patyka comes to the rescue of the stained skins with a care certified organic and ultra-pointed to restore luminosity and transparency to all the skins in request.
How do dark spots appear?
Let's start with a little biology. To treat spots properly, we need to understand the pigmentation process. At the heart of this process lies a cell: the melanocyte, which produces melanin, the skin's protective pigment. Placed between 2 mother cells, in the deepest layer of the epidermis, the melanocyte creates melanin, which is then distributed throughout the cells to give them their colour. This is known as melanogenesis.
Melanin sits at the heart of cells like a parasol, fulfilling a protective function. When the skin is exposed to UV rays, the melanocyte reacts, growing and multiplying and producing more melanin.
That's when everything's going well. Unfortunately, the melanocyte is also an ultra-fragile (and touchy) cell that goes into overdrive at the slightest upset. Severe stress, hormones, inflammation, UV rays or even certain fragrances can induce a "boom" of free radicals, thus upsetting its functioning. The result: an anarchic production of melanin, leading to the appearance of pigmentation spots.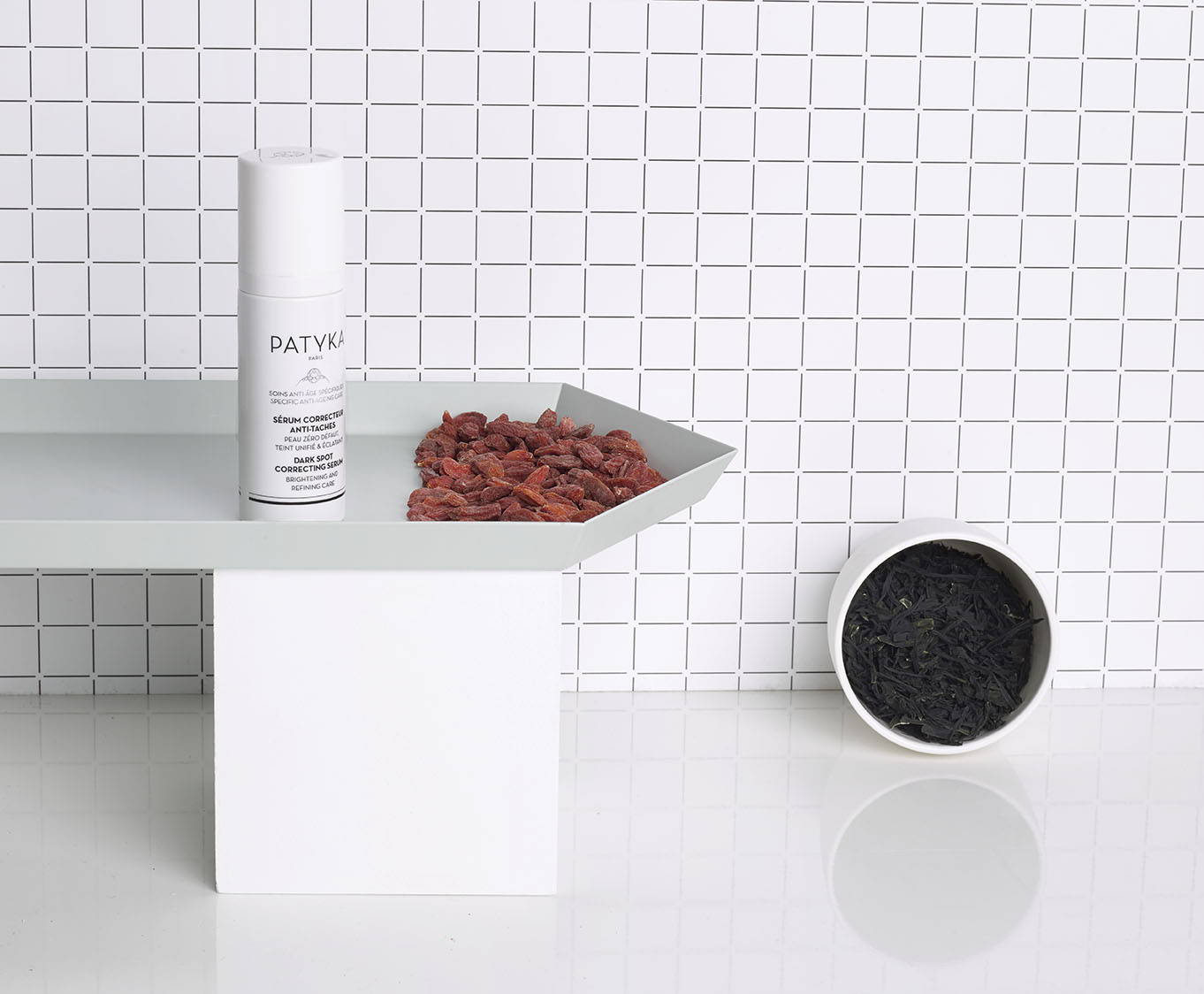 How does the Patyka Dark Spot Correcting Serum work?
Conscientious, this serum contains the right active ingredients to target each stage in the process of pigmentation spot appearance:

- To combat free radicals, the precursors of spots: Goji Berries, 500 times more concentrated in vitamin C than oranges. Powerful antioxidants, they act as the skin's first line of protection.

- To block the overproduction of melanin: Patyka Exclusive Complex, which combines Sea Ferns and Oxyresveratrol (a powerful antioxidant extracted from wild mulberry). This complex blocks the production of melanin and controls its movement to the skin's surface. A bit like a good watchdog.

- To lighten existing spots and brighten the complexion: 5 fruit acids derived from maple, sugar cane and citrus. These gentle exfoliating agents act on the skin's surface to even out skin tone and boost radiance (without ever depigmenting or aggressing the skin).

To complete the formula, integrated hyaluronic acid in 2 different forms (high and intermediate molecular weight) helps preserve hydration and plump skin.
How to improve the results of Patyka Dark Spot Correcting Serum?
An effective anti-spot treatment only delivers results after 6 to 8 weeks of careful, regular application. Every morning and evening, apply one to two pumps of Anti-Spot Corrector Serum Patyka. Don't forget your décolleté and the backs of your hands.

In the morning, layer on your day cream and remember to include sun protection in your routine. Even on grey days, UV rays are always present. Without SPF, this serum simply won't have the right conditions to work. So choose a formula with a minimum SPF 30 from our selection of facial sun protection products.

After about 8 weeks, the complexion is clear and even. The best part? The product's sensoriality is such that it easily becomes part of our skincare routine. Thank you Patyka for knowing how to reconcile pleasure and effectiveness so well!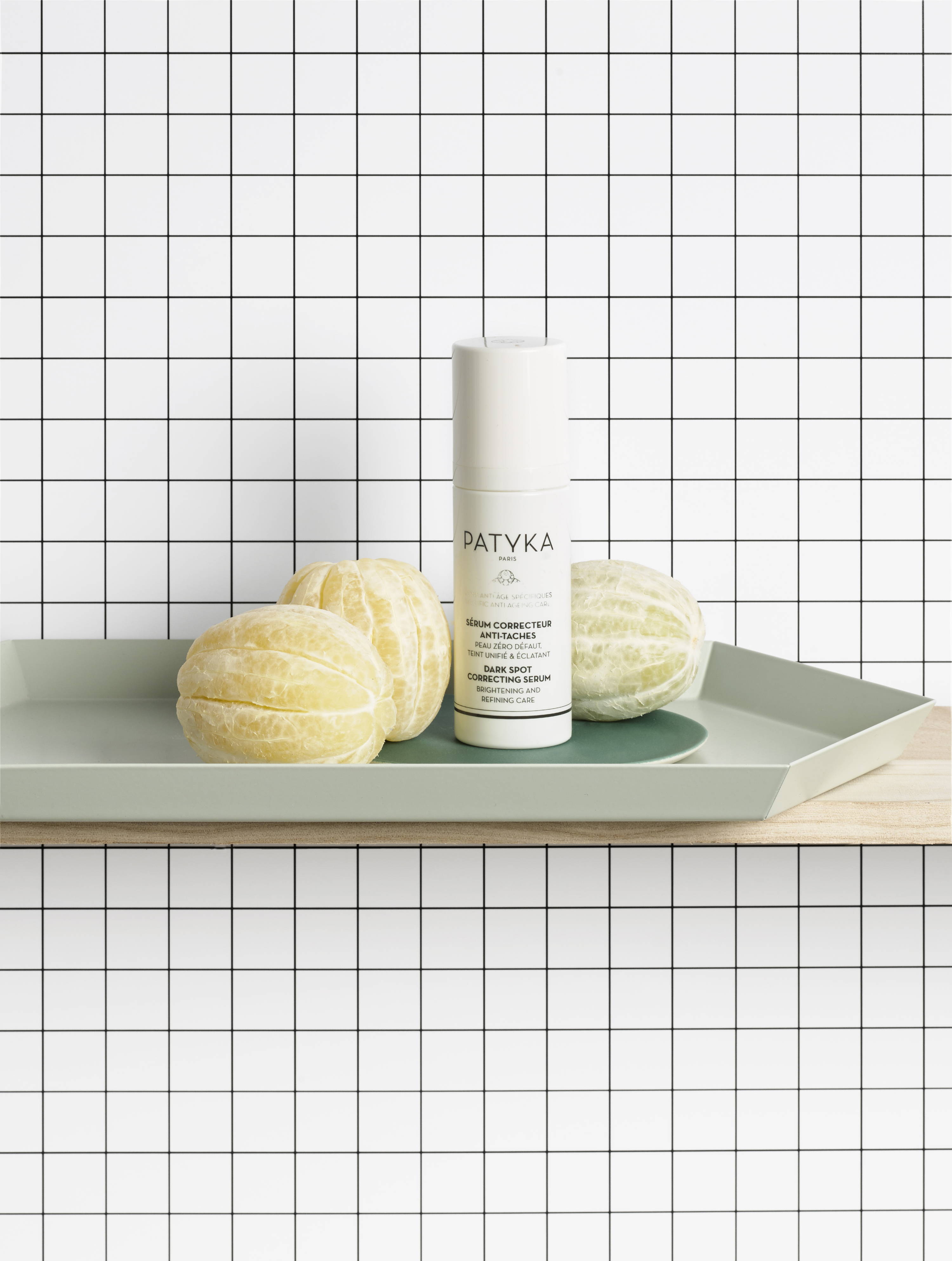 To take stock of your routine and regain a luminous complexion, don't hesitate to trust Pauline for a personalized consultation or to visit one of our 10 boutiques for a detailed skin diagnosis.
Our Training Manager, Cécile's opinion
"The dark spots are noticeably reduced and the skin complexion is completely bright."