Beauty posts
Anti-wrinkle: which treatment to choose ?
Given the multitude of anti-aging treatments available, it is far from obvious which one will really be right for you. Since we don't all have the same skin type and we don't necessarily all look for the same benefits, here is a quick look at our bestsellers to finally find your anti-wrinkle cream and, why not, a serum to match!
Why do wrinkles appear?
It is from the age of 25 - and this, whatever our skin type - that the frequency of cell renewal decreases and that skin aging sets in. The cause? The production of collagen and elastin, two essential components that give the epidermis its firm, plump appearance, become increasingly rare and begin to dissociate... The skin then gradually loses its tone. Beyond the natural aging process, environmental factors such as pollution and lifestyle have a huge influence on the signs of aging. Much more so than the hereditary factor! You certainly know the free radicals induced by external aggressions, smoking, stress, excess sun... It is the accumulation of all these factors that will dull the complexion but also... accelerate the appearance of wrinkles. 
You will have understood: if skin aging is inevitable, because it is completely normal, we can still prevent the signs of aging by using anti-wrinkle products to boost the production of elastin and collagen, but also on formulas rich in antioxidants to fight against free radicals. Numerous other molecules gems inserted into the heart of the formulas of the formulas make it possible to treat other signs of aging in a thorough way (spots, loss of firmness...). Don't forget the treatments performed in the salon, where professional products allow for a higher concentration. A peeling, for example, performed once every three months will accelerate the production of new skin cells, in addition to giving a real boost to the complexion's radiance!
How to prevent the appearance of wrinkles?
Many of you ask us at what age to start using what age to start using an anti-wrinkle cream. If it is not useful to rush immediately to cosmetics for mature skin from the age of 25, you can bet on a moisturizing cream overloaded with vitamin C for example, it is THE anti-aging and healthy-looking vitamin par excellence! The Vitamin C Intensive Face Cream Kat Burki ultra regenerating face cream contains up to 15% of it, thus fighting against the first wrinkles and stimulates the regeneration of skin cells. Both light and cocooning, this favorite moisturizer is also top to remedy dehydration and fight against radical damage.
Don't forget the eye contour area either, a very fragile area that can quickly take a beating when tired or when under stress... If you have never used it, we strongly recommend theAdvanced Eye Therapy Mermean eye contour roll-on based on pure prickly pear oil, which reduces the first signs of aging, fine dehydration lines, dark circles and puffiness in a single application! Spend just one minute a day applying this essential: take a small amount and gently smooth it in and out, always thinking of the eyebrow area ;-)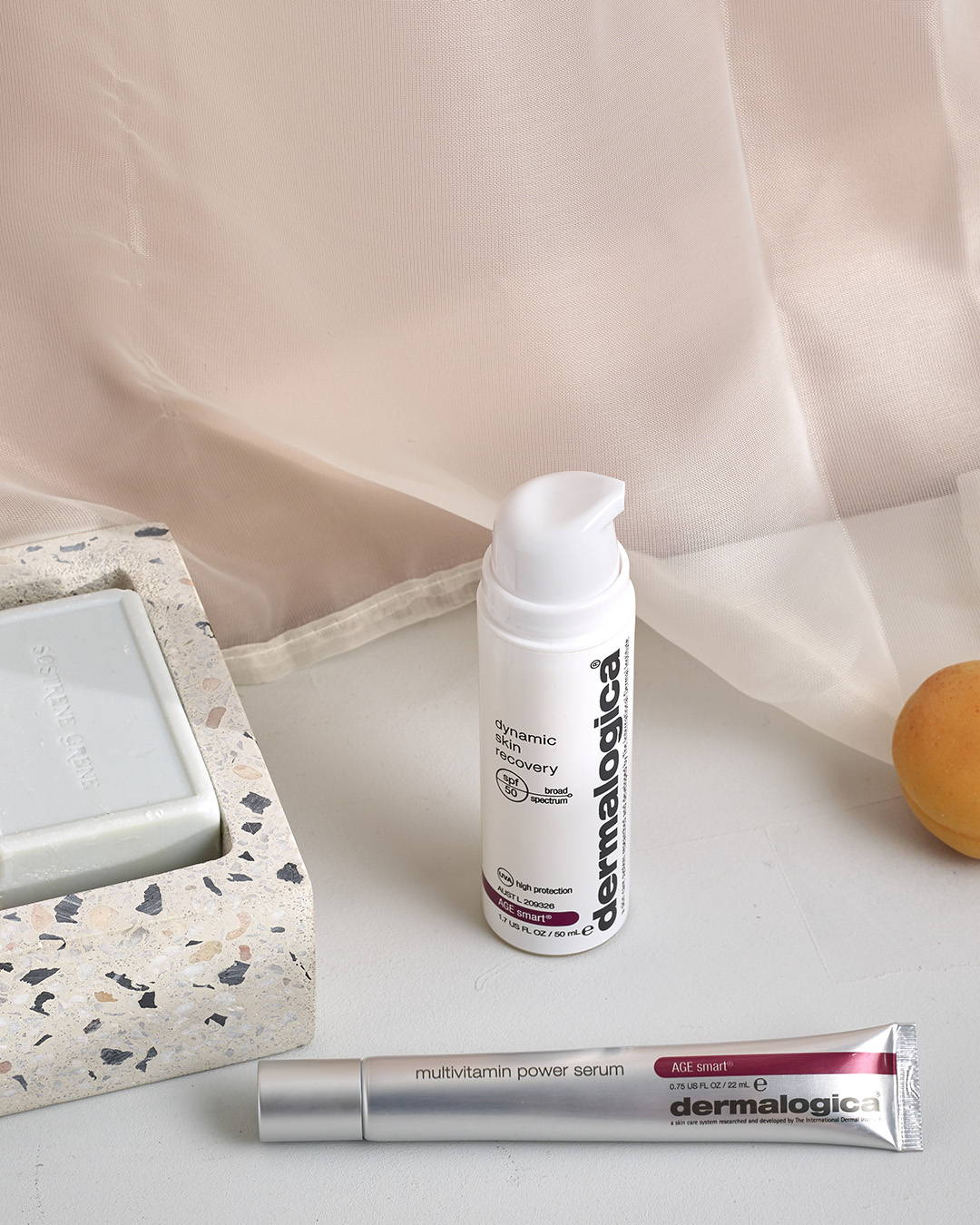 Our 2 cult anti-wrinkle treatment
From the age of 40, when the signs of aging have set in, you can switch to more advanced anti-wrinkle treatments. An anti-wrinkle cream combined with a high-tech serum offers mature skin a real anti-aging cocktail to reduce expression lines (frown lines and even crow's feet) and improve the evenness of the complexion. One of our best-selling day creams? The Dynamic Skin Recovery SPF 50 Dermalogicaa light emulsion based on peptides and hyaluronic acid that stimulates skin regeneration to fill in wrinkles and fine lines. It contains a solar protection to protect from the misdeeds of UV, in particular from the small brown spots. Add to it the MultiVitamin Power Serum Dermalogica : its encapsulated retinol combined with vitamins C and E is delivered deep into the skin's layers for skin that is smooth and luminous as desired. An excellent serum to offer yourself at the beginning of the school year for a doll's complexion and to fill in very marked wrinkles (such as, for example, in the nasolabial folds or the frown lines).
And to go further... How to fight the first skin sagging?
Over time, collagen and elastin fibers become less numerous and especially less resistant. Their reduction, which plays a real "reinforcing" role, causes the skin to slacken. To maintain this tightening effect for as long as possible and thus keep a clean contour, a serum + cream combo to be used from the age of 40 onwards will be perfect. The serum Lift & Fill Form Firming Serum Gel Kat Burki combined with the Youthful Shaping Cream Patyka offers a real lifting effect. Not only do both products contain hyaluronic acid (an active ingredient widely used in aesthetic medicine via injections to fill in wrinkles, and also known for its plumping virtues, ideal for dehydrated skin), but the serum also contains marine collagen. This ingredient acts on the density and firmness of the skin, encouraging it to produce more of its own collagen. Finally, the amino acids in the serum fight free radicals.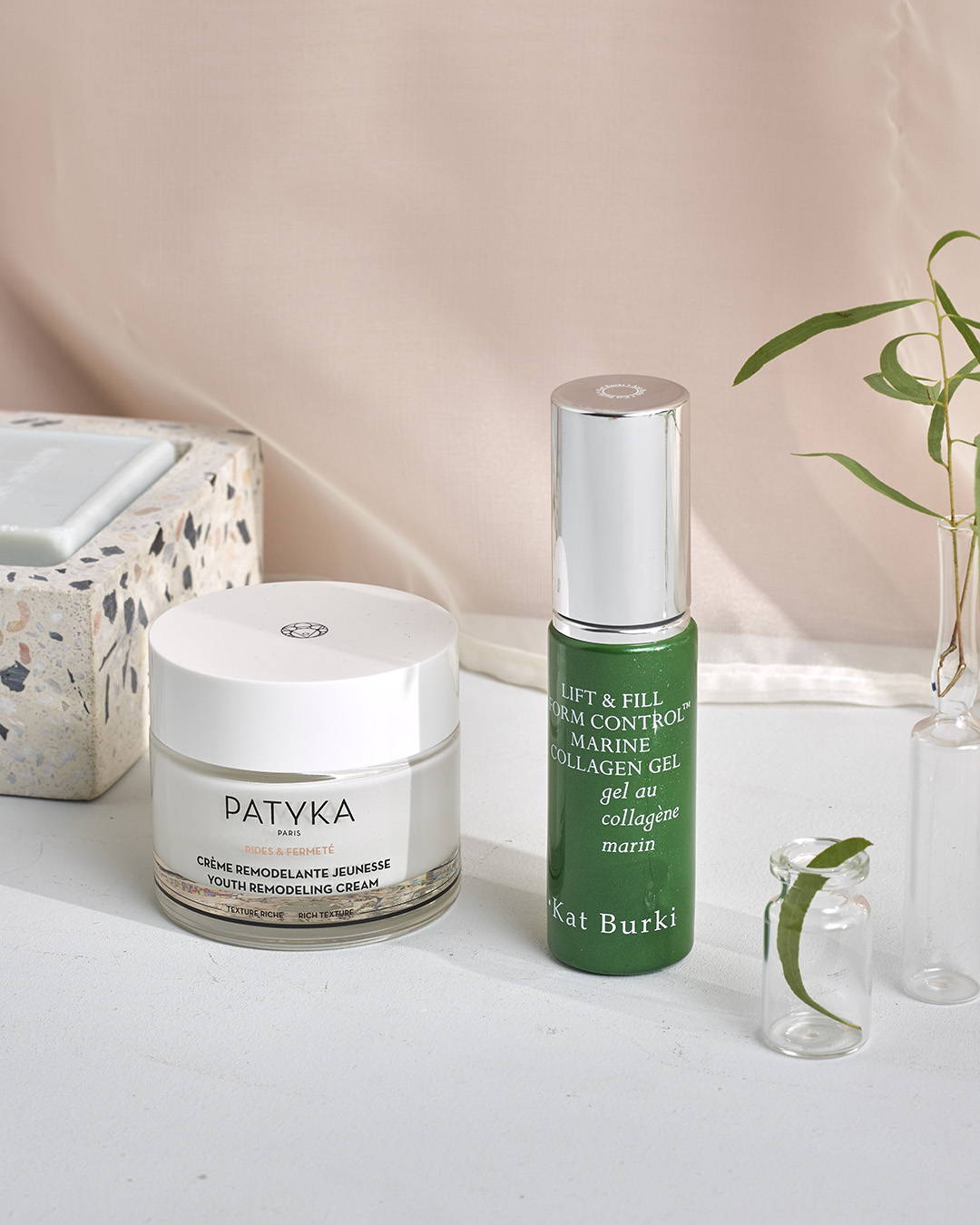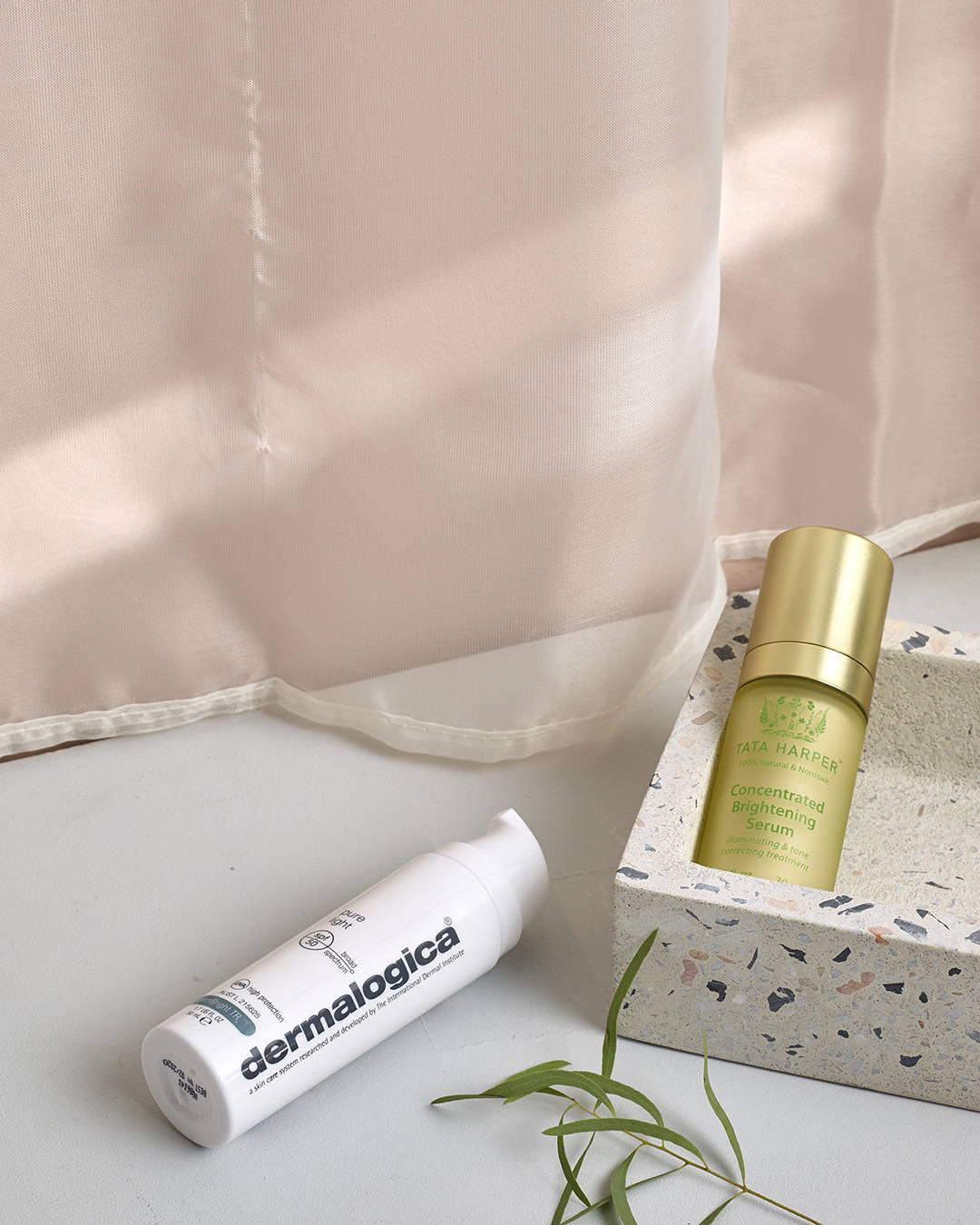 Limit brown spots
It is often after several years of UV exposure that these small pigmentary spots appear. With time, melanin (this wonderful pigment that allows tanning) tends to concentrate more on certain areas. It then causes spots because of sunlight, and in particular because of UVA rays. Daily sun protection is therefore essential to prevent hyperpigmentation and preserve luminous skin, for example with Pure Light SPF50 Dermalogica. Specifically dedicated to skin prone to blemishesIt provides both hydration and high protection. Combine it with Concentrated Brightening Serum Tata Harper for a shocking anti-spot action: its 36 active ingredients target hyperpigmented areas by inhibiting the production of melanin, while lightening areas prone to spots. Finally, don't forget the décolleté, where the skin is very thin and highly exposed to UV rays.
It is also with the good gestures that one fights against ageing: one thus does not zap the casee double cleaning chThe skin can fully assimilate the treatments that are given to it afterwards. A little exfoliation once or twice a week will also revive even the dullest complexions and optimize tissue oxygenation!