Beauty posts
Everything you need to know about double cleansing
We can't say it often enough: you can't have long-lasting, healthy, beautiful skin without a double cleansing routine. The first fundamental step in our 3 essential gestures, this two-step make-up removal technique has drastically improved the condition of many previously troubled epidermis (and you've been saying that for years)! Haven't tried it yet? Let us tell you why it's time to ditch your good old bottle of micellar water...
Why do a double cleansing every night?
Because, whatever your skin type, double cleansing will always be the first step to beautiful, long-lasting skin. Scrupulously cleansing your skin every night is in fact your very first anti-aging gesture, even at 20! The reason? Skin that's perfectly cleansed of all impurities is much more likely to regenerate itself after dark. And the icing on the cake is that any skin care products you apply (lotion, serum, moisturizing cream or treatment oil) will be able to deliver their full benefits, whether anti-aging, anti-imperfections, soothing, rehydrating or anti-dark spot... Skin is much more receptive to active ingredients when it's well cleansed.
As you can see, double cleansing is not just about reversing the signs of ageing: it can also improve the condition of skin in crisis, prone to imperfections for example, soothe sensitive skin, boost a dull complexion or remedy dehydration... With products adapted to your skin type and what you want to improve - as well as the right gestures - you're on your way to perfect skin!
It's often the word "double" that can make the most hurried people back away... Twice as much time? Well, no (besides, we don't have two hours to spend in front of a sink every night either)! A professional double-clean takes no more than two minutes.
What are the 2 steps of double cleansing?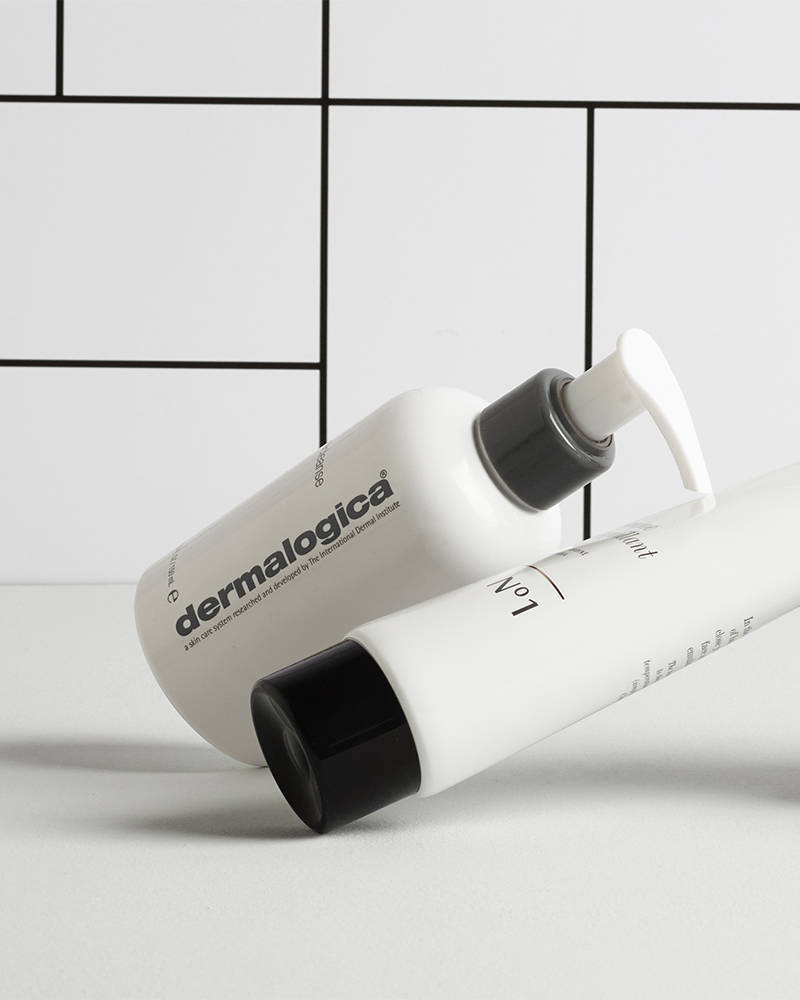 1st phase: the oil phase
It's the one that "lifts" greasy substances from the skin. Make-up, pollution and excess sebum are precisely the kind of greasy substances that a cleansing oil or balm will attract like a magnet.
- Oily or combination skin prone to shine, enlarged pores or small pimples can finally break the vicious circle of stripping / excess sebum, induced by an over-aggressive cleansing technique. By mimicking the skin's own sebum, the oil will lure the skin, encouraging the sebaceous glands to reduce their sebum production. Use our Cleansing Balm Oh My Cream Skincare if this sounds like you!
- For sensitive or intolerant skin, the Raw Coconut Cream RMS Beauty is a pure coconut oil that preserves the skin's hydrolipidic film and limits redness.
- Very dry skin, on the other hand, will love the feeling of comfort left by Nourishing Oil Cleanser Huile Nettoyante Nourrissante Tata Harper' s generous, oily texture and green fragrance... Dermalogica' s cult PreCleanse cleansing oil is a sure bet when it comes to double cleansing: its excellent rinsability and practical pump bottle make it easy to abandon cotton pads.
For all the used make-up removing oils, the mode of use is systematically the same one: one mass by circular motions on dry skin (even the eyes), then one comes to rinse the whole with tepid water.
2nd stage: the aqueous phase
This step refines the result and completes the cleaning process. Apply the gel, milk or cleansing foam to damp skin.
- The Clarifying Cleanser Tata Harper' s Clarifying Cleanser purifies skin prone to pimples, blackheads and dilated pores, without drying it out. And if your skin is particularly reactive (perfect also for pregnant women whose hormones are running amok!), the Clearcalm 3 Clarifying Clay Facial Cleanser Ren Skincare purifies and soothes inflamed skin. It can also be used as a mask for 1 to 2 minutes 1 evening a week. 
- Gentle care for sensitive skin with Camellia & Rose Gentle Moisturizing Cleanser Pai Skincare, a cocooning cleansing cream that cleanses without aggressing, extinguishes redness and relieves tightness.  
- For dry and/or mature skin, Grace Gentle Cleansing Cream Antipodes envelops very dry skin, leaving it moisturized and soothed.
- Finally, even slightly sensitive normal skin will love Cleansing Gel. Cleansing Gel Gel Nettoyant Susanne Kaufmann Cleansing Gel with its deliciously syrupy texture, which leaves the complexion glowing, and even chases away small imperfections thanks to its antibacterial plant complex.
Poor skin cleansing habits
Some everyday cleansers can ruin the rest of your beauty routine.
The best-known? Micellar water, which, contrary to popular belief, is often far from being a gentle face cleanser. Most of the time packed with detergents, it shouldn't be used every day, especially if it's not rinsed off with clear water, as some of the impurities and the rest of the product remain in contact with the skin. Yes, this happy mixture will gradually dehydrate and sensitize the skin... Make-up removal wipes pose the same "risk" as micellar water, causing irritation and even pimples over time . In the shower, using only water is not enough to cleanse the skin: just imagine washing your dishes with only water to understand what's wrong... Finally, facial shower gel should also be avoided, as it dissolves the skin's hydrolipidic film!
Basically, you punish your skin by taking away its shield, which is supposed to defend it against external aggression... In short, you forget all your bad habits and find your perfect combo ;-)