Beauty posts
10 minutes to change your skin with our 3 essential gestures
Among the beauty gestures that can transform your skin, at Oh My Cream we remain convinced that a good routine of 3 simple, clean and effective gestures is the key. Discover how these 3 essential gestures can, in just 10 minutes, truly change your skin.
What are the 3 essential gestures?
The 3 essential gestures are the pillars of a perfect beauty ritual, three gestures for a complete routine. These are the first elements to adopt before going further with specific skin care and everyday basics: double cleansing, exfoliation and moisturizing. 
Our aim? Introduce you to these essential steps, often neglected when they can change your skin and make all the difference, without taking up too much of your bathroom time . Because yes, in just ten minutes, your skin will be transformed.
First step: double cleaning
Because a single cleaning is a bit like going into the shower with your clothes on... Double cleansing first removes all the impurities that have accumulated during the day (make-up, pollution, excess sebum), before perfecting the cleansing and starting to treat any skin problems.
The goal? Use two different textures: an oily texture is ideal for trapping greasy impurities (grease attracts grease!), whilean aqueous texture eliminates remaining impurities (such as perspiration, dust, etc.). With these two complementary products, you're sure to get rid of everything! We'll show you how to find the double-cleansing duo that's right for you here. 
I'm a big fan of micellar water!
Micellar water is a quick-cleansing product, originally created to quickly remove make-up from models between shows. The problem is that these detergent-rich lotions denature the skin's hydrolipidic film. Recommended for use without rinsing, their cleansing agents remain on the surface, upsetting the skin's equilibrium. As a result, dehydration and sensitivities are often observed on skin that uses them.
Double cleansing is a much less offensive way of cleaning one's skin. And it doesn't take any longer!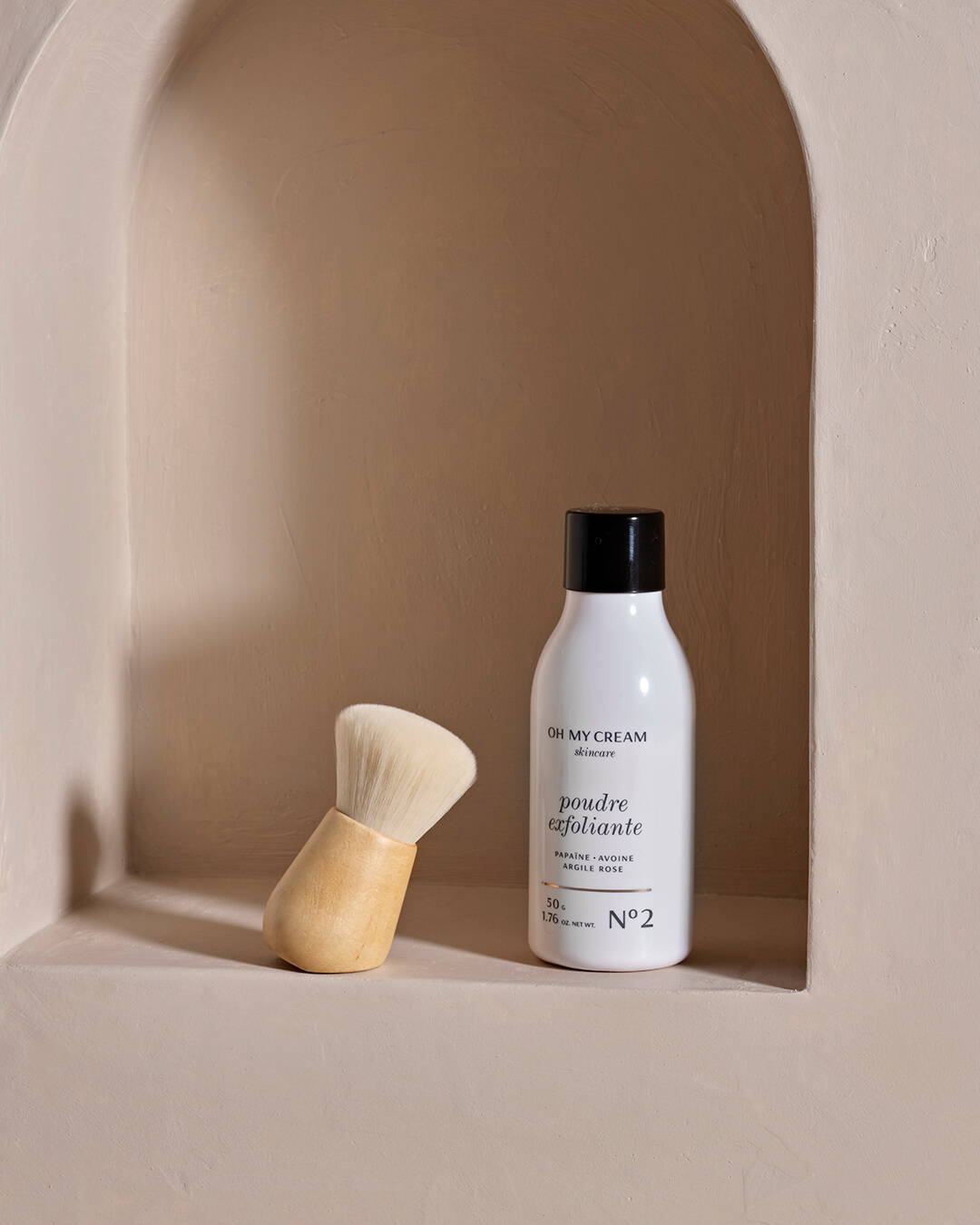 Second step: exfoliation
We tend to forget it, but exfoliation is the key step to a perfect complexion ! By exfoliating your skin, you eliminate the dead cells that dull your complexion and block out the super-ingredients in your creams and serums. What's more, exfoliation is an anti-aging gesture not to be overlooked, since exfoliating your skin boosts the production of new cells. 
The simple product to finally add exfoliation to your routine? The Exfoliating Powder Oh My Cream Skincare, a gentle exfoliator that brings radiance and softness to the skin, purifies and prevents imperfections, and boosts complexion radiance. 
Want to take your exfoliation one step further? Discover our complete guide to finding the ideal exfoliator for your skin..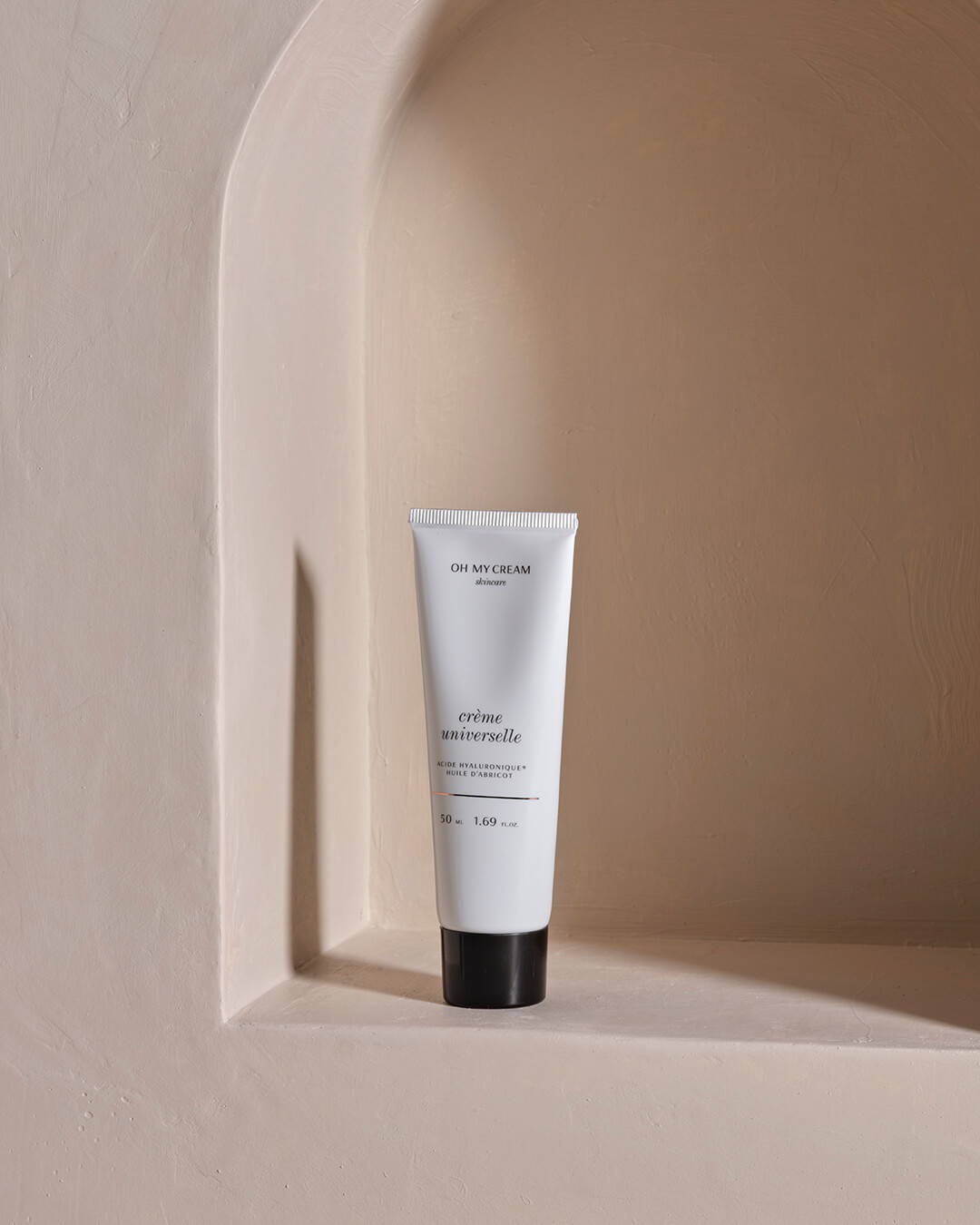 Third step: moisturizing
It's the essential step in any beauty routine, because a moisturizing cream not only moisturizes! Moisturizers form a protective barrier against the aggressions that weaken the skin, leading to dehydration, sensitivity and premature skin aging. A moisturizing cream also helps reduce imperfections and blemishes, boost radiance, rebalance sebum production and restore skin comfort. As you can see, it's the key to treating all your skin concerns ! 

The cult universal moisturizer Universal Cream Oh My Cream Skincare, the ideal moisturizer for all skin types, enriched with hyaluronic acid and apricot oil to nourish, moisturize and comfort.
Our clean, efficient essentials