Beauty cabinet
Rendez-vous with...Kenza, Talm's founder
Kenza welcomes us to her home to present Talm, "To all the mamas". New arrival at Oh My Cream, this pretty brand accompanies women before, during and after their pregnancy with organic skincare combining softness and sensoriality. A nugget to discover very quickly!
Hello Kenza, what do you do in life ?
My name is Kenza, I am 33 years old and I am the founder of Talm which means "To all the mamas". Talm is a line of products that aims to accompany women at all stages of their maternity, i.e. before, during and after their pregnancy.
What is the beautiful story of Talm?
When I became pregnant with my first daughter, I realized that it was very difficult to find products that were really reassuring for the pregnancy. I spent an inordinate amount of time trying to decipher the ingredients, to know what I was allowed to use and at what point in my pregnancy. I told myself that there was a real need to develop products that were reassuring and healthy from the first day of pregnancy to the postpartum period and even during breastfeeding. 
Is it difficult to design a 100% "mama safe" brand?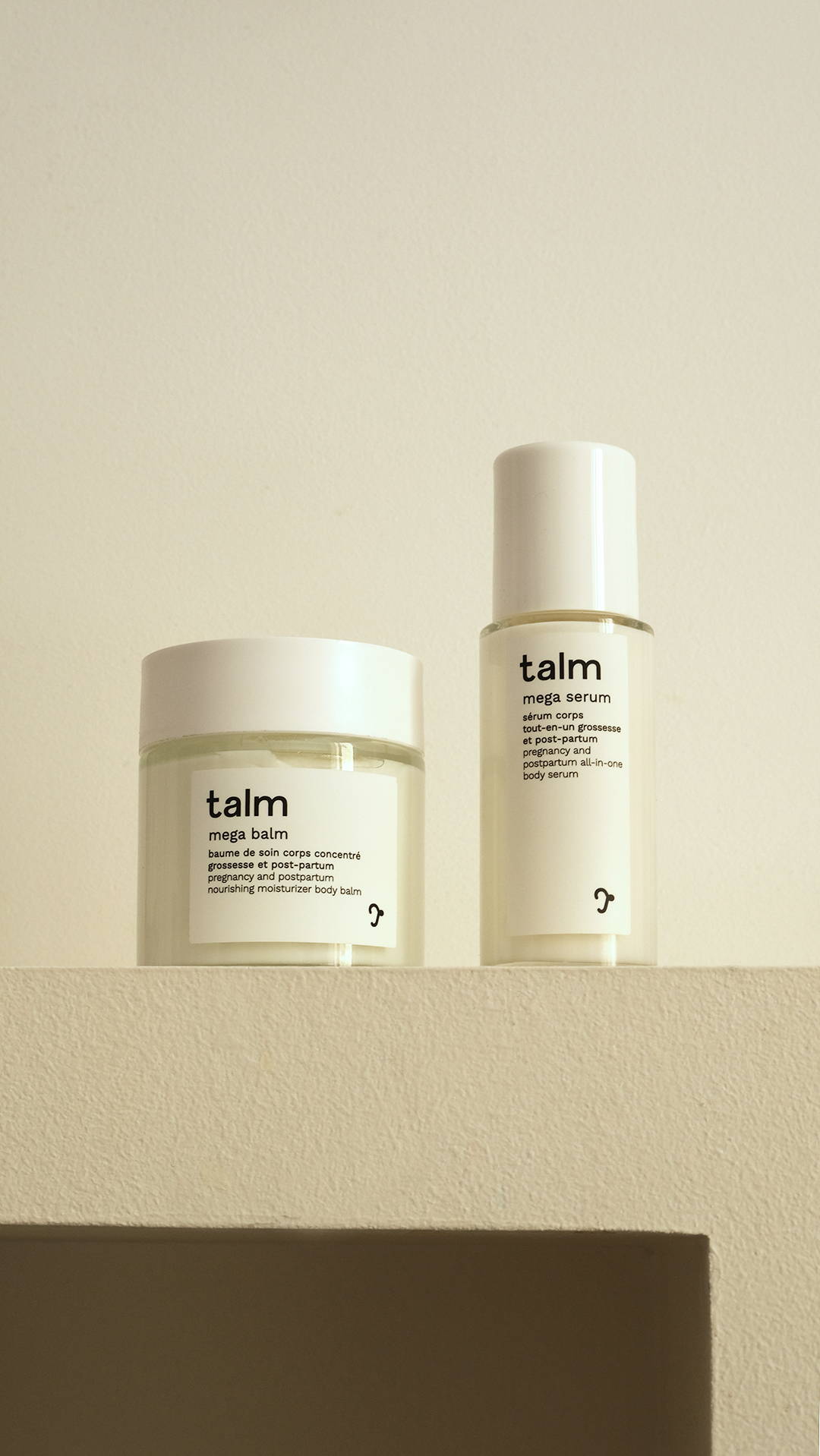 Indeed, it was a real challenge to formulate the first three Talm products. I wanted everything at once: safety from the first day of pregnancy, effectiveness to accompany all the upheavals experienced by the body, but also an eco-responsible dimension and the notion of sensoriality. To have products that allow us to feel good in our skin, that smell good and that can allow us to lead our lives by penetrating quickly and without hindering our daily life as women. 
How were your 3 gems conceived?
These 3 treatments were designed to act in total synergy. The idea was to offer a simple, minimalist skincare routine that could be repeated every day for real effectiveness. First, the serum that you apply in the morning, for example under the shower. Then, the balm to moisturize the skin in depth. And in the evening, the oil for the body as well as the face for a plumping effect in the morning. 
Can you introduce us to the 3 Talm treatments?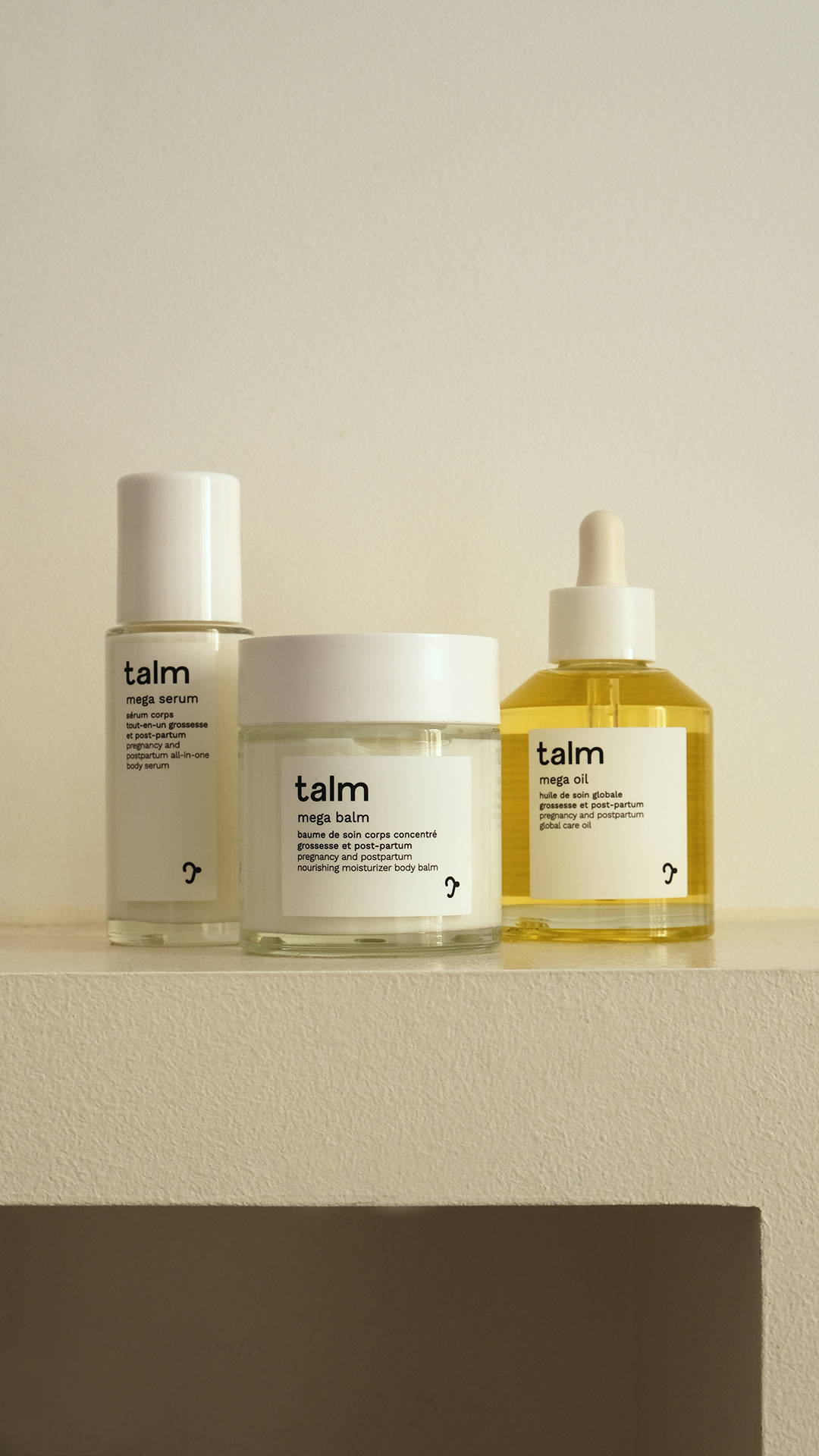 1. Prepare with mega serum
This multi-functional skin care product soothes, repairs and, above all, boosts the skin's moisture and elasticity. It is the perfect partner to effectively prevent stretch marks as well as to soothe all sensations of tightness when the skin starts to feel taut as well as during the post-partum recovery period. It can also be applied to the breasts, even during breastfeeding, to relieve milk flow (it has a food grade, so there is no risk to the baby).  
2. Moisturize with the Mega Balm
This body care product has been enriched with patented botanical active ingredients to deeply moisturize the skin. Its texture is comforting, cocooning and enveloping. Only a hazelnut is enough to have a very hydrating and rich effect immediately. 
3. Feeding with Mega Oil
This global care oil has the mission to effectively prevent stretch marks. It can also be used as a moisturizer for the face. Perfect to take to the maternity ward!
What makes you most proud?
I am very happy to be able to accompany women, at my level, with the Talm.
The period of conception, pregnancy and postpartum are often full of doubts and questions.
To be able to offer healthy products that feel good is already a great source of joy for me!