Beauty posts
Our Better-Aging Routine with Oh My Cream Skincare
Looking for a better-aging routine that is both simple and effective? Follow the guide, we have for you the Oh My Cream Skincare essentials that your skin will love.
The 1st anti-aging gesture: double cleansing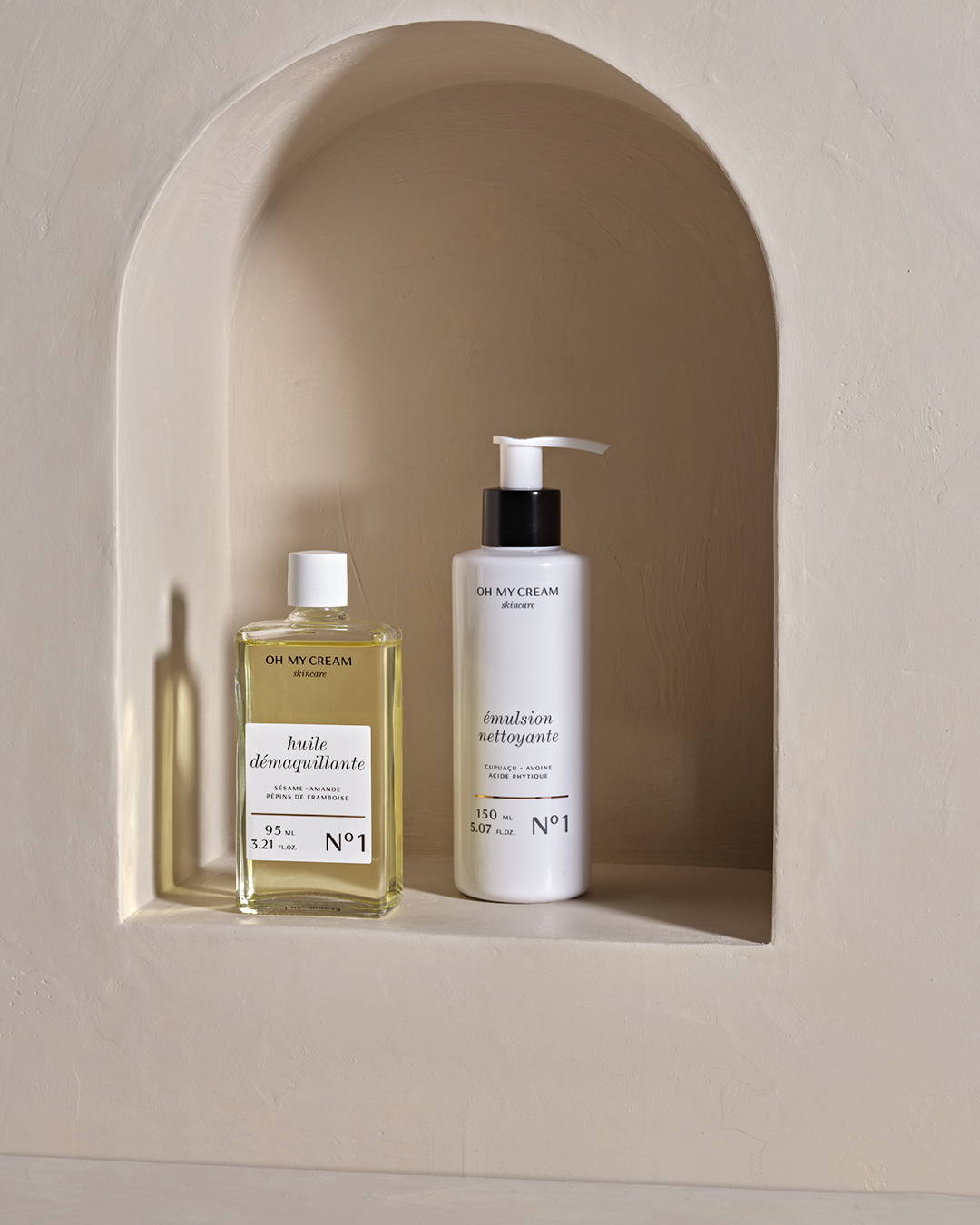 It can never be stressed enough and it is even more important in a better-aging routine: perfectly cleansed skin is skin that ages less quickly. Double cleansing is THE essential step to prepare your skin to receive active ingredients. Every evening, treat yourself to a real spa moment at home with an exquisitely sensorial oil likeCleansing Oil. Fluid and easy to rinse, it completely removes make-up, traces of pollution and excess sebum.
For the second step of our double cleansing, we opt for theCleansing Emulsiona rich, creamy cleansing milk to soothe and detoxify the skin. For skin in need of a boost, the Cleansing Foamwith its gentle citrus scent, will be your favorite beauty step. A boost for a radiant glow in the morning.
Exfoliation, the essential step for a new skin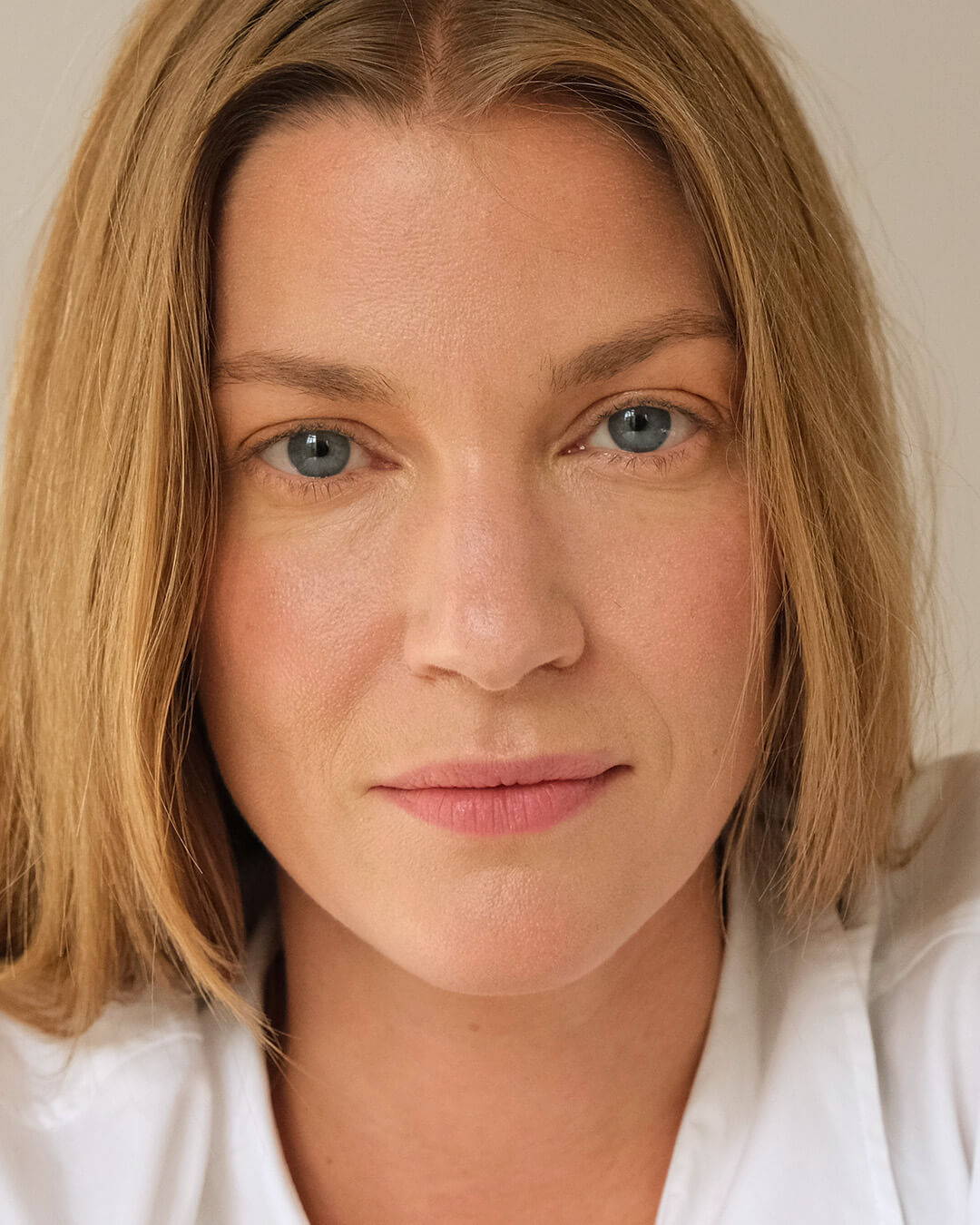 For the most sensitive skin 
The more sensitive skins will opt for the softness of the Exfoliating Powdera fine powder that transforms into a foam on contact with water, leaving the skin smooth and leaves a smooth and even skin texture and boosts the radiance of the complexion.. Feel like a SPA moment at home? We use it with our brush Kabuki for a deep cleansing and a generous lather.
For skin most prone to blemishes and imperfections
A key step in preserving the skin's youthful appearance by stimulating cell renewalExfoliation is the gesture we adopt for skin that is as radiant as we want it to be. If your skin is looking for a punchy exfoliation and a real radiance boost, the Exfoliating Lotion is the must-have. A night lotion that, thanks to its concentration in glycolic acid exfoliates while reducing imperfections and spots. You'll wake up to a dreamy complexion!
Moisturize with a plumping nugget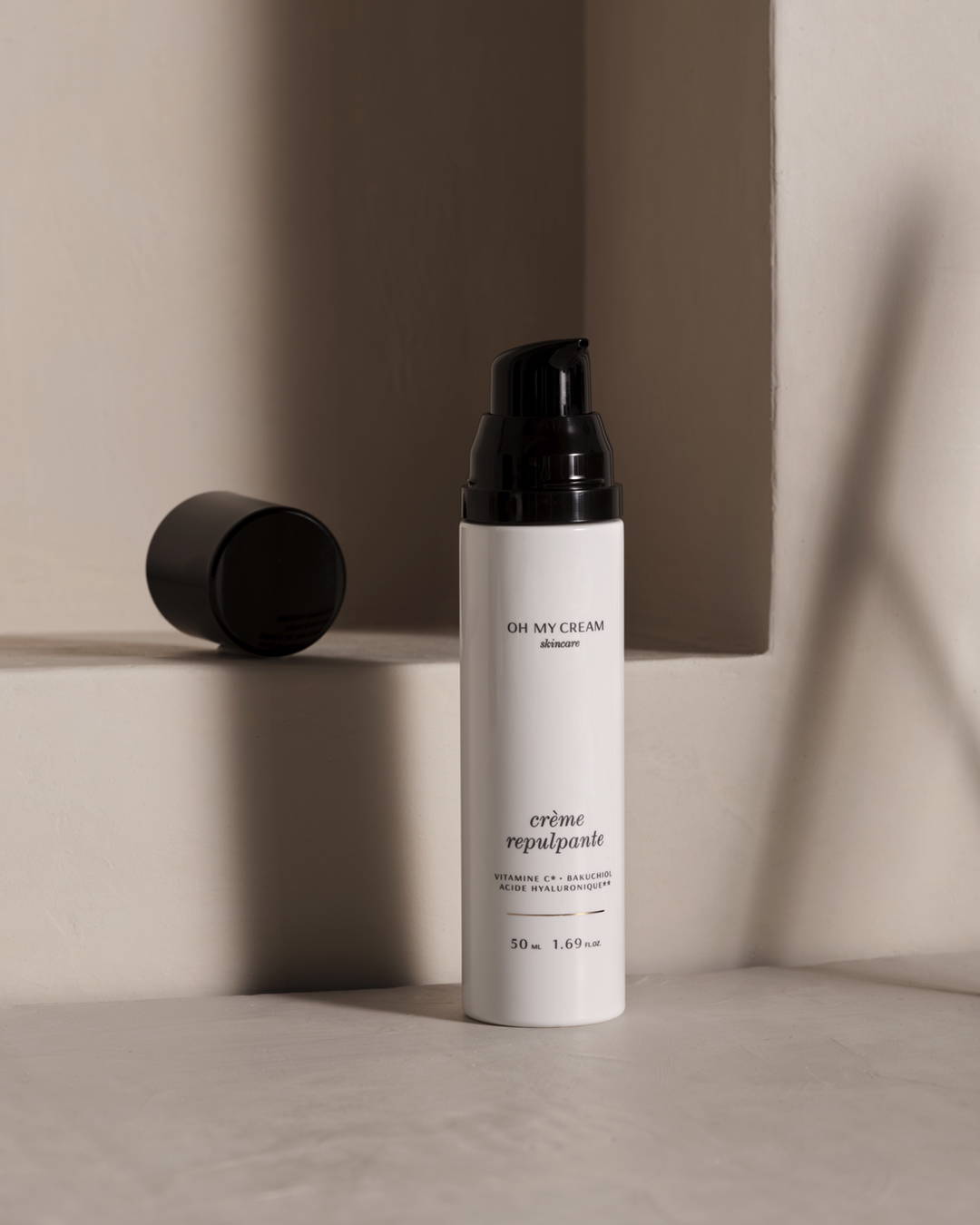 Plumping, such a sweet word to our ears. And there's no better way to give your skin what it needs in terms of anti-aging than a good dose of hydration that brings radiance and firmness, and smoothes wrinkles. The new Plumping Cream Oh My Cream Skincare is our first comprehensive, expert and effective anti-aging treatment. Formulated with (re)proven active ingredients such as Vitamin C, Bakuchiol, Hyaluronic Acid and PeptidesIt can be used in the morning as well as in the evening. Moreover, it has already conquered the hearts, and the skin, of the thirty-somethings of the Oh My Cream team... and of their mothers!
For dry and dehydrated skin, in search of comfort, add a few drops ofPlumping Oil to the Plumping Cream for a radiant complexion and moisturized skin.
And a routine is never complete without...
The

Eye Contour Balm

To take care of this fragile area, we bet on

this ultra-comforting cream

to moisturize the eye contour area, smooth fine lines and wrinkles and reduce the appearance of dark circles.

The

Gua Sha Face

Once you have tasted this ritual, it is difficult to do without it. Because the Gua Sha

stimulates with precision each muscle of the face

and drains the lymphatic and circulatory system. The features are smoothed and the sagging skin is a distant memory.
Our better-aging favorites at low prices