Beauty posts
Les 4 meilleurs sérums coup d'éclat
Champion de l'efficacité, le sérum visage est le produit booster d'efficacité dans la routine de soins. Raffermissant, lissant, anti-taches ou encore anti-déshydratation, c'est le meilleur allié grâce à ses principes actifs hyper ciblés qui se faufilent au cœur des cellules. Aujourd'hui, on vous dit tout sur les sérums qui activent l'éclat, redonnent bonne mine et savent unifier le teint comme personne…
Why, when and how to use a serum on your face?
Quel que soit son type de peau, le sérum est la formule parfaite pour apporter un complément de résultats à sa peau. Souvent sous forme d'émulsion très fine à la texture légère, sa composition comprend des actifs micronisés spécialement encapsulés pour pénétrer et libérer tout leur potentiel d'efficacité. Le sérum est donc une étape clé à ne pas oublier dans sa routine beauté.
How to make your skin look brighter?
Si le teint terne s'est quelque peu installé à la fin de l'hiver ou à la rentrée, on vous conseille d'opter pour un sérum coup d'éclat, agissant comme un véritable illuminateur de teint. On vous dévoile ci-dessous notre sélection de sérums "peau parfaite" et adaptés à chaque nature de peau. 
Comment bien appliquer votre sérum
Pour l'appliquer, on instaure ce geste matin et soir, après le rituel de démaquillage / nettoyage de la peau et avant d'appliquer ses soins hydratants comme la crème de jour ou le soin de nuit, mais après une brume ou une lotion. Certains sérums aux acides de fruits sont à réserver à votre routine du soir, afin de ne pas photosensibiliser la peau. (Dans ce cas, pas de panique, cette information sera notée sur les conseils d'utilisation ou signalée par nos conseillères beauté, lors de votre diagnostic de peau.)
Pour l'appliquer au mieux, notez que les sérums sont très concentrés et qu'une toute petite quantité est suffisante : quelques effleurages légers sur le visage nettoyé sont largement suffisants. Certains sérums seront à intégrer au quotidien et d'autres pourront être intéressants en cure pour régénérer et apporter un coup de fouet à la peau. Et pour faciliter son application et pénétration dans la peau, on vous conseille d'appliquer votre sérum sur une peau légèrement humidifiée.
Le sérum uniformisant à l'action anti-taches
Pour les peaux sujettes aux taches pigmentaires ou aux problèmes de peau comme des imperfections pourront se tourner vers le C.E.O. 15% Vitamin C Brightening Serum Éclaircissant Sunday Riley. Ce sérum spécifiquement dédié aux peaux sujettes aux désordres pigmentaires atténue les taches pigmentaires et post-inflammatoires et aide à réparer les dommages causés par un excès de soleil, grâce à sa haute concentration en THD ascorbate (une forme stable de vitamine C). 
Notre conseil : c'est la formule parfaite pour le matin. Idéal aussi pour toutes celles qui souhaitent éliminer des marques post-imperfections. Et pour revoir votre routine complète, n'hésitez pas à consulter notre guide anti-imperfections.
Le sérum pour faire "peau neuve" en douceur
Votre peau manque d'uniformité et vous avez vraiment envie d'un coup de frais sur le teint ? Le Resurfacing Serum Tata Harper est la formule idéale pour démarrer. 100 % d'origine naturelle, il est formulé à partir de deux actifs exfoliants : les AHA et les BHA (une forme un peu plus douce que les Acides de Fruits). Ces derniers aident à éliminer les cellules mortes en surface de la peau responsables du teint terne. Riche en antioxydants, il aide également à combattre les radicaux libres pour mieux prévenir du vieillissement de la peau et du manque d'éclat. 
Notre conseil : ce sérum coup d'éclat est l'allié idéal si vous avez la peau normale ou mixte à grasse avec l'envie d'affiner le grain de peau, d'agir sur les pores dilatés ou les taches brunes. En raison de sa forte concentration en acides de fruits, on vous conseille de l'appliquer le soir, seul ou sous votre huile de soin pour le visage pour une cure peau neuve en profondeur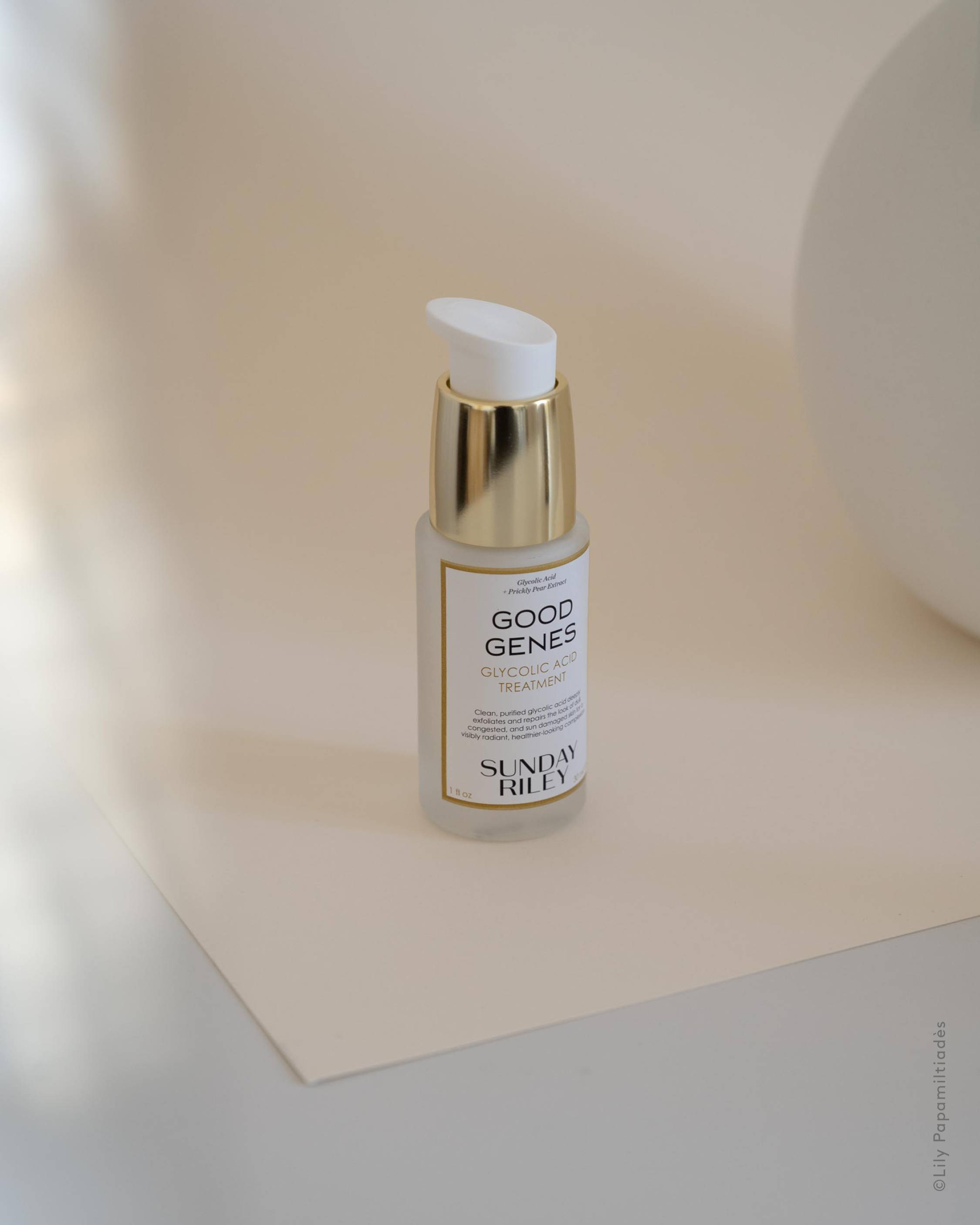 Le sérum resurfaçant pour aller plus loin
Pour aller plus loin dans la quête du fameux effet "peau neuve", le cultissime Good Genes Sérum à l'Acide Glycolique Sunday Riley. Ce sérum cumule les actifs "belle peau" dont l'acide glycolique pour se faufiler au cœur des pores pour exfolier. Au réveil, le grain de peau est uniforme et resserré, les rides et ridules sont lissées et les taches pigmentaires atténuées, pour une peau éclatante au réveil. 
Notre conseil : Pour une peau transformée au réveil, le soir durant votre routine de nuit mélangez l'huile Luna Sleeping Night Oil Huile de Nuit Sunday Riley au sérum Good Genes, puis appliquez le tout sur le visage. Au réveil, on n'oublie pas d'appliquer une crème solaire pour protéger sa peau. 
Le sérum anti-âge non exfoliant
Pour les peaux matures (mais aussi toutes les peaux qui souhaitent vraiment redynamiser leur peau avec une action anti rides en prévention), le Biolumin-C Sérum Dermalogica aide à illuminer et unifier le teint, grâce à son complexe de Vitamine C qui stimule également la production de collagène. Il agit aussi sur l'élasticité et le vieillissement cutané grâce à son acide lactique à l'action raffermissante, pour un teint lumineux et une peau plus ferme et mieux protégée des agressions qui accélèrent son vieillissement. 
Notre conseil : idéal pour toutes celles qui veulent un coup d'éclat vitaminé et anti-âge, sans exfolier leur peau. À noter aussi que sa texture très fine ravira aussi les peaux mixtes. Pour compléter votre routine fermeté, découvrez notre sélection spéciale "anti-relâchement du visage".
Vous avez une question ou avez besoin d'aide ? Écrivez-nous à l'adresse consultation@ohmycream.com, nos coach.e.s beauté seront ravi.e.s de vous délivrer tous leurs conseils beauté pour trouver les soins les plus adaptés pour votre beau. 
Les sérums boosters d'éclat