OMC slide
Find your ideal brush with La Bonne Brosse
Convinced that hair beauty comes first and foremost from the right gesture, La Bonne Brosse has succeeded in perfecting, down to the smallest detail, the perfect object: the ideal hairbrush. Made in France from boar bristles, it guarantees the absence of static electricity and deeply massages the scalp. Discover this essential tool that will change your hair routine.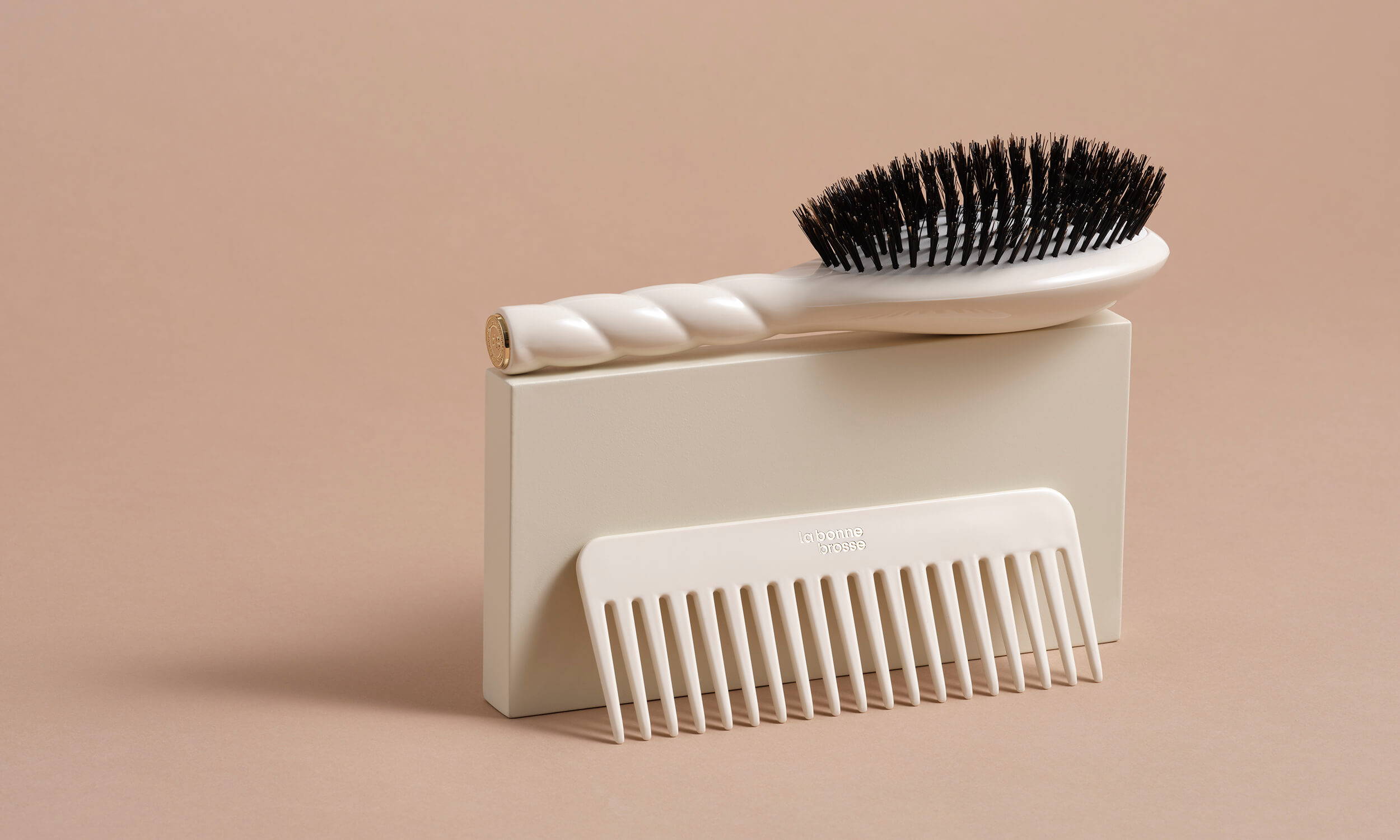 The origins of La Bonne Brosse...
Like us, Pauline and Flore created La Bonne Brosse because they were convinced that it is the simple daily gestures that change everything in our beauty routine. After having each made a career within big cosmetic brands, they decided to join forces when Flore experienced a strong period of hair loss. While she tested all the remedies, products and tips, she finally realized that brushing her hair made all the difference on her lengths. With Pauline by her side, they set out to find the best suppliers and the most artisanal know-how to create and refine the perfect hairbrush down to the smallest detail. 
"If we were convinced of the benefits of daily brushing on our hair, the desire to re-enchant this object, and the gestures that accompany it, seemed obvious to us."
Why is La Bonne Brosse the ideal hairbrush?
If La Bonne Brosse brushes have had no trouble winning over the Oh My Cream team, it's because they've been designed as the ideal beauty object. Handcrafted in France, they are made of boar bristle fibers, charged with keratin to guarantee total absence of static electricity and deep massage of the scalp. 
The nylon fibers have been carefully selected for their softness, thickness and smoothness to ensure the softest, most massaging brushing possible, while providing ultra-comfortable, breakage-free detangling. For brushes with nylon fibers, the artisans apply an epoxy bead to each of the nylon fibers by hand as a finishing touch, to make the scalp massage even more pleasant and effective.
Their cellulose acetate handles guarantee the durability of the brushes since this noble material is the one used for the frames of luxury glasses and the buttons of Chanel jackets! A responsible and biodegradable material, not made from petrochemicals, and composed of 70% vegetable fibers. Finally, their natural rubber cushion has been carefully studied and chosen because it perfectly fits the curves of the head and neck thanks to its flexibility.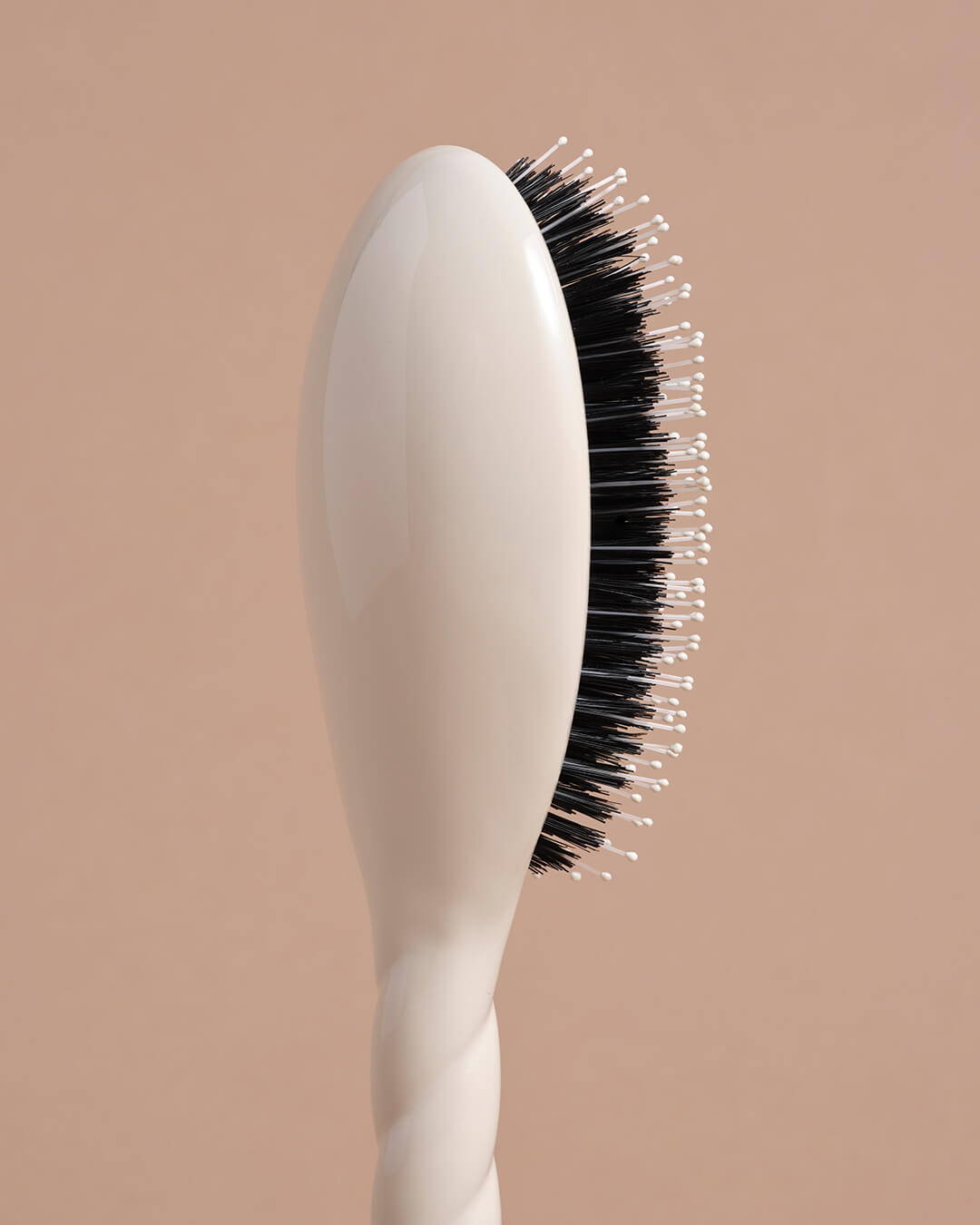 Which brush is right for your hair? 
I have normal to fine hair: Ideal for fine to normal hair, even fragile hair, whether soft or straight, the Brosse N°01 L'Universelle Soin et Brillance brings hydration to hair, leaving it sheathed and fortified, while its boar bristle composition purifies and detoxifies the scalp. 

I have normal to thick hair: Combining boar bristles and nylon, the Brosse N°02 L'Indispensable Soin et Démêlage is the ideal brush for styling, structuring and detangling normal to thick hair.
For detangling your lengths: Made from 100% pelletized nylon fibers, the Brosse N°04 La Miracle Démêlante et Massante detangles hair while caring for sensitive scalps, thanks to small epoxy beads deposited at the end of the nylon fibers. These provide a gentler massage for a purified, detoxified scalp. 
The benefits of boar bristles for the hair
Known to be an exact mirror of our hair's structure, boar bristles are loaded with keratin and 100% natural. Used for centuries, notably in the Middle Ages for toothbrushes, boar bristles have become and remain a benchmark for hair care thanks to their quality and longevity. Yes, because as we said, La Bonne Brosse is the brush of a lifetime! But what are the practical benefits of a boar bristle brush? Firstly, they help distribute sebum over the entire length of the hair, thus reducing the amount of sebum at the roots and nourishing the ends. In addition, its natural keratin composition helps neutralize static electricity that may be present on the hair when brushing. As a result, hair is softer, more disciplined, easier to detangle and less brittle. 
Do you have a question or need help finding your ideal hair routine? Discover our complete guide here, or write to us at consultation@ohmycream.com, and our coach.es will help you find the right care for your hair type.