Beauty cabinet
Lili Barbery
"I'm a journalist, working on beauty for M le magazine du Monde, and four years ago I set up a blog called Ma Récréation, dedicated to beauty but also to lifestyle, cooking, children... anything I like that takes me out of my daily routine!

My blog is a slightly different, more personal path in my career as a journalist."
My night routine
In the evening, when everything's going well and I have time (because sometimes I don't remove my makeup, which is bad!), I cleanse my face with the Lait Onctueux Capital Lait Onctueux Joëlle Ciocco (I've tested it all, but I've been coming back to it for 15 years!): I rinse with tap water, then spritz with thermal spring water. Then I wipe it with a cotton pad soaked in its Lotion Lactée. If I'm really in a hurry, I use a cotton pad of Bioderma 's Créaline H2O: having said that, I have to admit that it doesn't remove make-up as well...
With my usual routine, the skin is rosier, because massaging helps to get the blood circulating.
Then I use Retrouvé 's Intensive Replenishing Facial Moisturizer, which I was given as a gift and have become quite addicted to. It is very expensive and I prefer to be honest, I think
that if I had not been offered it I would
not have been able to afford it... I also recently discovered another product for the night: the Moisturizing Mask Tata Harper, which you can put on for 10 minutes or keep on all night. Personally, I find it perfect as a night care product (even if you shouldn't be afraid of natural scents!): it has a slightly "spa" feel, it's very rich, and I love it because my skin absorbs it completely and in the morning it's quite refreshed.
I've been flipping around a lot in the eye area... My latest find is the Aurelia Probiotic Eye Revitalising Duo which works as a duo: it has a cool roll-on for the morning and a denser cream for the night. Having said that, I still haven't found the ideal eye product: the Grail would be the product that eliminates my dark circles, that would make me look like I've slept for twelve hours and that I've just come back from vacation... I haven't found it yet and so I'm cheating with some concealer!
There is also a product that I like is the Advanced Night Repair byEstée Lauder, a must that all beauty journalists love! It must be said that the brand communicates particularly well on it, because you have to know that words and speeches are very important... why do we suddenly have the feeling that a brand is really serious? First of all, it's the words that touch us, the beauty journalists (especially for the face because it takes several weeks before we realize the effectiveness of a product), and that make us use a product more than another.
So I use this serum at night when I don't have the products I just mentioned, as well as on the plane: I take a small sample and fill it up every time. A model I interviewed a long time ago, Liya Kebede (the brand's muse at the time), gave me this advice. I was a bit dubious because I thought she was being paid to say it, but it turned out to be very effective in retaining moisture on the plane: you don't look the same when you get off a long-haul flight when you've applied some and when you've just put on a moisturizer!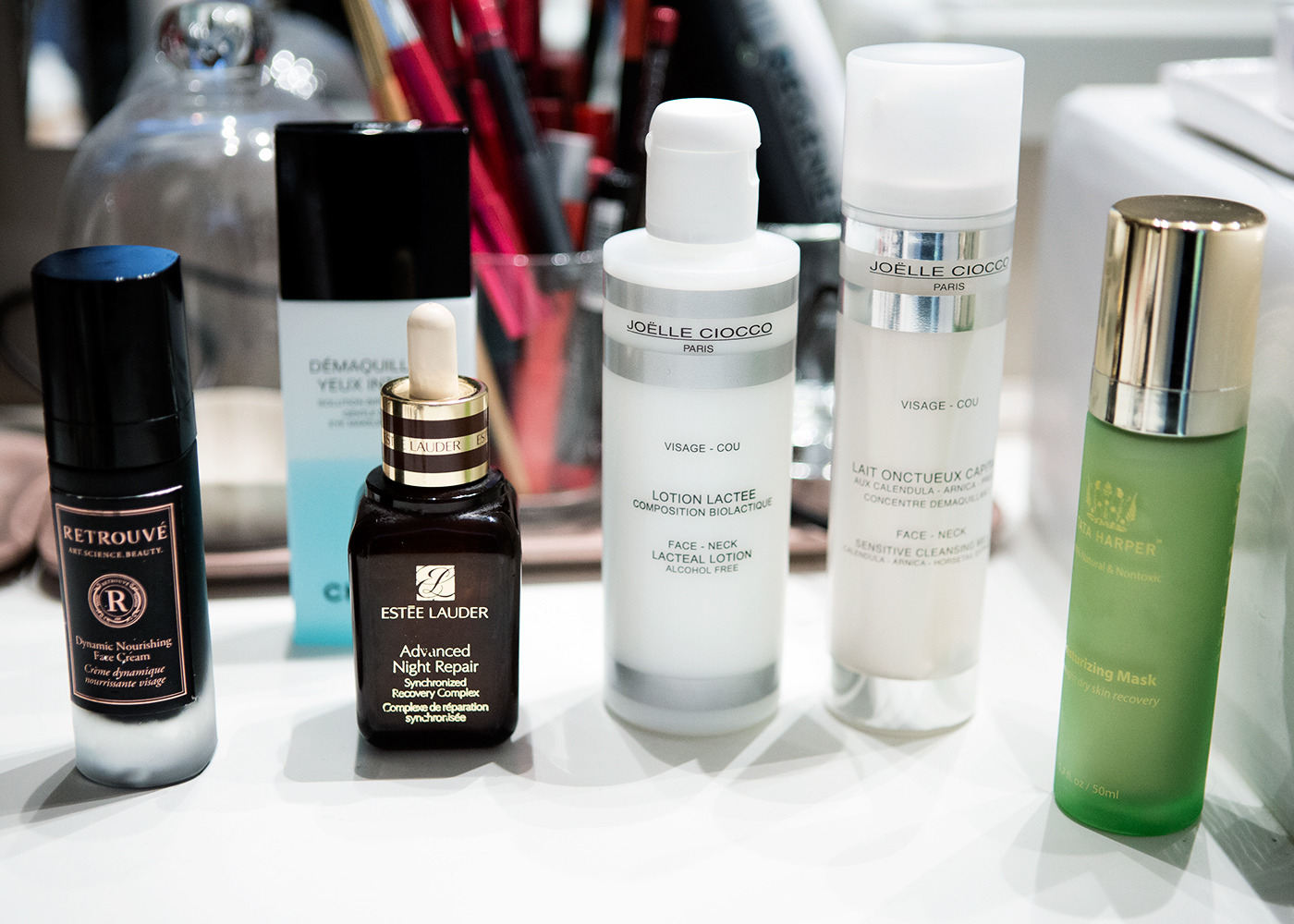 My morning routine
In the morning, I've been following Joëlle Ciocco 's advice for years, and I avoid over-stimulating
my skin. At the moment, I useAvèneThermal Spring Water, but I could also useUriage or La Roche Posay. Then I usually use Lotion Lactée by Joëlle Ciocco. At the moment, I'm also testing a Sisley lotion that will be released in spring 2015, inspired by Asian rituals and the way Asian women can't envisage putting an oily product on their skin right away. In fact, you have to imagine that the skin is a sponge, and that if you put oil on an already damp sponge, it will absorb it, whereas on a dry sponge the oil will stay on the surface. The image of the sponge speaks to me and seems logical!
Then I use my Dynamic Nourishing Face Cream by Retrouvé: I think it's crazy, I've been using it for a year. With the next product, I'm going to make the girls dream a little... when I went to New York last autumn, I met Emily Weiss who created Into The Gloss and who introduced me to her Glossier product line. There are 4 products already out and some eyeliners, but they're not yet distributed in France! I use Priming Moisturizer: the texture is similar to Embryolisse Lait Crème. The idea is to use it in several layers (layering) according to your skin's need for hydration.
Right now, it's not enough for me, but for autumn it's perfect if you don't have any particular skin problems.
I also use a lot of lip balms, this is the base for me. I like the Lip Balm Ren Skincare because it's unscented. I also love Khiel's Lip Balm.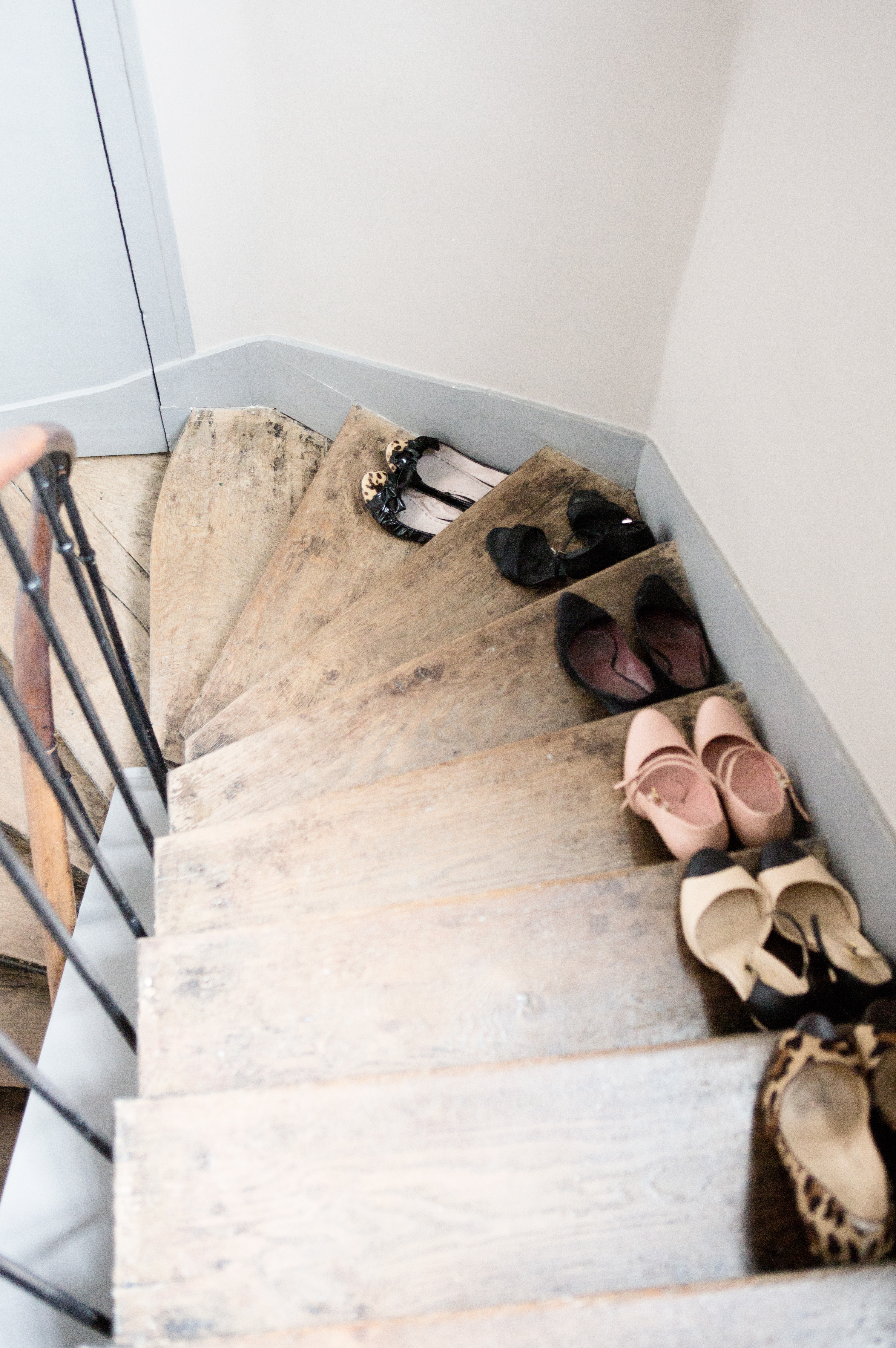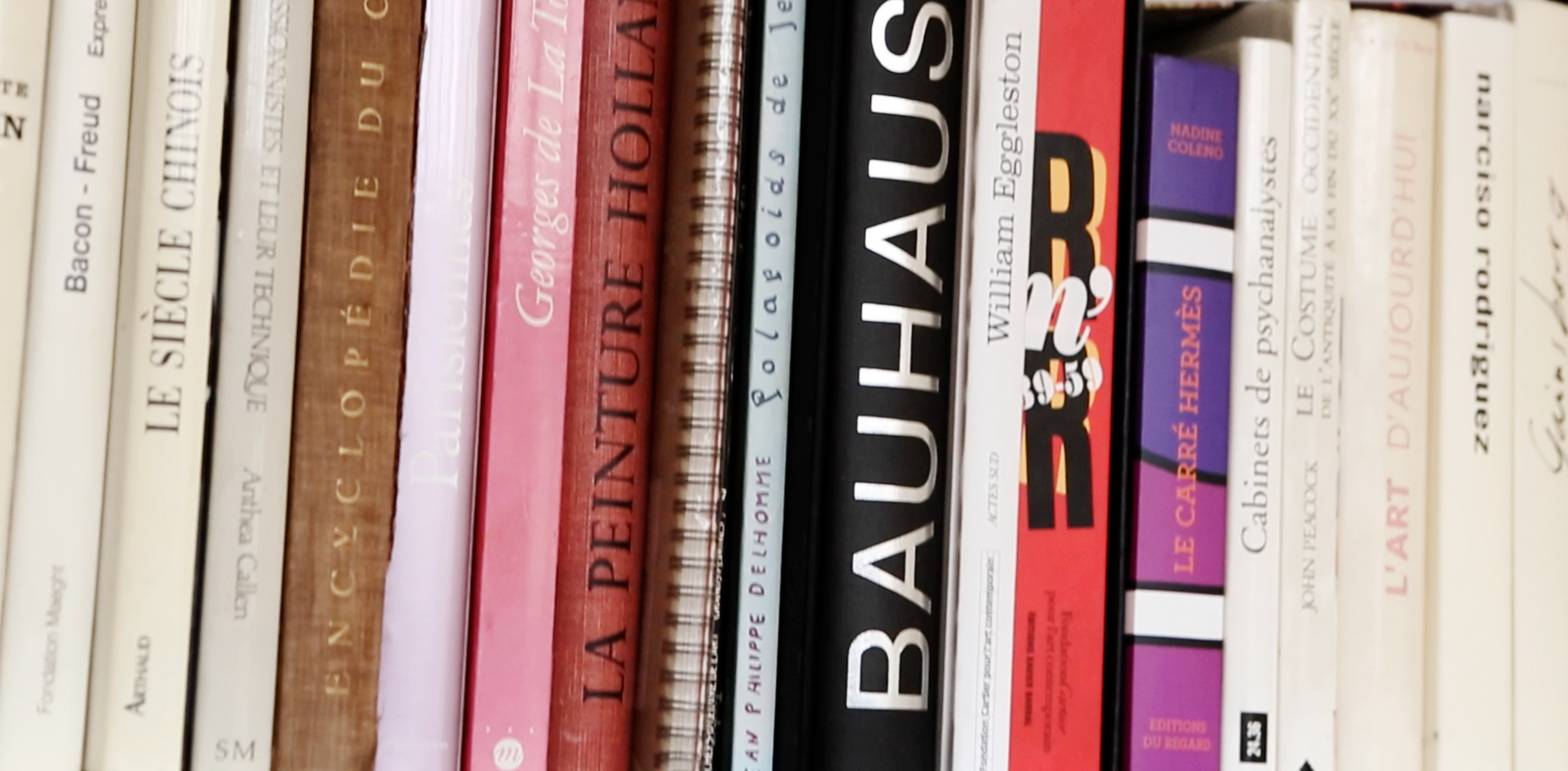 On the make up side...
...at the moment I'm a bit of a monomaniac and I'm starting with Vichy Idéalia BB Cream. I don't use it as a cream that replaces all the others, I keep my moisturizer and I only use it as a make-up product. I love it because it's a light reflector that makes skin look really pretty straight away, and what's more, it's imperceptible. I hate foundation: for years I thought I didn't need it, and now I'm starting to get little red patches, little spots of hyperpigmentation because I'm getting older. To correct this, to even out the complexion, I think this product is top-notch, and what's more, it has SPF!
I also use Glossier Perfecting Skin Tint: I think it's great! It's a very light product, so you can't see that you're wearing makeup, but when you put it on, you look like you, only better! I don't use it all over my face, but only on my forehead and upper cheeks, as these are the only areas that need to be evened out.
After that, I can't live without concealer (especially The Concealer Dolce Gabbana): I think I've tested them all! Even when I go out with my makeup off, which I often do, I use concealer. I apply it to my dark circles, around my nose and under my lips. It's not just to correct dark circles, it's actually contouring: it brings out the light and you look better right away!
Next, I use Tint to Lip By Terry as a blush: such a flashy colour may look scary, but contrary to what you might imagine, it's not at all crazy on the skin.
The orange hue is very subtle and there are pearls inside to reflect the light. I also like the creamy version of Nars ' Orgasm blush (Illuminator Orgasm).
Basically, it's a Nars multiple that I love! I've been using it since I discovered it in the late '90s.
You can use it as a blush, or apply it to the top of the cheekbones or even the brow bones to brighten up the complexion. It will catch the light, but you need to use very little, pat it on well and apply it lightly because it's very colorful (you don't necessarily want to look like Kim Kardashian!).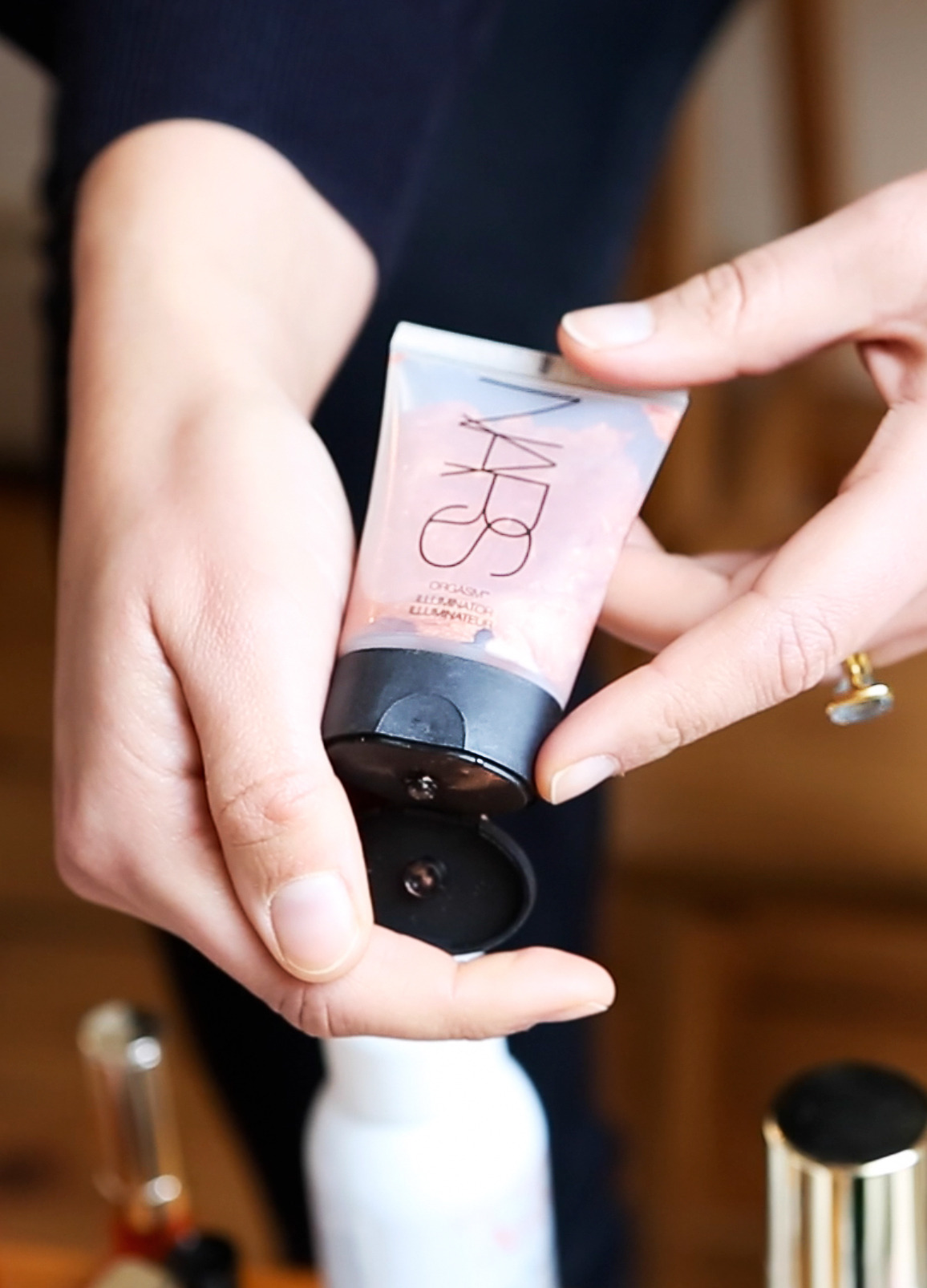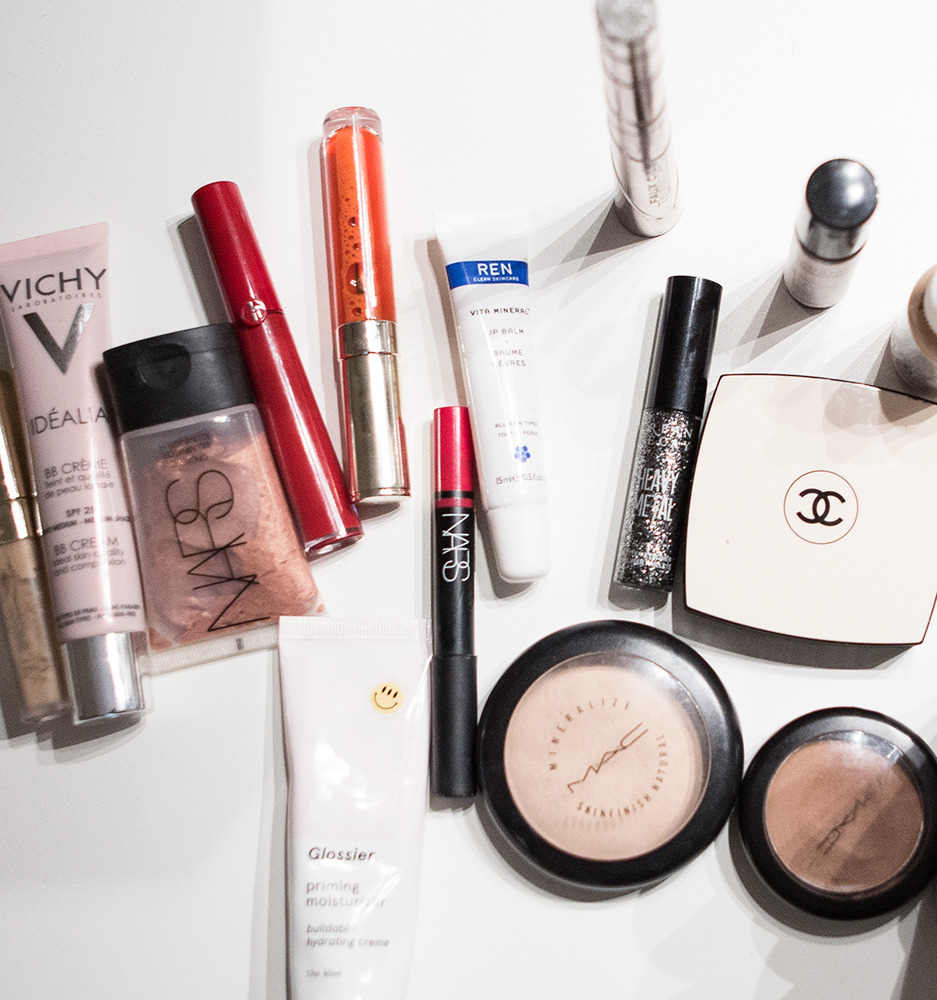 Then I use mascara: I love the L'Oréal Paris Faux Cils Mascara Telescopic. The brush is made of elastomer and therefore very flexible. It doesn't deposit a lot of material, which I appreciate because I don't like very made-up lashes.
Depending on the mood, I can either go for a slightly flashy lipstick like the fuchsia pink Satin Lip Pencil by Nars, or something a little warmer like the Lip Maestro by Giorgio Armani (the colour lasts for 4 to 5 hours). After products that are supposed to last 8 hours, I think you should not eat, not kiss people and not have a life!
For days when I'm a bit tired (and lipstick can look harsh and ageing), I'll work on my complexion a bit more and do some contouring (a big word for darker materials). I love Chanel 's Beiges collection: you can't go wrong with a complexion like that! I use it on the lower cheeks and temples only. When I've finished my complexion, I powder, but not all over (never on the cheekbones, because that's where you want to catch the light, so you don't want it to be matte). Tom Ford, whom I once met at a dinner party, told me that the forehead couldn't be luminous, that it had to be matte or it would look "tacky", and he wasn't wrong!
So I think about it every morning! My brain gets bogged down with thoughts like that... so I always put powder(Mineralize Skinfinish Natural Mac) on my forehead and nose because you don't really want your nose to shine.
There's not too much craziness in my makeup because I'm pretty wise, I have a hard time using colors outside of what I use for lips. I did a paper on glitter for the M, saying that everyone is wearing glitter but that it's really a "hag" thing... in fact I was really wrong because this little line I'm wearing is a little glitter eyeliner, Heavy Metal Eyeliner Pailleté Urban Decay, that you can put on the edge of your lashes, which is quite simple, and which puts a little touch of light.
Lili's beauty secret:
I'm not very comfortable with beauty secrets because I always feel like I'm the guardian of a knowledge... but I think there's a trick that makeup artists often repeat, that we see them doing backstage and that works quite well: when you go out and you need your makeup to last, in fact thermal water is used for many things! It's used to wake up your skin, to remove make-up, to soothe it, to refresh yourself in summer... In fact, when you spray your skin after applying make-up, after the powder, you shouldn't be afraid: this evaporation will fix the make-up.

Joëlle Ciocco Lait Onctueux Capital: a product that I've kept buying ever since I discovered it. Whenever I run out and try other products, I always end up disappointed and come crawling back.
Vichy Idéalia: if I had to cut back on my make up routine, I would always keep this BB cream because it moisturises my skin, is infused with SPF and is a make up staple: all the qualities I need!

Dolce Gabbana The Concealer: created with the make up artist Pat McGrath. I think she should have worked on the formulas made in the Proctor & Gamble laboratories. This concealer has such a light texture (but not as light as Yves Saint Laurent Touche Eclat), it reflects the light, is easy to apply and doesn't dry out quickly (a concept we cosmetics experts call 'playtime', meaning how long you have before the formula dries).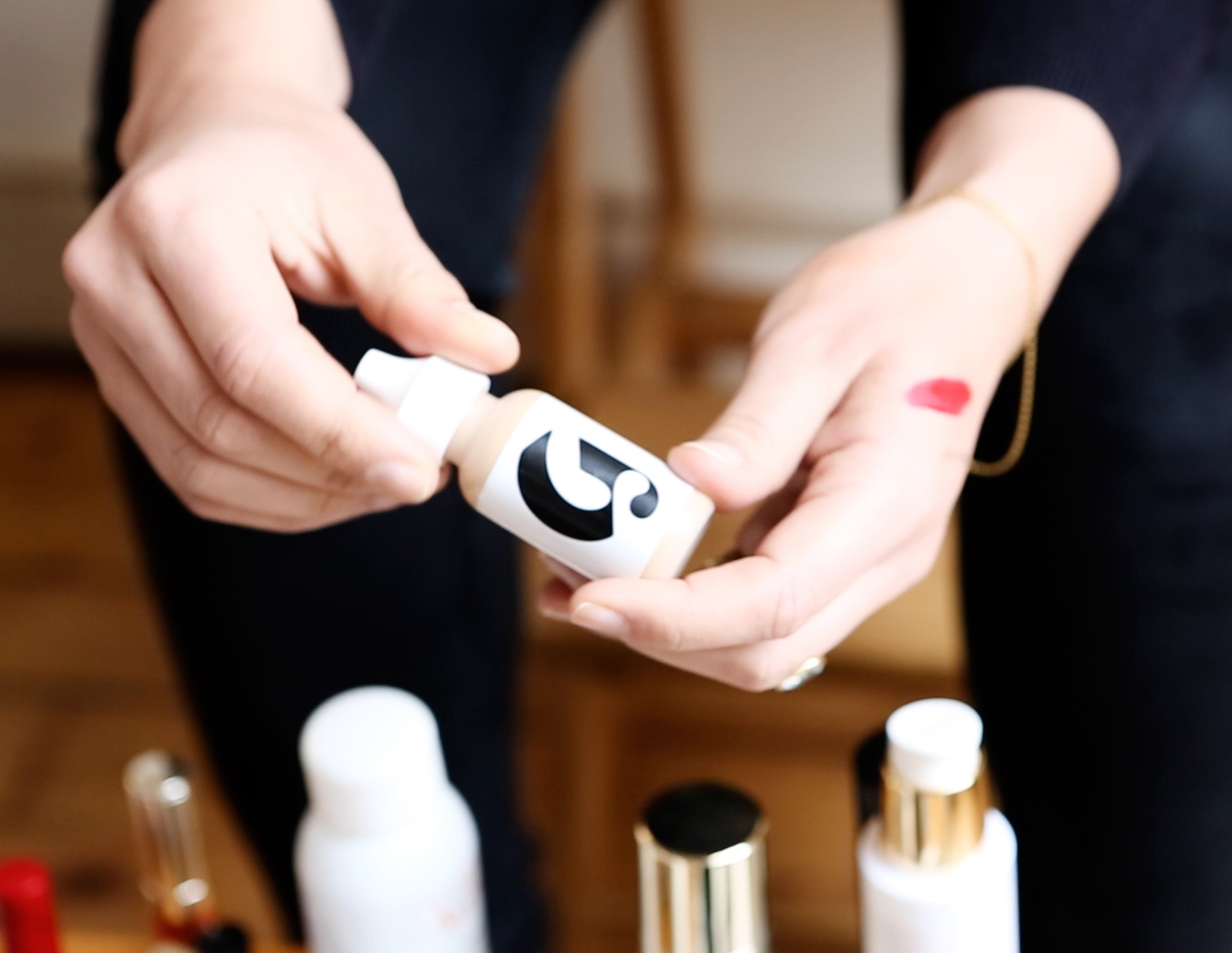 Lili's latest favourite beauty find:
I'm a big fan of the Glossier range which was launched by Emily Weiss, who also created Into The Gloss. I would say that my little bottle of Glossier Perfecting Skin Tint is probably my favourite beauty find. It's an amazing product, especially for those who don't like wearing foundation and just a tiny amount makes you look and feel instantly better!