Beauty Posts
Lili Barbery's beauty routine
A former journalist specializing in beauty - Vogue, M le magazine du Monde - Lili Barbery-Coulon now devotes herself entirely to the eponymous blog she created seven years ago: lilibarbery.com. While Pimp My Breakfast, her first book dedicated to breakfast, is about to be published by Editions Marabout, this yoga enthusiast shares the secrets of her beauty routine.
Her beauty "must"
Cleaning every night! Even though micellar waters are convenient when you're short on time, I really believe in the benefits of double cleansing with milk. I keep testing new makeup removers because I believe thata good makeup remover is much better for the skin than a very expensive anti-wrinkle. Among the latest discoveries, I loved theCleansing Emulsion fromOh My Cream Skincare: the texture, the scent, the formula, the price, I find the whole thing very successful. I like to finish this cleansing ritual with a spritz of theHydrating Floral Essence by Tata Harper, it smells so good!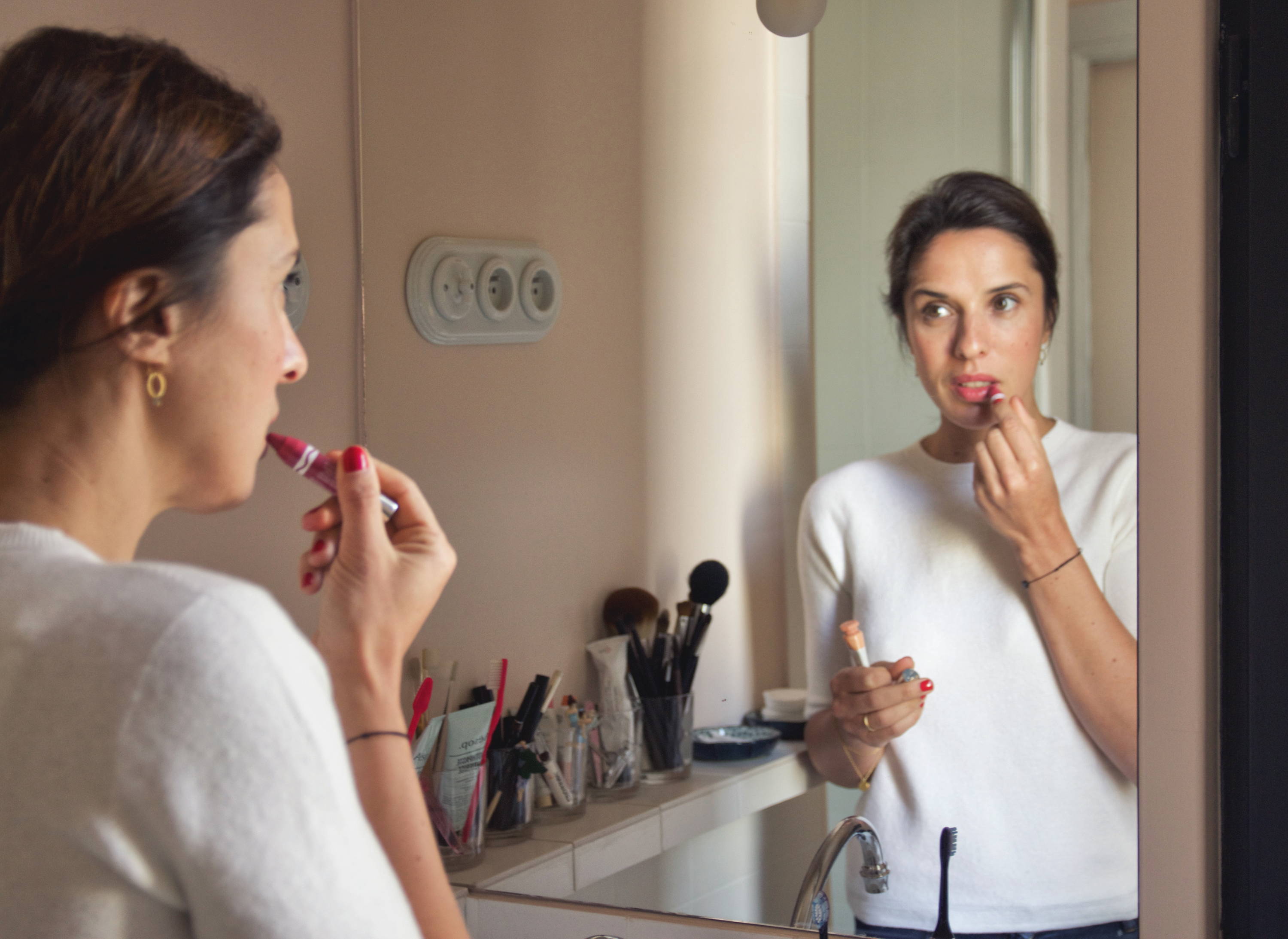 Her morning routine
I like to wake up my skin with a water rich in active ingredients that won't irritate my skin, likeEsthederm'sCellular Water. I blot with a tissue and apply a serum. Right now, I'm using the EGF Serum from Bioeffect, an Icelandic brand that is super effective at slowing down skin aging. Then I moisturize. Currently, I fly a lot, so I alternate between Tata Harper 's Rich Cream , which lives up to its name, Egyptian Magic Balm for its simple and flexible nature orLa Mer Moisturizing Lotion on days when I need a lighter texture. I don't wear much makeup: I like chameleon products like Tata Harper 's Volumizing Lip and Cheek Tint or RMS Beauty 's Lip2Cheek, which deposit a natural "flush" of colour on cheeks and lips.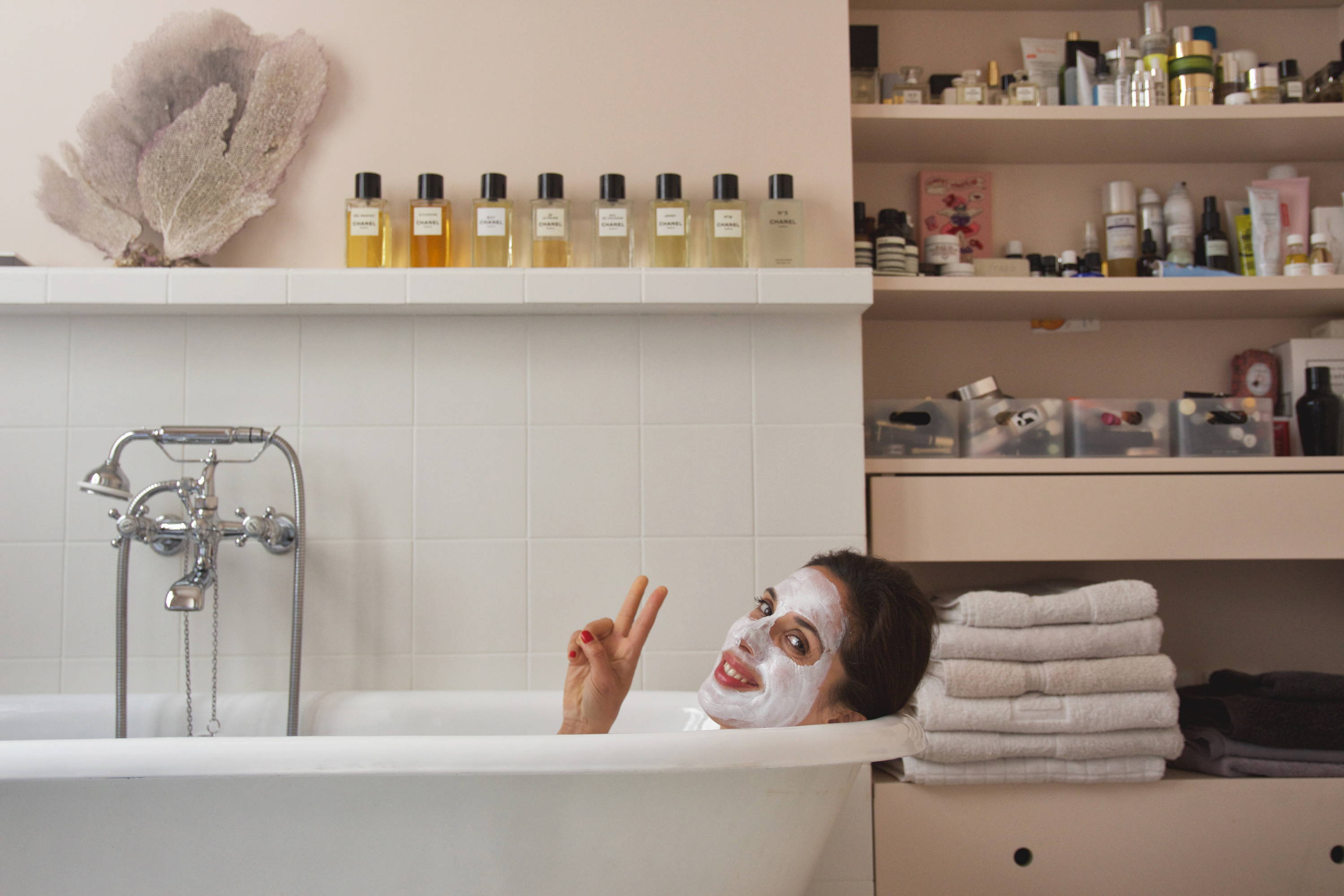 Her obsession
My hair! It's fine, limp and tends to get greasy easily. So I pull out the heavy artillery. I tested everything! The products that have proven their worth are Christophe Robin's rose range, its Purifying Shampoo for greasy days, John Masters Organics ' Lavender & Rosemary Shampoo and of course Leonor Greyl 's Honey Shampoo as well as its TS Shampoo Bath! I haven't found anything better yet!
Her "guilty pleasure"!
I do a lot of yoga so I often take two showers a day, which is not very eco-friendly. I'm crazy about body care. My absolute love is cleansing with Ren Skincare's Rose du Maroc Shower Gel, then scrubbing from the soles of my feet to my neck with their Guérande Salt Body Scrub, and diving into a Suzanne Kaufmann oil bath . If I really want to go all out, I use the Kure Bazaar Manicure Kit during the infusion... and on the way out I slather on Tata Harper's Redefining Body Balm. The kind of care that makes the skin super soft in one night.